Part I - Introduction
Chicago-based Coeur Mining (NYSE: NYSE:CDE) released its fourth-quarter and full-year 2021 results on February 16, 2022.
1 - 4Q21 and full-year 2021 results snapshot
Coeur Mining's quarterly revenue was $207.8 million, representing a decrease of 9% year-over-year. Net loss was $10.7 million or $0.04 per diluted share compared to an income of $11.88 million or $0.05 per share last year. It was a slight miss but nothing that could justify the selloff on Friday.
The only issue that could have triggered this selloff is the elevated capital expenditure program during 4Q21 which reduced immediate cash flow and increased the loss. However, this investment in the future should be the priority for the company, and I see no problem with that.
By the way, Coeur generated $832.8 million in revenue during 2021, representing a 6% increase year-over-year and its highest annual revenue in nearly ten years. Full-year gold and silver production totaled 348,529 and 10.1 million ounces, respectively, compared to 355,678 ounces of gold and 9.7 million ounces of silver in 2020.
CEO Mitch Krebs said in the conference call:
With a strong finishing kick in the fourth quarter, Coeur once again achieved consolidated annual production and unit costs within guidance at each of our primary gold operations, which contributed to our highest annual revenue in nearly a decade.
2 - Investment thesis
The investment thesis is to invest carefully in this volatile sector, notably since silver has dropped significantly. Coeur Mining is still primarily a gold miner, with about 70.5% of its revenues coming from gold production. Still, its silver production is significant and could be predominant when the Silvertip mine resumes output next year.
My recommendation is to trade short-term LIFO the gold/silver price volatility and keep a medium/long-term core position. The gold price is trading around $1,900 per ounce due to multi-year high inflation reaching 7.5%.
The Fed is expected to act against inflation by raising interest in March as high as 50-point. This action is generally a negative for gold.
3 - Stock Performance
CDE sank dramatically since November 2021, underperforming the iShares Silver Trust ETF (NYSEARCA: SLV) and the VanEck Vectors Gold Miners ETF (NYSEARCA: GDX). The stock plunged 49% on a one-year basis.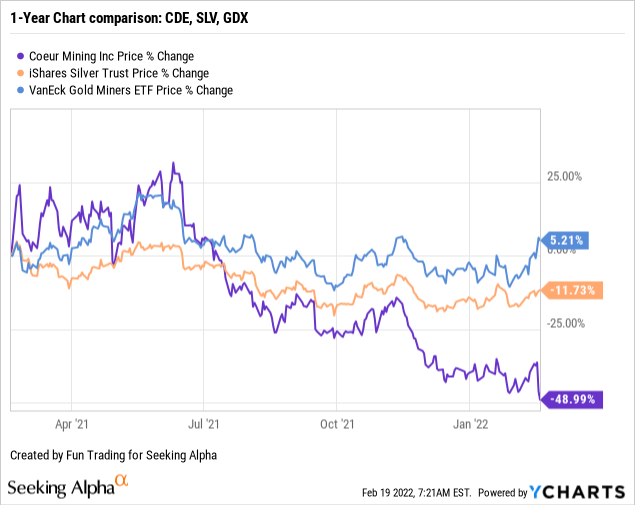 4 - Gold and Silver Production in 4Q21
4.1 - Palmarejo mine
4.2 - Kensington mine
4.3 - Coeur Mining metal production
Gold and silver sales accounted for 70.5% and 29.5% of quarterly revenue, respectively. The company's U.S. operations accounted for approximately 61% and 62% of the fourth quarter and full-year revenue, respectively.
Metal sales totaled 88,930 ounces of gold and 2.6 million ounces of silver in 4Q21.
Average realized gold and silver prices for the quarter were $1,652 and $23.17 per ounce, respectively, compared to $1,645 and $24.18 per ounce in the prior period and $1,663 and $24.21 per ounce in the fourth quarter of 2020.
Production for the fourth quarter was higher than the same quarter last year.
Coeur Mining produced 88,946 Au ounces of gold (sold 88,930 Au Oz) and 2.615 million Ag ounces (sold 2.6 Ag Moz) during the fourth quarter.
Below is the historical price for both metals.
Silvertip is expected to restart production in 2023, while Rochester expansion will be completed in early 2023.
CEO Mitch Krebs said in the conference call:
Palmarejo delivered particularly strong results with $25 million of cash flow in the fourth quarter on a 14% increase in mill throughput. Strong throughput and grades drove solid free cash flow at Kensington. Wharf delivered on plan following a near record third quarter and Rochester rebounded nicely from a third quarter marked by crushing and hauling work related to the POA 11 expansion.
Part II - Coeur Mining: Financials In 4Q21 - The Raw Numbers
| | | | | | |
| --- | --- | --- | --- | --- | --- |
| Coeur Mining | 4Q20 | 1Q21 | 2Q21 | 3Q21 | 4Q21 |
| Total Revenues in $ Million | 228.32 | 202.12 | 214.86 | 207.97 | 207.8 |
| Net income in $ Million | 11.88 | 2.06 | 32.15 | -54.77 | -10.7 |
| EBITDA $ Million | 76.38 | 49.29 | 84.07 | -14.58 | 28.3 |
| EPS diluted in $/share | 0.05 | 0.01 | 0.13 | -0.21 | -0.04 |
| Cash from operating activities in $ Million | 67.29 | -4.36 | 58.06 | 21.85 | 35.0 |
| Capital Expenditure in $ Million | 37.39 | 59.42 | 78.22 | 71.27 | 100.9 |
| Free Cash Flow in $ Million | 29.90 | -63.78 | -20.16 | -49.42 | -65.9 |
| Total cash $ Million | 92.79 | 154.07 | 124.08 | 85.02 | 56.7 |
| Total Debt (including lease obligation) In $ Million | 275.5 | 412.1 | 414.25 | 419.42 | 487.5 |
| Shares outstanding in Million | 244.18 | 244.5 | 252.1 | 254.7 | 254.8 |
Data Source: Company release
Analysis: Revenues, Free Cash Flow, Debt, And Production Details
1 - Revenues and trends - Revenues were $207.8 million in 4Q21
Coeur Mining posted $207.8 million in revenues with an EBITDA of $28.3 million and cash flow from operating activities of $35.0 million. The adjusted net income was a loss of $1.4 million or 0.01 per share.
The company reported a net loss of $10.7 million, or $0.04 per diluted share, compared to an income of $0.05 per share the same quarter a year ago.
2 - Negative Free cash flow was a loss of $65.9 million in 4Q21
Note: Generic free cash flow is cash from operations minus CapEx
Coeur Mining's free cash flow for the fourth quarter of 2021 was a loss of $65.9 million, and the trailing twelve-year free cash flow was a loss of $199.26 million.
The company's CapEx increased substantially in 4Q21 to $100.9 million.
CEO Mitch Krebs said in the conference call:
2021 was an important year for Coeur, characterized by elevated levels of investment in our highly successful multi-year exploration program and in our robust project pipeline. These investments last year, along with several transactions intended to strengthen and streamline our portfolio, are key elements of our strategy to position Coeur as America's premier growing precious metals company.
3 - Available capital, net debt, and liquidity
Total debt increased to $487.5 million, and net debt is $430.8 million - net debt to Adj. EBITDA rose to 2.0X, which is satisfactory.
However, the recent financing below shows a sharp net debt increase this quarter. The company should focus now on cutting the debt in the future.
For financial ratios and Metal sales hedges, please see below: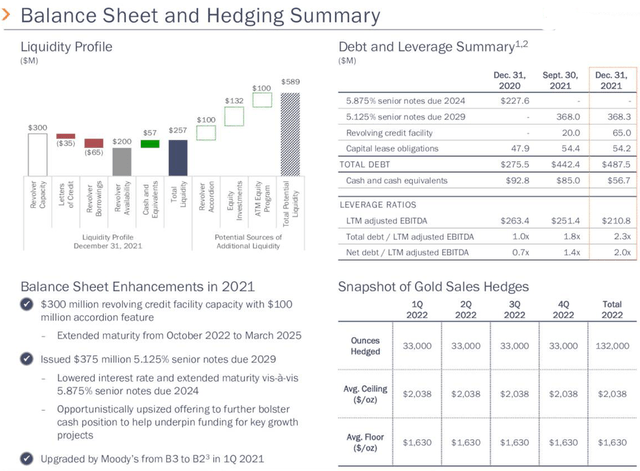 4 - 2022 Outlook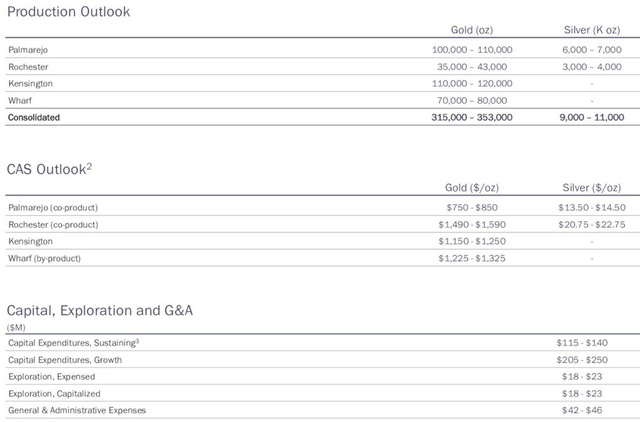 Technical Analysis and Commentary
CDE forms a descending channel pattern with resistance at $5.30 and support at $4.25.
The trading strategy I recommend is to take profits (about 25%-30%) between $5.4 and $5.2 and wait patiently for a retracement below $4.30 to accumulate again.
CDE is highly correlated to the gold and silver prices and could drop rapidly depending on the Fed action against rampant inflation.
So far, the gold price is going up, helped by the recent news about more critical inflation data, which risks linger much longer. At the same time, the Fed is now prepared to move against it by increasing interest next month, which could end the recent bullish trend for gold.
However, I found the stock attractive now, and I have bought a new position below $4.30 on Friday. I recommend buying at or below this level.
Be cautious and watch the gold and silver prices like a hawk.
Warning: The TA chart must be updated frequently to be relevant. It is what I am doing in my stock tracker. The chart above has a possible validity of about a week. Remember, the TA chart is a tool only to help you adopt the right strategy. It is not a way to foresee the future. No one and nothing can.
Author's note: If you find value in this article and would like to encourage such continued efforts, please click the "Like" button below as a vote of support. Thanks!