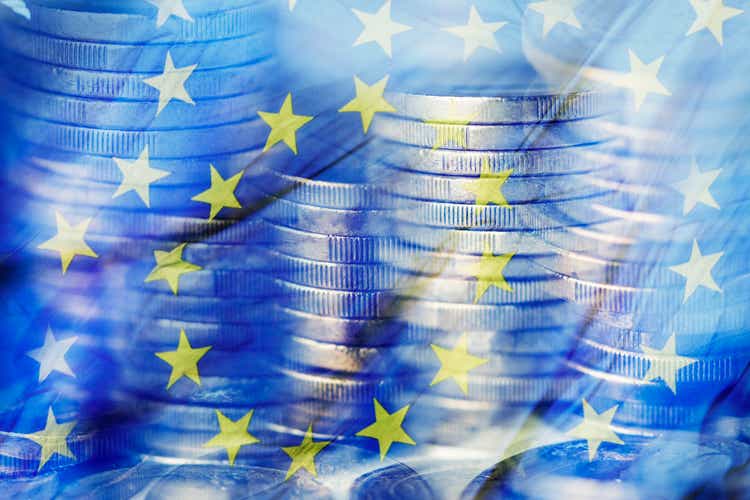 The sanctions against Russia, as understandable as they may be, are likely to backfire in the eurozone due to their large trade relationship with the Russian Federation. The Russians likely knew they were headed into a recession with this invasion, but I wonder if the Europeans knew. The U.S. doesn't have such a meaningful trade relationship with Russia, even though the U.S. does have one with the European Union.
Recessions in the middle of an inflation spike are not easy to endure. So much for Gazprom (OTCPK:OGZPY) fulfilling its obligations, as moves against its trading desk in London cannot help the delivery of natural gas to Europe: Prices blew past the December 2021 high and traded as high as $367/bbl in oil price equivalent on Friday.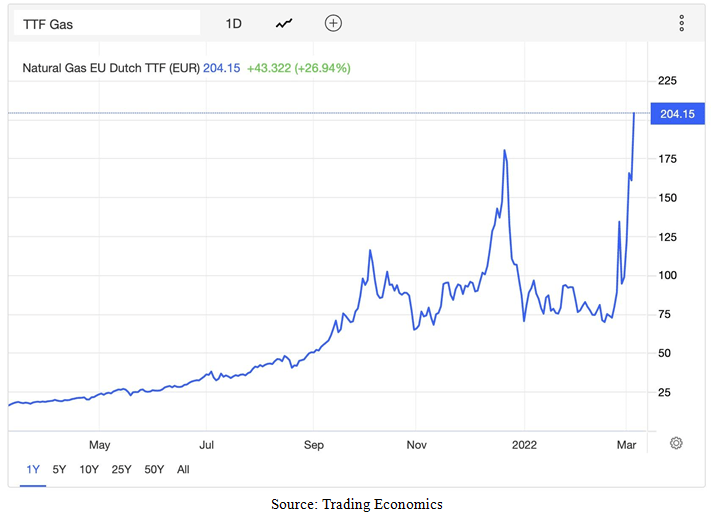 Graphs are for illustrative and discussion purposes only. Please read important disclosures at the end of this commentary.
I wouldn't put it past the Russians to deliver this natural gas price shock as a retaliation. It would be a while before Europe can get alternative natural gas supplies, so this price spike can go higher. Russia is famous for reciprocity when it comes to measures taken against them, so this spike is no coincidence.
The economic repercussions for the U.S. will be much more limited than those for the eurozone and the EU. Other than a commodity price spike and less demand from a weaker eurozone, the U.S. economy will weather the storm without major problems, that is, as long as the fighting does not spill outside Ukraine.
There is a dormant conflict in Transnistria (a part of Moldova bordering Ukraine) where Russian troops serve as peacekeepers, and it would seem natural for Vladmir Putin to solve the Transnistrian issue once and for all after he is done with Ukraine. The Transnistrian issue is similar to conflicts in South Ossetia, Abkhazia, and Donbass, and if the Russians have control of Ukraine, they may next deal with Transnistria.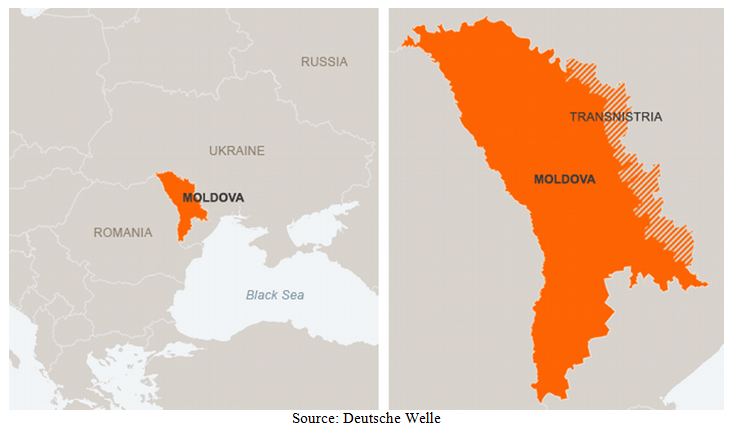 Moldova is not in NATO or the EU. That would technically mean that the conflict is spilling outside of Ukraine, although I doubt there will be any fighting, given that Russian peacekeepers are already there.
The Fed Delivered on Its Promise of "Restraint"
Unlike the German stock market, where the bottom fell out (below), the U.S. market is holding up so far. Recent U.S. lows may very well hold if there is a truce in Ukraine, which is impossible to predict yet.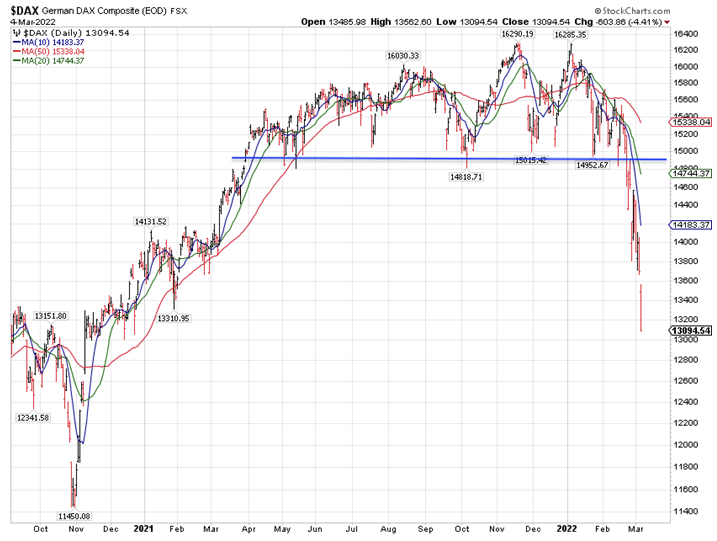 Graphs are for illustrative and discussion purposes only. Please read important disclosures at the end of this commentary.
The other necessary ingredient for a rally is the Fed not overshooting, which at this moment is a fact, with Jerome Powell pretty much stating that he is voting in favor of only a 25-basis point hike in the Fed funds rate in his Congressional testimony last week. The market had previously assumed a 50-basis point rate hike. The inflation data may warrant a 50-basis point rate hike, but the geopolitical situation now overrides that inflation data.
Treasuries are rallying, and they may rally further if the shooting does not stop soon. The 10-year Treasury yield declined from 2.06% before the onset of the hostilities to 1.72% at the close last Friday. Treasuries should not be rallying if a Fed tightening cycle is coming, which suggests that the cycle may not be as aggressive if the fighting turns out to be more persistent than originally estimated. (For more, see Navellier Marketmail "2-15-22: Geopolitics Can Override the Fed - At Least for A While").
Powell did state last week that there may be some 50-basis point rate hikes later on. Most likely, the Fed will wait for the smoke to clear on the Ukrainian issue. With a recession likely in Europe, though, an aggressive Fed is significantly less likely than what it seemed a mere two weeks ago.
All content above represents the opinion of Ivan Martchev of Navellier & Associates, Inc.
Disclosure: *Navellier may hold securities in one or more investment strategies offered to its clients.
Disclaimer: Please click here for important disclosures located in the "About" section of the Navellier & Associates profile that accompany this article.