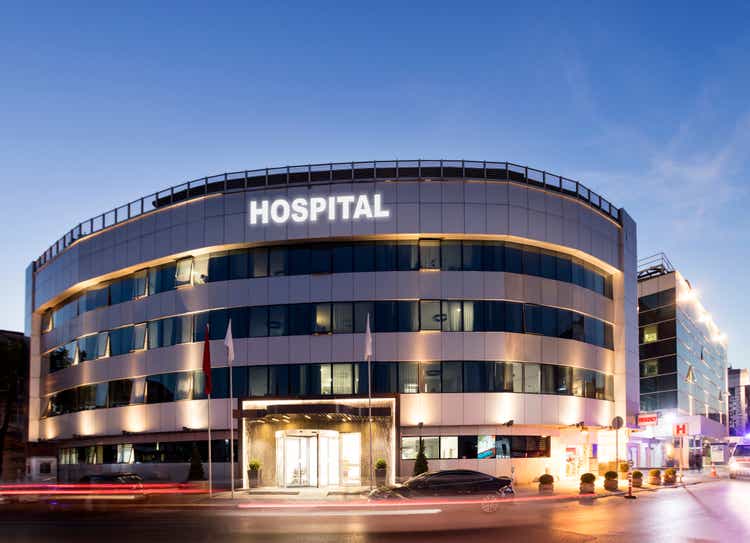 Business Description
Universal Health (NYSE:UHT) is a health care REIT that invests in health care and human service-related facilities among others acute care hospitals, behavioral health care hospitals, specialty facilities, free-standing emergency departments, childcare centers, and medical/office buildings. As of December 31, 2021, UHT owns a diversified, across 21 states, portfolio of assets consisting of 75 facilities:
6 hospital facilities (3 acute care and 3 behavioral health care)
58 medical/office buildings
4 free-standing emergency departments
4 preschool and childcare centers
3 specialty facilities
A UHT's characteristics worth to be mentioned it's the uninterrupted history of growing dividend payments, 35 consecutive years with a CAGR of approximately 1.45%, a trend that is likely to continue supported by the population ageing.
Valuation and Risks
UHT trades at a P/FFO of 14.79x which is below the sector median of 17.82x (-11.9%) and well below its historical median P/FFO of 20.22x (-22.4%).
Along with being undervalued on a P/FFO basis, the company carries an attractive forward dividend yield of 4.8%. Such dividend yield not only looks attractive but is also relatively safe given the company history and the Company's balance sheet. In fact, the Company's Net Debt/EBITDA sits at 5.32x (below the 5.5x I like to see) and it presents an interest coverage ratio of 6.82x.
However, as we can see from the table above, the adjusted EBITDA growth over the last 4 years is almost zero (CAGR 18-21 is equal to 0.08%), while the Company's revenue grew at a CAGR of 3.38%. Moreover, over the last 4 years, the aggregate revenues generated from UHS-related tenants grew from being only 30% in 2018 to 37% in 2021.
Let's consider some risks now, namely:
The first risk worth to be mentioned is the one I highlighted from the above-described trend, which is the risk related to the growing tenant concentration.
Another risk that may hurt the Company's performance, especially in the short term, is the risks related to lease terminations. Currently, UHT has three specialty facilities vacant (the lease on one of these expired on December 31, 2021, and was not renewed; while the leases on the other two facilities expired during 2019 and both facilities have been vacant since that time).
Finally, a tightening monetary policy would raise the Company's cost of capital, which in turn may hurt its inorganic growth (How? for instance losing investment opportunities against other REITs that can afford to finance the purchase at a lower WACC).
Final Thoughts
I rate shares as a BUY because I believe that potential returns overweigh potential risks. The company presents not only a healthy balance sheet, but it is also trading at an attractive valuation based on the fundamentals and technical analysis.
In particular, I would be a buyer in the area around $53.5/share or a P/FFO of 14.5x and a seller in the area around $66.5/share or P/FFO of 18.0x. Nonetheless, the current price of $57.96/share looks attractive.
Finally, below I provide some statistics for the stock over the last 5 years.