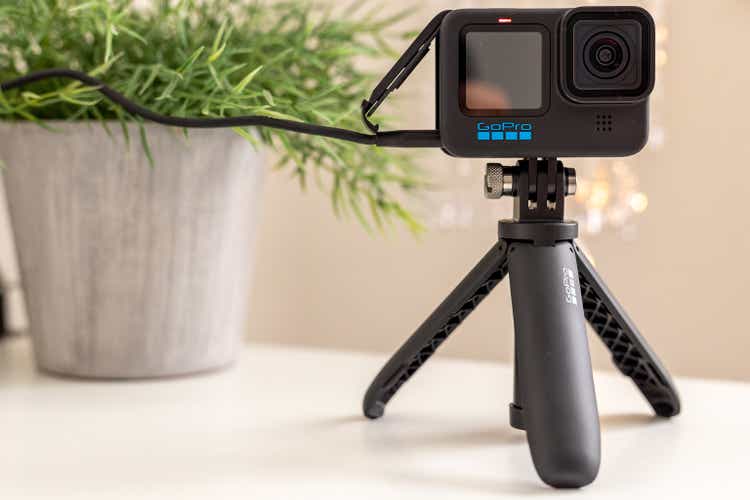 When GoPro (NASDAQ:GPRO) announced earnings several weeks ago, the stock dropped precipitously on disappointing revenue guidance. But the market missed the sustainable gross margins even as revenue will decline 4% year-over-year at the midpoint of guidance. Crumbling gross margins have been the Achilles heel of GoPro in the past, draining capital and pushing the company toward debt to merely operate. But in 2022, GoPro is sustaining itself through a 2020 marketing shift which has led to growing high-margin subscription revenue. As a result, the company is in a far better position today to weather consumer softness than at any other time. This isn't a value trap but an opportunity to accumulate shares.
The revenue guide for Q2 overshadowed the beat on the bottom line in Q1. The market conveyed this through the 18% drop in the stock immediately following earnings. This is understandable; growth is key to GoPro in this turnaround period. However, revenue growth shouldn't be taken in isolation. The company's strength outside of sales is right on the following line at gross margins.
Simply looking at the gross margins in Q2 of 2021 and comparing them to the upcoming quarter proves this. Last year's Q2 delivered 40.1% non-GAAP gross margins, while the company expects 40.5% for the upcoming Q2. In the recent Q1, the company produced gross margins at the top of its guidance range at 41%, identical to Q2's upper range. So on a year-over-year basis, the company is looking at a reduction of 4% revenue, but an increase of 40bps on gross margins on a mid-point basis and up to 90bps if the company can outperform two quarters in a row.
But it's just as important to understand why gross margins are not only sustainable in this high-inflation, higher component cost environment but expanding even as revenue dips slightly year-over-year.
I mean, management admits its margins are under pressure from a stronger dollar and higher component costs in its Q1 management commentary:
The sequential decline in gross margin percentage [for upcoming Q2] is primarily related to a strengthening U.S. dollar along with component price increases.
Yet, how is it managing to increase them year-over-year when, surely, components cost more this year than last year?
Two large pillars are driving the expansion: direct-to-consumer sales and the subscription business. And, really, these two go hand-in-hand as the former is driving the latter.
In Q1, subscription and service revenue grew 73% to $19M, making up 9% of Q1's revenue, up from Q1 2021's 5% of total revenue. The subscription business carries a gross margin between 70% and 80%. This means $14.3M immediately showed up on the gross profit line in the last quarter. Compared to $19M of cameras (would have) contributed $7.3M at a 38.5% hardware gross margin rate. The increase in subscription revenue contributes materially to the gross profit line and bottom line.
This is material to GoPro's future success, and it's been able to accomplish this through a critical shift in its marketing - something I outlined in great detail in late 2020 - with a direct-to-consumer strategy. By selling its cameras directly on GoPro.com at a discount, but about the same margin it would get from the retail channel, it can bundle a real subscription into the purchase - one with an actual credit card and no free trial. So with 90% of HERO purchases, the company is adding a $50 GoPro Plus subscription and selling the total package for less than the MSRP of the camera. In other words, it's a gross margin trade-off for the better.
Let me cut to the chase on why this matters.
Today, the stock continues to be priced as if it's going out of business, and, two or three years ago, there was a case to be made for that. But 2020 was a pivotal year for GoPro in how it shifted, in part, its business toward the coveted recurring revenue holy grail. It had been looking for that opportunity ever since it went public in 2014 - it just thought it would be in media and not software. Management has proven that even with pressure from consumer spending, it can not only maintain or grow revenue but also increase its margins and maintain break-even or better even during its seasonally slow quarters. The risk of bleeding cash has decreased significantly, with numbers to back it up.
So with the stock trading below a price-to-sales multiple of one and a single-digit P/E ratio, the market is stuck thinking this is a company still heading for bankruptcy.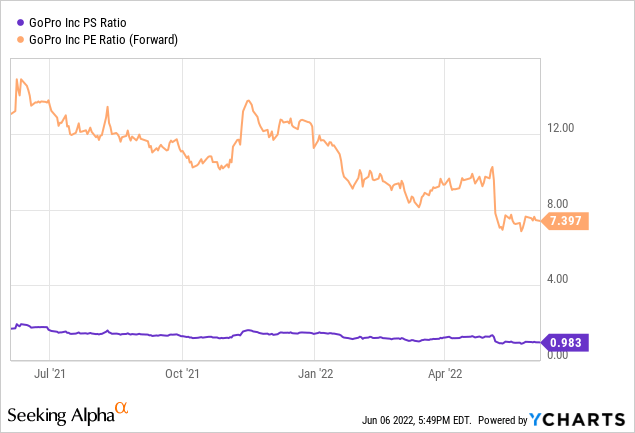 With 2021 providing record-free cash flow and 2022 setting up to be a more profitable year, the opportunity in the stock is enormous.
...we're going to [do] $180 million, $190 million EBITDA this year, up from $170 million something last year.

- Brian McGee, CFO, Q1 '22 earnings call
And with management's flexibility to buy back just under 10% of the stock, it can defend its stock and reinforce the structural improvements it's seeing in the diversifying business.
GoPro isn't a value trap, not when gross margins strengthen during a weaker sales second quarter. The market is skeptical as GoPro doesn't have a great track record - I get it; I watched it first hand. It's expecting GoPro to do materially worse than its guidance as the year progresses and consumer weakness sets in. You don't have to look further than Target (TGT) or Walmart (WMT) to get a pulse on the consumer, especially as Target doubles down on its weakness, going from lowered guidance to lowered guidance.
But, the market expects GoPro to be one of the weakest consumer companies as 2022 will turn out to be worse than 2020, or so it says. Is it possible? Yeah, this economy is on shaky ground - it can happen. But, GPRO, at this price, has already baked in the economic weakness. But, even if the economy falters, GoPro has built up its cash reserves, paid off its near-term debt (nothing until 2025 now), and can weather the storm.
I'm buying the gross margin expansion, not the low-single-digit year-over-year revenue decline in an already seasonally weak quarter.