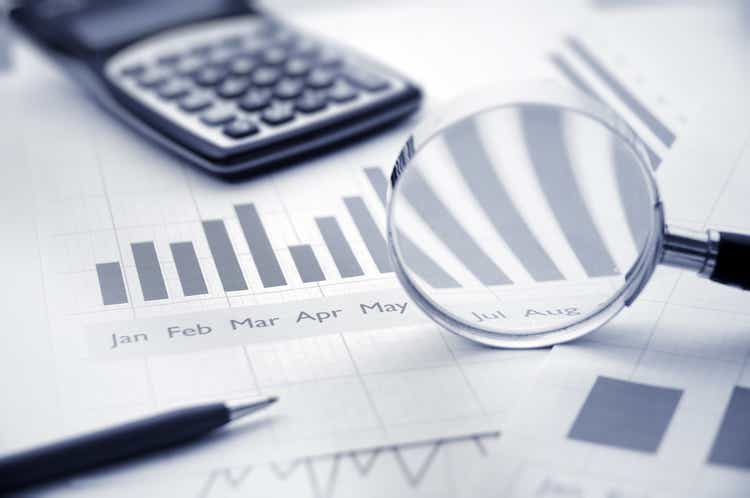 Introduction
Even though Equitrans Midstream (NYSE:ETRN) saw another setback on their flagship Mountain Valley Pipeline project earlier in 2022, hereon referred to as their MVP project, thankfully their dividends were sustained, despite risks still lurking later in 2022, as my previous article discussed. Thankfully the bigger risk has already been resolved, which now sees me doubling down as their dividends get safer to enjoy their high 6.99% yield, as discussed within this follow-up analysis that also reviews their subsequently released financial results for the first quarter of 2022 as well as news regarding their MVP project.
Executive Summary & Ratings
Since many readers are likely short on time, the table below provides a very brief executive summary and ratings for the primary criteria that were assessed. This Google Document provides a list of all my equivalent ratings as well as more information regarding my rating system. The following section provides a detailed analysis for those readers who are wishing to dig deeper into their situation.

*Instead of simply assessing dividend coverage through earnings per share cash flow, I prefer to utilize free cash flow since it provides the toughest criteria and also best captures the true impact upon their financial position.
Detailed Analysis
Following a solid set of results during 2020 and 2021 with climbing operating cash flow, it was rather disappointing to see a weak start to 2022 with their results for the first quarter of $185.9m down 19.00% year-on-year versus their previous result of $229.6m during the first quarter of 2021. Even if removing the impacts of temporary working capital movements, their underlying result for the first quarter of 2022 would only improve slightly to $189.2m and thus still represent a decrease of 14.00% year-on-year versus their equivalent previous result of $220m during the first quarter of 2021. Despite being disappointing, it seems reasonable not to read too much into only one quarter, especially given their newly issued guidance for the full-year, as the table included below displays.
It can be seen that their guidance for 2022 sees an adjusted EBITDA of $1.01b at the midpoint, which is effectively flat versus their previous result of $1.012b during 2021, as per their fourth quarter of 2021 results announcement. If this comes to pass, it indicates that their weak start to 2022 should only prove temporary, as their operating cash flow should see a positive correlation with their adjusted EBITDA. Meanwhile, their capital expenditure guidance saw a $25m upwards revision to both its lower and upper ends, thereby now leaving the midpoint at $600m for 2022. Despite being slightly higher than earlier, management still expects this will leave excess free cash flow after dividend payments of between $20m and $100m, which would provide adequate coverage for their dividend payments. When looking elsewhere, their troubled MVP project is going to tackle their latest regulatory challenge by pursuing new permits, as per the commentary from management included below.
"After evaluating legal options and consulting with the relevant federal agencies, MVP JV plans to pursue new permits from the agencies and ETRN is now targeting a full in-service date during the second half of 2023 at a total project cost of approximately $6.6 billion. Through March 31, 2022, ETRN has funded approximately $2.6 billion and, based on the total project cost estimate, expects to fund a total of approximately $3.4 billion and to have an approximate 48.1% ownership interest in MVP. ETRN will operate the pipeline."
-Equitrans Midstream First Quarter Of 2022 Results Announcement.
Quite disappointingly, their MVP project will now certainly miss its previously forecast completion date of later in 2022 and thus not enter service until roughly one year later than expected during the second half of 2023. Additionally, the costs have blown out even further with its $6.6b cost now $400m higher than its previously expected cost of $6.2b. Although because they only own a 48.1% stake, this pain is shared amongst their partners and despite still being disappointing, it does not necessarily derail the appeal of their shares because their circa $200m additional cost merely amounts to only one quarter of operating cash flow.
Following their weak start to 2022, their net debt crept slightly higher due to their cash burn, thereby now sitting at $6.844b versus $6.805b at the end of 2021. When looking ahead, if their guidance for 2022 comes to pass and they ultimately see retained free cash flow of between $20m and $100m, it stands to reason their net debt should trend lower in the coming quarters. Whether this comes to pass, only time will tell but realistically, it barely moves the needle with their story remaining one of growth projects.
Since there was only such a small and thus immaterial change to their capital structure, it would be redundant to reassess their leverage in detail since it clearly remains within the very high territory, as was previously the case at the end of 2021. The relevant graph has still been included below to provide context for any new readers, which shows that their net debt-to-EBITDA of 6.08 and net debt-to-operating cash flow of 9.04 are both well above the threshold of 5.01 for the very high territory. If interested in further details regarding their leverage, please refer to my previously linked article as their subsequently discussed liquidity is a far more important topic.
Even though their very high leverage is not ideal, their liquidity was housing the bigger risk when conducting the previous analysis, despite their otherwise strong current and cash ratios, which are currently sitting at 1.57 and 0.20 respectively. Their credit facility covenant was going to see its leverage ratio limit decrease after 2022, thereby possibly triggering a breach in light of their MVP delay. Thankfully this risk has already been resolved with management taking a proactive approach by renegotiating the terms of their credit facility, as per the commentary from management included below.
"On April 22, 2022, ETRN closed on an amendment to the EQM revolving credit facility. The amendment includes, among other things, a reduction in the facility size from $2.25 billion to approximately $2.16 billion through October 31, 2023, and then approximately $1.55 billion through final maturity on April 30, 2025; a new base maximum consolidated leverage ratio of 5.5x; and a step-up in the maximum consolidated leverage ratio to 5.85x for four quarters beginning with mobilization for MVP forward construction."
-Equitrans Midstream First Quarter Of 2022 Results Announcement (previously linked).
Instead of seeing the limit for their leverage ratio reverting back to only 5.00 following the end of 2022, they now only need to keep it under 5.50 or 5.85 under certain conditions. Their leverage ratio is calculated from their consolidated debt, which most recently was $6.886b, divided by the combination of their adjusted EBITDA and deferred revenue. If utilizing their previously discussed guidance for 2022, which at the midpoint sees an adjusted EBITDA of $1.01b and deferred revenue of $355m, it makes for a total of $1.365b and thus when applied against their debt, sees a leverage ratio of 5.08. Thankfully this remains comfortably below their limit of 5.50 but nevertheless highlights that without the support they received from their lenders, they faced the real possibility of breeching their covenant. When looking elsewhere, they have kicked-off June by issuing $1b of new debt with maturities in 2027 and 2030, which will be utilized to refinance their closer-dated maturities during 2023 through 2025 and thus help further strengthen their liquidity.
Conclusion
Whilst the additional one-year delay to their MVP project is disappointing for shareholders, especially those who have been holding for a while, the past is the past and when looking ahead, investors can collect a high 7% dividend yield whilst they await for these final hurdles to be overcome. Since they have removed the risks stemming from their credit facility covenant, whilst issuing guidance that points their dividend payments being self-funded, I believe that upgrading to a strong buy rating is appropriate as I consider doubling down on my investment.
Notes: Unless specified otherwise, all figures in this article were taken from Equitrans Midstream's SEC filings, all calculated figures were performed by the author.