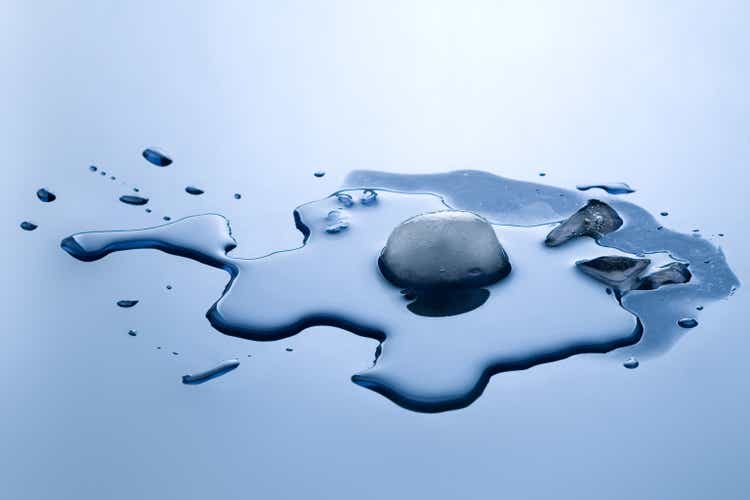 Investors have different objectives. Some focus on preservation of capital while others have their eyes popping out of their heads whenever they see a double digit yield. Unfortunately websites tend to measure all returns without taking into account the investor involved. Oxford Lane Capital (NASDAQ:OXLC) is a prime example of this. Let's look at this today and see how the two kinds of investors that we talked about, perform in this fund.
The Fund
OXLC is a popular CLO fund and we have covered XAI Octagon Floating Rate & Alternative Income Term Trust (XFLT) which invests in generally the same area. OXLC is however riskier than XFLT on account of it focusing on riskier tranches of CLOs versus XFLT. The two funds generally tracked each other through the COVID-19 crisis and currently, based on price at least, XFLT is out ahead.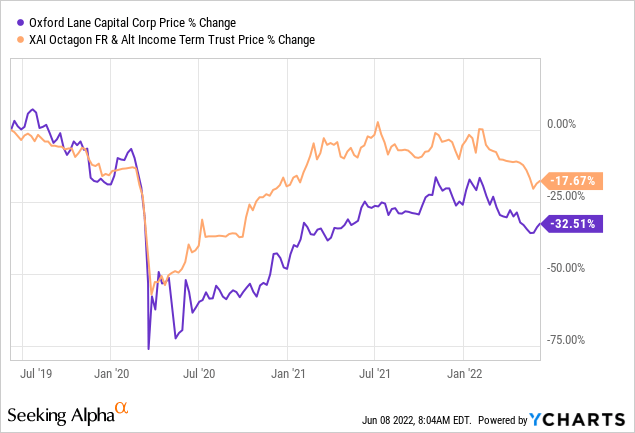 What's The Bull Case?
OXLC as one of the best known CLO funds, and gets well deserved attention because of this. While we cannot speak to all opinions, the key attraction here is the astoundingly large dividend (or distribution for you purists) yield that the fund throws your way.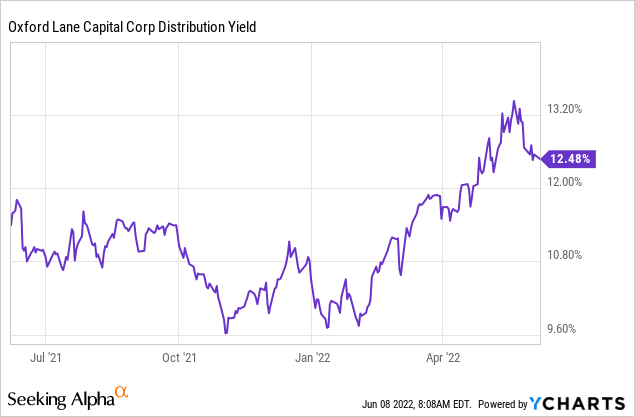 What We Say
CLOs are solid return investments, in relation to their risk. There is a plethora of evidence out there that they can be a good source of alpha in most environments. Depending on how they are priced, they can really do better than junk bonds. Here, do take note, that we are again sensitive to value of the asset, in this case a closed end fund, versus what we can get elsewhere. In other words, none of that "buy cause the yield is high". In the case of OXLC, there is an additional wrinkle that we want to go over.
Returns Of The DRIP Investor
If you bought OXLC for distribution reinvestment, your returns will align with what we see on most websites. Total return according to Y-Charts (and there are always subtle differences) was 125% since inception.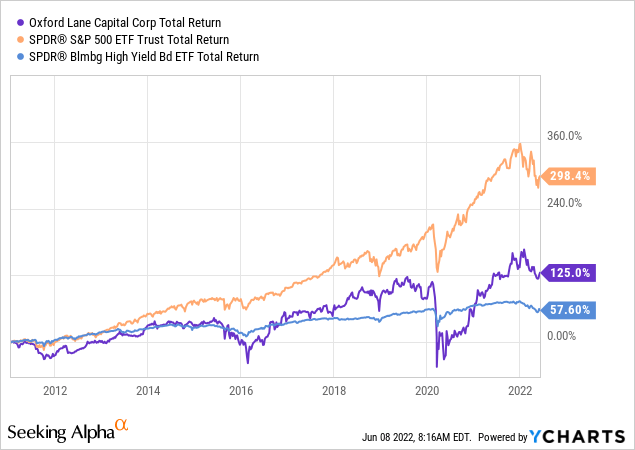 Now you might say that the S&P 500 (SPY) did much better, but that is not a fair comparison. OXLC is not designed to beat the SPY. It is designed for income investors. It did handily beat SPDR Bloomberg High Yield Bond ETF (JNK), and that is what counts. Now, while most would agree with that logic, there is another flaw there.
The returns you see above assume you are NOT an income investor. They assume reinvestment of those large distributions.
Those are different things. If your dietary guide told you the weight you would gain by looking at a cake, you would not assume it would be the same if you actually consumed the cake. But here investors do. That total return looks like an awesome security blanket, whereas for income investors, it looks like a wet blanket.
Income Investor Returns
Assuming you took all your cash out and paid bills with it, how did you do? Exceptionally poorly. $1,000 invested on Feb 10, 2011 turns into $2,280 with reinvestment and $1,419 without.
This bonus with reinvestment is not at all uncommon with dividends. Here is Realty Income (O).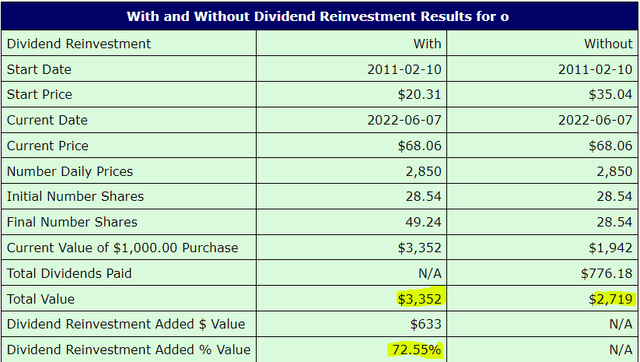 But there are some key differences here.
1) If you consumed the dividends, the yield on your original purchase of Realty Income is now 14.7%. It increased from 5.2% in 2011 to 14.7% today.
2) If you consumed the dividends, the yield on your original purchase of OXLC went from 9% in 2011 to 4.5% today. That is mainly because the NAV is down about 70% since inception.
If you are looking at where the pie stands at the end of the period, with dividends consumed, even iShares 20+ Year Treasury Bond ETF (TLT) beats OXLC.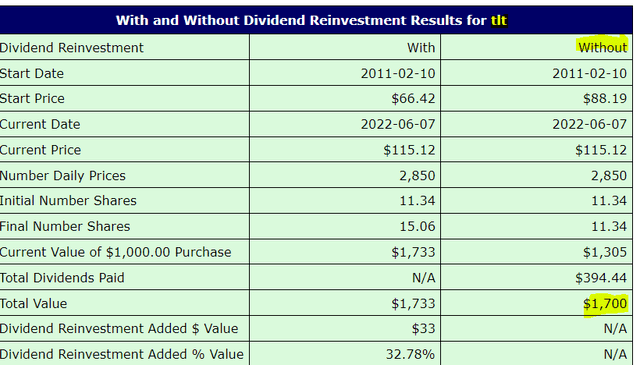 Dividend Reinvestment Added Value is the critical number here. You can see it is 32.78% for TLT and 72.55% for Realty Income. We purposefully left it out for OXLC in the first table.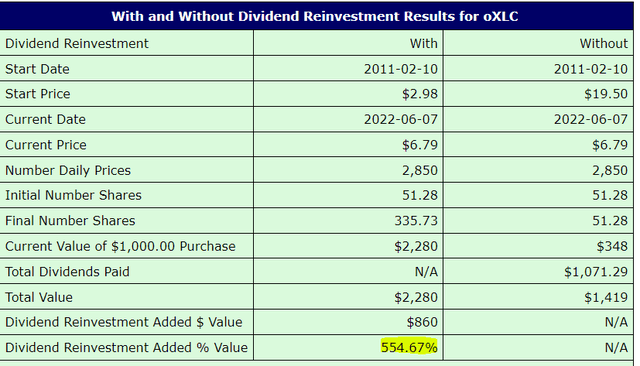 Verdict
Fixed income faces a lot of headwinds and we don't think the junk and beyond tiers have fully priced the Federal Reserve aggressiveness. After the latest disclosure, OXLC trades at about a 10% premium to NAV. Not the combination we are looking for in an investment. Morningstar gives it a one Star rating, which we think is slightly harsh (we would give it a 2).

OXLC does have some interesting investing options for investors who actually care about total returns while consuming the payout. Oxford Lane Capital Corp. 6.75% PF TRM 24 (NASDAQ:OXLCM) is a term preferred due in 2 years and offers a capital protected yield. The shares are callable (since 2020) and it will be interesting to see if they are indeed called in light of OXLC's new preferred shares announced this morning. Oxford Lane Capital 6.25% Preferred Shares Series 2027 (NASDAQ:OXLCP) is the other outstanding (and we mean outstanding as in being traded, not a reference to the quality) preferred share offering from OXLC and that is an interesting option as well. We will take a pass of the primary listing and keep our eyes on the preferred shares for opportunities.
Please note that this is not financial advice. It may seem like it, sound like it, but surprisingly, it is not. Investors are expected to do their own due diligence and consult with a professional who knows their objectives and constraints.