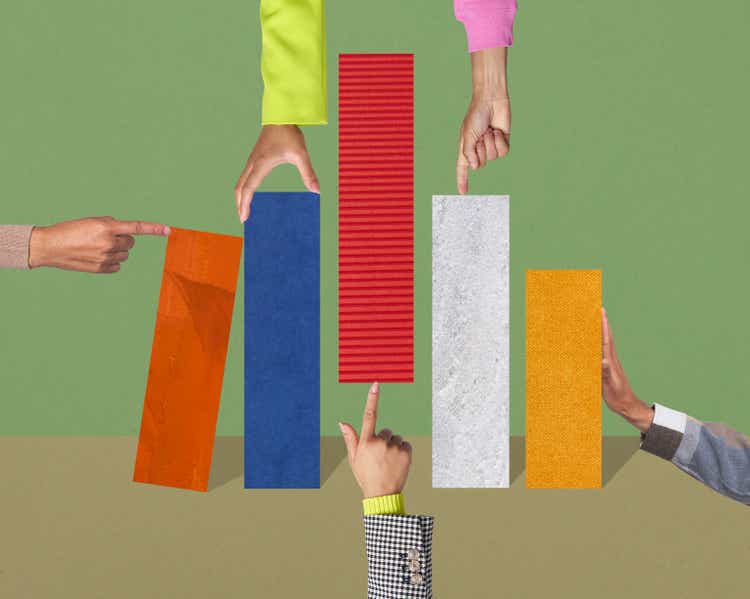 Published on the Value Lab 23/6/22
A buddy of mine started his job around mid-May at an early-stage ecommerce company. After two days, and before orientation was over, he was given his first assignment: fire 50 people. Funding was pulled and a 24-month runway became and 18-week one, and this is not the only story. It was an African company, which were the first to be abandoned presumably, but with rates rising and the easy money boom coming to an end, we're getting a bit worried about all holdings that are exposed to reflexivity on high capital requirements and still far from cash positive operation. Arqit (NASDAQ:ARQQ) is one of these companies that fall into these categories. While it has some particularly positive elements to its business with respect to the current market context, it appears binary as dilution is incoming if markets don't recover before they have to raise money again.
What Arqit Has Going For It
The company is using data centers at the moment to emulate what will happen once its small satellites are in the air. They provide to businesses that have important security demands an instance through which their protocol can be used to allow for data sharing using symmetric keys that cannot be hacked. These keys are produced by the data centers for now but will eventually be beamed from satellites.
The market is attractive in a recessionary environment because customers are primarily government entities, government sponsored entities, or entities that primarily do business with government like defense companies. Babcock (OTCPK:BCKIF) is among its customer line up, together with Northrop Grumman (NOC).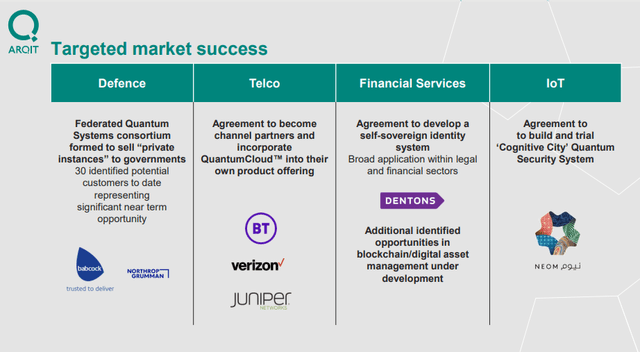 Regardless of business conditions, the security of the information that these companies handle is paramount, and they are aware more than anyone of the strategic threat that quantum computing will be for breaking encryptions, with countries like China a relevant player when it comes to quantum computing. The economics are also attractive in that they are highly recurring and operate on long-term contracts with clients.
The company only started billing customers in the late second half of 2021, but already in the six months ended into Q1, they have generated $12 million in operating revenue from client billings. Revenues are going to lag the signing values of contracts, which are currently in excess of $130 million.
Financial Condition
The company is burning about $13 million for operations per half-year on a cash base of about $83 million. On top of that CAPEX is about the same at $13 million, and the CAPEX we expect for just their satellites which they explain are going to be quite small will probably end up being about $100 million. The satellite CAPEX already consumes the current cash reserves, and the operations will consume current reserves, at current run rates, in about two years. With other CAPEX also being necessary, these cash reserves are likely to be consumed several times over before EBITDA positivity is reached, forecast for 2025, referring to the Centricus analysis we did last year updated for current share price.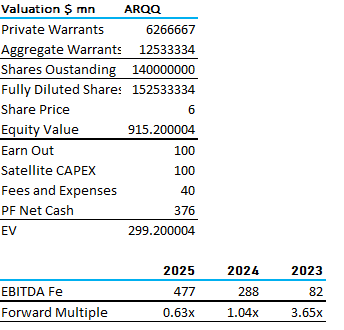 There's about 153 million shares outstanding each currently worth a price of $6, and at current prices, should they persist for a couple of years, the dilution will be substantial, probably in excess of 33% if all financings are conducted through equity raises. Reflexivity is the word of the day when it comes to companies like this, where the low price of the share actually impacts the finances of the company. This can cause a vicious cycle lower, and if markets continue to recede, Arqit will have a major dilution issue on its hands. If the volatile shares were to decline another 50%, then baseline dilution estimates would be 66% if not more depending on cash burn. The founders have extended the lock-up voluntarily to September 2022, and this lends a bit of support to the shares since the CEO owns about 12% of the float, but clearly reflexivity is a risk.
Conclusions
The current $6 per share value of Arqit puts the forward multiples pretty low on EBITDA. The TAM is big and the value add of the company is very substantial already for these strategic customers. While reflexivity is a risk and some dilution will certainly occur, there is also the chance that as already accomplished, Arqit manages to secure debt financing for its company given the signed contracts and the recurring nature of the business. There is not debt currently in the structure, and while it is not cash positive at all yet, there is some leeway most likely to be able to obtain some sort of debt financing. However, currently the VC markets are not vigorous, and venture debt, if that's what they will have to resort to, could be difficult to come by, so it's possible that they will be hamstringed into equity raises. Finally, the technical elements of how the satellites will work are still unclear. As we understand it, there is technical challenges here because the fidelity of the symmetric key transmission must be unimpeachable, otherwise this whole system of decrypting with symmetric keys when devices communicate will fail. So there are still outstanding questions about the technology and quantum. Nonetheless, an interesting company with a big market opportunity, but only for investors that can stomach reflexivity risks.