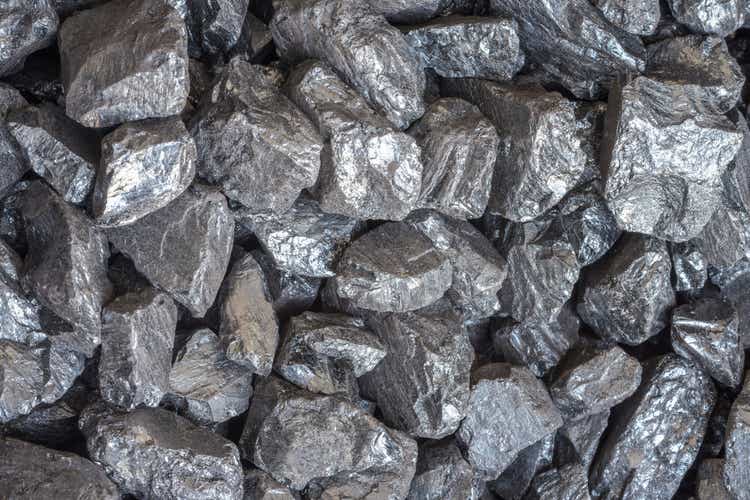 Investment Thesis
Arch Resources (NYSE:ARCH) is a very compelling investment. What's more, the thesis here has nothing to do with its multiple expansion.
In fact, all my assumptions are for Arch Resources' multiple sticking around 2x free cash flow.
While I'm not a dividend investor, getting a 20% dividend is mightily attractive.
After the dividend is paid out, investors will still get the capital appreciation from the shares.
To explain this, when the dividend is paid out, the stock opens lower when it goes ex-dividend. After that, whatever is left on the shares, it becomes ex-dividend. And whatever appreciation one gets is fully capital appreciation.
Moving on, this stock has very strong near-term prospects. Paying approximately 2x free cash flow is very attractive.
Use the recent price weakness to buy some more exposure to Arch.
Arch Resources' Near-Term Prospects
There are a few key dynamics that support high coal prices for longer. The primary impact was driven by Europe shunting natural gas from Russia.
That led to a spike in natural gas. But by now, there's been so many ramifications that it's difficult to say that it's only the Russian sanctions that are leading to high coal prices.
Yes, directly, Europe's near-term demand for coal is keeping coal prices high. But there's more to it than that.
Indeed, keep in mind that when gas prices are above $4 mBTU it makes more economic sense to get the equivalent amount of energy from coal. The concrete prices fluctuate slightly, depending on different variables.
But given that natural gas prices are now higher than $8.5 mBTU, any electrical plant that can exchange natural gas for coal is now doing just this.
Arch's Capital Allocation Policy
Recently, Arch bought back $130 million worth of convertibles. Given that Arch's fully diluted share count is 21 million, we should expect to see Arch's fully diluted share count drop by from Q1 2022 into Q2.
This is a one-off "buyback" as it were, that will contribute to shareholders' returns and is clearly rewarding for shareholders.
Consequently, when Arch finishes its Q2 2022 period, Arch's balance sheet will be in a net cash position. This will rapidly increase its capital allocation strategy.
But what I'm even more interested in, is Arch's dividend capital allocation strategy.
Presently, Arch declares that it will return to shareholders 50% of its prior quarter's free cash flow.
Now to get some perspective of much free cash flow Arch will return to shareholders in the upcoming quarter, consider this.
Coal was very approximately $250 on the spot market during Q1 2022. There are some sums that are netted off this figure to account for transportation and other costs, so it's not the same figure that Arch gets as coal is priced at in the spot market.
Nevertheless, right now, coal prices are at least 20% higher than they were during Q1 2022. Consequently, altogether I now believe that Arch could report adjusted free cash flows of $327 million, once we adjust for the higher coal environment, during Q2 2022.
Moreover, given that Arch is committing to returning 50% of its discretionary free cash flow to shareholders each quarter, that means that Arch shareholders could see approximately $163 million via special dividends.
This amounts to a 5.8% yield for just holding the stock for over 1 quarter. If we were to annualize this figure, that means shareholders would get at least a 20% yield over the coming year.
ARCH Valuation - Still Priced at Less Than 2x Free Cash Flow
I estimate that Arch could make nearly $1.4 billion of free cash flow. Given that coal prices have remained relatively stable, for now, I believe that this estimate still makes sense.
Furthermore, as you can see above, analysts following the stock are also expecting approximately $1.5 billion in free cash flow from Arch this year.
This gives me confidence that my estimate of $1.4 billion is in the correct ballpark.
Premortem: Investment Risks
The risk with investing in Arch is that coal prices suddenly sell off. For this to happen, if global economies were to slow down, the demand for energy could be reduced.
What's more, right now, the biggest driving force behind coal prices is that there's limited supply hitting available in the market.
But if less coal is used in the world, what is now a tight supply environment could rapidly become an oversupplied environment that would lead to coal prices meaningfully sell-off.
In that case, this bullish investment case would collapse.
Another consideration could be China's lockdowns. If China remains in lockdown, the demand for coal would diminish, and that would lower coal prices and cause Arch's shares to sell off.
Yet another consideration is that to mine for coal, requires a significant amount of diesel and heavy machinery. Given the high inflationary pressures, this will have an impact on Arch's running operating costs that could impact profit margins.
Finally, to a certain extent, the bull case is being driven by high energy prices. If WTI prices cool down, that could lead to natural gas prices being lower, which would have a knock-on impact on coal prices, particularly thermal coal.
The Bottom Line
To sum it up, a few days ago, Jefferies upgraded Arch from a hold to a buy, see below.
That would imply a 40% upside potential for investors. However, keep in mind what I've discussed above, that along the way, Arch would have approximately 20% dividends, too.
This implies that investors' upside from holding this stock could actually be meaningfully higher than just 40% over the coming year.