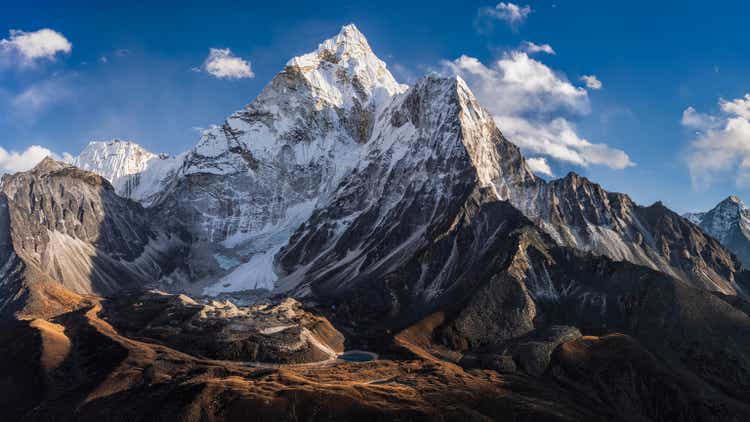 Iron Mountain (NYSE:IRM) is a global competitor in storing, protecting, and managing information and assets. After several quarters of strong performance, Iron Mountain's shares have become incredibly volatile in 2022. Further, they are currently trading around long-term support. This support could break upon spiking interest rates.
Iron Mountain's core business is collecting rent from long term customers that need to maintain boxes of documents. Many businesses are required to keep records for several years, and others choose to maintain certain documents, records and related assets indefinitely. Iron Mountain received approval to operate as a real estate investment trust ("REIT") back in 2014.
Iron Mountain's core business model is reasonably well-protected from recession and competition. IRM's traditionally domestic business has grown to become international and diverse, but core facilities and customers are largely domestic. Iron Mountain's existing relationships are valuable, too. Iron Mountain has a longstanding reputation with various large corporate clients that have trusted IRM with their sensitive information.
Customers are also reluctant to move a box of files unless they are required to do so, because it is a higher current expense. Beyond the actual cost to go touch those documents, there also exists the potential to damage or destroy items. Further, document retrieval fees are considerably higher than storage fees. It is likely to cost a customer between one and two years' worth of storage fees to retrieve stored boxes. Also, some contracts include one-time handling fees and/or other lease covenants that further increase the cost to take boxes to a competitor.
Iron Mountain is not true data center REIT, but it has one buried within it. Over the last several years, Iron Mountain has been expanding into the data center market. Beyond having existing relationships with many Fortune 1000 companies, IRM also partnered with Google (GOOG) (GOOGL) to provide cloud and data services.
IRM has grown their data center business through both acquiring and growing in house assets. Iron Mountain operates over a dozen data centers was growing capacity. Most of Iron Mountain's data centers are within the United States, but the company has expanded itself internationally as well.
One issue that is now weighing on performance is the strong dollar, which is a headwind to that international growth. The dollar continued to strengthen through most of the first half of 2022, along with increasing interest rates. A declining dollar in the second half of the year would result in a stronger contribution from Iron Mountain's international segments, and also make the company's substantial yield more competitive. The opposite has been in effect for the last two quarters.
IRM currently yields around 5% per year, with a quarterly payout of $0.6185. Seeking Alpha grades the dividend safety as an F. The company has maintained this quarterly payout for over two years, which is not a great sign in terms of growth or sustainability. There is a growing risk over time that IRM may have to reduce its payout, and this is likely to weigh on shares. Such concerns are exacerbated by current increasing interest rates.
Jim Chanos recently announced a short thesis against various data center REITs, and this is also likely weighing on Iron Mountain shares. While IRM is not a true data center REIT, it is at least partially one. Moreover, it is likely that the company's valuation benefitted from the potentially inflated data center valuations that drew the attention of Jim Chanos. To that extent, it is reasonable to presume that such a benefit is now lessened, and possibly capped.
Part of the Chanos thesis is based upon the premise that the larger tech companies will chose to self-build new capacity rather than continue to lease from third-party providers. Such risks have always existed for Iron Mountain. Given current supply chain constraints, it is unlikely many new competitors would enter such a market here and now. Nonetheless, there could be existing capacity that was initially built for alternate purposes. Such competition and increased capacity could weigh on growth, as well as future margins.
I believe the greater risk to IRM remains interest rates and the REIT's sizable dividend. High yielding equities, are vulnerable to spiking interest rates. A higher risk-free rate of return makes a riskier dividend less enticing. Further increases to borrowing costs will make it more difficult to finance the paying of dividends.
Conclusion
Iron Mountain has a strong core business with traditional storage, and supplemental access to growth through their data center business. Iron Mountain has been the beneficiary of increasing valuations due to low interest rates and growing data center multiples for several years. It appears that data center valuations may have reached a peak, and that this is affecting IRM's multiple. Similarly, increasing interest rates have made IRM's five percent yield appear less attractive.
I believe IRM is susceptible to further devaluation in the second half of 2022. The greatest risk appears to be spiking interest rates, but some forthcoming analyst reductions to margins are also possible. Similarly, I believe increasing interest rates could break that dividend, which would be critical to many IRM investors. As a result, I am avoiding IRM at current levels and awaiting further multiple contraction, or a confirmation that interest rates peaked.