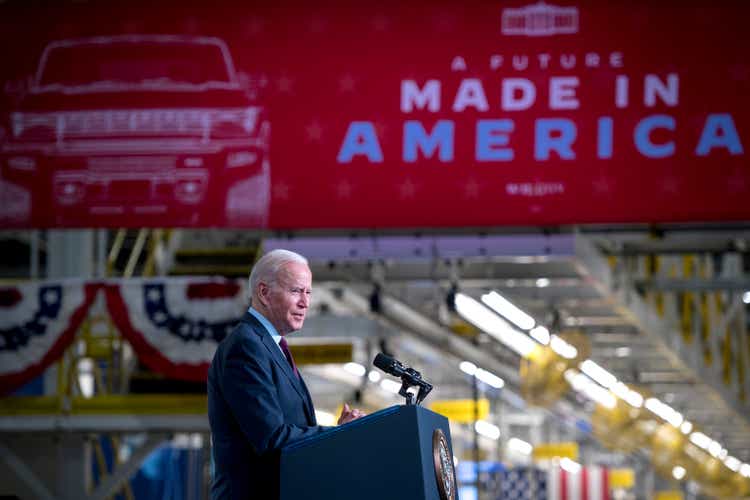 Since writing up General Motors (NYSE:GM) in The Special Situations Report, as a sum-of-the-parts and buy-back stock, the company has been through a lot. It declined sharply in 2020 during the Covid-19 crash and subsequently surged above $60 per share. I've written about the company publicly several times as well. Most recently in 3 Reasons To Buy General Motors After A Strong Run.
Currently, GM's share price is plummeting once more. Presumably due to recession fears.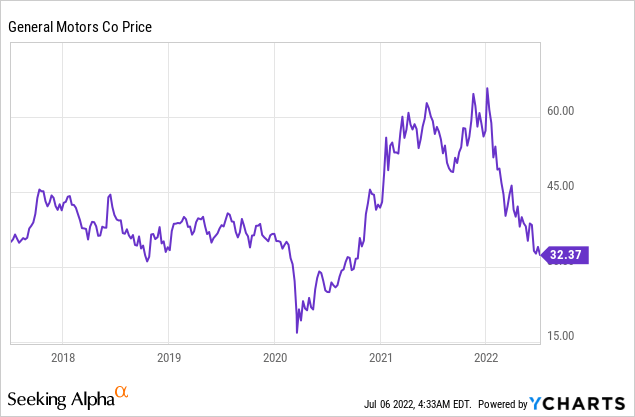 I originally became interested because the company had been engaging in aggressive buybacks while I viewed it as undervalued. Annoyingly, it has since stopped its buyback and the company no longer pays a dividend.
The company has a market cap of $47 billion and an automotive enterprise value of an estimated $48 billion. GM, which hasn't been buying stock or initiating a dividend, is sitting on ~$20 billion in cash. Around $4 billion of that should be at Cruise, but there should still be around ~$16 billion at the GM level.
In its earnings call, the company was guiding towards $7-$9 billion of automotive free cash flow. In the latest event, this guidance wasn't backtracked.
On an EV to forward free cash flow basis the company looks to be trading at around 6x.
To give you an idea of what valuations look like in the industry I've pulled Seeking Alpha data for a number of competitors like BMW (OTCPK:BMWYY), Ford (F), Honda (HMC), Li Auto (LI), and Daimler (OTCPK:DDAIF).
GM trades roughly in-line. My knowledge about the entire industry is somewhat limited because I haven't looked at these competitors as often. But I do know GM has a very interesting 80% stake in Cruise. Cruise is its autonomous driving division, which isn't generating much in revenue and/or profits. However, it has cost GM billions of dollars in investment and could pay off in the future. The driverless car service is currently available in San Francisco to a lucky few early adopters. Based on the latest deal between GM and Softbank (OTCPK:SFTBY), the stake should still be worth around $8 billion to GM. Give or take a billion or two as the market hasn't exactly been stable.
GM also has a Chinese joint venture. It accounts under the equity method for this JV. This unit does about $40 billion in revenue annually. It sells something like 1.2 million cars per year. GM does about $130 billion in revenue, so this is a meaningful number. It does account for some of the value through the equity method, but I'd argue this likely understates the value of this segment in most periods because it is a higher growth segment that requires higher investments (i.e., depressing profits).
If you ask me, the peers look fairly cheap as well on most valuation metrics. This is likely a result of the market contemplating the possibility of a recession in the next 18 months. That's usually not great for cyclicals, including the auto OEMs. I'm not going to argue it is great for GM, but it may not be as bad as appears to be expected. That's because the supply chain issues (widely reported) are limiting sales. GM isn't selling everything it could. Luckily, neither are its competitors. Some of the unfulfilled demand should be shifted toward the future. This may dampen the effect of a recession.
At the same time, the company and its dealer community are forced to run with low inventories as a function of high demand and gated supply. If a recession is in fact imminent, that's favorable. Usually, automakers/dealers get caught with huge inventories just as demand drops off.
At the recent General Motors Company (GM) Management presentation at the Deutsche Bank Global Auto Industry Conference 2022, CFO Paul Jacobson provided some color on the company's recession readiness (emphasis mine):
We have not. And trust me, I'm looking for it and asking for every day. And what I'm stressing to the organization is the need to be nimble and agile, right? We obviously have long-term investments that we have to make. We have short-term targets that we have to hit. And in order to respond to this rapidly changing environment, we've got to be ready to act, and part of that is what are those signs that we're going to be looking for.

And if you look at May, yes, sort of industry sales were kind of down a little bit. But when you look at what we were able to do, average transaction prices were still strong and hasn't changed significantly. And we didn't grow any inventory, grounded dealer inventory.

So that tells me that the vehicles are still moving, and that's probably the #1 thing that I'm looking at. And we've got dashboards of what we're looking at every day, every week, every month to see any signs that we need to be more aggressive in some of our cost management, et cetera.

Because what we don't want to do -- and I frame this to the organization this way, right, we're charting a path through an unknown forest. I don't want to end up in a situation where we walk off a cliff. Nobody wants that, obviously. But equally, we don't want the perspective to be we steer so far away from the cliff we don't make progress on what we need to do. So striking that right balance.

The only way you can do that is being agile because what I don't want to do is I don't want to go cut long-term investments and things that we're doing that are going to drive revenue growth in the business and put those off because of the fear of what might happen. But once we identify and get ahead of trends, then we can act if we need to.

But so far, I think the organization has done a really, really nice job of balancing those. And we've been able to overcome, as we talked about on the call, another $2.5 billion of inflation that we saw in the business. And we're still holding to that guidance while I feel good about the long-term trajectory we're on.
and later on, asked about the resilience of the company:
We've got a great balance sheet. The pension is in a stronger position than it's been in over 20 years. Margins are strong. Vehicle pricing and demand is strong, and we've got that hedge of the input costs that we've seen at unnatural layers.

When you think about it from a liquidity perspective, also understand that with depressed inventories, the historical big drawdown of working capital A lot of that has already happened, right? Because we haven't been able to build inventories off of the pre-COVID levels or off of the COVID level. So we're monitoring that, and you can get to literally endless cycles of what a recession might look like.

But I think when we look at it in cases, we look at a scenario where what if commodities stay high, demand goes down, what if we see that natural hedge take place over time and how does it affect. So what we've got to do is make sure that we look at normalization different from weakening, and that's something that our colleagues at GM Financial are looking at every single day in terms of their own credit metrics as well.
Conclusion
GM is trading at an adjusted EV vs forward cash flows of about 6x. That's before adjusting enterprise value downwards further for the Chinese JV or the Cruise stake. On an EV to forward free cash flow basis the company looks to be trading at around 8x. To be fair the value of these segments are a bit of a guessing game. I'm sure they are worth something though and it doesn't appear like they are completely priced in.
I think a long position in GM is quite attractive at these valuations. The market has rapidly priced in a recession. The company isn't really seeing this reflected in its numbers. Demand could hold up a little better than usual because of the gated supply. This also makes the company less vulnerable compared to a more standard business cycle. A recession isn't yet a given, and GM includes a few nice "free" options in Cruise and to an extent its Chinese JV.