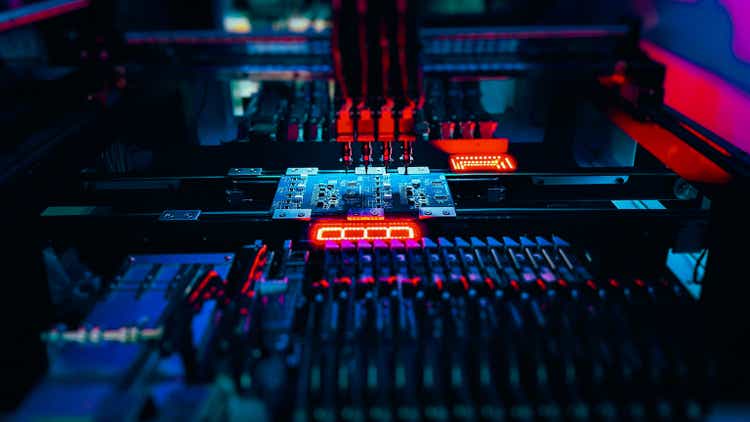 After we gave a buy rating to Nano Dimension Ltd. (NASDAQ:NNDM), a company focused on 3D printing electronics, in late April, a remarkable divergence has been building. Since our last coverage in that article, Nano Dimension has posted a 55.51% return, while the S&P 500 (SPY) and the QQQ (QQQ) have returned only 7.40% and 11.26%, respectively.
While this represents a good start, we believe there is much more ahead for Nano Dimension and maintain our buy rating. In addition, we will discuss the importance of the buyback that was recently approved, and other critical events/catalysts that may be overlooked at the moment, which could have a ton of upside on the stock price.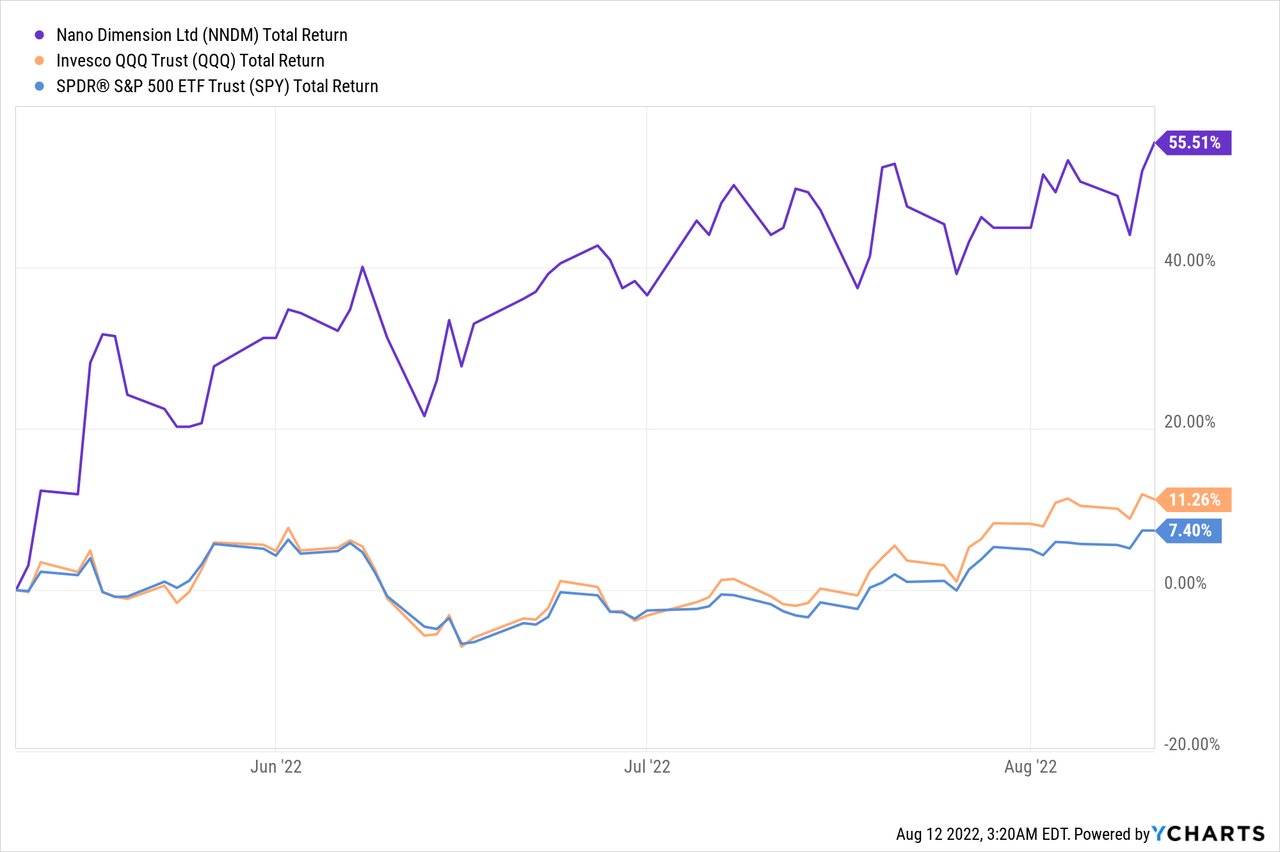 Recent Developments
To say that there has been a lot going on at Nano Dimension is perhaps an understatement. The Additively Manufacturing (electronics) giant announced last month that it had acquired Formatec and Admatec, and recently bought a 12.12% stake in Stratasys. It already has hinted at what its second quarter earnings might look like.
In addition, the long-awaited share buyback program also received approval from the Israeli court last week, which could greatly affect the share price. The buyback program allows Nano Dimension to repurchase up to US$100M of its own shares over the next 12 months. Given that the average volume traded over the last 3 months is about 3M shares per day, the US$100M buyback program could easily bring the stock back to tangible book value if management deems it necessary.
But the company itself did not yet disclose whether it has already begun buying back shares, when it would do so or under what conditions. According to the SEC statement announcing the approval, Nano Dimension plans to repurchase shares "from time to time" and "depending on market conditions, share price, trading volume and other factors." The company is also not required to repurchase all of the shares worth US$100M, and may only repurchase a fraction of the full amount.
We think this is mostly bullish, as the management team could decide to protect the stock from downward trading pressure if the macroeconomic environment continues to deteriorate as it did during the first half of this year. These macroeconomic headwinds may also have had a positive effect, as Nano Dimension can now do mergers and acquisitions at much lower values than 2 years earlier, when it raised the initial capital for the mergers and acquisitions.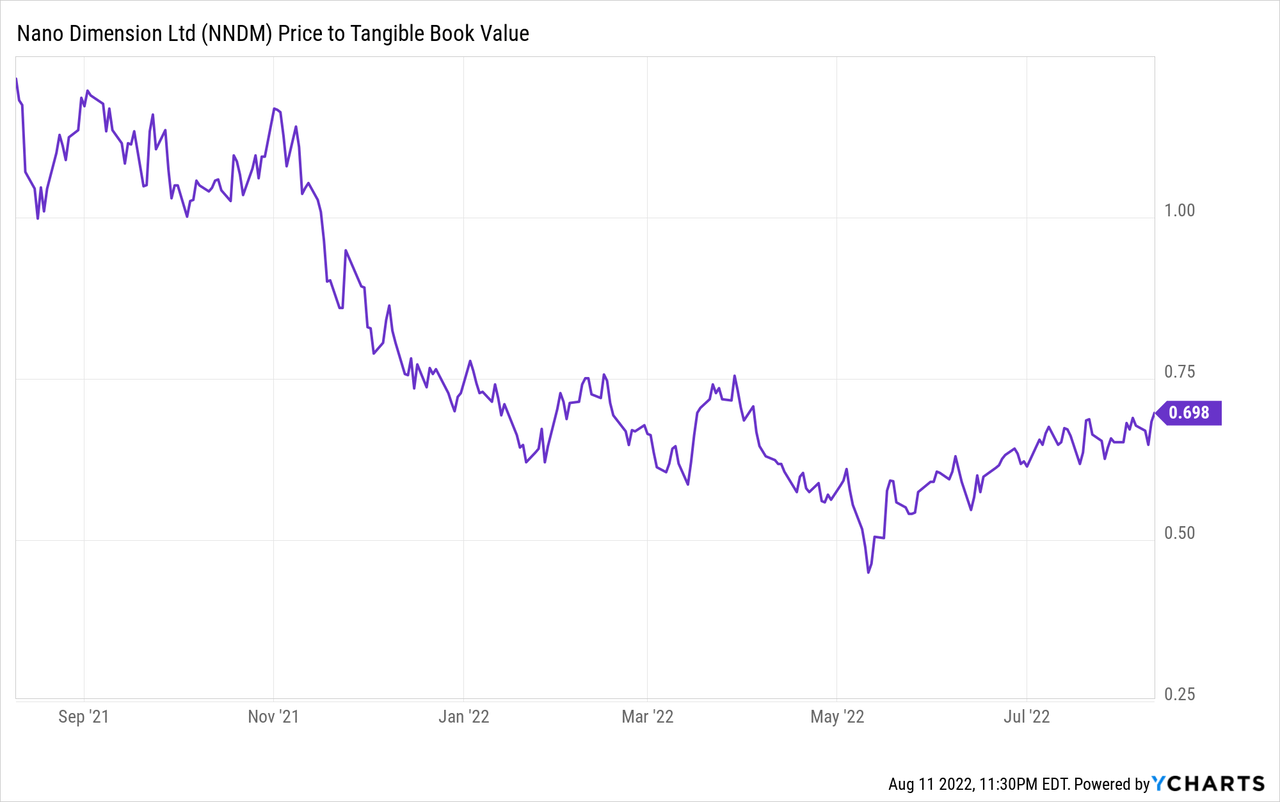 We consider that as long as Nano Dimension is trading below its tangible book value, management may choose to support the stock price by buying back shares and driving the stock up, thereby remaining certainly undervalued. Currently, Nano Dimension is trading at a price-to-tangible-book value of about 0.70.
Another important event that took place last month was Nano Dimension's acquisition of a 12.1% stake in another publicly traded additive manufacturing company, Stratasys. Nano Dimension stated that it could increase or decrease its position in the future, depending on certain parameters. However, Stratasys responded by introducing a poison pill that would prevent Nano Dimension from making a hostile takeover. The poison pill broadly prevents Nano Dimension from having more than 15% control of Stratasys unless the board of directors agrees.
Nano Dimension's clear reason and intentions for investing in the company are not fully known, but it is speculated that it is because Stratasys is an already seasoned company, with a stable stream of revenue in a market that Nano Dimension is not currently active enough in. Stratasys could provide a stable, more saturated lead, and give Nano Dimension more exposure to polymer-based additive manufacturing technologies.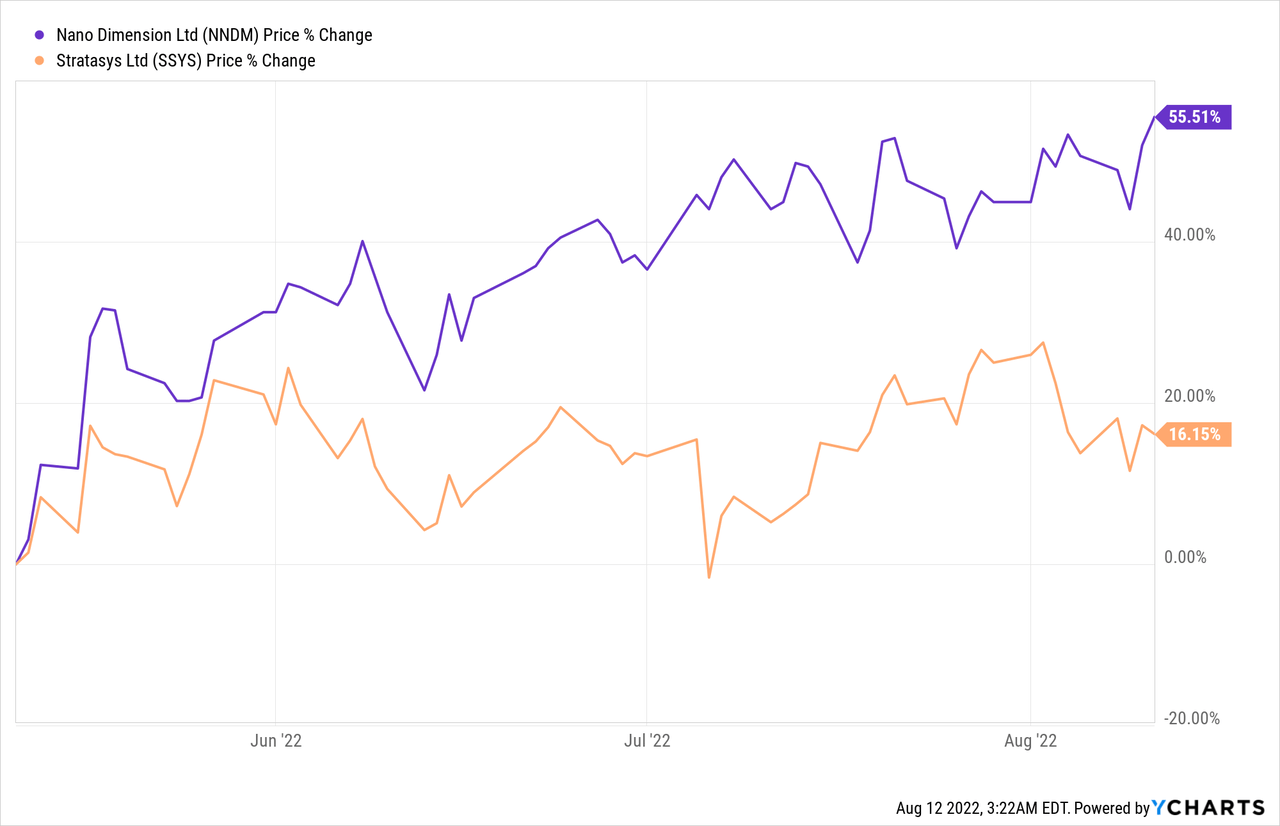 The bold move to buy such a large stake in the company was also unexpected, as Ark Invest had sold most of its stake (about US$100M+) a few weeks earlier. Ark Invest is a major shareholder of Nano Dimension, owning over 16.3 million shares or 6.34% of the entire company. This makes Ark Invest the largest institutional shareholder, owning more shares than BlackRock and Morgan Stanley combined.
While we do not know at this time what management's clear intention is in investing in Stratasys, we do not fully agree at this time that it could be the best value for investors' money. Looking at Stratasys' fundamentals, we can see that their evolution in terms of earnings has not been too positive, as the trend has remained flat for the last 8-10 years.
In terms of profitability, Stratasys has not been able to generate an operating profit in 10 years, while gross margins have been on a downward trend for the past decade. However, Stratasys may be at a turning point now that management has more insights and information than we have in the industry.
Institutional Strength
As for institutions, they have mostly been buying. JPMorgan (JPM), for example, increased its stake by nearly 35% this quarter according to an SEC filing yesterday. For the past 2 quarters, institutional investors have certainly put money into the stock as well, including CEO Yoav Stern who not long ago bought US$0.5M on the open market when Nano Dimension was trading around $4.
Morgan Stanley, Clearline Capital and Man Group also recently added more than 6.5M shares. Another notable move can be seen from Renaissance Technologies, a quantitative fund known for consistently having one of the most returns in the past few decades. They added more than 678K shares according to their latest filing with the SEC.
The Financial Picture
And while Nano Dimension hasn't yet announced its Q2 results, like most other companies, the company was kind enough to give us a sneak peek at what earnings will look like. Revenue for Q2 will come in at an estimated US$11M, which is a 5.5% increase over Q1, which was already a blowout quarter. This means that Nano Dimension is still on track for a 10x increase in revenue in just 2 years, from US$3.4M in 2020 to our estimated range of US$40M-US$50M.
We did not get an estimate of what the bottom line looks like, with OpEx, but we think it will probably be in line with previous quarters. Short-term cash and cash equivalents are still very strong at around $1.267 billion. CEO Yoav Stern expected an operating loss of over 110M to 120M last year, but is currently on track to spend only about US$80M in cash from operations. Nano Dimension will announce its second quarter results on September 1.
We feel that the main concern around the stock, keeping it below tangible book value, is primarily the increase in operating expenses relative to revenues. However, what is usually overlooked is the fact that Nano Dimension's operating expenses are likely to be booked on the front end, while revenues are a lagging indicator.
This could be due to the upfront capital investment in new machinery and R&D, the development of which usually takes more than a year before the first sales are made. However, after these new innovative machines are developed, it is expected that these expenditures will decrease, as revenues should remain stable/increasing. The quality of these revenue streams is also often underestimated, as Nano Dimension will derive much of its revenue from passive income through the sale of ink/maintenance contracts etc. at a higher margin.
Even at the current burn rate of US$80M in negative cash flow from operations, based on first quarter figures, the company would take almost 4.5 years to trade at a price-to-tangible-book value of 1. This is due to the fact that Nano Dimension's market cap stands at US$908M, compared to cash and cash equivalents worth about US$1.25BN. In fact, the market is so bearish that it values Nano Dimension as if it would operate for another 4.5 years and have nothing left of it.
In terms of valuation, we believe that Nano Dimension remains a very solid buy, especially since it trades below its tangible book value. The buyback program by itself may be enough to return the stock to its cash value, which would provide sufficient upside and downside protection at the same time.
If Nano Dimension had a Price-to-Book Value of 1, it would currently trade at approximately $4.85, or a 37.39% increase over its current share price. However, we expect Nano Dimension to trade significantly higher, given its exponential growth in sales and its move toward profitability.
For example, Nano Dimension recently acquired Formatec/Admatec for US$12.9M in cash, while generating US$5.3M in annual revenue and still growing. Moreover, the companies acquired in the industry tend to have very high gross margins, such as in the software industry, where Formatec/ Admatec is 56%.
Most of Nano Dimensions' acquisitions were similar to the recent Formatec/Admatec acquisition, acquiring companies at a P/S ratio of 2. This is despite the fact that the average P/S ratio for machines is close to 3, and the average P/S ratio for software is closer to 13.
Given Nano Dimension's current revenue growth, with a CAGR of 58.84% between 2019 and 2022, we think Nano Dimension should be able to generate revenue of approximately US$664M by 2030 at a CAGR of 40%. Given Nano Dimension's high gross margins and the fact that much of its revenue is passively generated through recurring revenue from ink/maintenance contracts, etc., we think a P/S ratio of 4 would be reasonable.
Assuming a P/S multiple of 4, Nano Dimension is expected to trade at a market cap of US$2.66BN, or a share price of $10.33. The US$664M revenue would also be in line with Nano Dimension's habit of making acquisitions at a 2 times revenue multiple, and having US$1.24BN of cash and cash equivalents on their balance sheet.
From a top-down perspective, Nano Dimension can trade much higher than $10.33, as Industry 4.0 is expected to reach a market size of US$165.5BN by 2026. If Nano Dimension captured a reasonable 1% of that total market, they could generate 1.66BN in revenue. At a P/S multiplier of 4, that would mean a valuation of US$6.64BN, or $25.80 per share.
The Macro & Risks
Looking at the macro economy, Nano Dimension is still at risk of downward pressure and headwinds. With inflation still way too high, and CPI at 8.5%, more speculative stocks like Nano Dimension are at risk of being more volatile, and will likely experience more selling pressure compared to stocks that already have strong free cash flow.
But with the buyback plan in full effect, this shouldn't be too much of a problem. On the other hand, rising interest rates may even benefit Nano Dimension, as it has 1.25BN of liquid assets that could benefit from higher interest rates. Nano Dimension is also in a pole position, as it does not need to raise any capital at all in the near future.
It could easily weather a prolonged recession with its strengthened balance sheet. With the current burn rate of US$80M, they could survive for over 15 years without raising additional cash, with their US$1.25BN liquidity. Rising interest rates and a possible recession on top of that should lower valuations, which would also make M&A more profitable for Nano Dimension.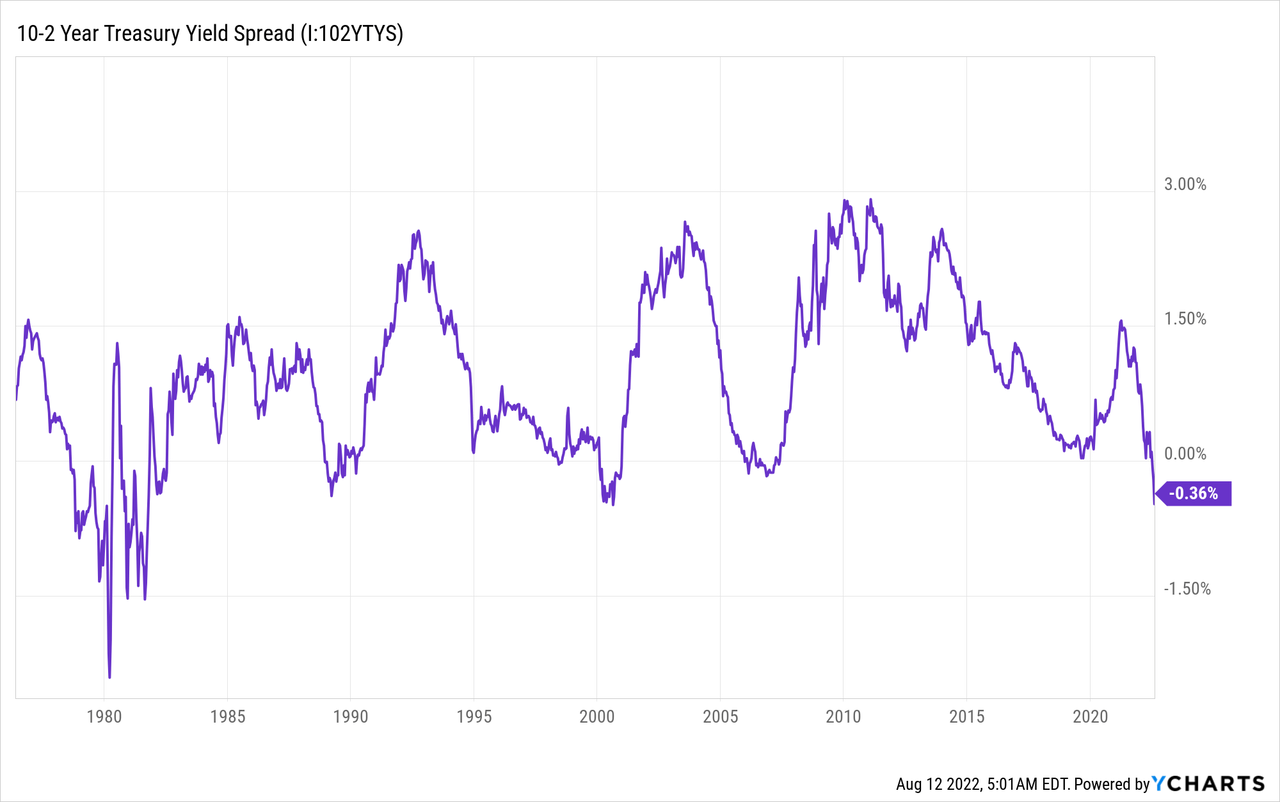 A recession also seems increasingly a likely scenario, with the 10-2 year yield curve inverting by as much as 50 bp, the largest inversion we have seen in 20 years. An inversion of the yield curve has almost always been a signal of a recession in the past. Right now we may already be in a recession, having seen two consecutive quarters of negative GDP in 2022. However, the labor market is still too strong to speak of a recession. Mind you, the labor market is a lagging indicator.
The growing uncertainty in Europe, with the war in Ukraine, is also causing certain European countries to boost their defense budgets, which can also be seen as a tailwind, as Nano Dimension has quite a few customers in the defense, government and cyber security fields. Protecting your IP from foreign nations, which Nano Dimension is keen on, has never been more important.
The Bottom Line
Finally, to conclude with a quote from the CEO of Nano Dimension, Yoav Stern, to a long-term investor during the last earnings call who wanted to see the share price go up, also sums up our thesis:
"So you didn't lose. So you didn't lose. When you sell, you will lose. And I suggest to you not to sell and to buy because the way we are going, if you listen to the data, is brightly forward and upward."