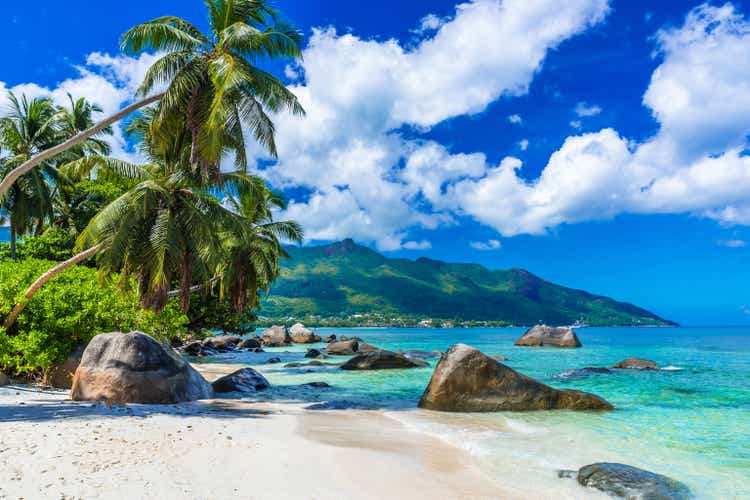 Introduction
The Weekly Breakout Forecast continues my doctoral research analysis on MDA breakout selections over more than 8 years. This high frequency breakout subset of the different portfolios I regularly analyze has now reached 290 weeks of public selections as part of this ongoing live forward-testing research. The frequency of 10%+ returns in a week is averaging over 4x the broad market averages in the past 5+ years.
In 2017, the sample size began with 12 stocks, then 8 stocks in 2018, and at members' request since 2020, I now generate only 4 selections each week. In addition 2 Dow 30 picks are provided using the MDA methodology, but I highly recommend the monthly Growth & Dividend mega cap breakout portfolios if you are looking for larger cap selections beyond only 30 Dow stocks.
As long term investors know, you can compound $10,000 into $1 million with 10% annual returns in less than 50 years. This model serves to increase the rate of 10% breakouts into 52 weekly intervals instead of years. In 2022, the worst market since 2008: 113 MDA picks gained over 5%, 52 picks over 10%, 22 picks over 15%, and 13 picks over 20% in less than week.
2023 Market Outlook
All new long term portfolio selections for 2023 have started. See the stock release articles for more details. So far, all the long-term portfolios are also beating major indices.
My strategy for 2023 is to stay bullish on China as the largest economy still in QE and stimulating their markets, while all other major economies are in QT fighting inflation. I plan to overweight US treasuries/bonds as explained in the 2023 technical forecast article while remaining cautious on US stocks following the gauge signals.
Mid-year 2023 is where things may get interesting with potential for a Fed pivot. Dip-buyers will continue to try to pull this anticipated pivot event forward in time extending high market volatility while the Fed hikes rates. Mid-year I also plan to leverage strong results from a new June Russell Reconstitution anomaly we found last year that is actively tracked on the dashboard: FTSE Russell Reconstitution Anomaly Study - Strong +22.7% Difference After 5 Months
The schedule of reports and forecast articles for 2023 are here for your benefit.
Momentum Gauges® Stoplight ahead of Week 3
All the Daily Momentum Gauges continue positive this week and the weekly gauge has turned positive for the first time in 5 weeks. Monthly signals remain negative from early December but improving.
As a reminder much greater detail is covered live every day in the Chat Rooms with current charts and signals. If you are not reviewing the latest charts and updates you could be missing out.
Daily Momentum Gauges continue positive to the highest levels since last August. We have not seen positive gauge levels sustain this high for very long over the past two years.
The two weekly breakout portfolios are shown below with current 2023 returns. The ongoing competition between the Bounce/Lag Momentum model (from Prof Grant Henning, PhD Statistics) and MDA Breakout picks (from JD Henning, PhD Finance) are shown below with / without using the Momentum Gauge trading signal. The per-week returns equalize the comparison where there were only 16 positive trading weeks last year using the MDA trading signal (negative values below 40).
For 2022, the worst market since 2008: 113 MDA picks gained over 5%, 52 picks over 10%, 22 picks over 15%, and 13 picks over 20% in less than week. These are statistically significant high frequency breakout results despite many shortened holiday weeks.
V&M Multibagger List
While not the purpose of my model, longer term many of these selections may join the V&M Multibagger list now at 126 weekly picks with over 100%+ gains, 54 picks over 200%+, 19 picks over 500%+ and 11 weekly picks with over 1000%+ gains since January 2019 such as:
More than 300 stocks have gained over 10% in a 5-day trading week since this MDA testing began in 2017. Frequency comparison charts are at the end of this article. Readers are cautioned that these are highly volatile stocks that may not be appropriate for achieving your long term investment goals: How to Achieve Optimal Asset Allocation
Historical Performance Measurements
Historical MDA Breakout minimal buy/hold (worst case) returns have a compound average growth rate of 30.87% and cumulative minimum returns of +708.19% from 2017. The minimal cumulative returns for 2022 were -0.21%, average cumulative returns were +67.05%, and the best case cumulative returns were +360.25%. The chart reflects the most conservative measurements, adding each 52 weekly return in an annual portfolio simulation, though each weekly selection could be compounded weekly.
The Week 3 - 2023 Breakout Stocks for next week are:
The picks for next week consist of 1 Communication Services, 2 Healthcare, and 1 Consumer Defensive sector stocks. These stocks are measured from release to members in advance every Friday morning near the open for the best gains. Prior selections may be doing well, but for research purposes I deliberately do not duplicate selections from the prior week. These selections are based on MDA characteristics from my research, including strong money flows, positive sentiment, and strong fundamentals -- but readers are cautioned to follow the Momentum Gauges® for the best results.
Gaotu Techedu (GOTU) - Consumer Defensive / Education & Training
Zymeworks Inc. (ZYME) - Healthcare / Biotechnology
Gaotu Techedu - Consumer Defensive / Education & Training

Price Target: $12.50/share (Analyst Consensus + Technical See my FAQ #20)
(Source: Company Resources)
Gaotu Techedu Inc., a technology-driven education company, provides online K-12 after-school tutoring services in the People's Republic of China. Its K-12 after-school tutoring courses cover various K-12 academic subjects, including mathematics, English, Chinese, physics, chemistry, biology, history, geography, and political science. The company also provides foreign language courses comprising English and Japanese, as well as English test preparation courses for students taking post-graduate entrance exams; and professional courses primarily for working adults preparing for professional qualification exams, such as teacher's qualification, the Chartered Financial Analyst designation, securities qualification exams, and other exams.
Zymeworks Inc. - Healthcare / Biotechnology

Price Target: $15.00/share (Analyst Consensus + Technical See my FAQ #20)
(Source: Company Resources)
Zymeworks Inc., a clinical-stage biopharmaceutical company, discovers, develops, and commercializes biotherapeutics for the treatment of cancer. The company's lead product candidates include zanidatamab, a novel bispecific antibody that is in Phase 1 and Phase 2 clinical trials for the treatment of biliary tract, gastroesophageal adenocarcinomas, breast, and colorectal cancer; and ZW49, a biparatopic anti-human epidermal growth factor receptor 2 (HER2) antibody-drug conjugate that is in Phase 1 clinical trial for the treatment of advanced or metastatic HER2-expressing tumors.
Top Dow 30 Stocks to Watch for Week 2
First, be sure to follow the Momentum Gauges® when applying the same MDA breakout model parameters to only 30 stocks on the Dow Index. Second, these selections are made without regard to market cap or the below-average volatility typical of mega-cap stocks that may produce good results relative to other Dow 30 stocks. The most recent picks of weekly Dow selections in pairs for the last 5 weeks:
| | | |
| --- | --- | --- |
| Symbol | Company | Current % return from selection Week |
| (NKE) | NIKE, Inc. | +4.70% |
| (V) | Visa Inc. | +3.84% |
| BA | Boeing Company | +12.41% |
| (JPM) | JPMorgan Chase & Co. | +6.64% |
| (CAT) | Caterpillar, Inc. | +9.00% |
| (CVX) | Chevron Corporation | +2.17% |
| (BA) | Boeing | +15.93% |
| (CAT) | Caterpillar Inc. | +11.06% |
| (MCD) | McDonald's | -1.16% |
| (MRK) | Merck & Co. | +3.19% |
If you are looking for a much broader selection of large cap breakout stocks, I recommend these long term portfolios. The new 2023 selections have been released in the links below to members to start the New Year:
New 2023 Piotroski-Graham enhanced value -
New January portfolio +12.26% YTD
2022 January portfolio beat the S&P 500 by +32.54%
New January portfolio +10.89% YTD
January 2022 Positive Forensic beat S&P 500 by +6.59%
New January portfolio +16.22% YTD
January 2022 Negative Forensic beat S&P 500 by +22.18%
New Growth & Dividend Mega cap breakouts -
New January meg cap portfolio +3.13% YTD not including dividends
January 2022 portfolio beat S&P 500 by +13.91%
These long term selections are significantly outperforming many major Hedge Funds and all the hedge fund averages since inception.
The Dow pick for next week is:
Caterpillar
Caterpillar continues as a strong Dow breakout pick reaching new all-time highs in strong fundamental and technical breakout conditions. Earnings Jan 31st will be the next key measure, but analysts continue to upgrade to BUY in January with the latest price target $295/share from BofA.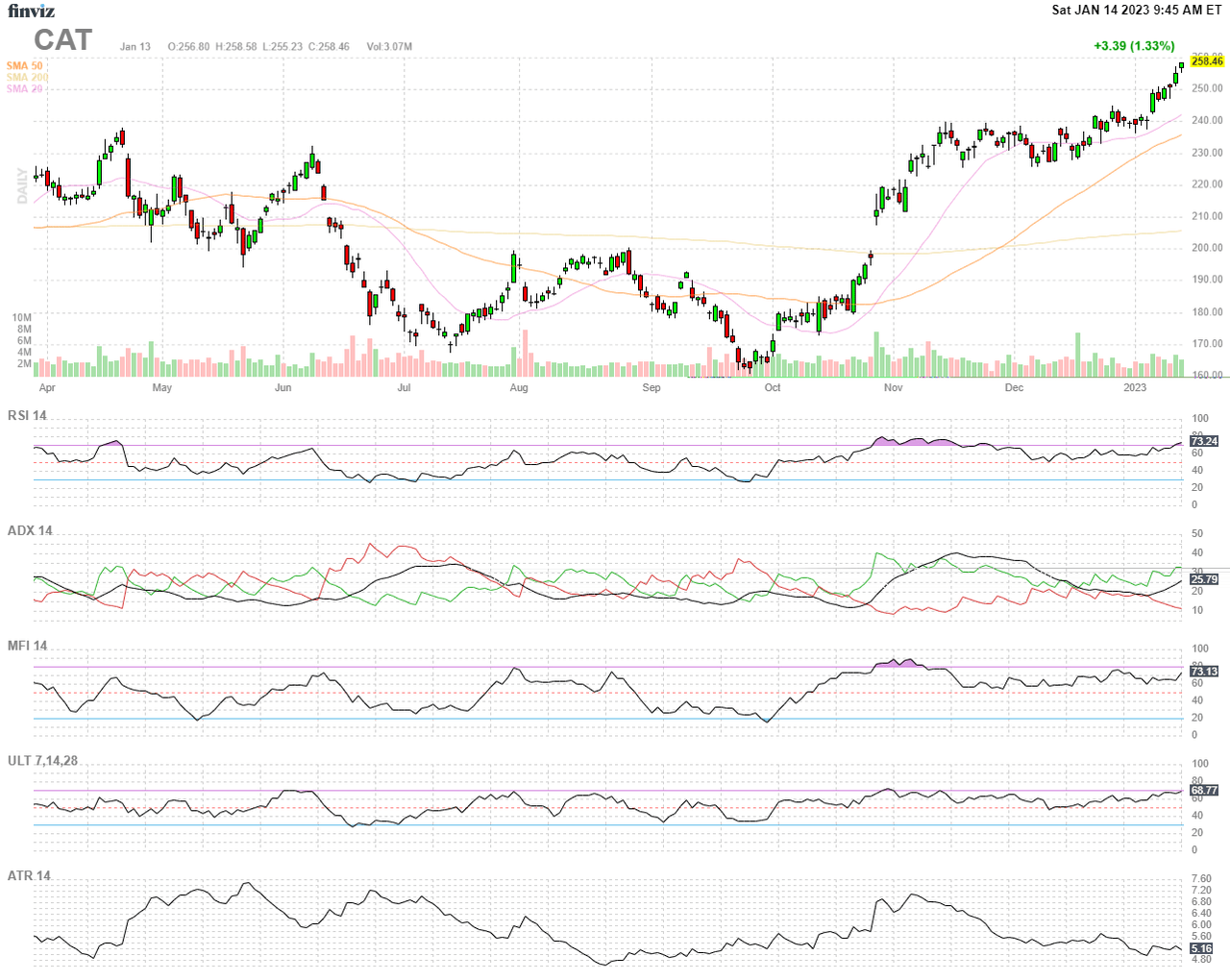 Background on Momentum Breakout Stocks
As I have documented before from my research over the years, these MDA breakout picks were designed as high frequency gainers.
These documented high frequency gains in less than a week continue into 2020 at rates more than four times higher than the average stock market returns against comparable stocks with a minimum $2/share and $100 million market cap. The enhanced gains from further MDA research in 2020 are both larger and more frequent than in previous years in every category. ~ The 2020 MDA Breakout Report Card
The frequency percentages remain very similar to returns documented here on Seeking Alpha since 2017 and at rates that greatly exceed the gains of market returns by 2x and as much as 5x in the case of 5% gains.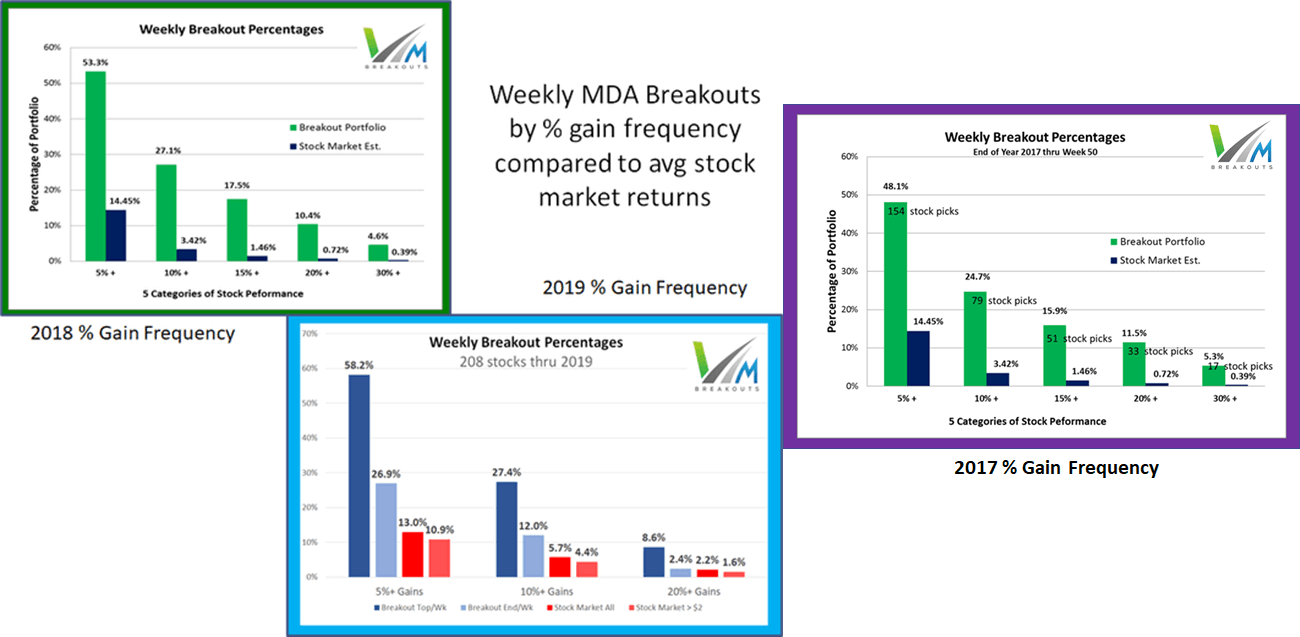 The 2021 and 2020 breakout percentages with 4 stocks selected each week.
MDA selections are restricted to stocks above $2/share, $100M market cap, and greater than 100k avg daily volume. Penny stocks well below these minimum levels have been shown to benefit greatly from the model but introduce much more risk and may be distorted by inflows from readers selecting the same micro-cap stocks.
Conclusion
These stocks continue the live forward-testing of the breakout selection algorithms from my doctoral research with continuous enhancements over prior years. These Weekly Breakout picks consist of the shortest duration picks of seven quantitative models I publish from top financial research that also include one-year buy/hold value stocks. Remember to follow the Momentum Gauges® in your investing decisions for the best results.
All the V&M portfolio models beat the market indices again last year with consistent outperformance of the major indices. All new portfolios are starting for 2023!!
The final portfolio returns for 2022
All the very best to you, stay safe and healthy and have a great week of trading!
JD Henning, PhD, MBA, CFE, CAMS