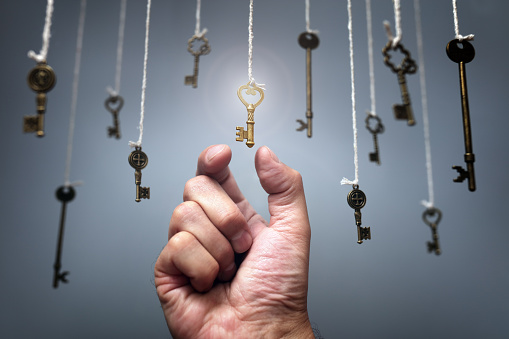 Every year, I make a list of Top Picks which represents a narrowed-down version of our model portfolio. Viridian Therapeutics (NASDAQ:VRDN) was part of my Top Picks portfolio in 2022 and it made the 2023 list as well because I believe the setup for the year remained very good.
Viridian started the year delivering additional positive data of VRDN-001 in thyroid eye patients that further validates the candidate's potential to disrupt the market that is dominated by the only approved product – Horizon Therapeutics' (HZNP) Tepezza. I was previously bullish on Horizon but I closed my position in early 2023 as it is being acquired by Amgen (AMGN).
The additional positive results of VRDN-001 were from the 3mg/kg cohort and the results were consistent with those observed in the two higher-dose cohorts. This is not surprising since even the 3mg/kg dose is able to achieve maximum IGF-1 receptor saturation. I believe there is now sufficient efficacy and safety data to consider VRDN-001 a substantially de-risked candidate and the 3mg/kg dose data suggest VRDN-003, the extended half-life version of VRDN-001, has the potential to be dosed once a month as a subcutaneous injection.
And while this is still not part of my thesis (it represents upside), the emerging data also suggest VRDN-001 is at least faster-acting than Tepezza and that it could also have improved efficacy, not in terms of proptosis response rate as Tepezza has already set a high bar, but in terms of depth of response.
VRDN-001 3mg/kg data confirm the efficacy of higher doses and point to once-monthly dosing of VRDN-003
The 3mg/kg data of VRDN-001 look consistent with the data reported for the two higher doses – 10mg/kg and 20mg/kg. The presentation slide below is very informative and shows that all doses of VRDN-001 work similarly well in TED patients with some variability due to the small number of patients in each cohort. And with the caveat of cross-trial comparisons, VRDN-001 data look pretty good compared to Tepezza at the same six-week time point.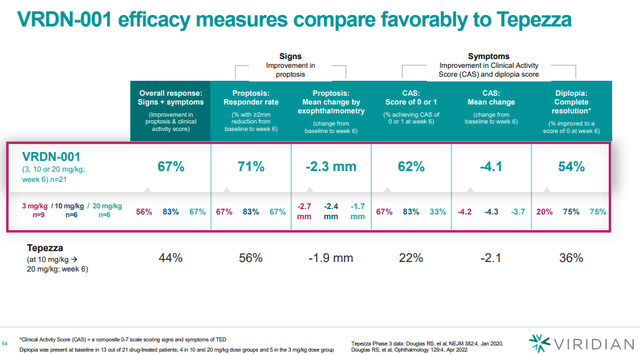 Safety results continue to look good, and the safety data in TED patients along with the safety data from the previous trial in cancer patients suggest we should not worry about VRDN-001's safety being worse than Tepezza's. I am not sure whether safety data can be better, but the data so far suggest it should be similar to Tepezza.
Collectively, there is now sufficient data to make a strong case that VRDN-001 is likely to be at least as efficacious and as safe as Tepezza. As mentioned, the data also point to VRDN-001 potentially working faster than Tepezza, and while there is no long-term follow-up data, there is a case to be made that VRDN-001 can also achieve better efficacy than Tepezza. Not in terms of response rates as Tepezza had already set the bar very high with a proptosis response rate north of 80%, but in terms of absolute reduction in proptosis.
I would still treat absolute proptosis reduction superiority as a more bullish scenario but with an increased probability of materializing. And the reason to leave this as a possibility is not only the preliminary data of VRDN-001 but also the preclinical data showing VRDN-001 is a full antagonist of the IGF-1 receptor as opposed to Tepezza and VRDN-002 being partial antagonists.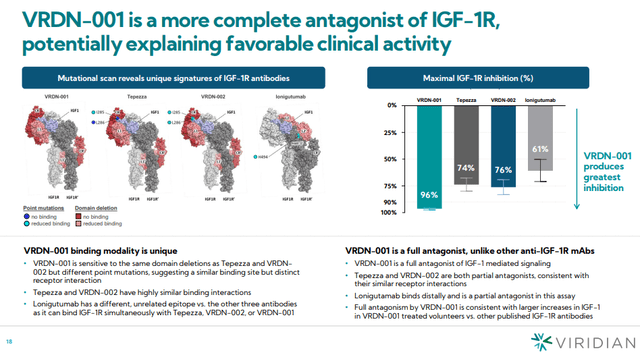 And my base case is more than sufficient for Viridian to create significant shareholder value in the following years despite the valuation increasing considerably since I initiated a position about two years ago.
And the base case is similar efficacy to Tepezza and significantly improved convenience of the next-generation candidate, be it VRDN-002 or (now more likely) VRDN-003. Faster reduction in proptosis also looks increasingly likely and the added advantage of VRDN-001 could be a treatment course that is about half the duration compared to Tepezza as a five-infusion course is being tested along with a regular course of eight infusions in the THRIVE phase 3 trial of VRDN-001 in TED patients.
Going back to the results from the 3mg/kg dose cohort, they suggest that the next-generation VRDN-003 could be administered once monthly versus once every two weeks as a subcutaneous injection.
The extended half-life should also provide greater exposure and Viridian's models suggest that a 300mg flat dose of VRDN-003 administered once a month as a subcutaneous injection (with a 600mg loading dose) could have nearly double the drug exposure compared to the 3mg/kg IV infusion of VRDN-001. And twice weekly administration of the same dose could achieve similar drug exposure to the 10mg/kg IV infusion of VRDN-001 if it is required.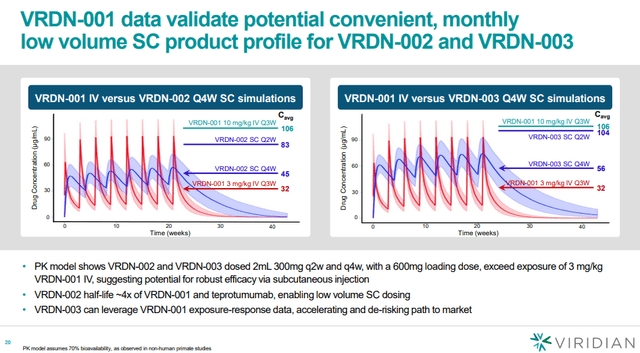 Valuation and upside potential
My valuation range is $76 to $95 per share and it is still substantially higher than Viridian's share price and it is the main reason I believe the stock is still attractive at current levels. The valuation range is based on Viridian's candidates (VRDN-001 and most likely VRDN-003) generating $1.2 billion in global sales by 2028 at the low end of the range and $1.5 billion at the high end of the range.
The valuation still assumes Viridian taking up to a third of the TED market as I assume Horizon Therapeutics and Amgen will continue to work on improving the convenience profile of Tepezza (though I expect them to come up short of the profile of Viridian's candidates), and also additional competition down the road as the success of Tepezza has not only attracted Viridian but also other companies developing IGF-1R antibodies.
And as of today, Viridian's market cap is approximately $2.2 billion and this is approximately 10% of the valuation that I estimate was assigned to Tepezza in Horizon's buyout ($20 billion of $28 billion Amgen is paying).
Potential upside drivers to my valuation are:
VRDN-001's efficacy profile proves superior to Tepezza, and the IGF-1R class as a whole has much higher penetration in the chronic TED market – this is subject to positive phase 4 data of Tepezza in this population and positive phase 2 data of VRDN-001 with both studies expected to report data in the second quarter of 2023.
Higher peak sales potential in ex-U.S. markets. My estimate range is still predominantly based on the United States, and commercial success in markets such as Japan, Europe, and potentially China (where Viridian already has a partner) could drive additional upside to the valuation in the following years.
The main risks are increased competition beyond what I am assuming at the moment, VRDN-001 and/or VRDN-003 failing to live up to the preliminary phase 1/2 data, and the global TED market being smaller than I am currently modeling.
Conclusion
VRDN-001 continues to impress and Viridian now looks well-positioned to be an important player in the TED market later this decade. The 3mg/kg data confirmed the prior strong efficacy results of 10mg/kg and 20mg/kg doses and the results suggest that the next-generation candidate VRDN-003 could be administered once a month as a subcutaneous injection. The fundamental setup continues to look very good despite the recent share price appreciation and I believe Viridian should be worth a lot more in the following years.
Upcoming events and catalysts:
Phase 2 data of VRDN-001 in chronic TED patients in 1H 2023 (likely Q2).
Start of THRIVE-2 phase 3 trial of VRDN-001 in chronic TED patients in 1H 2023.
Phase 2 data of VRDN-002 in active TED patients in 2H 2023.
Phase 1 data of VRDN-003 in healthy volunteers in Q4 2023.
Subcutaneous candidate selection (VRDN-002 or VRDN-003) and the start of a registrational trial in Q1 2024.
THRIVE phase 3 results of VRDN-001 (10mg/kg IV-administered) in active TED patients in mid-2024.
THRIVE-2 phase 3 results of VRDN-001 in chronic TED patients in late 2024.
It is also worth mentioning that Viridian is working on diversifying its pipeline. VRDN-004, VRDN-005, and VRDN-006 are in various phases of preclinical development and are targeting other rare diseases. CEO Violin said we should hear more about at least one of these candidates later this year. The approach will be the same as with the first three candidates – find a validated and sufficiently de-risked target and try to develop an improved version of an antibody compared to what is available or in development today.
And lastly, Viridian is well funded through the above-mentioned catalyst-rich period. The company ended 2022 with $425 million in cash and equivalents which should be enough to last into the second half of 2025.