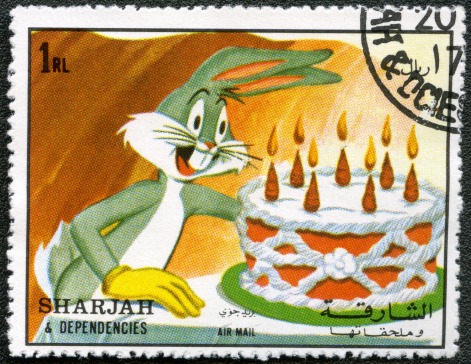 Warner Bros. Discovery, Inc. (NASDAQ:WBD) price at writing: $13, dead pooled for the present.
Fair value calculated by SWS: $6.47 Overvalued by ~50%
Margin of safety: -106.73%
Net income 3 yr average: ( $5.727b ).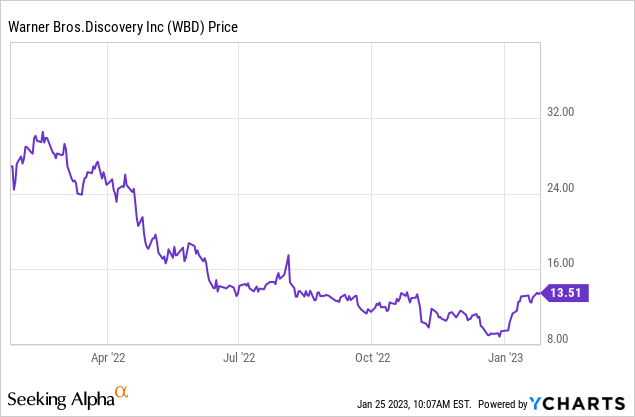 Mr. Market mostly likes WBD CEO David Zaslav's cost-cutting, but remains wary about the prospects of him getting his arms around the multiple ailments of the marketplace and a debt load not easily solved. It is solvable, but not at its current size.
Below: Our thoughts about a strategy that might be worth considering based on the theory to learn from history, not repeat it, which is the pouring of old wine into new bottles.
A bit of ancient

WBD history with resonance today follows
For those too young or generally disinclined to believe that there is much more to explain as to why a stock moves than data sets on its recent performance, join us in a bit of archeological digging. What WBD once was, i.e., WCI (Warner Communications Inc.), comprises a lot more of what it IS now than anyone suspects. Companies do have lingering DNA no matter how many managements come and go.
And therein lies the formula for what investors should expect from CEO Zaslav and his minions now. Old nostrums hang around, though the people who created them are long gone. In this case, we are talking about the legendary king of hustle, CEO Steve Ross CEO from 1962 to his death (d. 1992). He created an entertainment empire from a funeral home chain and operator of garages, parking lots, and office cleaning companies under a single company called Kinney Services.
Pardon us, but an old Yiddish expression still summarizes the harsh truth contrary to Ross's business model: You can't dance at two weddings with one behind…." ( I assume there is no need to translate the polite English behind or its Yiddish equivalent to this audience.) It's about a Ross dream that began in the sixties and, hard to believe, his blunders still haunt the woes of WBD. Its triumphs are likewise part of what built the company till this day as well. But the seminal culture of wishful Ross synergy lives in the genes of WBD stock. And that is why, among other reasons you won't find any algorithms created by analysts from Excel, the stock will slosh around aimlessly.
Attention WBD: Dance at one wedding with one behind and reconstitute a business model that is tight, clear, and profitable. The future is sunny if you do. Note: no, I don't pretend to play McKinsey guru here or Goldman Sachs belt and suspenders banker. Those tasks are way above my pay grade. My viewpoint is entirely that of a tested veteran of the battle for consumer dollars in gaming and entertainment c-suites, over many decades, no more nor less.
In brief, WBD is not yet a coherent business. Nor has it ever been. Nor will it ever be unless Zaslav and Malone slash their machetes through the current jungle. This could easily be a $35 stock within 18 months or less by a strong pivot to the inevitable conclusion, I believe, that WBD is just too big and too messy to make financial sense for investors long term. Yes, my money is on Zaslav and Malone to figure it out. And that may be the only reason to own the stock, if you buy that bet.
Open the cave: Behold Warner Communications circa 1972-90 and the ghosts that remain till this day
After exhuming layer after layer of shards of prior civilizations and kings, you may guess how they came a cropper. And what you learn is that often the sins of even the ancient ancestors ironically are a DNA passed down to the present day.
The proclivity to continue buying into businesses that on the surface seemed economically simpatico as dreamt by dealmaker Ross, haunts WBD today. What may seem synergistic on paper often requires special skill sets in managing that simply do not translate and cause internal management culture conflict. That's what forged the persona, if you will, of WBD. It's not quite so simple as it may appear to conclude all these diverse targets on consumer eyeballs are essentially the same business. They have similarities, for sure, but below the surface can become a jigsaw puzzle where the pieces don't fit.
When you dig down to the WBD seminal core, you first confront the man and the legend who created the enterprise from the get-go. In this case, his name was Steven J. Ross, a streetwise gallant who had an uncanny ability to do deals with his band of selected frat boys. He slathered them with fat salaries and bonuses, stock options and perks up the wazoo. He bought companies, put his jolly band of senor execs in charge of each, gave them total autonomy, and filled their and his own pockets in the process in the hundreds of millions of dollars.
Born in 1927, Ross was the son-in-law funeral director of a chapel chain in NY that was a profit machine. He spotted their limo fleet sitting idle in a garage each night and had the blindingly brilliant insight to start a limo rental service for evenings. That led to a buy into the parking lot business, then garages and office cleaning in the Kinney National name. Ross brought it all public in 1962 for $12.5m.
He was a streetwise operator with a scintillating personality and a supremely nimble brain for numbers. He saw synergies in all service businesses which led him to yet another deal to acquire Ashely Famous Artists, a talent agency. After all, he thought, what's the difference needed in emotional intelligence between soothing grief-stricken relatives in a Brooklyn chapel to managing the perpetually insecure egomaniacal show business types in Beverly Hills?
(In the process, his pal-ship bloomed with Clint Eastwood, Steven Spielberg, Barbra Streisand, and Quincy Jones. He was starstruck, and lived the luxe life of luxury coruscating glamour that brought an aura to the company-but not that much money. David Spielberg only made one so-so movie for WB.)
Ross used the tentacles of Ashley to eventually talk old and failing Jack Warner (d.1979) into selling him the eponymous movie studio in 1969 for $400m. As soon as he could, he unloaded the drudgery Kinney National businesses in a spinoff and headed headlong full force into show business, creating what became Warner Communications Inc., among the hottest stocks of the late seventies to early eighties.
Above: WBD is a succession of dynasties, and kings. Above, Jack Warner, who was the foundational hard-charging CEO and dreamer.
Thus was born a parent company which seemed to fit together under the broad imprimatur of an entertainment empire with the pieces fitting snugly into a juggernaut to attack the sector. It was not to be. Ross in reality created fiefdoms for his executives, who had a free hand to run their businesses, some of which Ross barely gave any attention after he bought them.
His next coup was recognizing the potential of cable as an early pursuer of franchises from governments all over the nation. Back in the day, cable TV was begun by a savvy farmer here or there in an area with terrible TV reception. He'd build a tinker toy giant antenna, wire it to his neighbors, and collect monthly subscriptions and get rich quick. Federal decisions created a series of breakthroughs that got the cable business into programming. Ross was there with the origins of MTV and Nickelodeon-both of which are still part of WBD in one way or another. Partnered with American Express to create Warner/Amex cable, he plunged headlong into content.
The ever-restless Ross spotted a company called Atari in the late seventies and bought it. It was at the cusp of the video games boom. Its historical explosion became the biggest profit engine of Warner. The inevitable bust came in 1983, when the proliferation of video game tech had ballooned and new games were spitting out of design teams by the dozens a month. Atari sat with zillions of unsold video games stuffed in warehouses all over the country. The losses and write-offs were monumental. Ross was considered doomed.
Not so. The resilient Ross rebounded with deals that expanded Warner/Amex Cable systems and beyond that, opened the gates for him to embrace the biggest deal ever with his merger with Time Inc. Whether it is Time magazine, People or Sports Illustration, it is entertainment right? Just like Warner movies, its money machine in records and music and video games.
Along the way, Ross ate up Six Flags Amusement Parks and an oddball mail order company, The Franklin Mint, which sold collector coins. It bought the business in 1980 while Atari was minting gold but sold it in 1984, when Atari was bleeding millions a day. We could go on and on about the great adventure that was the career of Steve Ross. But the codebreaker here is that the Time Warner deal began in 1990 as a merger of equals, with co-CEOs that came to be an unmitigated disaster of culture clash.
What it proved was that the distinct management culture of a white-shoe, finely tuned corporate engine like Time Inc. was light years away from the shoot from the hip, frat house fun farm that was WCI. Ross deftly manipulated the board, and the co-CEO status with the Time boss, J. Richard Munro, died, putting him as the undisputed leader of both divisions. The Warner guys exacerbated the culture clash and the Time Inc. guys took the cash and ran.
How do I know? Some of those WCI frat boys were pals of mine in the halcyon days of the late sixties. They worshipped Ross as the source of a never-ending fountain of personal largesse. WCI was not a single corporation per se, but a gaggle of dukedoms for Ross's buddies, some of whom were good, others empty suits with fat expense accounts.
As the company wended in and out of gold mines and dry holes under the ever-affable Ross, it made cameo stops at places like AOL, a disaster, and in the climatic Gotterdammerung act of all. Long after Ross had died, it sold itself to AT&T Inc. (T) for an astounding $85b. Synergy? Sure. Entertainment needs distribution through tech pipelines, and who had the biggest, most intricate pipeline on the globe thirsting for content? Why AT&T and all its delusional belt and suspenders board members and management gurus.
Well, we know how that all worked out, don't we? That mess lasted from 2016 negotiations to an $85b divorce in 2022. The debris of that deal was dumped in the lap of Zaslav with a truckload of moneybags that could make Uncle Scrooge seem like a welfare recipient. And that's where we now find the central challenge facing WBD. Along with the crazy quilt of verticals came the massive load of debt.
Zaslav has tackled the creaky fortress so far with a slashing cutlass, not a scalpel. And that is all to the good. But the hard part remains. That is the need to rationalize the 50-plus brands and attempt to reprocess them into a sensible, coherent whole while debt is under attack.
Question one: What is WBD, really? Is it a content company? A streaming TV service? A movie studio, a news and sports pipeline, a cable MSO provider? Where does CNN fit? How does the music business make sense in the world of Spotify? Does this company need 5 divisions to make sense of its future and, by extension, a bullish story for investors?
The point here is that wherever WBD turns, it faces monumental competitive and cost pressures. That is why it seems to us here that fewer, tighter verticals, abandoning the ancient DNA formulated by Steve Ross back in the day should be among the top priorities for Zaslav and Malone here. Synergy dreams became nightmares over time, and no one found the secret sauce to cohering it all into the money machine it could be.
To us, this simply means: Sell it or spin it off. WBD makes much more sense to us as a highly positive buy for investors if it selected its core competencies into a tight universe and unloaded everything else. Either find a buyer for the likes of CNN, units in the runaway costs of sports programming, the music division, and whatever part of the international business is in the process of being born or newborn.
It seems to us reasonable to at least start a conversation about digging through the massive brand stable of WBD and making some really tough decisions. As I have often stated, investment banking and uber corporate strategy are way above my pay grade here. I leave that to Zaslav and his minions.
But, for what it's worth, I believe a WBD trimmed to coherent size with a happy debt profile would include:
The Warner Brothers film &TV production studio
HBOMax
Discovery Channel+ (Cherry pick diverse content, package the rest and either sell or spin off the remaining brands).
A perfect candidate for a spinoff would be DC Publications and its stable of superhero franchises. It is strong enough to stand alone with a firm licensing deal with WB for future film content. The existing superhero library can be sold as part of the deal and could fetch a nifty price to add to debt reduction.
TCM: A national treasure of content that concentrates all the positives one can reasonably expect in the entertainment jungle faced today. 1) People love it. 2) Part of its allure is that there are no commercials, ever. 3 ) Nothing would be an easier sell as a subscription channel to its heart and soul audience-with the promise that their monthly checks keep the ad intruders far from the city gates.
(WBD management shouldn't be spooked by the TCM age demo. Millennials don't stop aging. A Pew Foundation study found that baby boomers begin to assume the lifestyle and tastes of their parents as they age. The same will occur with the millennials because smart marketing can overcome it by adding movies from the 1960s to the 1980s to the library. People tend to forget that the superhero movie genre is based on characters created nearly 90 to 70 years ago.)
Put TCM and HBO and Discovery Plus together. HBOMax and TCM stay ad free, Discovery continues as an ad-supported media. The remaining 50 WBD brands would make a tasty dish under a separate company (or companies) as an ad-supported niche content non-fiction TV provider.
The key here is valuing the unloading of the 50 Warner Bros. Discovery, Inc. brands outside of those I see as having a coherence and falling within a ground-rooted, smart span of control by a savvy management. To what extent can such a seemingly draconian sell or spinoff generate proceeds enough to make a significant dent, say as much as 65% of WBD debt is the target.
And if so, how could Mr. Market not see such a successor entity as not being a slam dunk strong buy? Mr. Zaslav can earn his monster paycheck if he brings it off for Mr. Market, starting with spinoffs this year or next.