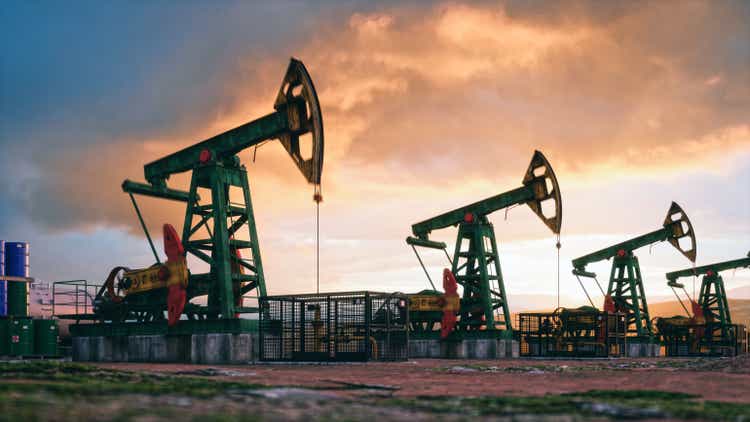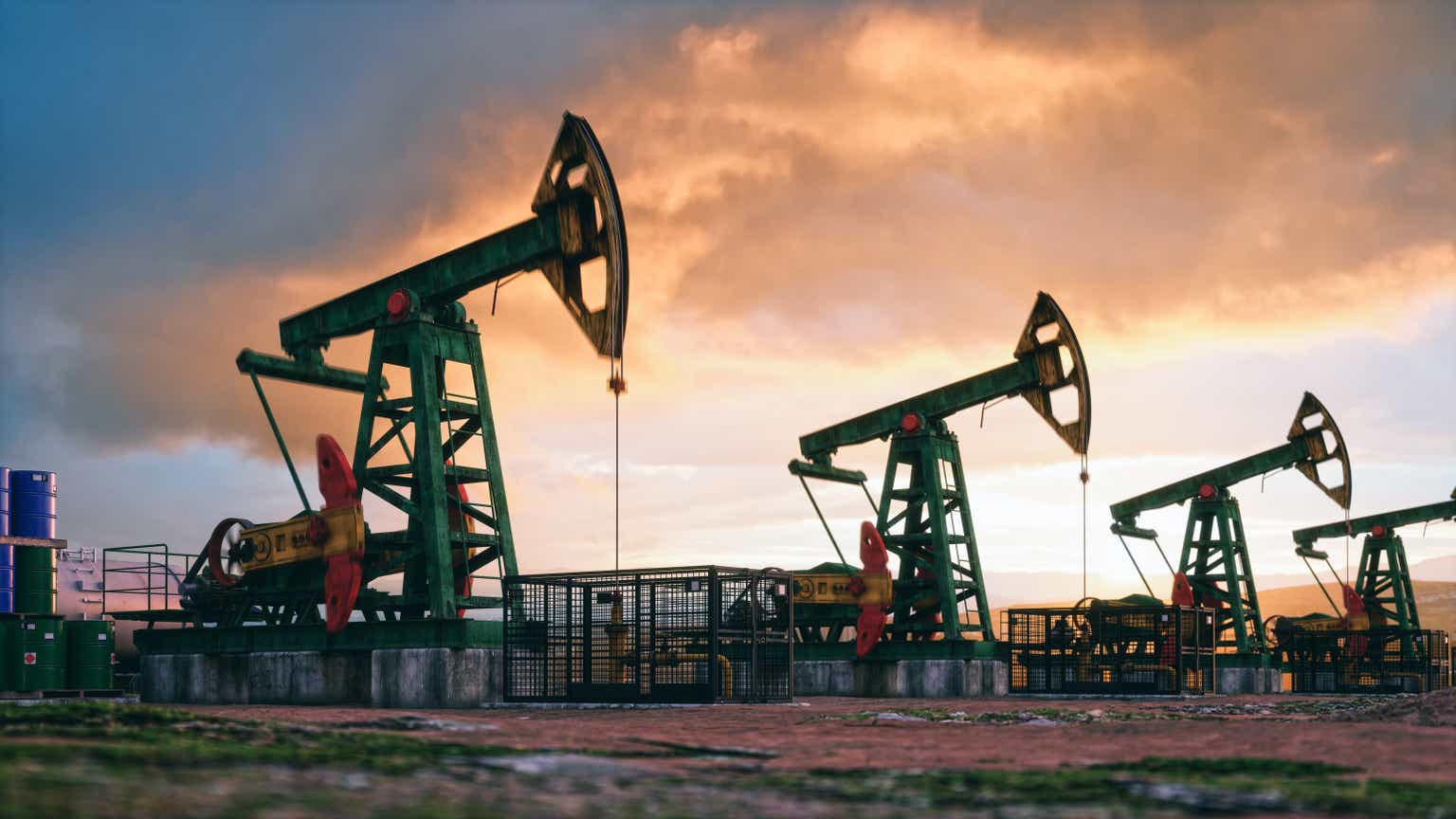 Viper Energy Partners LP (NASDAQ:VNOM) is an interesting master limited partnership that acts as something of a combination of a hydrocarbon streaming company and a royalty trust. Basically, the company owns land that is operated by Diamondback Energy, Inc. (FANG) and others upon which it receives a percentage of the acreage's production. This makes it an ideal way to play crude oil prices, especially since it distributes a significant proportion of its cash flow from the oil to its investors in the form of distributions.
The nice thing about Viper Energy Partners, though, is that it does not have a depletion date like a normal royalty trust would because it can acquire new resource-rich acreage. This combination of direct exposure to energy prices and high distributions makes Viper Energy Partners an excellent way to recoup some of the extra money that you have to pay in your capacity as an energy consumer when energy prices rise.
Unfortunately, Viper Energy Partners has lately been spending much of its cash flow buying back its own units instead of making direct distributions. I complained about this practice in my last article on the company. The company still boasts a 6.00% yield at the current price though, which is certainly not unattractive in the current market. Overall, the company may still be worth purchasing today.
Description And Outlook
As stated in the introduction, Viper Energy Partners is something of a hybrid between an energy royalty trust and a resource streaming company. The company basically acquires resource-rich acreage that is operated by Diamondback Energy, which is Viper Energy's general partner, as well as a few other companies throughout the Permian Basin.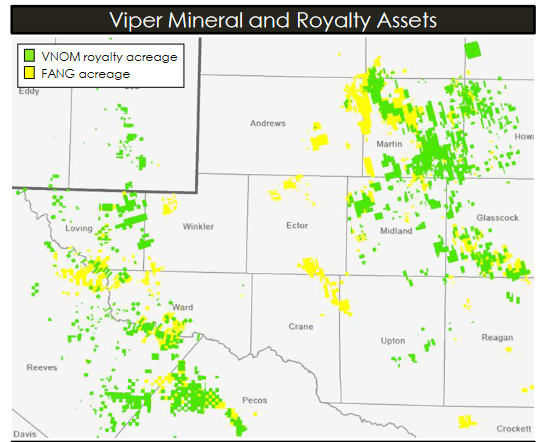 As we can see here, Viper Energy Partners currently has 26,789 acres located throughout the Permian Basin. As of the time of writing, approximately 55% of this acreage is operated by Diamondback Energy. The rest of the land is either operated by a third party or is currently sitting idle and awaiting future development. This company does not have nearly as much idle land as PHX Minerals (PHX), another company that uses a similar business model. In fact, less than 30% of Viper Energy Partners' acreage is sitting idle. This is nice because it means that the company is not tying up capital by owning unproductive land, nor is it really speculating on future production growth. Rather, the company is striking a good balance between maximizing revenue and investing in future growth.
It is certainly likely that we will see some future growth. There was certainly a lot over the past year. As we can see here, the production of both crude oil and natural gas is up significantly in the Permian Basin year-over-year:
Viper Energy Partners has certainly benefited from this. In the third quarter of 2022 (the most recent date for which data is available), Viper Energy Partners reported that crude oil production on its acreage was up 24% compared to the third quarter of 2021. In addition to this, crude oil prices were significantly higher during the third quarter of 2022 than they were in the prior-year quarter. This is something that benefited the company a great deal since Viper Energy Partners receives a percentage of the crude oil and natural gas that is produced on its acreage. Thus, this production growth resulted in the company receiving more barrels of crude oil that it was able to sell for a higher price than a year ago. This is the biggest factor that caused the company's cash flows to increase over the period. In fact, as we can see here, Viper Energy Partners' adjusted EBITDA (a proxy for pre-tax cash flow) and distributable cash flow have generally been increasing since early 2019:
We do, of course, see some fluctuations. For example, the company's cash flow figures dropped significantly in 2020 and they were also lower in the third quarter of 2022 than in the first or second quarters. This is due to crude oil prices. As already stated, Viper Energy Partners generates a significant percentage of its revenue by taking a percentage of the crude oil produced on its acreage and selling it. This is why the company can be a good way to play energy prices while still collecting an attractive yield.
As we can see above, the production of crude oil and natural gas in the Permian Basin has been climbing over the course of the past year so we can assume that the production on Viper Energy Partners' acreage was higher during the fourth quarter of 2022 than it was during the third quarter. Unfortunately, crude oil prices were lower on average, as we can see here:
The higher production will partially offset the impact of the lower energy prices. After all, it will provide Viper Energy Partners with more products to sell for money. However, it is unlikely to completely offset the impact of the lower prices so most likely, Viper Energy Partners' revenue and cash flow will come in somewhat lower during the fourth quarter than we saw in the third. Viper Energy Partners has a tendency to adjust its distribution based on its distributable cash flow so it is possible that we will see a reduction in the next distribution.
This is one of the reasons why I consider this to be a hedge against consumer price exposure. Basically, when your personal energy costs go up, Viper Energy Partners should provide you with a larger distribution to offset your higher expenses. The reverse is also true, so when you are spending less money as a consumer of energy, Viper Energy Partners will give you less money as you need less money to offset the impact on your personal budget.
We have started to see crude oil prices trend up so far this year, albeit relatively slowly:
As I pointed out in a recent blog post, though, it is somewhat unlikely that crude oil prices will decline very much from today's levels. Thus, we can expect that the company's first quarter 2023 performance will be somewhat better than during the fourth quarter as both higher oil prices and higher production will push up revenue and cash flow. This is nice as it should result in the fourth quarter being the worst that we will see for a while.
The possible exception to this is if the United States falls into a recession. This is certainly possible as the Leading Economic Indicators fell 1.0% in December, which signals a high probability of a near-term recession.
| | | | | | | |
| --- | --- | --- | --- | --- | --- | --- |
| | Dec 2022 | Nov 2022 | Oct 2022 | Sept 2022 | Aug 2022 | July 2022 |
| LEI | 110.5 | 111.6 | 112.8 | 113.9 | 114.5 | 114.6 |
The reason why this is important for Viper Energy Partners is that crude oil prices tend to decline during a recession. This is because the consumption of gasoline and other oil distillates for both personal and industrial uses declines. This causes the overall demand for crude oil to decline and thus causes resource prices to decline. As Viper Energy Partners' revenues and distributable cash flow directly depend on energy prices, this would have the effect of causing these figures to fall. With that said though, the Biden Administration has promised that the Federal Government will purchase sufficient crude oil to refill the Strategic Petroleum Reserve at a price of $72 per barrel. If the Administration keeps its promise, that effectively puts a floor on how low energy prices can go. As I have pointed out before, it seems pretty unlikely that crude oil prices will decline by more than 10% from today's levels so we probably do not have very much to worry about here.
Financial Considerations
It is always important to look at the way that a company finances its operations before making an investment in it. This is because debt is a riskier way to finance a company than equity because debt must be repaid at maturity. This is usually accomplished by issuing new debt and using the proceeds to repay the maturing debt, which can cause a company's interest costs to increase following the rollover depending on the conditions in the market. In addition, a company must make regular payments on its debt if it is to remain solvent. Thus, an event that causes a company's cash flows to decline could have the effect of pushing it into financial distress if it has too much debt. This is something that could be a very real concern with a company like Viper Energy Partners due to the inherent volatility of crude oil prices.
One metric that we can use to analyze a company's financial structure is the net debt-to-equity ratio. This ratio tells us the degree to which a company is financing its operations with debt as opposed to wholly-owned funds. It also tells us how well the company's equity will cover its debt obligations in the event of a liquidation or bankruptcy event, which is arguably more important.
As of September 30, 2022, Viper Energy Partners has a net debt of $658.0 million compared to $2.2909 billion of partners' equity. This gives the company a net debt-to-equity ratio of 0.29 today. Here is how that compares to some of the partnership's peers:
| | |
| --- | --- |
| Company | Net Debt-to-Equity Ratio |
| Viper Energy Partners | 0.29 |
| PHX Minerals | 0.24 |
| Northern Oil and Gas (NOG) | 1.64 |
Admittedly, this list is somewhat shorter than normal because there are not a lot of American companies that use the same business model as Viper Energy Partners and it does not make sense to compare the company to an upstream producer or pipeline company. As we can see though, Viper Energy Partners appears to be using a rather conservative financial structure relative to its peers. Admittedly, it does not have the absolute lowest leverage of its peers, but it still compares reasonably well and so it does not appear that the company is employing too much debt in financing its operations. Thus, it is probably not exposing us to too much risk in terms of its financial structure.
Ultimately, a company's ability to carry its debt is more important than the sheer proportion of debt in its financial structure. After all, it is an inability to make payments on debt that ultimately pushes a company into financial distress. The usual way that we judge a company's ability to afford its debt is by looking at its leverage ratio, which is also known as the net debt-to-adjusted EBITDA ratio. This ratio essentially tells us how many years it would take the company to completely repay its debt if it were to devote all of its pre-tax cash flow to that task. During the twelve-month period that ended on September 30, 2022, Viper Energy Partners had an adjusted EBITDA of $324.428 million compared to net debt of $658.0 million. This gives the company a leverage ratio of 2.03x. That is a bit higher than we really want to see as most oil producers have now gotten this ratio down under 1.0x. Although Viper Energy Partners is not really an oil producer, its cash flows do vary with energy prices just like an upstream company. As such, we can compare it to these companies when determining its ability to carry its debt and unfortunately it does not really compare that well to the best companies in the industry. This is disappointing, although not necessarily a reason to panic.
Distribution Analysis
One of the biggest reasons why investors purchase units in a master limited partnership like Viper Energy Partners is because of the high yield that the company typically possesses. Indeed, Viper Energy Partners' last declared distribution was $0.49 per unit, which gives it a 6.00% annualized yield at the current price. As may be expected, the company's distribution has varied a lot over the years, generally corresponding with crude oil prices:
The fact that the company's distribution varies so significantly from quarter to quarter makes it rather unlikely to appeal to someone that is looking for a stable source of income. However, the company does quite well as a hedge against your exposure to energy prices as a consumer.
It is always important that we analyze the company's ability to pay its distribution. After all, if the company is actually paying out more than it generates, then it will ultimately run into financial troubles and the unit price will take a pretty serious hit.
The usual way that we analyze a company's ability to pay its distribution is by looking at its distributable cash flow. The distributable cash flow is a non-GAAP metric that essentially tells us the amount of money that was generated by a company's ordinary operations and is available to be paid out to the limited partners. During the third quarter of 2022, Viper Energy Partners reported a distributable cash flow of $79.2 million, which works out to $1.07 per partnership unit. The company only paid out $0.49 per unit, though, which gives it a distribution coverage ratio of 2.18x for the quarter. That is well above the 1.20x that analysts usually consider sustainable.
However, the company also repurchased a significant amount of its own partnership units during the quarter. This is one of the things that I was upset about in my last report on the partnership as I would rather see the company pay out a higher distribution than repurchase units. In total, Viper Energy Partners paid out $59.4 million, or $0.80 per unit, between both the unit repurchases and the distribution. Thus, the company's actual distribution coverage ratio was 1.33x, which is still reasonable. As my regular readers likely know, I generally consider anything over 1.30x to represent a reasonably safe distribution as it does provide the company with a margin of error. It is still tighter than many other master limited partnerships have, though.
Conclusion
In conclusion, Viper Energy Partners LP appears to be a reasonable way to play oil prices and hedge your exposure to energy prices. The company should deliver a higher distribution during times when prices are high, which helps to offset the higher costs that you are paying to heat your home or fill up the gas tank of your car. However, the company's fourth-quarter results will probably come in a bit weaker than the third quarter so its distribution will probably decline a bit. The long-term case is still strong and overall, Viper Energy Partners may deserve a place in your portfolio.