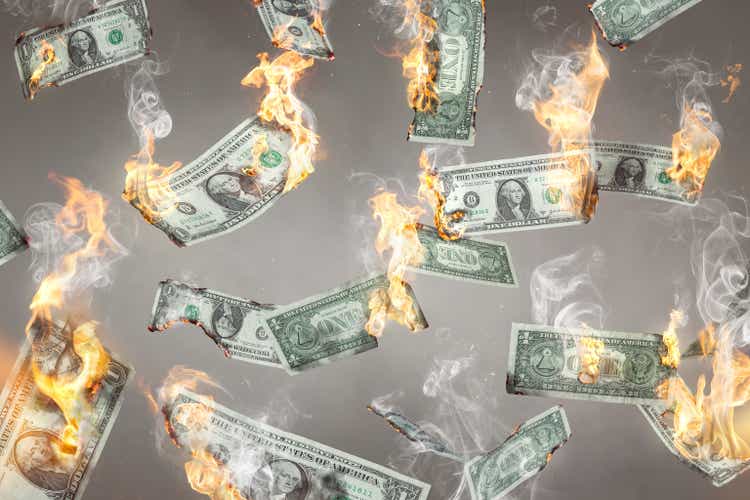 I am not a short seller. When I investigate a company, I do so with the hope I find one worthy of investment. Cenntro is not, in my view, worthy of any investment. The Facts I present in this article go beyond the normal business practices that I research on a daily basis. So I contacted Cenntro Investor relations and Cenntro Public Relations in advance of the publication of this article to give them the opportunity to respond to the points I raise. At the time of publication, they had not.
Cenntro Electric Group (formerly known as Naked Brand Group) is a holding company with no operations of its own; it is incorporated in Australia. In 2021 Naked Brand Group combined with 15 companies, all led by Peter Zuguang Wang. Prior to the merger, Cenntro Automotive Group Limited was the parent company of Cenntro. In this article, I will use CENN when referring to the newly merged entity. When I use Cenntro, I am referring to the automotive subsidiary.
Peter Wang
CENN states that its CEO is Peter Wang, his full name is Peter Zuguang Wang, and he appears to be a serial destroyer of shareholder value. Wang is listed as an officer of the following companies, amongst others.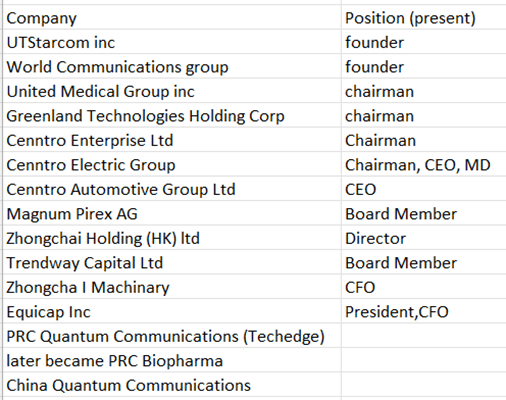 All of the US-traded companies managed by Peter have been very poor for investors. Two of them are still trading.
UTStarcom (UTSI), launched on Nasdaq 2000, shares touched $280 in 2000 and are currently valued at $4.52, a 98% loss for investors.
Greenland Technologies (GTEC), Launched in 2019 at $10 per share, peaked at $26 current value of $2.61, a 90% loss for investors.
Two more were traded in the US and have since been delisted.
China Quantum Communications went public through a reverse merger with Techedge (TEDG) in 2004; reverse mergers were the rage before the SPAC invention. Techedge provided low-cost telephone services for Chinese citizens but then made a pivot to Vaccine production and changed its name to China Biopharma. A year later, it made a pivot out of vaccines into unspecified specialty pharmaceuticals. In its final 10K the company disclosed it had defaulted on its debts and had lost $15.6 million in total. This was a complete wipeout for investors.
Equicap was subject to a reverse merger with Unsunco (OTCBB:EQPI) in March 2007. The company sold diesel engines and owned 100% of IBC Automotive products plus 75% of Zhongchai machinery. On the SEC website is an archive of the company's initial presentation. The company was in the process of upgrading to the Nasdaq. Zhongchai made gearboxes for diesel engines and forecast a 2,400,000-unit production capacity within three years. The company never made it to the Nasdaq, and EQPI was delisted (another wipeout).
These companies are closely linked to CENN, not only by the Wang link but also financially, as we will see shortly.
Linked Debts and Linked Companies.
Zhongchai Machinery (from the failed EQPI launch) was sold to Greenland Technologies in 2019 (10K March 2021, P2 Business Combination) Cenntro was the selling shareholder. The 2022 10K shows that the two companies remain linked by a $39 million dollar loan. It is not the only loan Cenntro owes to related parties.
P64 of the 10K provides evidence of company links and is a confirmation that Peter Wang and Peter Zuguang Wang are one and the same.
P49 of the 10K views the $39 million as a current asset and says:-
We expect the amount due from our controlling shareholder, Cenntro Holding Limited, to be paid back based on certain payment schedules, with the last payment to be made by June 30, 2024, as the Company and Cenntro Holding Limited mutually agreed to an extension of repayment deadline from April 27, 2022.
Crossing a Red Line: Auditors need the truth
Greenland Tech fired its Auditor in 2020. In a document lodged with the SEC, the auditor said
At the time of our dismissal, we were in the process of evaluating the recoverability of the related party receivable from Cenntro Holding Limited and such procedures have not been completed.
This was not the only time that professional companies looked upon Cenntro with skepticism. When Cenntro went public through a merger with the lingerie company Naked, FTI Consulting (FCN), a globally recognized business advisory firm based in Washington D.C. performed the due diligence. FTI said several things of note.
They stated that the merger was not, in their opinion, fair as they could not find evidence to verify the forward sales contracts or establish why Naked had lent $30 million to Cenntro prior to the deal being completed.
The loan to Cenntro is covered in the submission form 20F page 5, intercompany loans.
During the year ended December 31, 2021, the total material cash transfer of other assets within the organization was USD 30 million.
The FTI report is at the end of the Proxy statement lodged with the SEC.
This image is from Page 5
The Metro is the only vehicle they have produced.
Prior to the launch of the LS200 late last year, Cenntro had one EV for sale called The Metro. Cenntro sells the Metro as a kit to be assembled by its channel partners, not as a complete vehicle. (6K)
We have established an asset-light, distributed manufacturing business model through which we can distribute our unique modular vehicles in unassembled semi-knockdown vehicle kits ("vehicle kits") for local assembly in addition to fully assembled vehicles.
As of November 2021, Cenntro said that they had sold 3,600 Metro units in 16 countries and that they had received an order for 2,000 more units from a channel partner in Japan (p6 of 2022 6K).
On November 29, 2021, Cenntro received a purchase order for 2,000 Metro® units from HW Electro, its channel partner in Japan, which vehicles are expected to be delivered in January 2022.
The 2,000 units were never sold; indeed, in H1 2022, Metro sales were 203, not 2,000. (P7 Investor presentation).
The 6K linked above discusses the development of the Metro, talking about $74 million being spent on R and D, how Cenntro came up with the Cab forward design (section our ECVs P16), and how they were offering 2 versions of the Metro.
The Metro was not developed by Cenntro.
Cenntro Holding Limited was incorporated in 2011 as a private company in Hong Kong, and Cenntro Automotive was incorporated four years later in the same jurisdiction. Their first electric Vehicle was the Metro.
Cenntro did not develop the Metro. The vehicle was designed by the French Company Stil-Brandt-Motors, which Peter bought out of receivership in 2014. This was the first time that Cenntro took government money with a promise of developing a Factory; Cenntro said they planned to increase the product line of Brandt-Still, inject $20 million and establish a battery packaging company for the EV market as well as establish an R&D facility in Lyon France the original HQ for Still Brandt. The metro was called the CITELEC when being manufactured by Still Brandt.
The acquisition was good for Cenntro but a disaster for Lyon France, Cenntro Motors France was placed in Liquidation in 2014; this article in French says Peter Wang had pulled out of the deal, and the Brandt factory had never been converted to make EVs, it was still making only filters.
In June 2014, Peter Wang's mysterious Cenntro Motors Group Limited, based between Nevada, China and the British Virgin Islands, whose turnover and number of employees remain unclear, took over the Lyon factory with the blessing from Bercy.

But the new production of electric vehicles has never started, despite the 10 million euros paid for 16 months by Mr. Wang, mainly to supply the company's cash flow.

Despite the promise of local elected officials and the prefecture, nothing has been done to restart production and provide the training promised for retraining, while millions of public funds were being paid.
Manufacturing Sites?
The Lyon manufacturing site was never developed.
In 2014 Cenntro released a press release.
Cenntro's US Manufacturing site is in Sparks, Nevada where both the Citelec and Kombi EV are produced. "Our 80,000 square foot facility opened in the third quarter and we have been pleased with our ability to quickly set up our manufacturing facility, find local talent that underscores commitment to quality and bring the Citelec to the United States," said Marianne McInerney, Executive Vice President.
The press release discusses the launch of the Citelec and the Kombi in the US, saying both are built at the Sparks, Nevada facility.
The 20F page 6 says production of the Metro began in 2018, and by 2021, they had sold 2,440. Page 13 states
We have manufacturing and research facilities currently located in Changxing, China. During 2021, we began utilizing one of our two facilities in Freehold, New Jersey for the trial production of our Logistar™ 400 model. In January 2022, we established a European Operations Center in Dusseldorf, Germany, which provides marketing support, after-market support and spare-parts warehousing for the European market. We are in the process of establishing a local assembly facility in Jacksonville, Florida
Cenntro does not appear have a manufacturing site in Sparks, Nevada, after all. In 2021 Cenntro announced it would build its first US facility in Jacksonville. The article also says that Cenntro would have five manufacturing sites and was projecting sales of 74,800 vehicles in 2023.
In 2022 Cenntro announced the purchase of a new manufacturing site for $19.5 million in China. Expected to manufacture 50,000 vehicles a year and support production of the Metro. That is going to be quite a turnaround for a product in decline that has lost its main channel partners.
I have expended a lot of time trying to find a Cenntro manufacturing site; when I wrote to them, I specifically asked them to clarify if they had any.
In the 6K, a facility is mentioned in Hungary (page a-74). The website Cenntroauto.hu, which is owned by Cenntro Engineering East Europe, the company page states that it is Cenntro Electric Group, with an address of 1163,BUDAPEST.,MARGIT U. 114, 47ép. That led me to this facility.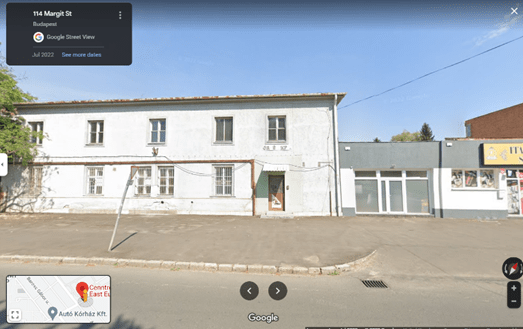 I searched the internet for a China site CenntroAuto has this website electricvan-inc which has a photo showing a building with lots of metro vans parked around the grass island and triangle. The building does have a logo on it, but it is not a Cenntro one. I have been unable to establish if a Cenntro manufacturing facility exists; they don't actually need one to provide approximately 200 self-assembly kits a year, which is what they have been doing. When I wrote to Cenntro I asked for clarification on this issue.
Tropos
In 2020 and 2021, two companies, Tropos and Ayro, accounted for 69% and 71% of Cenntro's total sales. Neither company is doing business with Cenntro at the moment. (6k page A73)
In 2020 and 2021 Cenntro was selling the Metro in unassembled vehicle kits for local assembly. The vehicle kits were manufactured in China. (page 41)
Our channel partner network is a pillar of our business model and further differentiates us from our traditional vertically integrated competitors.
Ayro has had the exclusive rights to import the Metro into the US since 2019. Cenntro took a 19% stake in Ayro in 2017 for $140K. It no longer has that stake; however, when Ayro went public, it would have been worth $8 million. In the Q3 2022 earnings call, Tom Wittenschlagger (CEO) made it clear that Ayro was now focused on finalizing the development of the Vanish EV and was no longer selling the "previous vehicle" the previous vehicle was the rebadged Metro called the Club Car. Wittenschalgger also explained that they had received faulty batteries from their Chinese supplier, which meant that they had no vehicles to sell in the previous quarter. The CFO expanded, saying that they had been forced to issue a discount on all previously reported sales.
The Tropos website in the US said it has terminated all agreements with Cenntro, Mosolf, and Tropos Europe. Cenn completed the acquisition of Tropos Europe in 2021. The acquisition included the Tropos assembly site in Germany, which is the only facility I have been able to confirm is in existence. Looking for Cenntro Manufacturing in Europe I found this site Cenntro motors europe. On the home page, it says.
Cenntro Automotive Europe, formerly known as Tropos Motors Europe
Wall Street is Not interested in Cenntro
I do not necessarily follow Wall Street into trades, but their view is often illuminating.
From the Seeking Alpha page, we get
Finally, at the end of the most recent earnings call we get
Conclusion
I am not interested in short selling so I halted my investigation at this point. I do not like the inks with Greenland and the associated debts. I do not like repeated high-volume promises and low-volume deliveries.
Cenntro has lost the majority of its channel partners, and its only product, the Metro was bought out of insolvency from the French authorities. To make matters worse, they did not follow through on their promises to the French.
If I were a short seller, I might look at the links to Hangzhou Eplus Science & Technology. This image is from the Panama papers
I am not interested in Cenn; Wallstreet is not interested. I will not cover them again.
Editor's Note: This article covers one or more microcap stocks. Please be aware of the risks associated with these stocks.