Alexander & Baldwin: Capitalized On A Strong Hawaiian Market In 2022
Summary
Alexander & Baldwin is the premier publicly traded REIT focused on the Hawaiian market.
The company has a long operating history on the island chain, and they own a sizeable portfolio of commercial real estate assets, as well as non-core land holdings.
In fiscal 2022, A&B exceeded the high end of expectations. The strong results also enabled three dividend hikes during the year, as well as the conviction to opportunistically repurchase shares.
While the outlook is positive, the timing of their pending sale of their Grace Pacific unit is uncertain.
The upside potential also appears limited due to a lack of meaningful catalysts for growth.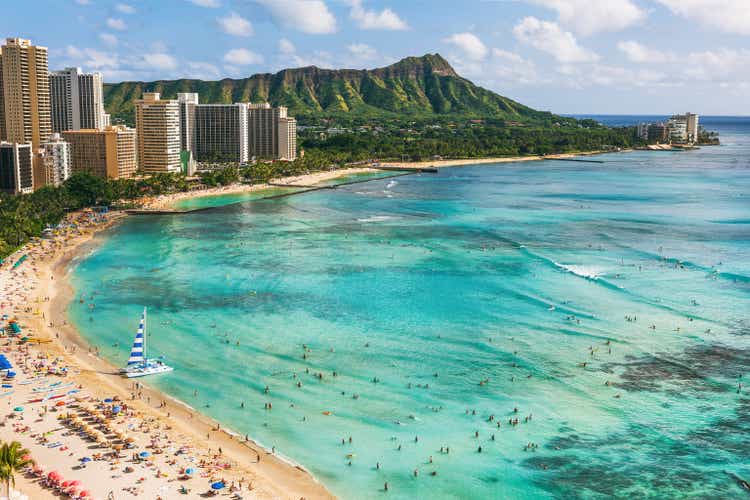 Alexander & Baldwin (NYSE:ALEX), or A&B as is more commonly known, is a premier commercial real estate company based out of the State of Hawaii. They have a long history operating on the islands and are the owner of the largest grocery-anchored, neighborhood shopping center portfolio in the state.
Their geographic presence on the island chain is a competitive advantage due to the significant barriers to entry for competing companies and the significantly supply-constrained outlook of space conducive to development.
In addition to their commercial real estate ("CRE") portfolio, which primarily includes retail and industrial asset classes, as well as, to a lesser extent, offices, A&B has a sizeable portfolio of land holdings, which are monetized through land sales.
YTD, shares are little changed. But they are down over 3% since a prior update and also down about 13% over the past one year.

In 2022, the company reported strong results that exceeded the high end of expectations. In addition, they raised their dividend three times, while also opportunistically repurchasing shares at lower trading levels. Based on the current outlook and current pricing, ALEX stock appears fairly valued. Though a solid long-term hold for existing shareholders, others may find better value elsewhere.
Recent Earnings and Current Portfolio Metrics
In December 2022, in connection with efforts to monetize and dispose of Grace Pacific ("Grace"), A&B reclassified Grace as a discontinued operation. As such, the assets and liabilities associated with the disposal group are now classified as "held for sale" on their balance sheet, while the financial results of the unit are classified within the discontinued operations section of the income statement.
Furthermore, the Materials and Construction ("M&C") segment was eliminated in conjunction with the reclassification.
The company's reportable segments now consist simply of CRE, which represents 80% of total operating revenues, and their Land Operations.

Overall, operating revenues in the CRE segment grew 7.5% YOY. This translated into growth in core funds from operations ("FFO")/share of 17.7% to $1.13/share. The increase stemmed in part on growth in same-store net operating income ("NOI") of 6%.
From a quarterly perspective, CRE operating revenues were up 4.8% in Q4 on same-store NOI growth of 1.1%. It is worth noting that there was about 140 basis points ("bps") of headwind attributable to lower reserve recoveries. In the current period, for example, approximately +$500K of total revenues were attributable to prior period recoveries. This compares to +$900K in the same period last year.
On the leasing front, A&B executed on 130K SF of space during the quarter, achieving spreads of 3.2% and 5.7% on new and renewed signings, respectively. On a blended basis, spreads were 5.5%. This is improved from the blended 4.2% reported last quarter.
For the year, they completed 778K SF of signings at a blended spread of 4.4%.

The robust leasing volume contributed to a 70bps uptick in leased occupancy to 95%. And progress in getting tenants commenced on their signings contributed to a 140bps increase in economic occupancy to 93.6%.
Within the individual asset classes, offices weighed on overall occupancy levels, down 330bps and 230bps on a leased and economic occupancy basis, respectively. While the decline is notable, the concerns are limited due to the fact that offices represent less than 5% of their total NOI. More promising is the strength in their industrial assets, which represent about 17% of total NOI, and were up 140bps in leased occupancy.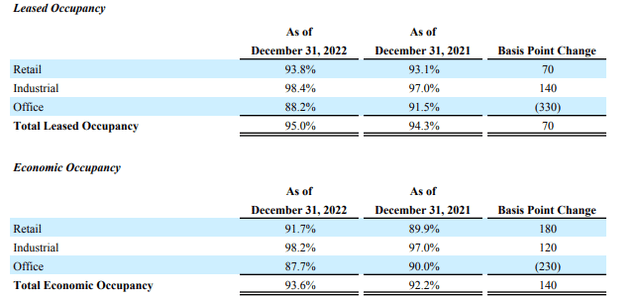 Looking ahead, A&B sees core FFO in a range of $1.08/share to $1.13/share. This would be down from 2022 on the low end of the range and flat on the high end. The more challenging comparable environment to 2022 as it relates to reserve reversals is one headwind to 2023 growth, as is higher G&A-related expenses relating to their recently announced management transition. Combined, the two factors impact core FFO by $0.07/share.
Liquidity and Debt Profile
A&B benefits from a modestly levered balance sheet. At December 31, net debt as a multiple of consolidated adjusted EBITDA stood at just 2.7x. This is down from 3.3x last year. Excluding their land operations and Grace, the multiple was two turns higher, at 4.7x, which is consistent with expectations.
During the quarter, A&B sold over 1K acres of noncore land and 1.1 acres at their Maui Business Park for total proceeds of approximately +$20M. The sales contributed to quarterly adjusted EBITDA of +$10.7M in their Land Operations segment. This is down from last year due to a lower volume of sales during the current quarter.
In addition to the ongoing monetization of their land holdings, A&B will gain additional proceeds from the eventual sale of Grace, which is currently held-for-sale and is actively being marketed. Current market conditions, however, are creating headwinds on the eventual timeline.
Looking ahead, A&B has about +$35M in contractual commitments pertaining to principal payments on their outstanding debt. They will also need to pay about +$20M in interest over the next twelve months and about +$50M thereafter. Aside from these debt-related obligations, A&B expects to spend about +$10M over the next twelve months on non-cancellable purchase obligations, mostly relating to their ongoing redevelopment project at the Manoa Marketplace.

From a liquidity standpoint, A&B is generating nearly +$70M in operating cash flows and is actively receipting funds from their ongoing land sales. Furthermore, they had about +$520M in total liquidity at year end, comprised of availability on their revolving credit facility and cash on hand. Combined with a modestly laddered debt ladder, A&B is unlikely to have issues meeting any of their current or long-term obligations.
Dividend Safety
A&B raised their dividend three times during 2022, the most recent being a 10% hike. Their quarterly payout rate is now higher than the $0.19/share they were paying just prior to the start of the COVID-19 pandemic.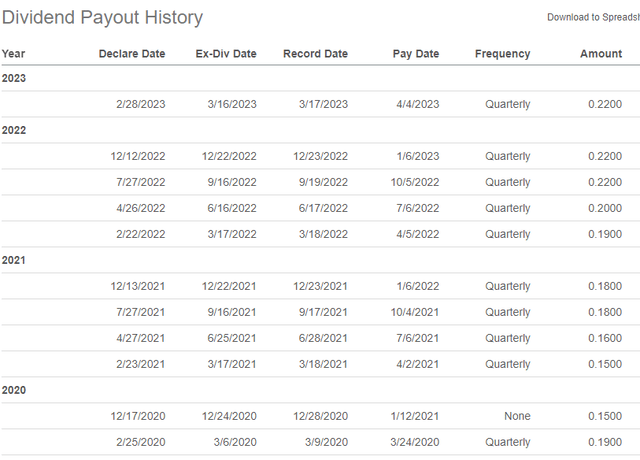 Presently, the annualized dividend yields just over 4.5% at current pricing. While this may not be enough for most income investors in the current rate environment, it does come with the assurance of safety.
On a forward basis, the payout was about 80% of core FFO at the low end of the range and 78% at the high end. This is generally on-par with sector averages. Further hikes in the periods ahead are possible, but investors should note that the company also engages in share buybacks. For the year, they repurchased about +$7.3M of stock. While a positive, it does tie-up capital that could otherwise be directed towards the dividend payout.
Final Thoughts
A&B turned in full year results that exceeded the high end of their twice-increased guidance range. While forward guidance for 2023 came in flat in relation to 2022, it is still comfortably ahead of consensus estimates by about $0.09/share from the low end of the range.
The strong operating results enabled A&B to increase their dividend three times during the year, while also giving them the conviction to opportunistically repurchase shares in their common stock; most recently at an average price of $16.95/share.
Results have also been supported in part by the macroeconomic fundamentals in the Hawaiian market. Domestic visitation to the islands, for example, exceeded pre-pandemic levels in each month of 2022.
In addition, international visitation, though still down, has increased to about 50% of 2019 levels. While A&B's operations are not directly impacted by visitation levels, increased tourism to the state serves as a favorable mark on the local economy, which sported an unemployment rate of 3.2% in December 2022. This is about 30bps lower than the national average.
The continued simplification of their business to more pure-play CRE is promising. And this is supported further by the continued monetization of their existing land holdings. The fate of Grace Pacific, however, which was reclassified in Q4, remains uncertain. Though the asset is being actively marketed, the timeline is uncertain.
For investors seeking new positioning, it may be best to wait until the asset is sold. One can then size up where the proceeds are recycled into. Since their repurchasing activity earlier in Q4, shares have run up over 10% from their average buyback price. Further buybacks at these levels, therefore, seem unlikely. While internal growth opportunities exist, it may not be enough to materially move the share price in the near-medium term. While the stock remains a solid holding for existing shareholders, others may find better value elsewhere.
This article was written by
Regularly providing timely analysis on operating results, with a particular emphasis on REITs and other Macro-focused stocks. Opinions are determined through comparative financial statement analysis, earnings coverage, and various valuation techniques. My profession is in accounting, and I am a licensed CPA.
Analyst's Disclosure: I/we have no stock, option or similar derivative position in any of the companies mentioned, and no plans to initiate any such positions within the next 72 hours. I wrote this article myself, and it expresses my own opinions. I am not receiving compensation for it (other than from Seeking Alpha). I have no business relationship with any company whose stock is mentioned in this article.
Seeking Alpha's Disclosure: Past performance is no guarantee of future results. No recommendation or advice is being given as to whether any investment is suitable for a particular investor. Any views or opinions expressed above may not reflect those of Seeking Alpha as a whole. Seeking Alpha is not a licensed securities dealer, broker or US investment adviser or investment bank. Our analysts are third party authors that include both professional investors and individual investors who may not be licensed or certified by any institute or regulatory body.