Top Insider Picks For February 2023
Mar. 07, 2023 10:30 AM ET
ABNB, ALGN, CNC, COIN, COP, CRL, DD, DELL, DIS, DOW, DVN, ET, ET.PC, ET.PD, ET.PE, FWRD, HLF, INTC, JBSS, KDP, LYFT, META, MKL, MSFT, NEE, NSIT, NYCB, NYCB.PA, PMT, PSX, PYPL, RILY, RILYG, RILYK, RILYL, RILYM, RILYN, RILYO, RILYP, RILYT, RILYZ, ROP, SMCI, VFC, WBD, WSC, CTVA, TWLO
7 Comments
Summary
The month of February had a couple of very interesting insider purchases.
In this article, we discuss the 10 biggest insider purchases by value. In addition, we will take a look into 2 companies more in-depth, which we found particularly interesting this month.
We will delve more deeply into TWLO and CTVA as they were two share purchases that caught our attention.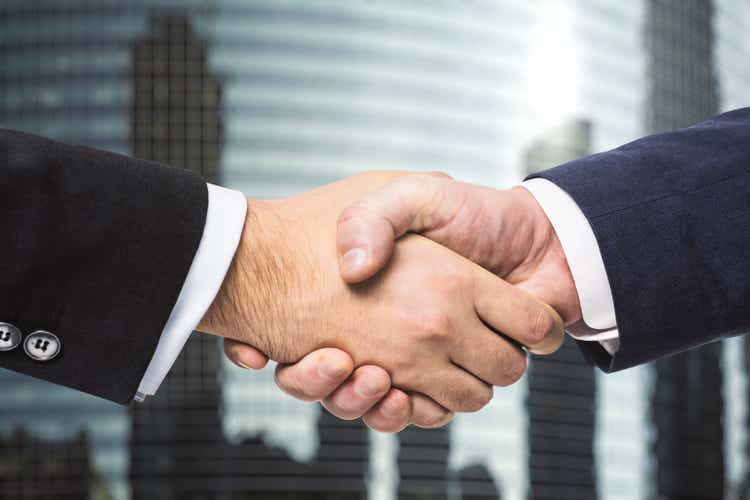 Introduction
February was an interesting month for insider purchases. There were multiple interesting companies that had some insider action. In this series, we will take a look at some of the biggest insider purchases over the last month and we will discuss one or 2 of the biggest purchases in more detail.
Top Insider Buys February 2023
Below you can find a list of the most valuable insider purchases for the month of February.
Now let's take a look at the 10 biggest insider purchases of February 2023.
Warren Kelcy L, the executive chairman of Energy Transfer LP (ET), bought 1.66 million worth of shares. Energy Transfer is a leading natural gas and propane pipeline firm, which has assets all throughout the United States. The company is dedicated to returning capital to shareholders through dividends and buybacks. Furthermore, it offers a high dividend yield of 9,35%, which makes it an interesting choice for income-seeking investors. Due to political and regulatory uncertainty surrounding the oil business, such as windfall taxes, the stock has experienced some volatility recently, but income-seeking investors still favor it. The firm's outstanding FCF yield of 22.40% shows that it produces a sizeable amount of free cash flow in comparison to its market capitalization. Also, the business has a stable 10.64% 5-year revenue CAGR, indicating that it has been able to expand its top line steadily over time.
Director of TWILIO INC. (TWLO) Lawson Jeff just made a $10 million share purchase. Twilio is a provider of cloud communications platforms that let programmers include text, audio, and video functionality in their apps The company has an impressive 5-year revenue CAGR of 42.55%. But with an FCF yield of only 1.84%, it appears to be having trouble producing free cash flow. Positively, the company's ROIC of 9.3% indicates that for each $100 the company uses it is able to generate an additional $9.3 in operating income. Furthermore, TWLO has a solid gross margin of 47.41%.
Bryant R. Riley, co-CEO and COB of B. RILEY FINANCIAL, INC. (RILY), just acquired $5.5M worth of shares or a 2% increase in ownership. In addition, CEO Moore Andrew recently bought shares for $775,000 as well. Investment banking, wealth management, and research services are all offered to customers by the financial services company. RILY has a ROIC of 54.8%, which shows that it is producing a high return on the capital it has invested. The company also has a strong FCF yield of 12.58 %, indicating that the company would be able to buy itself back in a little over 8 years. The company's high dividend yield of 9.92% further shows that it can be a beneficial option for those looking for a steady income.
The CEO of CORTEVA, INC. (CTVA), Magro Charles V., recently purchased shares for $2.4M. Corteva is a well-known provider of seeds, crop protection products, and digital agriculture services on a global scale. The business is well-positioned to profit from the rising demand for sustainable agricultural methods on a worldwide scale and has a robust portfolio of cutting-edge products. CTVA's gross margin of 40.52% indicates that the company has decent pricing power.
Schulman Daniel H, President and CEO of PAYPAL Holdings, Inc. (PYPL), bought close to $2 million worth of shares in the last month. PayPal is a market leader in digital payments and offers services on a variety of platforms, including Xoom, Venmo, and PayPal. The company is expanding its capabilities to incorporate new services like bitcoin payments. The company has seen strong development in its user base and transaction volume. Furthermore, the company's revenue growth over the past five years has been decent, which can be seen by its 5Y revenue CAGR of 14.07.
Director of PHILLIPS 66 (PSX) Hayes Gregory recently made a $1 million share acquisition. The corporation Phillips 66 manufactures and distributes energy in a variety of industries, such as chemicals, marketing, and refining. The company is focused on investing in growth possibilities and providing value to shareholders.
Hogan Joseph M, the president and chief executive officer of ALIGN TECHNOLOGY, INC. (ALGN), bought $1 million worth of shares last month. The Invisalign transparent aligners are made by the medical device business Align Technologies. They are used for orthodontic treatment. With a market share of 75% in 2022, the corporation holds a leading position in the clear aligner industry. ALGN has a decent ROIC of 21.3%. In addition, ALGN has a solid gross margin of 70.60% indicating that the company has strong pricing power. The company's FCF yield, however, is only 2.22%, which is quite low and shows that could the company might be quite expensive at this moment in time.
General Counsel and Secretary Cowley Samuel C purchased $850K worth of shares in the previous month from INSIGHT ENTERPRISES, INC. (NSIT), which is a leading provider of IT gear, software, and services to corporations and governmental bodies worldwide. The company's cloud and digital transformation businesses have seen significant development, and it is now concentrating on enhancing its products through strategic alliances and acquisitions. With a ROIC of 20.2%, NSIT generates an additional $20.2 for each $100 it invests in its business, which is quite decent. Currently, the company has a 2.12% FCF yield, which is quite low compared to its competitors.
Director Rosenfeld Ronald A. of NEW YORK COMMUNITY BANCORP, INC. (NYCB) recently purchased $750,000 worth of shares. The New York metropolitan area's residents and businesses can get banking and financial services from New York Community Bancorp. Its strong focus on community banking and customer care within the area is where the company's expertise lies. The dividend yield currently sits at 7.88%.
The Chief Financial Officer for Keurig Dr Pepper Inc. (KDP) bought just over $700k worth of shares. A noticeable tripling of the previously owned shares. Currently, KDP has a ROIC of 6.8%, which is relatively low when compared to some of its rivals. This can suggest that the business is not making the best use of its capital. Furthermore, KDP has a 5.84% FCF yield.
Moreover, KDP has a gross margin of 52.16%, which is higher than some of its competitors. This shows that the business has a decent amount of pricing power, possibly as a result of its well-known coffee and beverage brands.
Top Insider Purchases: TWLO and CTVA
Twilio (TWLO) is one of the leading communications as a services software companies on the market today, which primarily specializes in automatic text and chat functionalities. TWLO has multiple well-known companies as their customers, such as Airbnb (ABNB), Dell (DELL), Hulu (DIS) and (WBD), and Lyft (LYFT). Due to the recent boom in AI technology, TWLO could benefit from the tailwinds of this industry. One company that flies under the radar, also on TWLO's list of customers, is the company that founded ChatGPT, OpenAI, in which Microsoft (MSFT) has a majority stake. In an article by GlobeNewswire, the AI market could grow to become a 1.4T dollar industry by 2029, which TWLO could capitalize on in the coming years.
TWLO's technology allows them to integrate with most messenger apps, such as WhatsApp (META). Essentially, TWLO has endless possibilities to grow its existing business further. We believe this is what the CEO envisions, too, hence the significant size of his purchase. The most considerable risk facing TWLO is a possible recession, which could negatively impact its revenue as it would put downward pressure on the demand for its services.
Looking at their financials, TWLO reported relatively solid financial results in the fourth quarter of 2022 and ended 2022 with revenues coming in at 3.38 billion dollars. The YoY growth is 34.64% and significantly lower than in previous years. This is likely a symptom of the headwinds many tech companies faced through 2022. Their gross margins have decreased steadily since 2016 but have plateaued in 2022, which could signal a turnaround. However, they consistently maintain their gross margins well above 40% and will most likely continue to do so for the foreseeable future.
If we move on to TWLO's financial metrics, as can be seen in the table below. It is evident that TWLO is not exactly a free cash flow machine, but that is not why you as an investor would buy into this company. Instead, we see a company that has had impressive and consistent growth in revenue over the past seven years, with a catalyst that could move this company to another level in terms of cash flow. This is a growth company, which could generate significant cash flows in the future.
As of 2022, TWLO has a 5-year revenue CAGR of 42.58%, which is impressive for any company. Therefore, the growth is there for Twilio, and we do not see any immediate roadblock ahead that would cause the growth to stop, apart from possible headwinds due to a recession. On the gloomier side, their operating income has declined since 2016. Furthermore, their capital expenditure has also increased significantly since 2016, however, it is lower in 2022 compared to 2021. Hopefully, it is the start of a slowdown in CAPEX or a trend reversal. Their operating margins have improved since 2019, with a spike occurring in 2021, however, we expect it to continue improving.
Furthermore, TWLO currently has an ROIC of -10.47%, indicating that the business is currently investing its funds in a way that does not generate positive returns. In addition, TWLO presently has an FCF yield of -21.24%, which is far from desirable, and the investor should keep an eye on this metric to improve. Essentially, this means that AMZN is currently unable to generate enough cash to support its business. Although this is often the case for growth companies, these are metrics that should be closely watched by potential investors.
TWLO: Technical analysis
TWLO's 5-year chart shows the tough year and a half this stock has been through. The stock bounced off a support level at $41 in late October of 2022, and recently broke through the 20 EMA. The subsequent critical resistance level for this stock is $79.50, which it recently rejected in October of 2022, before making its $41 low. Just two weeks ago, it bounced off this level again, with the chart looking like it is about to retest this price once more. If it can break through this level, it could reach the 50 EMA, which sits in the mid-$90 range at this moment time. The MACD and RSI show a relatively strong upwards momentum for the stock, so it may be possible to break $79.50 in the near future.
Corteva (CTVA)
Now we are moving on to Corteva (CTVA), one of the leading agricultural companies specializing in crop protection and seed solutions. The company was founded in 2019 when DowDuPont dissolved in 2019 and turned into three separate companies, including Corteva, DuPont (DD), and Dow (DOW).
The company operates in over 140 countries and sells products and services that assist farmers in achieving a good crop yield. Their product line includes herbicides, pesticides, and seeds for crops such as corn, soybeans, wheat, and cotton.
Companies such as CTVA benefit significantly from a growing world population, as more people on the planet means an increase in demand, and a higher need to grow crops, as we need to feed this increasing population. Therefore, companies that provide agricultural solutions will most likely be able to benefit from this growing trend. In addition, CTVA has also pledged to become a more sustainable company, with products that are less damaging to the environment. With increased interest, especially from western countries, to become more sustainable in the future, we believe CTVA is likely to benefit from this trend in sustainability, as they may have an edge in this area over their competitors.
However, CTVA also faces some potential headwinds that could impact its financial performance. For example, one risk is that unforeseen regulatory risks could arise, which could force CTVA to spend more on R&D, which in turn would mean a potentially lower bottom line. In addition, the fluctuations in the price of agricultural commodities are also a significant risk factor for companies such as CTVA, as the supply and demand dynamics for these commodities effectively drive the revenues for companies such as Corteva.
If we turn to CTVA's financials, we see that its revenues were at their highest in 2016 and 2017, when it was still DowDupont. Since becoming a separate company in 2019 CTVA has improved their gross margins since 2018, while its revenues have started to grow steadily in the last four years. Keep in mind that the reported numbers are indeed from 2016 onwards, even before the spin-off the numbers were reported for CTVA's business specifically.
Their revenues currently grow at a 6% 5Y-CAGR, which is not necessarily impressive. CTVA also had unimpressive ROA, ROE, and ROIC metrics in 2022, which measured 2.84%, 4.75%, and 4.48%, respectively. If we turn to CTVA's historical financials in the table below, we again see no genuine impressive metrics or trends in their finances.
Most noticeable is that their operating margins have increased steadily since 2018 while significantly improving their free cash flow in the same period. Their FCF yield as of 2022 is only 0.58%, while their dividend yield is 0.98%, which is not especially attractive in their own regard.
The attractiveness of CTVA may not be visible in their financials yet, and we believe that the big purchase of shares by their CEO is due to their H2 2023 forecasts. Their revenue is forecasted to be $4.77B in Q1 2023 and $6.59B in Q2 2023, whereafter, it decreases again in the second half of 2023. Therefore, we suspect the CEO is attempting to capitalize on the fact that CTVA is in for a rather profitable first half of 2023, and investors may still be able to open a position for short-term profits. We will explore this further in the technical analysis.
CTVA: Technical Analysis
When we look at CTVA's 4-year chart since its listing, the stock has been in a constant uptrend, bouncing off most support levels. The stock most recently bounced off $68.40, which has created a resistance level for the stock. There is a relatively strong trendline support, which started in March 2020, the stock recently bounced off this trendline support at around $62.50.
In addition, it looks like CTVA constantly bounces off the 50 EMA, which is a clear indication that buyers like to step in around this level. This provides further support as this stock is headed for new highs. If it breaks the vital resistance level of $68.40, we do not see a definitive price at which this stock would top. Based on the MACD and RSI, it would also seem like the stock might start gaining some upward momentum again. We believe now could be a decent entry point to begin a minor position, but waiting for it to test and potentially break $68.40 may be a more viable option before opening a position.
Conclusion
Overall, both CEOs have signaled that their respective companies may have strong earnings coming in the next few quarters, based on their sizeable purchases of company stock. Twilio could potentially capitalize on the boom in AI technology to improve its bottom line, while Corteva has forecasted two strong quarters in the first half of 2023. For TWLO, we believe that the stock is approaching a major level of resistance, and any potential investor may want to watch what happens to the stock price once it approaches $79.50. With regards to CTVA, with the recent bounce off its trendline, any investor who is convinced in the potential short-term profits from holding this stock may be presented with a decent point of entry into Corteva. We currently rate both stocks as a hold.
This article was written by
Follower of the markets. My investment style is mostly looking for asymmetrical risk/reward opportunities on the long and short side. I utilize a mixture of stock and derivates positions in my investment approach. The time horizon of my investments varies.For some more investment insights or if you want to message me, feel free to do so on Twitter: https://twitter.com/Stock_Inf0Worked for Insider Opportunities for a brief amount of time.
Analyst's Disclosure: I/we have no stock, option or similar derivative position in any of the companies mentioned, and no plans to initiate any such positions within the next 72 hours. I wrote this article myself, and it expresses my own opinions. I am not receiving compensation for it (other than from Seeking Alpha). I have no business relationship with any company whose stock is mentioned in this article.
Seeking Alpha's Disclosure: Past performance is no guarantee of future results. No recommendation or advice is being given as to whether any investment is suitable for a particular investor. Any views or opinions expressed above may not reflect those of Seeking Alpha as a whole. Seeking Alpha is not a licensed securities dealer, broker or US investment adviser or investment bank. Our analysts are third party authors that include both professional investors and individual investors who may not be licensed or certified by any institute or regulatory body.