Bank OZK's 52-Quarter Dividend Streak: Unwavering Financial Commitment
Summary
Bank OZK, a regional bank, stands out in the financial sector with its resilience, value, and growth potential.
The bank's financial metrics, including a low P/E ratio and a 3.5% dividend yield, make it competitive within the industry.
The company combines strong leadership with responsible lending which makes it a compelling buy at these levels.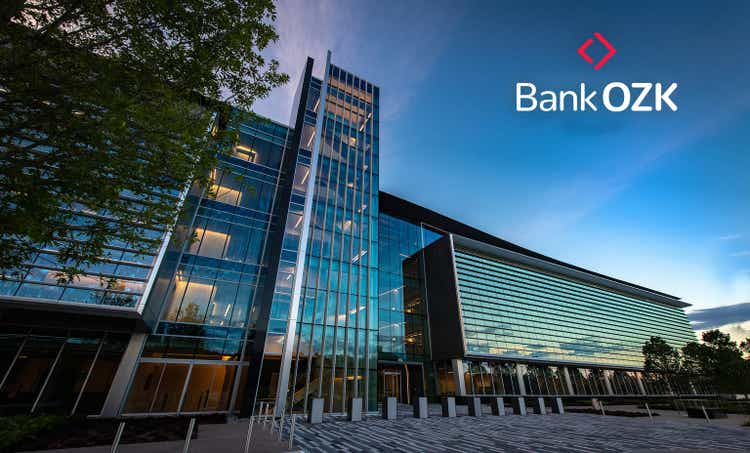 In an era where stock market fluctuations are the norm rather than the exception, a keen investor's eye often seeks refuge in sectors and stocks that stand resilient amidst turmoil. However, resilience, in isolation, isn't enough. There must be inherent value, a promising story of growth, or at the very least, an anticipated reversal of fortunes. This is the story of Bank OZK (NASDAQ:OZK), a First Trust NASDAQ ABA Community Bank Index Fund (QABA) component, and its notable journey.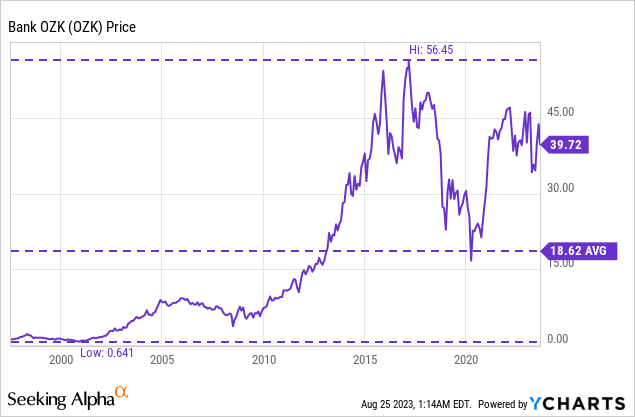 Earnings and Valuation: Indications of Future Growth
In the rapidly evolving banking sector, financial reports and quarterly earnings play a crucial role in determining a bank's trajectory. And if Bank OZK's (OZK) recent Q2 earnings are any indication, the future looks promising for this dynamic entity.
Surpassing Analyst Expectations
Bank OZK's latest Q2 figures, unveiled last Thursday, not only surpassed the average analyst estimate but also achieved significant milestones. The company set new records in pre-provision net revenue, loans, and deposits. Specifically, the Q2 EPS stood at a whopping $1.47, eclipsing the consensus of $1.43 and marking an impressive jump from $1.41 in the previous quarter. This is a considerable increase from $1.10 in the same period last year.
This serves as a continuation of the Bank's recent beats, which is impressive when you consider the turmoil that has hit the industry.
Impressive Financial Metrics
Several figures stand out in Bank OZK's Q2 earnings:
Net Interest Income: The bank reported an impressive $356.8M, comfortably outstripping the consensus $345.4M. For perspective, this is a significant leap from the $344.9M from the prior quarter and a massive jump from $265.8M in Q2 2022.
Pre-provision Net Revenue: Climbing to $259.5M, up from $246.4M in Q1 and a mere $182.8M in Q2 2022.
Loans and Deposits: Total loans have risen to $23.61B as of June 30, 2023, compared to $22.06B at the end of March. Meanwhile, deposits surged to $23.9B from $22.8B within the same period.
Real Estate Specialties Group (RESG) Performance
An integral part of Bank OZK, the RESG, showcased a significant uptick in activity. The group originated a staggering $1.41B of loans during the quarter, totaling $3.22B over the past four quarters. This active performance reflects in the bank's statements, as they've noted a moderate increase in the pipeline of new RESG origination opportunities. This positive momentum has prompted Bank OZK to adjust its outlook. They now anticipate the RESG origination volume for the entirety of 2023 to be "at or somewhat above" the achievements of 2021.
Sequentially, the bank's profits have seen an uptick since Q3 2022, and the annual EPS is predicted to plateau around the $5.60 to $5.70 bracket in the future.
Valuation
Bank OZK isn't just chasing growth; it's achieving it with finesse. With profitability ratios that overshadow its peers, it's poised for a valuation that's both competitive and justifiable within the banking industry.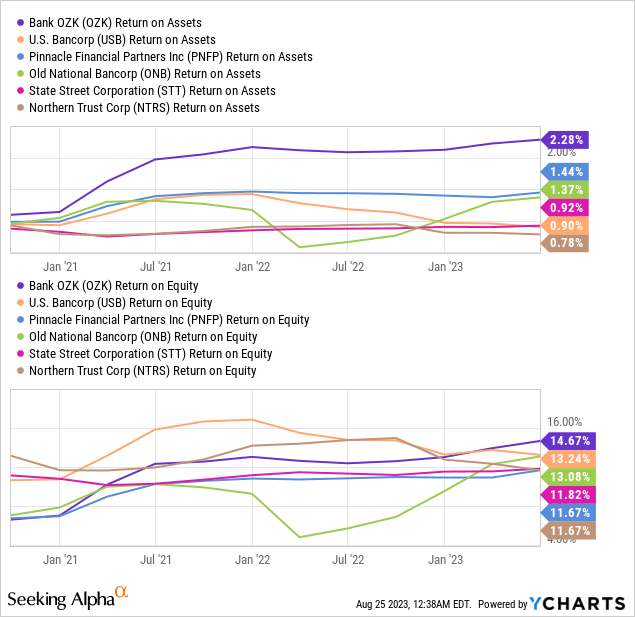 The bank is also trading near its book value, suggesting a bargain if you believe the company is anything close to secure.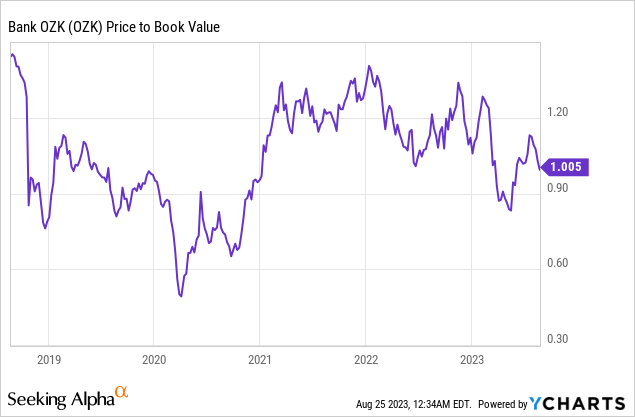 This, coupled with a forward P/E that's relatively lower than both sector medians and its historical mean, implies that there is a fair degree of value to be had at current levels.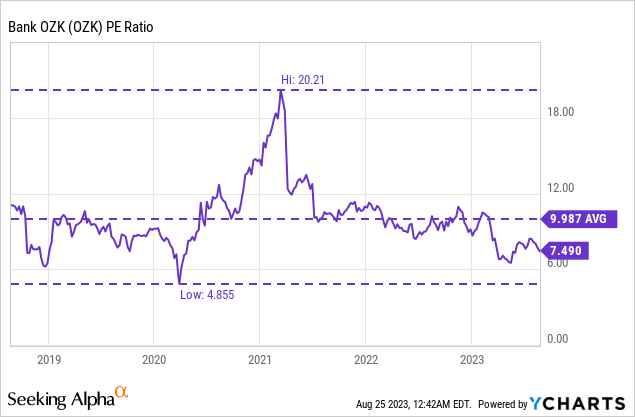 While the multiple compression has its reasons, it's evident that Bank OZK is operating at peak performance. The prevailing uncertainty in the banking sector seems to unfairly impact standout performers like OZK. In usual circumstances, savvy investors would gravitate towards such high-quality firms facing undue market pressures. However, as the 2008/09 financial crisis showed, banks can linger at attractive valuations for prolonged periods. This might pave the way for potential market consolidation, which may not always align with the long-term aspirations of visionary shareholders. Consolidation can also reshape the market dynamics for individual players, potentially altering Bank OZK's market stance. Should the economy face significant challenges, strategic mergers might become the order of the day, as industry leaders aim to fortify their positions through diversified portfolios for enhanced resilience.
Loans
Bank OZK's phenomenal loan growth in recent quarters is due to its strong focus on deposit growth, growing its customer base significantly, and mostly organically, locally generated deposits. The bank has been able to maintain roughly the same mix of deposits and has not really increased in percentage terms as a percentage of deposits in any material respect to its reliance on broker deposits over the last several quarters. Bank OZK is also being very conservative on credit quality while putting on really great quality new assets while getting paid well for it. The bank views this as a very opportunistic time for growth.
A True Dividend Aristocrat
It is important to remember that this is a century-old bank, standing tall amidst the winds of economic change, quietly going about its business, yet catching the eyes of dividend-hunters everywhere. Bank OZK is that stalwart institution that has proven to be invaluable from a reliability standpoint, especially if dividends are your thing.
In a recent turn of events, the Board of Directors at Bank OZK decided to send a small but meaningful gift to its shareholders. They've bumped up the quarterly cash dividend on the Bank's common stock by a cent, taking it to $0.36 per share. Now, a $0.01 hike might seem minuscule, but it is important from a symbolic standpoint. This recent announcement means Bank OZK has ramped up its quarterly cash dividend for its common stock for an impressive fifty-two consecutive quarters.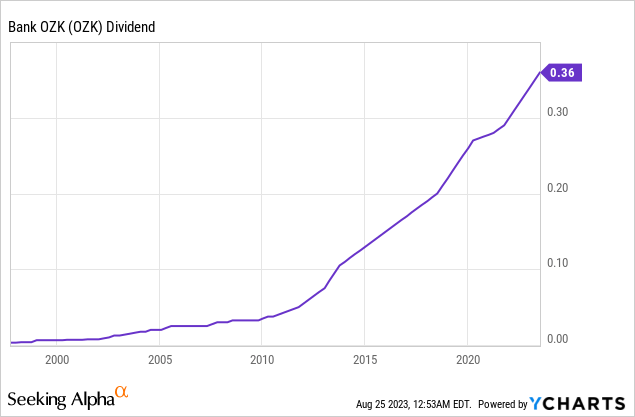 Experienced investors first tell you that there are not many companies that can both dividend history like the one illustrated in the chart above. This is the product of decades of consideration and deliberate management by the leadership team with shareholders in mind.
The Takeaway
Navigating the tumultuous seas of the stock market, Bank OZK emerges not just as a haven but a growth story worth noting. This financial dynamo has consistently outperformed analyst predictions, boasted formidable financial metrics, and shown a deliberate yet agile loan strategy. Beyond the hard numbers, the bank's unbroken 52-quarter streak of increased dividends underscores its unwavering commitment to shareholders. Amidst sector uncertainties, Bank OZK's tale is a blend of sturdiness, strategic acumen, and a century-old legacy that resonates in every dividend check and balance sheet line. I rate the stock as a long term buy.
This article was written by
I provide easy-to-digest insights on stocks and bonds. I am obsessed with growth stocks and cyclical plays, but I also provide analysis on Value opportunities where appropriate. I employ industry and fundamental analysis to give a clear picture of the opportunity over a reasonable timeframe. - MBA and over a decade as an investor and investment author. - My content is not geared to anyone's specific investment goals, time horizons, or risk tolerance. Content is for illustrative purposes only and is not intended to displace advice from a fee-based financial adviser. It is not to be taken as investment advice, or influence investor decision making. Accuracy of data is not guaranteed.
Analyst's Disclosure: I/we have a beneficial long position in the shares of OZK either through stock ownership, options, or other derivatives. I wrote this article myself, and it expresses my own opinions. I am not receiving compensation for it (other than from Seeking Alpha). I have no business relationship with any company whose stock is mentioned in this article.
Seeking Alpha's Disclosure: Past performance is no guarantee of future results. No recommendation or advice is being given as to whether any investment is suitable for a particular investor. Any views or opinions expressed above may not reflect those of Seeking Alpha as a whole. Seeking Alpha is not a licensed securities dealer, broker or US investment adviser or investment bank. Our analysts are third party authors that include both professional investors and individual investors who may not be licensed or certified by any institute or regulatory body.