While the average American "netizen" may not be familiar with the services Baidu (BIDU) offers, just ask someone from the world's most populous country and it's a different story. Billed by many as "China's Google", Baidu is a web services company headquartered in Beijing.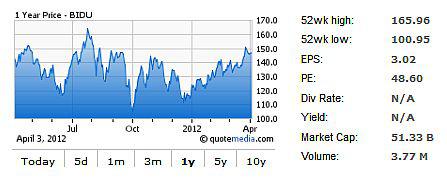 Founded in 2000, Baidu originally started out as the go-to search engine for Chinese-speaking web users. As is often the case with web services companies, Baidu has been pushing the technology envelope ever since it became the first Chinese company to be included in the tech-heavy NASDAQ index, and continues to do so today. Baidu is currently available in Chinese and Japanese, and serves the following countries: China, Japan, Thailand, Egypt, and India.
It is of no surprise, therefore, to learn that Baidu has been performing well in the NASDAQ - up 390% since joining in December 2007. While many told-you-so investors have been saying this for years, many experts say now is as good a time as ever to buy the roughly $152 price per share Baidu stock.
Last week, Baidu was one of NASDAQ's most traded stocks, with a net volume up nearly 54% from the previous three-month average. The unusually high volume change likely signals that hedge funds and momentum traders are jumping on a bandwagon ahead of a major trend. In this case, I think many investors are predicting an increase in the Baidu stock price.
These bullish attitudes are most likely due to the recent announcement that Baidu is creating its very own cloud storage service: Baidu WangPan. This service sets Baidu up to compete against online storage services such as Dropbox, Apple's (AAPL) iCloud, and Microsoft's (MSFT) SkyDrive. WangPan reportedly allows its users to store up to 15GB of data online, free of charge.
While 15GB is not a massive amount of space- roughly 2500 songs without artwork- it is more than Dropbox's initial free 2GB, but less than SkyDrive's 25GB. WangPan has apps for PC and Android already, but is still developing its iOS and Mac versions. Even with all of this information known, Baidu has yet to release all of the details surrounding its much-anticipated WangPan service.
It was reported last year that Baidu is also trying to tap into the social media market. In April 2011, the Chinese tech company reportedly signed an agreement with social media giant Facebook (NASDAQ:FB). In the future, the two sides will collectively create a social media website for the country of China. Given Facebook's market expertise, Baidu's approximate 80% market share of Internet service provision in China, and the sheer number of Internet users in China, (roughly 500 million which is more than the populations of the U.S., Canada, and Mexico combined) this agreement could lead to extraordinary success.
While the two parties have yet to confirm when this joint website will launch, it's clear it will aim to challenge the current kingpin of Chinese social media: Renren (NYSE:RENN).
Renren, nicknamed "the Facebook of China", was launched in 2005 and is most popular among Chinese college students. Renren even has a very similar history to Facebook's. What started as a company named Xiaonei (Chinese for 'inside the school'), and clearly intended for college students, was renamed in 2009 to Renren (Chinese for 'everyone'). While Renren claims to have around 31 million active monthly users, that only amounts to less than 7% of the market potential. A successful cooperation of Facebook and Baidu could be huge, especially in a country with a total population over 1.3 billion.
Identifying Baidu's other competitors can be a complicated task. Much like Google (GOOG) and Yahoo (YHOO), Baidu offers a wide array of web services such as: TV, web search via Chinese phonetics, snapshots, spell checker, stock quotes, news, images, video and space information, weather, train and flight schedules, and many other services.
Unlike Google and Yahoo, however, Baidu is a major player in the government-censored Chinese web space. While Google used to be in China, censorship issues caused Google China to move to Hong Kong in 2010, and it's no longer a direct competitor to Baidu for daily web searches. Yahoo China has had even less luck than Google. The addition of WangPan, and its mobile device capabilities, is likely to convert the low number of remaining Yahoo users to Baidu.
According to the Wall Street Journal, Google will soon introduce its new semantic-based search algorithm in order to defend its market share against Apple and Microsoft. Google, however, will continue to suffer market share decline in China because of Baidu's arguably more advanced "Box Computing."
Baidu uses a semantic analysis as one of its four components to Box Computing and claims it offers a more relevant and superior experience for the user. Box Computing has made Baidu the clear search engine favorite in China and looks to use this technology to become more of a global leader in the search engine market for both computers and mobile devices alike.
The black sheep in the herd, however, is the credit boom happening in China and the possible crisis to follow. It will be worth monitoring how the rapid influx of new loans in China will affect its future financial health. Needles to say, for all things Baidu, keep an eye on China.
This being said, the future still looks bright for Baidu. The company has Google's one-site-does-it-all mentality, Apple's innovation, and Facebook's endorsement. If that didn't sound appealing enough, it has access to arguably the most exclusive Internet network in the world's most populous country. You do the math.
Disclosure: I have no positions in any stocks mentioned, and no plans to initiate any positions within the next 72 hours.