click to enlarge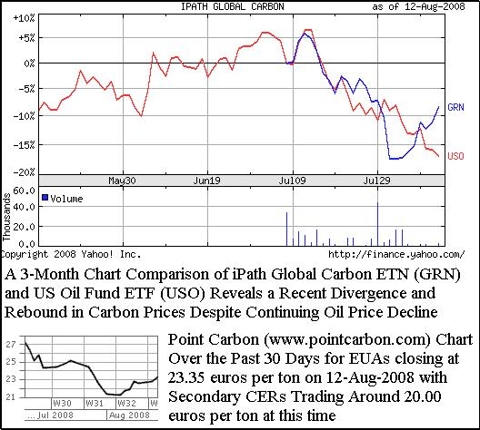 Carbon prices are rebounding and diverging from an overall decline in commodities and oil on Tuesday as London-based Camco International [London: CAO] recorded a $2.6 million (US Dollar) profit on the sale of 151,288 tons of carbon credits on the spot market. The CERs were sold to an undisclosed buyer outside of the European Union for an average price of just over 19 euros per ton versus an average acquisition price of just 7.5 euros per ton. With Certified Emissions Reductions (CERs) currently trading around 19.75 euros per ton on Tuesday, Camco's portfolio of carbon credits is worth over $1.2 billion [USD] at current market prices -- including over 150 projects which are expected to generate 151 million CERs by 2012 (of which 41.8 million will go directly to Camco).
EcoloCap Solutions [pdf file] [OTCBB: ECOS] is a US-traded stock that I own based on its carbon credit hedge fund business model; whereby the Company generates CERs in emerging and frontier markets such as Vietnam at a below-market cost and then sells them at higher spot market prices in developed countries such as the US. EcoloCap is focusing its initial efforts in Vietnam and China (which account for over half of all earned carbon credits followed by India at around 10%) through an extensive network of contacts in Eastern Asia -- leveraging upon its technical expertise in the implementation of clean energy projects and experience in obtaining United Nations certification for these projects. EcoloCap currently has a total of seven signed renewable energy projects which will generate an estimated $39 million in revenues (versus a market cap of just $21.5 million) and $15 million in cumulative cash flow through 2012, in addition to tradable carbon credits.
As a pioneer in North America and a pure-play on the generation of carbon credits at below-market prices, EcoloCap offers a unique opportunity for investors. Also, the clean energy projects signed by EcoloCap thus far in China and Vietnam enjoy long project lifecycles lasting up to 20 years -- ensuring a steady supply of carbon credits while the Company continues to sign new projects on top of existing ones to fuel its growth. Just like an oil company bases its worth on proven reserves in the ground; companies such as EcoloCap, Camco, and EcoSecurities Group [London: ECO] can base their worth on the carbon credits generated over the entire life-cycle of each project. Another upside factor to consider is the underlying price of the commodity itself (carbon) which analysts expect to rise steadily over time.
The head of environmental markets at Barclays Capital has predicted that carbon credits could become not just the world's biggest commodity market; but the biggest market overall, with market experts predicting a staggering total of $1 trillion possible within a decade. The European Union Emission Trading Scheme [EU ETS] is the largest market for the trading of emission allowances, spanning 28 countries throughout Europe; and other developed countries such as the US, Japan, and Australia are developing similar ETS markets. Carbon commodity trading is dominated by EU Allowances [EUAs] with a 78% share, followed by CERs which are created through CDM projects such as those described earlier.
As part of this bullish view on the future of carbon credit trading as a new commodity class, Barclays has recently launched an exchange-traded note [ETN] to track the global price of carbon. The iPath Global Carbon ETN (NYSE: GRN) trades throughout the day just like stock and is structured to track Barclay's Global Carbon Index Total Return, with several similar products in registration for potential market launches to provide investors with simple, low-cost access to the market for carbon credits. These carbon credits are traded by companies who get tax breaks and other incentives for lowering pollutants into the air, as well as investors and speculators who want to participate in the global reduction of greenhouse gases.