The impending fiscal crisis fueled the growth in the gold, silver and platinum spot market during the last week. The precious metals equities market, however, showed mixed results in last week's trading.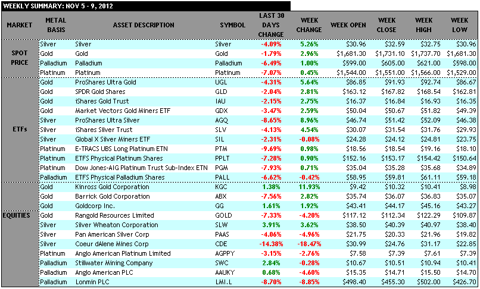 Silver gains 5.26 percent; leads all gainers
Gold, silver, palladium and platinum bounced back from a 4-week slide closing the week higher. Silver led the gainers advancing by 5.26 percent followed closely by gold which closed 2.96 percent above its week open price. Palladium and platinum were also modest gainers gaining 1 percent and 0.45 percent respectively.
Very broad macro type commentary… Need some more specific aspects.
Precious metal ETFs track the spot; post healthy gains
Gold and silver ETFs followed the spot price accordingly as most of the major players ended up in positive territory this week. Mirroring the silver spot, ProShares Ultra Silver (AGQ) led all gainers by posting an 8.96 percent gain followed by iShares Silver Trust (SLV) which closed the week at 4.54 percent. The primary gold ETFs were largely range-bound with ProShares Ultra Gold (UGL) leading the way at 5.64 percent while SPDR Gold Shares (GLD), iShares Gold Trust (IAU), and Market Vectors Gold Miners ETF (GDX) tabbed more modest gains at 2.81 percent, 2.75 percent and 2.59 percent respectively. Of the gold and silver ETFs on our radar, only Global Silver X Miners ETF (SIL) closed in the red posting a 0.08 percent dip.
On the platinum and palladium ETFs front, trading remained more modest as none of the major names broke the 1 percent barrier. E-TRACS UBS long Platinum ETN (PTM) rallied to close at 0.98 percent while ETFS Physical Platinum Shares (PPLT) bounced back from last week's loss with a 0.90 percent gain. ETFS Physical Palladium Shares (PALL) failed to rally to close the week as it fell 0.42 percent at the closing bell.
Market forecasts growth in precious metal futures
Futures benefited from the spot price rebound this week as COMEX contracts for silver, gold and platinum all got favorable forecast ratings from the market. With the price expected to continue rising as investors shy away from risky investments, the futures are once again becoming an attractive bet for traders who want to put their money in precious metals.

Equities and stocks show mixed results; Lonmin's slide continues
In line with greater investor caution towards stocks and equities, precious metals equities turned in a mixed bag of performances this week as investors relied more heavily on company track record and recent reports as opposed to closely tracking the spot. Kinross Gold (KGC) led all gainers, up 11.93 percent to close above $10 per share for the first time in two weeks. Barrick Gold (ABX), Goldcorp Inc (GG), and Silver Wheaton Corp (SLW) also turned in positive numbers closing 2.82 percent, 1.92 percent, and 3.62 percent respectively.
Headlining the long list of losers are Couer dAlene Miners Corp (CDE) and Lonmin PLC (LMI.L) which fell 18.47 percent and 8.85 percent respectively. Lonmin remains a risky bet for investors as its labor situation in South Africa continues to drag on for weeks now drastically impacting production targets. Other losers include Rangold Resources Limited (GOLD) which fell 4.20 percent, Pan American Silver Corp (PAAS) who lost 4.96 percent, Anglo-American PLC (AUKKY) which slid down 4.60 percent, Anglo-American Platinum Limited (AGPPY) by 2.76 percent, and Stillwater Mining Corp (SWC) which fell back 0.28 percent.