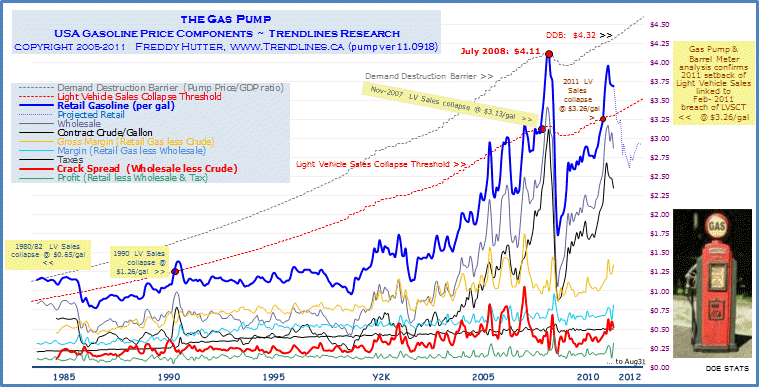 USA Gasoline Price/gallon Components:

Trendlines Research

August 2011
2012Q4
2016 Sept
Demand Destruction Barrier
$4.32
$4.59
$5.43
Light Vehicle Sales Collapse Threshold
$3.31
$3.52
 $4.17
Retail Pump Price
$3.70
$2.92 target
$3.17 target
Wholesale
$2.88
 
 
Taxes
$ .50
 
 
Profit
$ .32
 
 
Metrics:
 
 
 
Contract Crude
$2.35
 
 
Gross Margin (Retail less Crude)
$1.35
 
 
Margin (Retail less Wholesale)
$ .82
 
 
Crack Spread
$ .53 ($22.09/barrel)
 
 

Dec 18 2011 delayed FreeVenue public release of Sept 18th MemberVenue guidance ~ All-Grades Retail Gasoline averaged $3.70 in August ... down $o.01 over 30 days.  Based on our Barrel Meter's projection for future Crude Price, the Gas Pump model indicates the current slide could bottom briefly @ $2.61/gal by May 2012 unless OPEC intervenes.
The primary forcing for the recent multi-month price run was clearly Debasement of the USDollar amid heightened perception by the international investment community that Congress & the President were unwilling to address its Structural Deficits and mounting Sovereign Debt (see our Debt Meter).  Mismanagement of Federal Budgeting since Barack Hussein Obama's inauguration has added $o.71/gallon to today's pump price.
Trendlines Research finds no merit in the rationalizations since late February by cable news pundits warning of $5 to $7/gallon gasoline this Summer.  Most are merely repeat musings of the ilk we heard surrounding the July 2008 spike.  Some of their insane crude price forecasts are saved for posterity in our COPF chart.
EFFECT on USA ECONOMY ~ When the Pump Price surged past the $3.26/gallon level in February  2011, it breached the Light Vehicle Sales Collapse Threshold - a definitive Gasoline/GDP ratio.  As seen in the (blue) chart below, the post-Recession rebound of unit sales was truncated right on queue in March 2011 upon the latest transgression.  TRENDLines expects this stall-pattern to continue 'til Pump Price drops back below the LVSCT.
$3.26/gal ($90/barrel) represents a line in the sand which we have warned (since December 2009) that if breached would strangle the post-Recession rebound of USA Light Vehicle Sales.  New Car Sales were decimated upon the crossing of this threshold in 1980, 1990 & 2007.  The last event saw volume collapse from a 16 million unit annual rate to 9 mu/yr.  Sales had rebounded to 13.2 mu/yr by February 2011, but have since collapsed to an 11.5 mu/yr pace.  It is improbable that sales will surpass the 14 trillion area 'til crude price declines below $90 once again.
The TRENDLines Recession Indicator calculates cumulative high petroleum prices over past Quarters trimmed o.9% off the annualized GDP growth rate in August ... just a whisker below the record dampening mark set back in Oct-2008.  It will take the economy a couple of years to shake out the "baked-in" headwind effect.
In the case of a black swan event, the Gas Pump model provides high confidence a Summer price spike would eventually be blocked by the same Demand Destruction Barrier (DDB) that firmly arrested the 2008 price run @ $4.11/gal ($131/barrel).  The negative effects of rising energy costs on the disposable income of consumers and the profits and viability of businesses and institutions eventually takes a toll against the economy.  The DDB represents a definitive Crude/GDP ratio ($4.32/gal in August = $138/barrel) where certain feedbacks come to fruition.  As happened in the Summer of 2008, Demand will be reversed as alternative energies, substitutes and conservation measures are pursued.
METRICS ~ Last month's avg Retail Price of $3.70/gallon is comprised of $2.88 Wholesale refinery product & a $o.82 Margin.  In turn, Margin is made up of $ .50 Taxes & $o.32 Profit.  One would think the retailers are getting very rich, eh.  Well, analysis reveals Margin is only up from $o.54 in January Y2k.  Taxes & Profit are up from 42 & 13 cents in that year.  In other words, nominal Profit today is virtually unchanged.
The post-Y2k Crack Spread (diff betw Wholesale & Contract Crude) for Refiners can be seen ranging from $1.06 & $0.18 per gallon ($44 & $8/barrel).  Crack Spread is currently $0.53/gallon ($22.09/barrel).  When this figure drops below $o.48/gallon ($20/barrel), Refiners prefer to produce diesel and import less expensive gasoline.  It is this general lack of profitably that underlies the massive shuttering and sell-off of refinery & retail facilities - and much better mileage performance has augmented the trend.