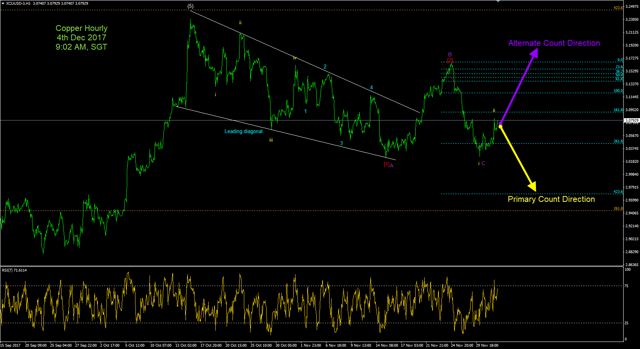 I had previously thought that Copper is in a new uptrend but the unfolding of the down move reduced that possibility until I re-label my counts, changing my previous W-X-Y to a leading diagonal. 
As of now, this is really a better count because it allows for both upside and downside target. How will I know which is the correct one? 
Downtrend: If price breaks new low
Yes. If price breaks to new low, we have a case for the primary count to be used. This is simply because of the rule that wave 2 can never retrace more than 100% of wave 1. 
Uptrend: 5 clear wave up
A new uptrend may be clear once we can see a clear 5 waves up. But take note that it may still not be a clear uptrend because a 5-3-5 can also be classified (correctly) as an A-B-C.
How to trade this
I will prefer to trade this on the long side for now, meaning, using the alternate count. The reason is simple: because I have a clearly defined risk (or a lower risk) when I go long (which is just below the recent low). But if I trade on the short side, the stop loss is too far above (note that wave 2 CAN and DO retrace 100% of wave 1). 
This is also on the backdrop that S&P is moving very strongly up (despite the Chinese and Japanese markets displaying weaker performance). Until the trend changes, it may be best to just follow it.