The 200 day MA is at 1.58405 today. The price has been above and below this level on 14 days over the last 21 trading days. On only two occasions has the price closed below this MA level. A close below this level would be bearish.
The current price is trading near this level. With the GBPUSD trading in a narrow and choppy trading range of 45 pips today (high to low) an extension of the trading range is certainly a possibility before the day is up. Staying below the 1.5840/52 area (see 5 minute chart below) keeps the bias to the downside for the pair.
Another dynamic to consider is the range for the month. The high to low range is only 257 pips so far. I know we area only 1/2 way through the month of April, but the trading range this month is the lowest since May 2002. The low price for the month so far has come in at 1.5803. The low today came in at 1.58174. Needless to say, with the price near the low level for the month, and a narrow trading range today, a move to the downside could see an extension for the day and possibly the month as well.
For risk, intraday traders will not like to see the price move back above the 1.5852 area where the trendline and high for the NY session is found. This would open the upside for an extension in that direction (above the high at 1.5860). The 1.5873 and a.58908 would be topside targets.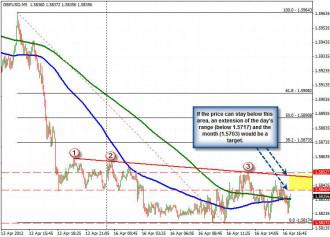 Topside resistance comes in at 1.5850 this morning.