The Age Of The Microdisplay Has Arrived!
Please Note: Blog posts are not selected, edited or screened by Seeking Alpha editors.
Summary
Multiple catalysts now exist for rapid AR/VR growth between now and 2025.
Microdisplays are the high value component necessary for AR/VR headsets to gain adoption with Enterprise users and Consumers.
Using a unique fabless model, one company has the potential to become the "Arm of microdisplays."
Technology investors monitoring the Augmented Reality and Virtual Reality categories will have noticed an increasingly bullish tempo over the past 12 months. Key catalysts we have recently observed include:
Remote Working opportunities are exploding...
"Microsoft co-founder Bill Gates said Tuesday that he predicts over 50% of business travel and over 30% of days in the office will go away in the pandemic's aftermath." - CNBC
We think the pullback on business travel for front-line workers translates into massive opportunities for Remote Mentor models using head-worn devices like the RealWear HMT-1 and Vuzix M400. These devices are microdisplay-based using voice and gesture control to increase safety and productivity of workers in many industries. Additionally, microdisplay-based VR headsets for remote meetings, education, and training are an opportunity that will grow rapidly.
New remote streamed content models are emerging...
"But along with atomizing life as we know it, the coronavirus pandemic has entirely disrupted the business of showing motion pictures on the big screen." - Variety
"There's no sign of the COVID-19 pandemic slowing down anytime soon, so with numerous theaters continuing to have to keep their doors shut, streaming is an alternative that, while not ideal in all cases, at least allows Warner Bros to get its content in front of eyes while people are quarantining/socially distancing." - Cinemablend
Qualcomm Is Advocating For A New 5G XR Viewer Category...
"XR viewers unlock a new generation of immersive experiences using 5G-enabled smartphones that provide high bandwidth and low latency which is essential for high-quality XR." - Qualcomm Press Release
Facebook Is Betting Big On Mainstream VR...
"Quest 2 'on track to be first mainstream VR headset', Next Headset Confirmed" - RoadtoVR
Apple is coming…
"Apple's rumored virtual reality headset may be released as soon as the first quarter of 2022, according to JP Morgan analysis seen by China Times." - MacRumors
In summary, we think the COVID-19 pandemic has disrupted traditional entertainment and consumption models. As live event and entertainment producers become familiar with the advantages of content consumption using visors or headsets, we see a window opening for consumer adoption of microdisplay-based viewers. The scale here could be massive.
The Near Term Headset Opportunity
Estimates for AR/VR headset shipment growth vary wildly and have seen a number of disappointing revisions over the last 5 years. Acceptance has taken much longer than we expected. However, the catalysts mentioned in the opening of this piece have convinced us that The Age of the Microdisplay has finally arrived. Two channels of rapid growth are emerging:
Enterprise Headsets
"We've seen a huge uptick in commercial interest in both virtual and augmented reality driven by the pandemic," said Tom Mainelli, group vice president, Devices and Consumer Research at IDC. "Organizations of all sizes are leveraging the technologies to capture and transfer knowledge between experienced and new employees, enhance and streamline field operations, and increase collaboration among frontline workers." - IDC
Consumer Headsets
From the Ark Invest Big Ideas 2021 report:
"ARK forecasts that by 2030 the AR market could scale from under a $1 billion today to $130 billion."

"The AR & VR markets will grow at a 59% compound annual rate during the next five years, from $3 billion to $28 billion in 2025."
As device makers grapple with balancing size, weight, heat, power consumption, image quality, and overall ergonomics, we believe the next generation of VR headsets and new 5G XR viewers will use microdisplays. There are a number of choices when it comes to microdisplay technologies for AR and VR: AMLCD, LCOS, OLED, Laser Beam Scanning, and eventually MicroLED.
Due to recent advances in the OLED space, MicroOLED panels are now seen as the best choice, particularly for the next generation of VR and XR Viewers we expect to emerge this year. As noted in this recent interview with microdisplay pioneer Dr. John CC Fan:
"OLED provides you much better contrast and an improvement in overall image quality for certain situations. We know that enterprise users and consumers want lighter headsets with higher resolution, faster screen speeds, and improved image fidelity. Also, power consumption and reliability of the display are important factors in the device design … we feel MicroOLED now delivers on all the key criteria device makers want: color, contrast, speed, brightness, power efficiency, and longevity." - Dr. Fan, CEO Kopin
Dr. Fan's prediction is proving to be prescient: we learned just last week that semiconductor giant TSMC (TSM) is reportedly working with Apple (AAPL) on MicroOLED panels for AR and VR. Clearly MicroOLED technology is a front-runner for the next wave of AR and VR devices. This news alone should prompt investors to review publicly traded microdisplay companies for potential inclusion in their portfolios.
Interestingly, while MicroOLED is currently seen as a good choice for next generation devices, each display architecture has advantages and device makers will always choose the appropriate display for the right application when considering their requirements. In other words, we see offering a diverse microdisplay portfolio is a competitive advantage.
Let's take a look at some key publicly traded microdisplay providers and the technology they are leading with:
| | | | | | |
| --- | --- | --- | --- | --- | --- |
| | AMLCD | LCOS | MicroOLED | MicroLED | LBS |
| Sony (SNE) | | | X | | |
| Kopin (KOPN) | X | X | X | X | |
| eMagin (EMAN) | | | X | | |
| Himax (HIMX) | | X | | | |
| Microvision (MVIS) | | | | | X |
We think Color Filter MicroOLED will see the most growth over the next 5 years due to the market's focus on VR and Video See-Through AR devices. With the recent TSMC/Apple news and the well-recognized technical advantages of MicroOLED, let's focus on that display technology for our investment thesis.
Levering The Emerging MicroOLED Opportunity
Despite the fact that they are a current market leader, we will exclude Sony for this review as the size of their overall business means any MicroOLED growth will have little near term impact that investors can leverage. For our purposes, we want MicroOLED "pure plays" - we want to find one that could emerge as a strong #2 market share participant. Fortunately, we have two to focus on: Kopin (KOPN) and eMagin (EMAN).
Manufacturing At Consumer Scale...
We think that the AR/VR markets will scale to millions of devices per year over the next five years. So does IDC. We know Sony can produce Color Filter MicroOLED panels at that scale based on their existing dominant share of the digital still camera Electronic View Finder market. We certainly believe Sony will target AR/VR devices for their existing MicroOLED panel lineup. Let's assume Sony successfully secures ~50% share of this new market, who will emerge as the #2 player, Kopin or eMagin?
We see eMagin with two viable paths to market:
Low volume production of US displays for high margin military prime contractors and some high end headset manufacturers; the company recently secured capital investment from the US DOD to expand the current production line and secure supply for the US Military
Possible licensing of their unique dPd IP to an as yet unknown "tier one consumer electronics company" according to a 2017 press release
We see Kopin with three viable paths to market using their fabless approach:
Supply of Color Filter MicroOLED backplane wafers to high volume deposition foundries:

BOE: In 2017 the largest flat panel display manufacturer in the world inked a MicroOLED JV with Kopin and is now building a second MicroOLED fab in China.
Lakeside Optoelectronic: An existing deposition fab operator in China that is a Kopin backplane customer and R&D partner.

We expect additional deposition foundries will approach Kopin as backplane and IP customers. Even Sony could eventually become an OLED backplane customer as they also use a color filter approach that would benefit from Kopin's ColorMax DuoStack approach.

Provide "The Whole Widget" - Using panel output from partners like BOE and Lakeside, Kopin can offer complete display modules including MicroOLED Display on Chip plus matching optics. In a recent interview, Kopin CEO John Fan reiterated this:
"You can have a great microdisplay, but you still need to magnify the image to the user in order to provide a satisfying experience. Furthermore, our customers who are building headset systems are looking for a complete solution including optics: the whole display module. This applies to both AR and VR. For example, you saw the Panasonic VR device press release where it notes that we worked closely with 3M on our Pancake optics that are matched to our 2.6K X 2.6K ColorMax DoC for this new VR headset." - Dr. Fan, CEO Kopin
Possible IP licensing arrangements with existing high volume Si contract manufacturers like TSMC or component providers like Sony who seek access to Kopin's multi-stack MicroOLED and Pancake optics. 
We think the "three paths to market" and related partnerships already secured by the company provide Kopin a clear advantage to pursue MicroOLED content wins at consumer scale. Success here would result in Kopin content being present in a large portion of the global MicroOLED displays that will be shipped annually. Kopin's fabless approach levers existing partner and customer Si and deposition fab capacity to drive revenue with very little capital investment. The company has already positioned itself to insert its IP into mass produced high margin components for the emerging microdisplay category. While we see Sony as a possible winner of some early sockets, Kopin could quickly emerge as a strong #2 market share leader with content inside 40% or more of all MicroOLED devices sold.
Another point to consider: Kopin's CEO may have created a variation on the Arm IP licensing model with his fabless MicroOLED approach.
On the pricing front, we believe that Sony, Kopin, and eMagin will need to target a price point of $50 per display panel to win sockets in AR/VR devices. Note that VR devices will require 1 display per eye as will many AR devices. We use the following unit revenue assumptions for Kopin's "triple path" approach to MicroOLED market penetration:
Full Kopin MicroOLED module with matching custom optics: $50 to $100

ColorMax DuoStack backplane: $10 per display

Backplane/Architecture IP license: $1 to $5 per display volume-dependent
With annual AR/VR device shipments expected to exceed 25 million units annually by 2025, you can see that the prize for Kopin here is significant. We think a large portion of Kopin's MicroOLED revenue will be as a result of supplying backplanes to BOE, Lakeside, and other Asian display manufacturers. Using our assumptions, lets sketch out a 2025 revenue range for the ColorMax DuoStack backplane path (remember 2 displays per headset!):
| | | | | |
| --- | --- | --- | --- | --- |
| Shipments (est.) | SOM | Displays | Unit Revenue | Annual Revenue |
| 5,000,000 | 40% | 4,000,000 | $10 | $40,000,000 |
| 15,000,000 | 40% | 12,000,000 | $10 | $120,000,000 |
| 25,000,000 | 40% | 20,000,000 | $10 | $200,000,000 |
We assume 35% Gross Margin for Kopin's display business, but believe actual results may exceed this with growth of license revenue and other benefits of the fabless model.
Bear in mind that this MicroOLED ramp for Kopin is incremental to existing Military segment growth which we also see as substantial and likely to exceed +10% annually 2021 through 2025.
Now lets move to the Enterprise AR segment of Kopin's business...
Our unit revenue assumptions for the higher margin Enterprise AR business are as follows:
1 X Display module with optics per AR headset: $50 (Vuzix example)

1 X Display module with optics + IP license per AR headset: $100 (RealWear example)
We think that 100,000 Enterprise AR devices could be shipped in 2021 and expect at least 1 million devices will ship annually by 2025 with many of them including Kopin content. For example, we believe Kopin will build and maintain a dominant supply position in this category by providing market leader RealWear with full display modules plus IP. Based on our unit assumptions for Kopin content and a dominant market share position in Enterprise AR, we see $70M in incremental revenue annually by 2025 for this category.
Combining our forecasts, here is a high level estimate of the kind of top line growth Kopin could realize in 2025 compared to the current analyst estimates for FY 2020 revenue: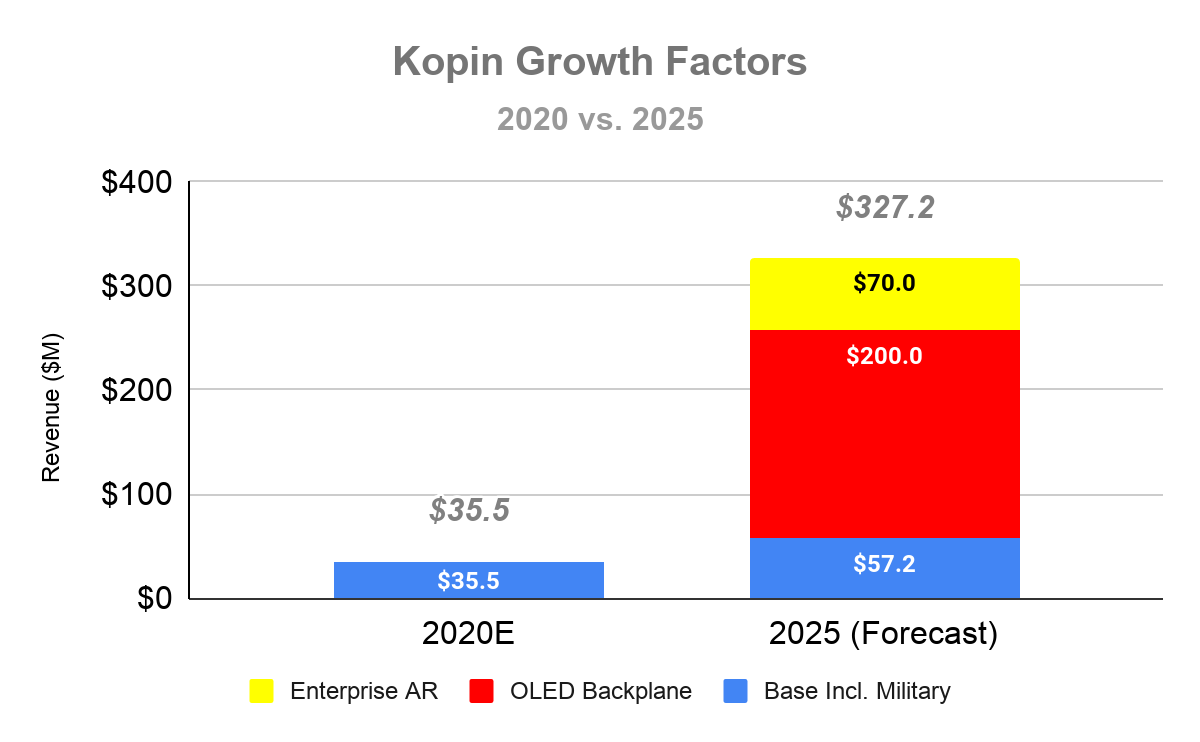 We Are Only At The Base Of The Mountain
We think the time for microdisplay-based devices has arrived and expect device launches by Facebook, Apple, HTC, Panasonic and many others could start to occur in 2021 and 2022. Furthermore, we think a Color Filter MicroOLED approach will be the display of choice for these devices over the next five years. It is the architecture that enables lighter, slimmer headsets producible at consumer scale.
It is important to note that the 25 million AR/VR headset unit forecast for 2025 is really just the early adopter first wave. The global TAM for AR/VR headsets could be 2 Billion people by 2030. That's a potential for 4 Billion (with a "B") MicroOLED displays to ship!
Now apply Kopin's multi-fab "Arm-style" backplane licensing and supply model with your own market share assumption to that kind of scale. Even with lower backplane unit pricing to account for scale, Kopin could realize $2B in annual Revenue under such a scenario and drive $4.00 to $5.00 in EPS due to their low overhead, fabless model. Think on that for a moment.
When you start to dig into the "three paths" Kopin has available to penetrate the MicroOLED market and combine that with known Enterprise AR and Military growth trajectories already in play for the company, it is apparent that a 10X revenue outlook within five years is possible.
Beyond 2025 we see much greater potential during the second half of this decade and believe Kopin will continue to trade higher as these opportunities become clearer. As new MicroOLED devices are revealed by a multitude of players and backplane orders are confirmed, we think the market will start to apply an appropriate forward revenue multiple to this company.
Conversely, based on publicly available information and updates from management, we do not believe eMagin can achieve the same scale due to its limited production at its own US facility and lack of Asia-based OLED production partnerships to date.
As we enter the "Age Of The Microdisplay" we think Kopin provides an exceptional way to lever AR/VR growth in your portfolio. Why? Owning Kopin provides:
Exposure to multiple microdisplay architectures (AMLCD, LCOS, MicroOLED, MicroLED)

Technology and production leadership for MicroOLED with a low capital, highly scalable fabless model that could do for microdisplays what Arm did for CPUs

Existing network of Asia-based partners and customers such as BOE and Lakeside Optical that are already committing to consumer scale

High margin Enterprise AR offering that includes an IP licensing model in addition to display modules

A strong and steady high margin military microdisplay business that continues to grow
Risk Factors
We have used publicly available information for this review combined with our knowledge of the microdisplay industry gained over a number of years including numerous meetings and discussions with experts. However ...
The overall AR/VR growth assumptions industry analysts have published may be inaccurate. Our assumptions about Kopin's market share, unit costs, and competitors may turn out to be incorrect. New participants could emerge and challenge Kopin's technology and supply chain advantages. Consumer adoption could be less robust than we are relying on here.
Analyst's Disclosure: I am/we are long KOPN.
Seeking Alpha's Disclosure: Past performance is no guarantee of future results. No recommendation or advice is being given as to whether any investment is suitable for a particular investor. Any views or opinions expressed above may not reflect those of Seeking Alpha as a whole. Seeking Alpha is not a licensed securities dealer, broker or US investment adviser or investment bank. Our analysts are third party authors that include both professional investors and individual investors who may not be licensed or certified by any institute or regulatory body.