Please Note: Blog posts are not selected, edited or screened by Seeking Alpha editors.
Hedge Fund Manager, Value, Event Driven, Special Situations
Seeking Alpha Analyst Since 2011
Summary
SPACs are the market-driven way to IPO.
They rely on price discovery to pick winners and losers.
Here are the current deals' winners and losers.
IPOs are the past
The casting couch... Outer borough pit traders with a feeling about how to price some options... A baseball player's rugged jawline: Every industry had their pre-Moneyball ways of making choices based on favors, hunches, and biases. People did things that way because they didn't know any better, it was easy, lucrative, otherwise attractive to insiders, and because less competition invariably results in lethargic incumbents. And then one by one arbitrariness was replaced by analytical rigor. The initial public offering / IPO process is pre-Moneyball with all of the medieval vernacular that entails – whisper numbers, banker's bluffing to get mandates, hot issues, and mystical allocation formulas that amount to payola for trading commissions.
SPACs are the future
The special purpose acquisition company / SPAC process is its post-Moneyball successor based on transparent price discovery. Sponsors go to the market to raise their fund based on their potential. They go back to the market to secure a vote based on their deal. At every step of the way, there is real time feedback from the marketplace as prices assign value and communicate who is winning and who is losing. It is fairer, more rational, and more efficient. Additionally, regulators love SPACs because they help counterbalance the steep long-term decline in the number of US public company listings.
Today's yeses
The market has spoken. It continues with updates every day, but it is clear that it has said yes to SHLL, GRAF, FMCI, LCA, CCH, INSU, OPES, and HCCH. They will successfully close their deals. That is because the market has blessed their deals, driving their market prices to significant premiums to their current cash in trust. No one who is sober, clean, and free from involuntary commitment to a mental institution would redeem shares or vote against their deals instead of simply selling any shares that they don't want at their big premiums to redemption value.  So their share prices should be an indication of market demand for owning their announced deal targets. Their de-SPACing is a cinch. And unlike in an IPO, there's no whispering – only supply and demand.
Tortoise is buying Hyliion. Graf is buying Velodyne Lidar. Forum Merger II is buying Tattooed Chef. Landcadia II is buying Golden Nugget Online Gaming best described on Twitter (TWTR):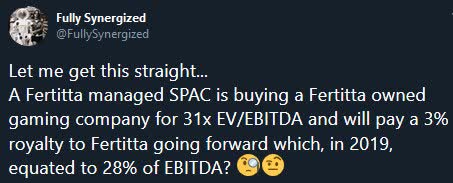 Collier Creek is buying Utz, maker of my favorite potato chip from my childhood, Grandma Utz. Alas they aren't keto so I can't eat them anymore, but this is a good example of the kind of brand that works well in a SPAC. Insurance Acquisition is buying Shift Technologies. Opes is buying BurgerFi. HL is undersized but they are buying Fusion Welcome-Fuel.  These are mostly large SPACs with credible backers; several have successfully completed SPACs before.
Today's nos
Today's nos include PACQ, LACQ, LGC, FPAC, JFKKU, CRSAU, ORSNU, and LHC.  As a group, they're worth more dead than alive.  Pure announced plans to buy HighPeak Energy but the market is unconvinced but the deal's merits. They could try to re-cut or abandon the deal. Leisure wants to buy Gateway Casinos but its success is not looking good. Legacy is struggling with its deal to acquire Blue Valor. Far Point is trying to get out of their deal with Global Blue. 8i is a subscale SPAC unsuccessfully trying to buy Diginex. Crescent announced a deal to buy F45. While it could benefit from the many CrossFit affiliates looking for a new program, this is too risky a deal during a pandemic. It won't work. Orisun is another floundering SPAC; they are trying to buy Ucommune. Leo is trying to buy Digital Media Solutions. What's going so wrong with these eight deals when the eight "yeses" are going so well? They are less focused on hot tech sectors and they are more impacted by the global pandemic. But there is no mystery; the market is telling them to re-cut or abandon their deals.
Conclusion
Be wary of the eight announced deals that the market is rejecting and be especially wary of their warrants which could become worthless. Neither investors nor sponsors should try to slip these deals past their remaining steps without first restructuring their economics to better favor shareholders. Expect the eight deals the market has endorsed to sail through their remaining processes and decide if you want to stay involved in situations that are becoming less like an earlier SPAC investment and more like a regular equity bet. Any residual discount due to deal risk should evaporate in the days ahead.
Seeking Alpha's Disclosure: Past performance is no guarantee of future results. No recommendation or advice is being given as to whether any investment is suitable for a particular investor. Any views or opinions expressed above may not reflect those of Seeking Alpha as a whole. Seeking Alpha is not a licensed securities dealer, broker or US investment adviser or investment bank. Our analysts are third party authors that include both professional investors and individual investors who may not be licensed or certified by any institute or regulatory body.