(Editors' Note: This article discusses micro-cap stocks. Please be aware of the risks associated with these stocks.)
The first article of the series has introduced the Carbonate Triangle of the renowned Canadian oil sands. The region is the world's third-largest oil reserve with its rich carbonate-hosted bitumen deposit located in the northern Alberta's deep underground. Precisely, the Carbonate Triangle is situated between three major bitumen areas, Athabasca, Cold Lake and Peace River.
In today's investment guide on the Carbonate Triangle, I will present the main characteristics of the Athabasca area to have a better assessment of its potential. Then, I will review one of the largest oil producers that has been analyzed previously with its Peace River assets and that owns a few assets as well in Athabasca. So far, I looked into several producers involved in Peace River and Cold Lake regions of the Carbonate Triangle:
Peace River's most notable producers:
Cold Lake's most notable producers:
Athabasca's most notable producers:
An analysis of the current operations of the company will be examined with the objective to provide the most complete information available to potential investors before deciding to seize the opportunity that the 54,132 square miles of the Carbonate Triangle has to offer. Let's start by introducing Athabasca, a famous and most prolific region in the Canadian oil sands as well as one of the largest reserve in the world.
Athabasca Region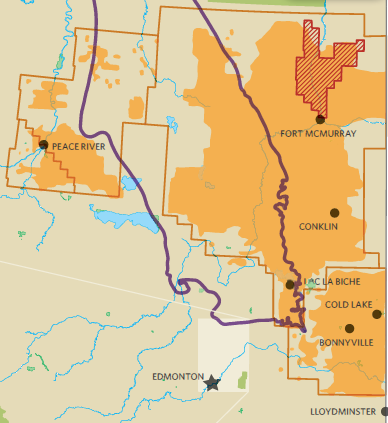 Source: ERCB
The Athabasca oil sands are named after the Athabasca River, which cuts through the heart of the deposit, and traces of the heavy oil are readily observed on the river banks. Commercial production of oil from the Athabasca oil sands began in 1967, when Great Canadian Oil Sands Limited, now incorporated into an independent company known as Suncor Energy, opened its first mine, producing 30,000Bls/d of synthetic crude oil.
The Athabasca region can be defined with two major oil sands deposits: the Grosmont Formation and the Wabiskaw-McMurray Formation. The Grosmont Formation is a late-Devonian shallow marine to peritidal platform carbonate consisting of four recognizable units within the deposit. All of the hydrocarbons are located in an updip position, structurally trapped along the erosional edge and contained by the overlying Clearwater Formation.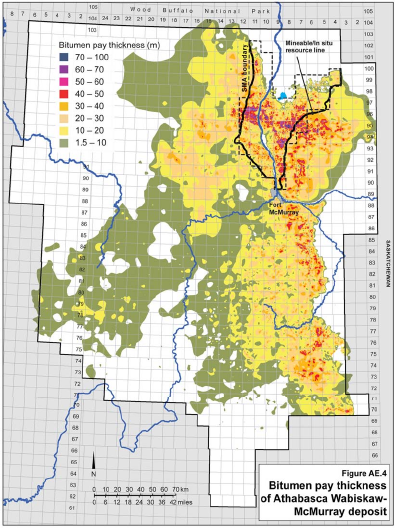 Source: ERCB
The McMurray Formation was deposited on an exposed karstic landscape of ridges and valleys and varies in thickness from being absent over Devonian highs to over 426 feet thick in the Bitumont Basin. Bitumen-rich reservoirs formed within estuarine valleys stacked above the Lower McMurray channel sands and are assigned to the Upper McMurray Formation.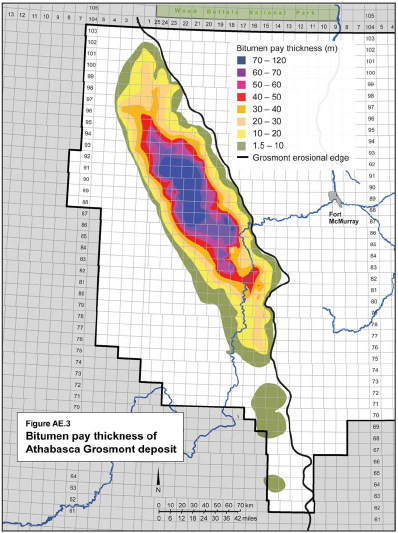 Source: ERCB
The Athabasca region is estimated to hold total reserves of 1.34 trillion barrels of oil. Approximately 8-10% would be recoverable with current technology, which would represent a total reserve of 134 billion barrels. Compared to the estimated 7 billion barrels contained in Peace River and approximately 16 billion barrels in Cold Lake, the Athabasca region is the most prolific and the most promising of the three, located in the Carbonate Triangle.
Royal Dutch Shell
Shell began producing bitumen from the Canadian oil sands back in 1979 with PRISP, its "Peace River In-Situ Pilot Project". The Peace River Complex, which began commercial operations in 1986, produces bitumen using thermal recovery methods. For the article discussing Shell's Peace River assets, you can access it here. Now let's take a look at Shell's Athabasca assets from which the company has a production capacity of over 255,000Bls/d of bitumen.
Shell Albian Sands Assets
Shell Albian Sands is the mining operation portion of the Athabasca Oil Sands Project and consists of the Muskeg River and Jackpine mines. Production from these mining and extraction operations accounts for 17% of Canada's total oil production.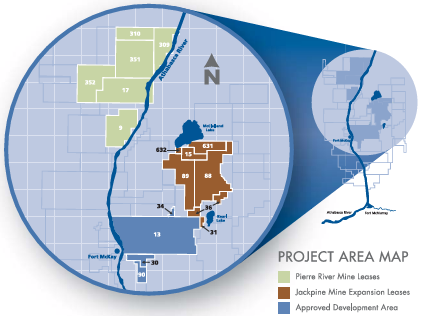 Source: Shell Canada
At its two mines, mining shovels dig into the sand to excavate the ore containing bitumen. Using warm water, the bitumen is separated from the sand and clay. The thick bitumen is then diluted with a solvent to allow its transportation via pipeline to the Scotford Upgrader and converted into synthetic crude oil.
Shell is the operator and majority share holder of the Athabasca Oil Sands Project, a joint-venture between Shell Canada with 60% interests, Chevron Canada (NYSE:CVX) with 20%, and Marathon Oil Canada (NYSE:MRO) with the remaining 20%. The joint-venture consists of Shell Albian Sands mining and extraction operations, North of Fort McMurray, the Scotford Upgrader and the proposed Quest CCS (Carbon Capture and Storage) Project located North of Edmonton.
Scotford Upgrader
In 2003, the major producer opened the Scotford Upgrader to process bitumen from Shell Albian Sands. It is integrated with Shell Canada's Scotford Refinery, near Fort Saskatchewan, Alberta, making it one of the most energy efficient facilities of its kind. Shell operates the Upgrader on behalf of the Athabasca Oil Sands Project.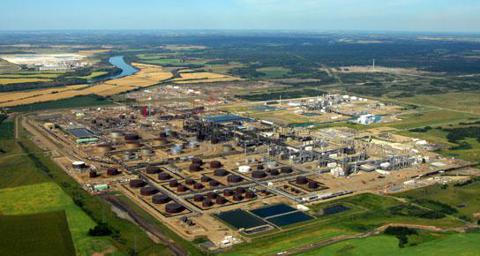 Source: Royal Dutch Shell
Scotford's upgrading process adds hydrogen to the bitumen, breaking up the large hydrocarbon molecules to create synthetic crude oil. This process is called hydrogen-addition or hydro-conversion. This technology results in a slight volume gain, meaning the Upgrader yields approximately 103 barrels of synthetic crude from every 100 barrels of bitumen processed.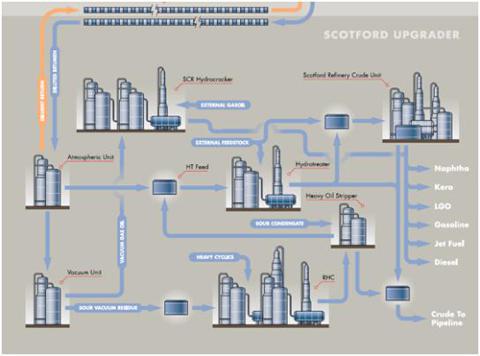 Source: Royal Dutch Shell
The synthetic crude is shipped to refineries, where it is further processed into fuel products like gasoline. A significant portion of Shell's share from the Scotford Upgrader is sold to the Scotford Refinery, as well as Shell's Sarnia Refinery in Ontario, and Shell's Puget Sound and Martinez Refineries, both located in the U.S. The remainder is sold to the general marketplace.
The Scotford Upgrader has the design capacity to processes 255,000Boe/d (barrels of oil equivalent per day) of diluted bitumen from Shell's Muskeg River Mine and Jackpine Mine. Shell currently holds regulatory approval to expand the processing capacity of the Scotford Upgrader to 290,000Bls/d (barrels per day).
Quest Carbon Capture and Storage Project
Shell, on behalf of the Athabasca Oil Sands Project, has gained conditional regulatory approval for the Quest CCS Project, a fully integrated project that would capture, transport and store more than one million tonnes of CO2 per year from Shell's Scotford Upgrader.
In 2011, the major producer signed agreements with the governments of Alberta and Canada, securing $865 million in funding for Quest. Shell is involved in a number of demonstrations of CCS projects globally as well as full-scale deployment projects to advance a range of different CCS technologies and so reduce costs and optimize efficiency.
The final investment decision to proceed with Quest will depend on a number of factors including regulatory and permitting approvals, final project economics and consultation with stakeholders. Pending a final investment decision, injection of CO2 would begin in 2015.
Muskeg River Mine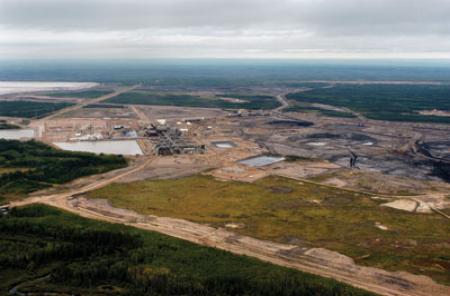 Source: Shell Canada
The Muskeg River Mine's current production capacity is at 155,000Bls/d. Muskeg River is in operation since 2002 and the recovering process at the mine is illustrated below.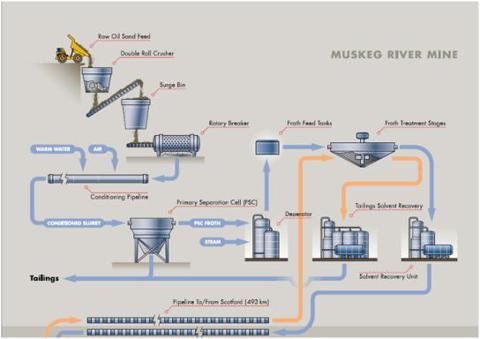 Source: Royal Dutch Shell
The joint-venture has planned an expansion and debottlenecking that received regulatory approval. That would bring an additional 115,000Bls/d of production to its initial 155,000Bls/d. However, the start-up schedule is yet to be determined.
Jackpine Mine
In 2004, Shell received regulatory approval for Jackpine Mine development that included a 200,000Bls/d mining and extraction facility on the East side of Lease 13. Start-up of Phase 1A occurred in 2010, gradually rising the production capacity to 100,000Bls/d. Phase 1B, another 100,000Bls/d phase, has received regulatory approval but no timeline has been determined yet for a possible ramp-up.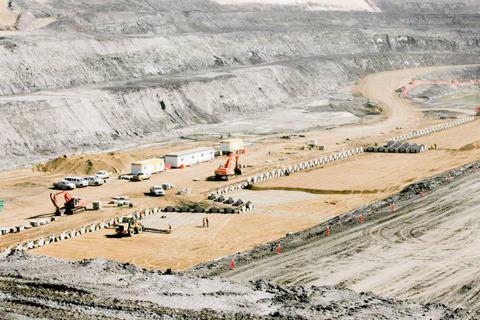 Source: Shell Canada
The Jackpine Mine Expansion is a proposed expansion of Jackpine Mine to add production capacity to 300,000Bls/d. The proposed expansion will be located adjacent to the Jackpine Mine, located about 43 miles North of Fort McMurray and would include development activities on Lease 88, 89, 15, 631 and 632.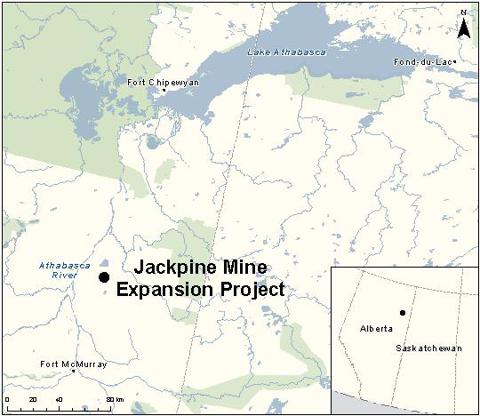 Source: Shell Canada
Shell stated that the expansion will follow current oil sands development practices. The mine area will be cleared and drained, the muskeg and topsoil stockpiled, and the overburden removed before oil sands mining begins. Mining areas will be cleared in a staged manner to minimize the environmental disturbance. To conserve wetland areas, setbacks from McClelland Lake and surrounding area fens will be incorporated into the mine plan. Stream diversions are also being considered.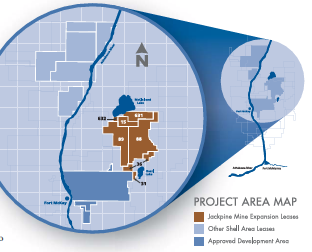 Source: Shell Canada
The expanded 300,000Bls/d Jackpine Mine will require an additional external tailings facility that will be located on Lease 88. The additional tailings facility will be equipped with reclaim water systems that will send reclaimed water back to the Jackpine Mine extraction plant. Start-up is expected for 2017 and will have a 40-year life expectancy.
Pierre River Mine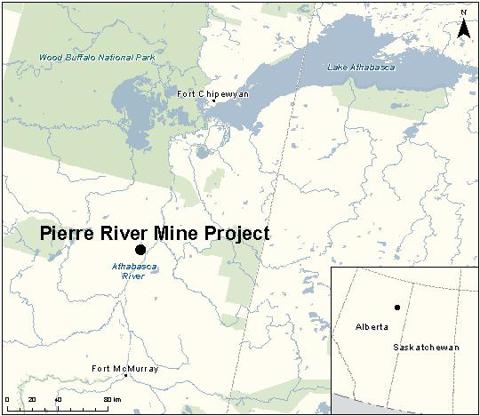 Source: Shell Canada
Pierre River Mine is a proposed expansion of the production base by 200,000Bls/d that would be located approximately 56 miles North of Fort McMurray. The expansion, owned at 100% interests by Shell, includes mining and bitumen processing extended to the West side of the Athabasca River, initially on Leases 9 and 17 and progressing to Leases 309, 310, 351, and 352 as well as possible lease exchange areas acquired from other companies.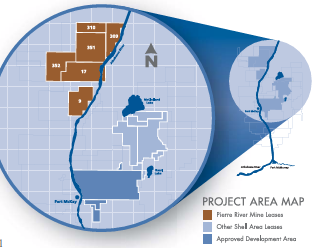 Source: Shell Canada
The proposed development includes an open-pit mine, ore handling facility, bitumen extraction facilities, tailings processing facilities, support infrastructure, water and tailings management plans, as well as the construction of a bridge across the Athabasca River to provide access from Highway 63.
Shell is awaiting regulatory approval of its Phase 1, the initial phase expected to be commissioned in 2018 while Phase 2 has not been determined yet by the company.
Bitumen produced by its Pierre River Mine would be transported via pipeline from the Athabasca area to the Edmonton area and/or to Canadian or potentially U.S. markets. Shell evaluated additional upgrading capacity and Athabasca Oil Sands Project diluent recovery in the Scotford area as well as other upgrading and heavy oil refining options.
Bottom Line
Shell's area leases in the Canadian oil sands can support substantial bitumen production for many years. The current assessment of bitumen in place to support the proposed expansion of the JackPine Project is assessed at approximately 5 billion barrels.
In conclusion, I believe Shell represents a good investment opportunity to add to any portfolio to be involved in the Canadian oil sands of Alberta while mitigating the risks associated with a junior producer focused only in that area. As discussed in introduction, Shell's production from its Albian sands assets accounts for 17% of Canada's total oil production, a considerable portion for an energy producer.
Shell's stock is trading at approximately $65 a share. According to Morningstar, the stock price has a fair value of $79 per share, suggesting that the shares are at a significant lower value, which offer a good opportunity for an entry point and get the stock at a discounted price. Shell's dividend's yield is at 5.56% currently, higher than its industry's average of 5.11%, adding to the value. Here are the upsides identified for a potential investment:
An experienced oil producer well established since 1979 in the Canadian oil sands with assets in the three areas of the Carbonate Triangle
The tremendous production from its Albian sands area
A well-managed worldwide producer of oil and gas
A strong balance sheet and its share buyback program
A discounted price of the shares compared to its fair price
Disclosure: I have no positions in any stocks mentioned, and no plans to initiate any positions within the next 72 hours. I wrote this article myself, and it expresses my own opinions. I am not receiving compensation for it (other than from Seeking Alpha). I have no business relationship with any company whose stock is mentioned in this article.