The National Restaurant Association, the other NRA, is the leading business association for the restaurant industry. This encompasses about 970,000 restaurant and food service outlets and a workforce of nearly 13 million employees. Many consider this organization as the definitive source when monitoring the pulse of the industry.
Watching the trends in their Restaurant Performance Index (RPI) has been a great leading indicator in predicting the action of stocks in this field. The index combines both present-day and forward expectations. Here is how they describe the methodology.
The just-released (November 30th) survey results did not bring good news.
The latest monthly RPI fell to its lowest level in 14 months. The decline reflected a steep drop in operators' expectations for the coming six months.
The current situation index dropped 0.6 percent to 99.3 in October (below 100 = contraction). Only 40% of operations said their same-store sales grew last month. That was down from 48% in the previous 30-day period. More operators said traffic declined in October than those who said traffic expanded.
The forward-looking expectations were much worse. The six-month outlook took a decided downturn in October. It fell 1.2% month-to-month. That was the first time in more than a year that the index fell below the 100 mark.
Only 31 percent said they expect their sales will improve over the next six months, down from 45 percent in September. That was the lowest rate of optimism in three years. Restaurant owners that expect lower same-unit sales over the next half-year leapt from 11% in September to 21% in October.
Just 20 percent of operators said they expect overall economic conditions to improve in the next six months. That was down from 26 percent 30 days earlier.
38% now project conditions to worsen. That's more than double the previous month's 18%. The NRA indicated that this level of pessimism is the highest in nearly four years, dating back to 2008's recession.
Restaurant industry spokesmen noted that formerly reliable growers like McDonald's (NYSE:MCD) and Chipotle (NYSE:CMG) spent the summer indicating economic weakness was hurting sales. Yum Brands (NYSE:YUM) lowered expectations last week. That was simply the latest example of the industry-wide weakness.
The effects of a potential "fiscal cliff" and fear of continuing food cost inflation haven't helped the mood. Expected costly changes in employee health insurance expenses are also perceived as a very large negative.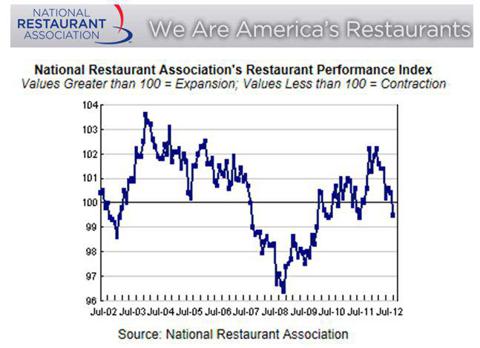 The forward-looking nature of the index makes it very valuable in buy/sell decision making. Note the strong, but slightly lagging, correlation of bellwethers Darden (NYSE:DRI) and Cracker Barrel (NASDAQ:CBRL) to the index.
This may present an opportunity to short shares or buy puts on some of the restaurants that are still pricey.
Traders could also use the PowerShares Dynamic Food & Beverage ETF (NYSEARCA:PBJ) as a proxy for the group. That ETF has yet to fully reflect the extent of industry weakness. PBJ, at $20.37, is just 7% off the top of its 52-week range.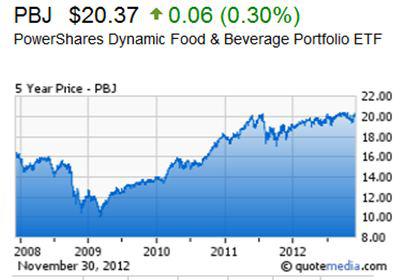 Headwinds from multiple sources make restaurant stocks especially vulnerable to disappointments. 2008 proved that, when times get tough, eating out is one of the first discretionary cuts for many families.
Your e-mail inbox may already contain an assortment of coupon deals from major chains like Ruby Tuesday (NYSE:RT), Red Lobster/Olive Garden, Lone Star, Chili's (NYSE:EAT) and others. Those are margin-killing tactics used mainly when seats are going empty.
Private-equity groups were taking restaurants private a few years ago. They have been busy in 2012 IPO-ing them again while the numbers still look reasonable.
Outback Steakhouse returned as Bloomin' Brands (NASDAQ:BLMN). Higher-end Del Frisco's Restaurant Group (NASDAQ:DFRG) also started trading again just months ago. Neither IPO was warmly received initially but each now trade at perhaps, unjustifiably high prices.
If you own shares in this industry group consider locking in gains. Aggressive traders should get short or buy puts. Conservative MCD is down 15.1% from its 2012 peak. YUM dropped almost 10% instantly last Friday just by lowering expectations.
Negative year-over-year comparisons, when they come, could cause major damage. The RPI has provided a clear shot across the bow.
Disclosure: I have no positions in any stocks mentioned, and no plans to initiate any positions within the next 72 hours. I wrote this article myself, and it expresses my own opinions. I am not receiving compensation for it (other than from Seeking Alpha). I have no business relationship with any company whose stock is mentioned in this article.