When investing in financial stocks for the long haul, investors need to look for several things. First, the company must be stable financially, without excessive debt or any risky practices. Second, the company must pay a dividend and have a solid history of raising the dividend. Finally, the company must have significant potential upside in its share price. In other words, the company needs to be "cheap".
With these guidelines in mind, my four favorites right now are, in no particular order:
CME Group (NASDAQ:CME) - With a market capitalization of $16.8 billion, CME Group is the world's largest futures exchange, formed in 2007 as a result of the merger between Chicago Mercantile Exchange and CBOT Holdings. The vast majority of CME's earnings (83%) come from fees associated with trading and clearing. CME currently pays a dividend yield of 3.55%, which it has a mostly good record of increasing. The company wisely cut its dividend in half for 2009 and 2010, however it has accelerated its dividend increases since then, and its current payout of $1.80 is close to its pre-financial crisis level. Consensus estimates call for CME to announce earnings of $3.04 for FY 2012, with this level increasing to $3.33 and $3.79 in 2013 and 2014, respectively. This means CME trades at 16.6 times current fiscal year earnings, which seems fair considering its projected earnings growth rate of 12.3% going forward.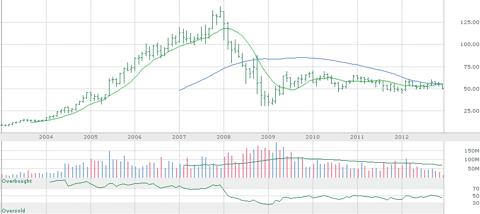 2.) Huntington Bancshares Inc. (NASDAQ:HBAN) - This regional bank has 704 offices in 7 states. HBAN paid off its TARP obligations in 2010 and has been profitable for the past three years, and has been increasing its dividend since TARP was repaid. HBAN currently yields 2.51%, but what it lacks in dividend history it makes up for with its valuation, which is the main reason I included it here. HBAN currently trades at only 9.3 times earnings, a significant discount to its peers. Huntington sees a sizeable increase coming in its lending business, so this stock seems significantly undervalued at current levels.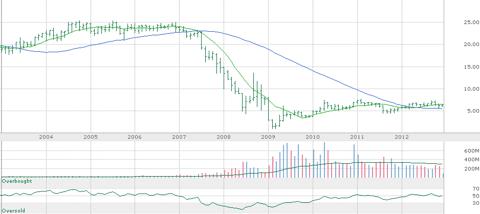 3.) T. Rowe Price (NASDAQ:TROW) - One of the largest publicly-held mutual fund companies, TROW is one of the few financially-related companies whose stockholders' investments are actually worth more now than before the crisis. In fact, $10,000 invested in TROW five years ago would have grown to $12,252 today. Although it only yields just over 2%, TROW has a fantastic history of dividend raises, even straight through the 2008-09 period, as seen in the chart at the bottom of the page. Such solid companies generally trade at a premium, and TROW is no exception, trading at 19.3 times 2012's consensus estimate of $3.37 per share. This is expected to grow to $3.81 and $4.31 per share in 2013 and 2014, respectively, which would give TROW a 15.9% 3-year average growth rate.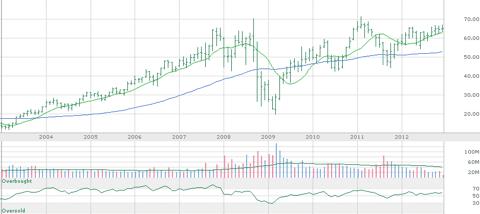 4.) BB&T Corp. (NYSE:BBT) - The 11th largest U.S. bank in terms of assets, BBT operates about 1,750 branches, mostly in the Southeastern U.S. Just like TROW, BBT is another rarity in that their stockholders are better off now than before the crisis. The same $10,000 investment in BBT 5 years ago would be worth $11,238 today.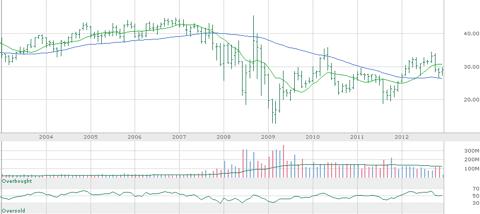 Currently yielding 2.72%, BBT has a strong history of raising the dividend, however it was forced to make cuts in response to the crisis, and the increases are back on track now. My single favorite thing about BBT is its growth prospects. Consensus estimates call for BBT to earn $2.69 for 2012, up from $1.83 just last year. Earnings are expected to continue to rise rapidly for the next several years, and the consensus calls for an outstanding average 3-year earnings growth rate of 24.4%. To put this in perspective, BBT trades at 10.8 times current year earnings, which is already a nice discount, however trading at only 8.7 times forward earnings gives a better sense of what a bargain this stock is.
Here is the dividend data for these stocks over the previous decade: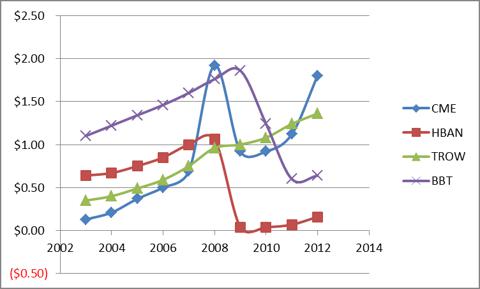 As you can see, these are four very different companies with different strengths, weaknesses, and level of risk. I like all four of these, but which one is best for any individual depends on his/her personal risk tolerance.
Disclosure: I have no positions in any stocks mentioned, and no plans to initiate any positions within the next 72 hours. I wrote this article myself, and it expresses my own opinions. I am not receiving compensation for it (other than from Seeking Alpha). I have no business relationship with any company whose stock is mentioned in this article.