Applications (apps) have always been an important revenue generator for Apple (NASDAQ:AAPL). Consumers associate iPhones and iPads with innovative applications, which helps contribute to a large number of device sales. Based on my research, iOS app downloads will help Apple stay ahead of its competitors in terms of revenues from app monetization.
Apple Pays $7 Billion to Developers
Apple users have downloaded more than 40 billion applications on the iPhone, iPod Touch and iPad. Almost half of them were downloaded in 2012. Apple also noted that consumers downloaded more than 2 billion apps in December alone. At the moment, there are 775,000 apps available in the app store. App developers have been paid more than $7 billion by Apple. This huge number suggests that Apple is making considerable amount of money ($3 billion) by hosting these 775,000+ growing applications at its app store. This clearly shows a trend towards applications becoming the mainstay of Apple's flexing power. Though many of these apps are free, they feature advertisements, which generate revenue for both Apple and its developers.
Games Continue to Be More Popular on the App Store
Looking at apps more closely, games will likely continue to be the primary source of app revenue for both Apple and developers. Eight of the top ten iPhone apps are games, and seven out of the top ten iPad apps are games. Most games cost money to download, which enhances the profitability of the app business model that Apple has put in place.
Individual game developers are generating significant income. NaturalMotion, a British game developer, made $12 million in just one month after its car racing game CSR Racing was released for Apple devices. Supercell, a Finnish game developer, made an astonishing $500,000 in just one day thanks to its "Clash of Clans" and "Hay Day" games. App developers are benefiting greatly from Apple's ecosystem. At the same time, all of this attention is helping Apple outsell its competitors.
App Purchase Trends
In-app purchases have continued to grow throughout 2012. People who download paid apps tend to purchase refills and extra features, partially due to mobile apps monetization beginning to depend on in-app payments.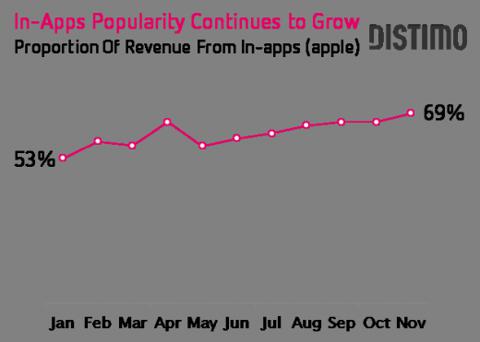 69% of App Store revenues came from in-app purchases in November 2012, compared to 53% in January 2012. Apple App Store downloads saw a significant spike on Christmas Day, with downloads jumping to 87% and revenues increasing to 70%.
Apple's App Store Rules Application Marketplaces
Google's (NASDAQ:GOOG) Google Play, which is the market place for Android devices, saw revenue growth of 43% in 2012. Apple's App Store saw revenue growth of 21% in the last four months. Apple's App Store averages $15 million in revenue per day compared to Google Play at $3.5 million. Again, this suggests that though more people maybe purchasing Android devices in Europe and elsewhere, they spend less money on applications. Android's revenue generation depends more on device sales and less on app monetization. Apple continues to generate significant revenues even after devices are sold, in the form of app monetization.
Research In Motion (RIMM) attempted to lure developers in September 2012 when it nudged developers to purchase the "Built for BlackBerry" tag, which can be displayed on the developer's website. Despite this push, RIM continues to offer the least number of apps among smartphone platforms.
Microsoft's (NASDAQ:MSFT) Windows Phone Apps Team Senior Director Todd Brix said that the company saw an impressive 100% increase in app revenue. Windows Phone 8 has almost 150,000 applications at the moment, and this number is growing. Nokia (NYSE:NOK) met with a lot of success when it used Windows Phone 8 to run Lumia 920. CNET lists the Lumia 920 as the fifth most important smartphone of 2012, and also the only Windows Phone in that list. It will be interesting to observe how Microsoft will help players like Nokia to sell more devices, because of applications.
Conclusion
Apple's App Store is the most profitable application marketplace. Its closest rival, Google Play, generates only a fraction of what Apple does through app monetization. Apple generates $15 million per day in revenue from app monetization, compared to Google at $3.5 million. In 2013, I predict that Apple will continue to generate increased revenues through apps. Developers will be encouraged to create apps for Apple first, and later for Android. This will ensure that Apple continues to stay ahead of all its competitors in terms of app revenue and monetization. This is a great situation for Apple investors.
Disclosure: I have no positions in any stocks mentioned, and no plans to initiate any positions within the next 72 hours. I wrote this article myself, and it expresses my own opinions. I am not receiving compensation for it (other than from Seeking Alpha). I have no business relationship with any company whose stock is mentioned in this article.