In late December, I wrote about negative sentiment growing in Apple (NASDAQ:AAPL). Apple has fallen another 100 points since then for a 19% loss, yet, negative sentiment has not grown. In fact, if anything, sentiment overall has gotten more bullish. This setup renders bottom-calling in AAPL near useless. After the stock broke through my presumed support at $432 and now even hit my rock bottom target of $420, I am indeed more wary than ever of even more downside. In December, I projected this downside target because it would fill January 2012′s big gap up that marked a major breakout at the time:
This past Friday, AAPL finally closed below its May, 2012 intra-day low. This breakdown appeared imminent at the beginning of that week, and it now sets up a new phase of weakness for AAPL which may not find much relief until the gap up from January gets filled.
At that time, I also provided recommendations on how to trade Apple in the face of what seemed like growing negative sentiment. The methodology has worked relatively well (albeit with a little more reliance on precise timing than I would like), and I expect the combination of call and put spreads (roughly) timed according to historical daily price patterns to continue working. The failure of negative sentiment to grow, or even for it to recede, implies that tensions should grow at some point in the future. Along the way to some kind of resolution and for some time after that, Apple will likely continue to deliver wide swings on a 1 to 2 week basis (and sometimes daily).
The bullish sentiment is currently reflected in analyst ratings and the open interest put/call ratio. Negative sentiment has failed to grow through shares short.
First, let's start with the analysts. According to Schaeffer's Investment Research, analysts remain overwhelmingly and aggressively bullish on AAPL: 29 strong buys, 4 buys, 6 holds, and no sell ratings. Yahoo! Finance reports different numbers from Thomson First Call: 18 strong buys, 26 buys, 10 holds, 2 underperforms, and 1 sell. Marketwatch reports numbers from FactSet Research Systems: 40 strong buys, 3 overweight, 10 holds, 0 underweight, and 1 sell. No matter how we slice it, these are not the ratings one might expect for a stock that has fallen 40% off its all-time high in just five months. Moreover, these ratings have only changed at the margins over the last three months.
In "Apple: Why bad news just keeps on coming," Mark Hulbert talks about analysts lagging reality with their earnings estimates. He bases this observation on the apparent inability of analysts to react fast enough to changes in Apple's stock price:
Consider what happened in the three weeks following Apple's all-time high, when its stock fell by 10%. Far from taking that warning seriously, the average analyst became even more optimistic than he was previously. At the end of those three weeks, the consensus forecast was actually higher than at the beginning.

Only when Apple released its earnings a couple of weeks later, on October 25, did it begin to dawn on analysts that the market had been right. In the wake of that earnings release, almost all of them revised their forecasts downward, causing the consensus estimate to drop to $50.24 a share.

But even that proved to be too little, too late. In fact, the same pattern played itself out again in the weeks leading up to Apple's January earnings release. Its stock already had fallen another $100 or so over that period, even as the consensus was barely changing. And then, on the day of that release, the analysts en masse revised their forecasts downward - causing the consensus to fall to below $45 a share.
There are two big things missing from this story. First, as noted above, it appears that these downward revision in estimates have not notably changed buy/sell recommendations. Such changes would reflect a true change in investing opinion.
Second, it is hard to fault analysts for getting more bullish after a 10% drop in AAPL. After all, AAPL is in a long-term secular bullish uptrend. Previous drops of such a magnitude were golden buying opportunities. In particular, AAPL reached an all-time closing high on April 9, 2012 at $636.23. In just two weeks, AAPL fell by 12% before soaring the day after earnings (see "The Odds Favor Big Upside from Apple's Fiscal 2012 Second Quarter Earnings"). AAPL got caught up in the May swoon but bottomed two weeks before the S&P 500 (NYSEARCA:SPY) did (a total 17% loss from the April all-time high). AAPL's last all-time high exceeded the April all-time high by 10%. Thus, overall, buying the AAPL dip off all-time highs would have worked out OK.
Hulbert also notes that declining estimates tend to drag a stock down as negative momentum feeds on itself. However, the consensus growth forecasts from 2013 to 2014 have not changed dramatically. According to Yahoo Finance, consensus EPS forecasts for the 2013 fiscal year dropped from $49.33 90 days ago to $44.56 today. This 9.7% drop has accompanied a 27% drop in the stock. The sell-off seems particularly exaggerated when looking at the consensus for 2014: dropped from $57.96 90 days ago to $50.51 today, a 13% drop. In other words, analysts have only slightly shifted long-term growth rates downward, from a 17% year-over-year growth rate to 13%. Apple's forward P/E for 2013 is now a paltry 9.4 and for 2014 that drops to 8.3. The current sell-off has pushed Apple's price-to-sales and price-to-book ratios to levels last seen in 2004 (on an annual basis)…and that was well before a dividend, now sitting at 2.5%.
So, with the stock this cheap, no surprise then that the high price target sits at a now seemingly lofty $888 and a median $610. Even the low target of $465 is now too high.
When I wrote last December, short interest on AAPL was on the rise, doubling from the end of July and increasing 33% from September. Since then, short interest has actually tapered off. (Note that shorts are still only 2% of AAPL's float).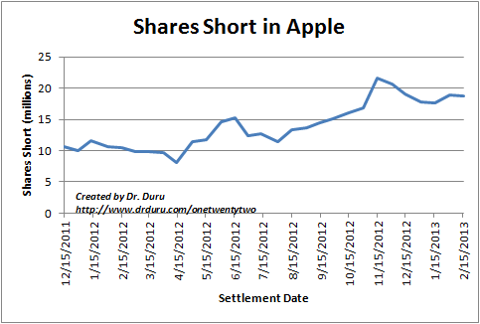 Shorts have taken a rest in AAPL
Source: NASDAQ short interest
While this chart is not bullish, it is not the reaction I would expect to a stock in steep decline. As in December, I would have expected a continued build in short interest.
Along with the relative disinterest from bears to add to positions is the continued strong bias toward call options over put options on AAPL. According to Schaeffer's, incredibly, the open interest put/call ratio has been in steady decline ever since Apple hit all-time highs. The ratio has dropped from near 1.0 to 0.58. It was as low as 0.50 about a week or so ago. This 50% decline has dropped the put/call ratio to its lowest levels in at least two years!
So, overall, the "only" thing bearish about Apple now is its stock price. And it is not pretty.
Monday's gap down and close of -2.4% is the third negative start to a week in a row. This behavior highlights the persistence of the current 3-week decline given Apple's overall tendency to start weeks strong, even in the downtrend. The charts below highlight the action. The first chart is a close-up of the January, 2012 gap up that defined Apple's big break-out on the way to April's all-time high. I drew a support line at $432 to mark my estimated downward target for Apple's sell-off. The second chart is a close-up of Tuesday's action showing Apple's clean break of that support.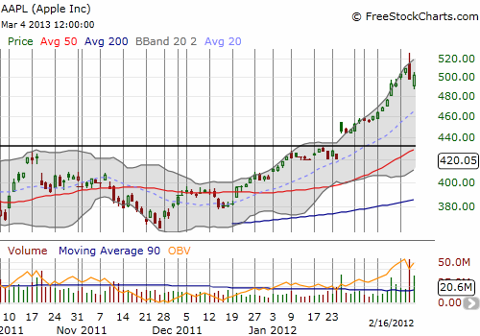 Apple's January, 2012 gap up that ignited a major rally to April's all-time high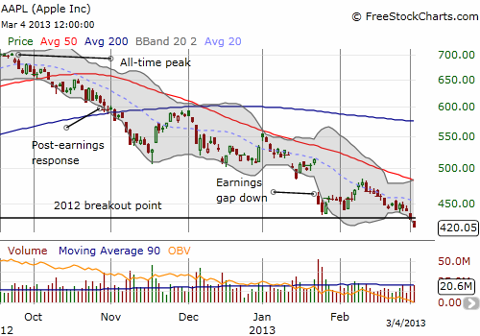 Apple breaks down from major support
Source: FreeStockCharts.com
Right before January earnings, I claimed that Apple was poised for a very big move up or down despite the historical price analysis showing a stalemate was the more likely scenario. I think April earnings is shaping up to be more of the same. All this selling in the face of relatively bullish sentiment is setting up a lot of tension ahead of a desperately needed positive catalyst. If this catalyst fails to materialize, Apple should yet again move materially lower. I will update the post-earnings trade analysis as the time approaches.
Until then, trying to call a bottom in AAPL seems much less important than making sure to keep the trade rotations going in the expectation of catching a moment of resolution for AAPL. This event should shove the stock into even more extreme, perhaps abrupt, moves than it exhibits today.
Be careful out there!
Disclosure: I am long AAPL. I wrote this article myself, and it expresses my own opinions. I am not receiving compensation for it (other than from Seeking Alpha). I have no business relationship with any company whose stock is mentioned in this article.