The Dow Jones Industrial Average closed at an all-time high yesterday and this morning Asian markets closed strongly higher with Europe green as we speak. We are still in over 20% cash in our retirement portfolio right now which has been frustrating but we believe that there are some attractive targets out there which will become better buys, of which Vodafone is on our short list. The rally is focused on all things but physical commodities and this worries us. For if investors are not bullish of the commodities themselves, how can they be bullish of a growing economy (outside of services of course)?
Chart of the Day:
Obviously factor orders are going to grow at a decreasing rate once the economy comes out of a recession, and have some ups and downs but this chart is a bit troubling right now. We would hope to see the growth rate stay above 0% and somewhere in the 1-3% range ideally.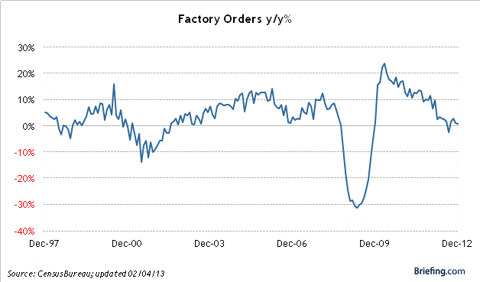 We have economic news due out today, and it is as follows:
MBA Mortgage Index (7:00 AM EST): N/A
ADP Employment Change (8:15 AM EST): 150k
Factory Orders (10:00 AM EST): -2.2%
Crude Inventories (10:30 AM EST): N/A
Fed's Beige Book (2:00 PM EST): N/A
Asian markets finished higher today:
All Ordinaries - up 0.84%
Shanghai Composite - up 0.90%
Nikkei 225 - up 2.13%
NZSE 50 - up 0.67%
Seoul Composite - up 0.20%
In Europe markets are trading up this morning:
CAC 40 - up 0.14%
DAX - up 0.91%
FTSE 100 - up 0.24%
OSE - down 0.19%
Telecom
One of the blue chip names we have been watching for a potential buy in this area is Vodafone (NASDAQ:VOD) due to their "cheap" valuation in comparison to some of the assets as well as their peers in the industry. The company is not on the same level as far as a cash cow as others who are focused on say the US market, however, they do have attractive growth markets and solid footing in the US, EU and a collection of African/Asian countries.
The shares shot up in trading yesterday after a report out from Bloomberg said that Verizon (NYSE:VZ) is interested in resuming talks regarding the US wireless division. The idea of a full-fledged merger has also been floated although Bloomberg did say that the discussions have been very informal at this point. It excited investors enough to push the shares higher by $1.31 (5.16%) to close at $26.68/share and generate volume of 46.4 million. This could dramatically alter the landscape in the industry, so investors should watch this and on any pullback possibly deploy capital based solely on valuation at this point.
Big rally yesterday on the report.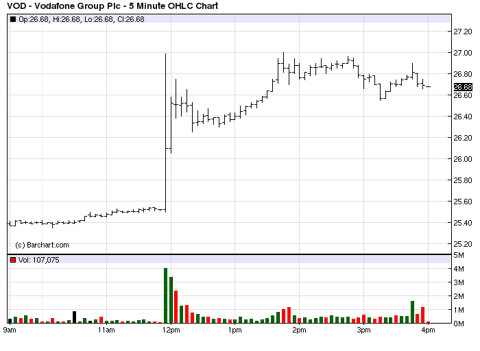 Chart courtesy of BarChart.com.
Retail
The news continues to worsen for JC Penney (NYSE:JCP) shareholders and the noose apparently is apparently tightening around CEO Ron Johnson's neck with the deteriorating performance at the retailer and no bright spots to speak of. Generally if you give someone enough rope to hang themselves in a bad situation they will slowly get around to it or find a way to utilize that rope to get out of the bad situation. Unfortunately Johnson is appearing mortal here and certainly no McGuyver, or for a metaphor more investors may understand, Jamie Dimon. News is trickling out that Johnson will have until year-end to correct the situation or be let go, so as long as he does not further ruin the company maybe it can survive to hire another CEO and maybe even thrive down the road.
That is obviously not the outlook that Vornado, one of the company's largest shareholders, took recently as they sold 10 million shares for $16.03/share (which looks smart after shares fell $1.78, or almost 11% yesterday to close at $14.96/share). The move was surprising as Vornado's Steven Roth sits on the Board of Directors at JC Penney, but it does speak volumes about what an insider thinks about the future...and if that is the case, why not fire Johnson now and just get back to what works in retailing?
In a tale of two retailers, let's talk about Ascena Retail Group (NASDAQ:ASNA) which owns a portfolio of stores including Lane Bryant, Dress Barn and Justice. The company reported results which surprised the market yesterday, but also were not that great as the company's CEO stated that they face continued headwinds moving forward. The company is not in the same boat as JC Penney where they are hemorrhaging customers but they are looking at slow growth and a retailing environment which will be tough on margins. Wall Street analysts were even reluctant to raise their recommendations on the company after the beat citing the near-term issues so we would stick to the blue chip names we have been discussing over the past few months and not get excited about these little 'flashes in the pan'.
Technology
It certainly appears that Cree (NASDAQ:CREE) has its mojo back and that the recent gains by the company have in fact been real. The company announced that their revenue for the 3rd quarter will be between $335-350 million which is above their previous guidance of $325-345 million. The revenue consensus among analysts was $336 million so this was a strong raise which effectively says that worst case revenue will be in line with analysts' projections. Looking at the EPS guidance, the company says that investors should expect $0.31-0.36/share which is up a penny on both the low and high-ends of the range.
Analysts had a consensus figure of $0.33/share. It will be interesting to see if the company can steal some market share in the overall lighting market with their new sub-$10 bulb which is available at Home Depot and could very well turn out to be a game changer. Momentum is here and with the shares trading at a 2-year high after yesterday's rise (shares finished at $51.16/share after rising $6.44 or about 14.50%) we would only be buyers on pullbacks.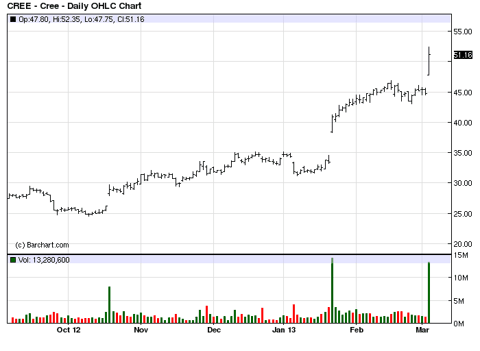 Chart courtesy of BarChart.com.
Pharmaceuticals
Impax Laboratories (IPXL) saw shares fall 26% yesterday to close at $14.80/share after the Food & Drug Administration ordered that their plant in Hayward, California cease production and resolve the FDA's concerns. The company makes its Rytary experimental drug there but that was recently not approved by the FDA which is what triggered the inspection. From the feeds we received yesterday it appears that there has been a lot of back and forth between Impax and the FDA over the manufacturing at this plant for the past few years, so it makes sense that the FDA would take this move. Piper Jaffray came out yesterday and said not to overreact to the FDA's move (prior to the 26% drop) and reiterated their 'Overweight' position as they think that the company could potentially sell themselves.
Disclosure: I have no positions in any stocks mentioned, and no plans to initiate any positions within the next 72 hours. I wrote this article myself, and it expresses my own opinions. I am not receiving compensation for it (other than from Seeking Alpha). I have no business relationship with any company whose stock is mentioned in this article.