Editors' Note: This article covers a micro-cap stock. Please be aware of the risks associated with these stocks.

As the economy continues to improve, we continue to look for undervalued plays that the market has missed. This is both in the market and in every day life as the two can sometimes be intertwined. We have noticed during our travels around the southeastern United States over the past few weeks that gasoline prices have changed little and in fact have actually declined in many markets we have traveled through.
Now we know that oil prices have risen sharply as of late and that RBOB Gas prices have too. All this leads us to believe that we are going to see prices at the pump increasing, especially as the July 4th travel weekend drained a lot of supply out of the market. As we clear the cheap gas, consumers will have to deal with the higher prices and it is reasonable to assume that this move higher in the price of oil, WTI to be specific, shall at least have some type of measurable economic impact upon the overall economy. It may hit retail, hiring numbers or maybe just savings but it will have to show up somewhere and although we are bullish this morning, it is something to watch.
Chart of the Day:
Traders found support for RBOB Gas around the $2.70/gallon level and then as oil prices took off so too did gas prices. We are now at $3.00/gallon and facing some resistance, which we would hope can hold and simply force the complex into sideways trading. As mentioned earlier we do have a fear that this could cause some short-term economic issues, especially any protracted move higher with hurricane season kicking off in the North Atlantic.
It is not just us discussing higher gasoline prices, but others too (see article here).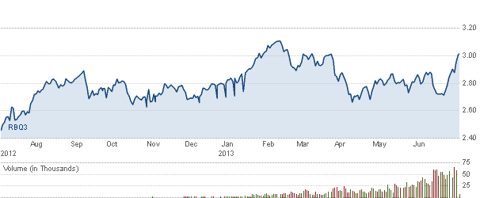 Source: CNBC
Commodity prices this morning are as follows:
Gold: $1282.20/ounce, up by $34.80/ounce
Silver: $19.89/ounce, up by $0.725/ounce
Oil: $105.77/barrel, down by $0.75/barrel
RBOB Gas: $2.985/gallon, down by $0.0299/gallon
Natural Gas: $3.637/MMbtu, down by $0.043/MMbtu
Copper: $3.1825/pound, up by $0.0915/pound
Platinum: $1403.30/ounce, up by $35.20/ounce
Rare Earths
We want to lead with rare earths this morning as yesterday's industry-wide move was quite impressive. The move is being attributed to events happening on the ground in China, the world's largest rare earth producer, with rumors that officials are increasing their efforts to close illegal rare earth mining operations. Obviously that lowers production and supply and should increase prices. Molycorp (MCP) was the leader yesterday with investors trading 17.2 million shares as the stock rose $0.98 (16.07%) to close at $7.08/share, a level not seen in some time. This news does not make us want to buy into the sector now, but it does pique our interest and we have taken notice. A lot more has to be done, including increased demand as promised, for us to be buyers again. A note to our readers: We suspect that shares got an extra boost from the newsletter writers in Canada yesterday and would expect some sort of a pullback after their effect on the market wears off.
The move above $6/share is most certainly positive and a level we think should hold, however we are very skeptical of this $7/share level and look for a retracement after yesterday's big move up. If it is not today, then it shall be soon as the $7.25-7.60/share level should provide plenty of resistance to any further move higher.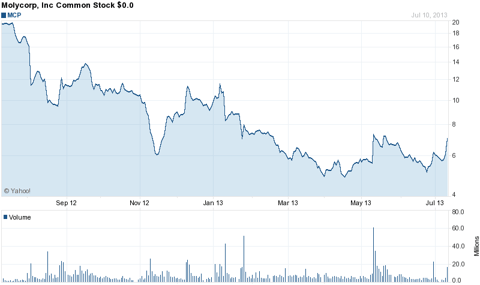 Source: Yahoo Finance
If funds were the buyers behind this move yesterday then those who bought Molycorp shares might be a bit more insulated than we think, but those who were buyers of junior names like Rare Element Resources (NYSEMKT:REE) will probably feel the sting anyways due to the lack of liquidity in the junior names. Buying days feel great in the junior mining complex, but selling days are not orderly and can be quite painful. (Author's Note: We are not trying to say Rare Element Resources is a bad company, because we actually like their project very much, but just the nature of the market does not reward those who do the buy-and-hold investing but rather those who time the market before its big moves.)
Oil & Natural Gas
EV Energy Partners, LP (NASDAQ:EVEP-OLD) unit holders continue to see strength in the stock as the units rose another $2.80 to close at $40.00/unit yesterday. Volume was also strong with 721k units trading, or about 50% higher than the three month average daily volume. We covered this one in depth in yesterday's article so we will refrain from revisiting that, however we would note that this rally could be short covering ahead of a deal or positive announcement, something that the company has not had many of lately.
For our readers who like to trade short-term some of the names we follow, we want to point out to you this morning the price action with Kodiak Oil & Gas (NYSE:KOG). Shares fell yesterday by $0.31 (3.26%) to close at $9.21/share on volume of 8.8 million shares as the stock was at a very important level. It was testing resistance at the $9.50/share level and appears not to have been able to break through. With oil prices holding strong and the company enjoying success in the Bakken with wells which are predominately oil producing wells, we think that the $9.50/share level shall be retested again and taken out. In the near-term however one needs to watch the $9.00/share level, for if that support is breached our bullishness on the short-term trade would most certainly wane.
It is becoming obvious to us that Kodiak is now growing into its valuation after the big run-ups of years past. With that said there is a nice range that has been established for trading purposes in the $9-9.50/share range. We always prefer the buys on the bigger pullbacks but the chart speaks for itself.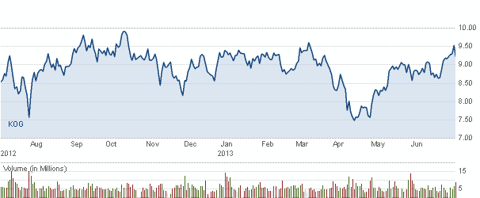 Source: CNBC
While we await more news from Goodrich Petroleum (NYSEMKT:GDP) on their TMS play, the company has been drawing increased interest from smart money over the past few weeks via the options market. Large positions have been opened up recently in the August and September calls and in one trade there were puts which were sold. These leverage trades are allowing big players (read hedge funds) to get the exposure they need for moves to the upside without having to move the stock dramatically higher to gain that exposure...or risk the large amounts of capital required to do that.
It is a trend which has been playing out across the industry, and thus far has taken place before some solid moves to the upside which is why yesterday's nearly 5.25% move to the upside in Goodrich shares caught our eye. Volume was about 50% higher than normal and this is all bullish but our attention is focused upon the August 7th conference call the company has scheduled (see release here for details).
Disclosure: I am long EVEP-OLD. I wrote this article myself, and it expresses my own opinions. I am not receiving compensation for it (other than from Seeking Alpha). I have no business relationship with any company whose stock is mentioned in this article.