For Shell the year 2013 has been one of admitting much disappointment with its efforts to move into the unconventional hydrocarbons extraction business. In the second quarter of this year, it had to take a $2.1 billion write-down on its shale oil assets due to disappointing performance. Since then, it announced its intention to offload its Eagle Ford shale oil assets. Arctic drilling did not work out very well for Shell either since a number of mishaps led to suspension of drilling for this year and probably 2014 as well. Shell recently also decided to abandon its efforts to produce oil out of the kerogen deposits (also known as oil shale) in Colorado (link). With the announcement of the pullout from the kerogen project, which was Shell's great hope of being the first to succeed in establishing commercial production of a resource, which for decades now was thought to potentially yield hundreds of billions of barrels of oil, it also hinted at its next potential adventure. Shell recently announced its intention to get into the business of natural gas to diesel and other liquids conversion in the United States by building a $12.5 billion plant in Louisiana (link).
At first, I thought this was maybe Shell's big breakthrough and perhaps the beginning of a major revolution in the energy industry, rivaling the hydraulic fracturing revolution in its effects on the energy industry and the global economy. First reactions are almost never very good to go on, however, and as I took a step back and pondered it further, I realized that in fact there are some dangers for Shell if it decides to invest in this project, which will be far more expensive than its failure in the shale oil business if things go wrong. In this article, I want to examine what the ramifications of this project would be if Shell were to go ahead and become successful. For this part, I will make no reference to the factor that I think is likely to derail the latest attempt by Shell to become the leader of the energy industry. I reserved that subject for my next article.
Shell's plan in the long-term global context.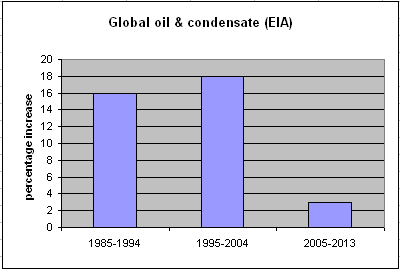 Note: EIA data on crude and condensate includes unconventional sources, such as oil sands and shale oil. The increase of 3% corresponds more or less to the increase in production from these sources.
As the chart above shows, the stuff that we usually think of as crude oil has not been increasing anywhere close to the same rate that it has been increasing in previous decades. In fact, the 3% increase we had so far in the past nine years might as well be classified as stagnation if compared to the double-digit increases we had before. We have no reason to be more optimistic about the coming decades either. According to the EIA, US shale oil production will actually start declining some time in the next ten years. Some places around the world will see oil production increase, but other places will decline, so the net gain in crude oil production will likely continue to be in the low single-digit area, if not worse.
As I pointed out in my previous article, we need to have a continued steady increase of about 1% per year in global liquid fuel supplies if we are to achieve global economic growth in the 3% range. With crude and condensate, which make up about 80% of total global liquid fuel supplies in stagnation mode, the only alternative is to get other liquid fuels to take their place. All global liquid fuel supplies, which are often referred to as oil, increased by almost 7% since 2005. Using natural gas as a transport fuel has been touted as a great way to substitute for increasingly scarce oil supplies. Shell's initiative to get into the gas to liquids business would make the substitution process much easier than using natural gas in its originally extracted form. Once the process of substitution becomes easy, price is what will dictate the direction. Historically speaking, natural gas has always been significantly cheaper than crude oil per energy unit, so substitution should be very attractive.
Benefits to Shell
It is no longer a secret that private oil companies have few places to turn to in order to continue to at least maintain their business volumes. Many regions are being depleted, such as is the case with the North Sea. Other places are being taken over by governments, such as is the case with Russia. Opportunities that are left are unconventional plays, some deep ocean fields, which are very expensive and risky, as well as small projects in minor producing regions, which are better suited to smaller companies. Big players like Shell have no choice but to find new frontiers.
Converting gas to liquids is not a new concept by any means. In fact, Shell already operates a large gas to liquids facility in Qatar, with a capacity of about 260,000 barrels per day and there are other players already involved in the business. South Africa's Sasol is already producing in Qatar and is looking to build in Louisiana as well, so we already have a situation where competitors are mirroring each others' decisions. Shell's Louisiana plant would have a capacity of 400,000 barrels per day (based on latest official comments), which would make it the largest on the planet thus far.
The one difference between these large projects and the smaller ones is the fact that the smaller projects around the world were meant to prevent gas flaring in more remote oil fields, where there is not enough gas to justify building the transport infrastructure to take the gas to customers. In such circumstances, the price of the gas used in the process is essentially free, since it was going to be flared anyway. The large-scale projects Shell is set to engage in are meant to take a chunk out of mainstream gas production and convert it to diesel and other products. This is a very new trend, based on expectations of abundant and cheap natural gas coming on the markets, especially in the United States, where the fracking revolution began.
While the concept and technology may not be new, the new innovation involved in making this technology more widespread is finding a way to reduce the price of building such plants. The Qatar plant Shell built cost the company $18 billion and will produce about 3 billion barrels over its lifetime. That means that the cost of the plant alone, before operation costs and the cost of the natural gas came out to $6 per barrel. By some estimates, the business model based on current technology as it is today might face difficulties once natural gas rises over $6. It is already higher than that in many places around the world. If the project is to be not only successful in the United States where some expect natural gas to remain at a low price for the foreseeable future, but in other places around the world as well, the capital costs involved need to come down significantly.
If Shell can achieve this, it could become a global leader in a new global trend, which might even prove to be more important in the long run than the fracking revolution (which Shell's plan depends on to some extent). If we look out a few decades to 2040, a relatively healthy and steady global economy will need an increase in liquid fuels of roughly 30% from current levels of about 90 million barrels per day. As I pointed out many times before, I do not see where this volume of liquid fuels will come from. Canadian oil sands are forecast to increase significantly, but will only make up a fraction of the need. The US shale oil revolution will be long gone by 2040. It will most likely only produce relatively insignificant amounts by then. Ethanol is increasingly running up against a formidable barrier called having to compete with billions of empty stomachs around the world. Then, there are aging fields all around the world, where the price and technology combination we have seen give them more life recently will eventually stop working, so production decline will become more common and steeper. Within this context, we can easily see a role for perhaps 10 million barrels per day or even more in gas to liquids in order to make up for the shortfalls elsewhere. Out of the hypothetical 10 million barrels per day produced by 2040, Shell could potentially get by far the biggest piece of the pie, especially given its current leadership status in this field.
Shell currently produces about 3.3 million barrels per day in oil equivalent, half of which is gas. It could easily match this level of gas to liquids production by 2040. Shell could effectively withdraw altogether from oil production and focus instead on producing natural gas and converting it into liquid fuels. It would take a great deal of pressure off the company, which is currently desperately trying to grab a lifeline as the traditional sources of oil are dwindling, especially when it comes to private companies.
Revolution: A global re-allocation of hydrocarbon resources
Given my personal opinion on the prospects of global liquid fuel supply growth for the next few decades, perhaps 10 million barrels per day or more of liquid fuels by around 2040 courtesy of natural gas to liquids would be a very welcome addition to the tally. Even so, there is a good chance that supplies will continue to be tight in my view. On the other side of the equation is the natural gas, which will need to be used in the process. Production of 10 million barrels per day of liquid fuels would be equivalent to about 19 trillion cubic feet of gas per year, assuming that the energy conversion from gas to liquid will not be accompanied by substantial loss of energy. In other words, almost all the energy found in a unit of gas will be reproduced in liquid form.
Current global natural gas production is almost 120 trillion cubic feet (EIA). I believe we could see a 50% increase, as projected by organizations such as the IEA, in production by 2040 if most things will go right for the industry, but there are many competing sources of demand already for such a hypothetical increase. Chief among them will be from electricity generation because it is much cleaner-burning than coal. An Exxon-Mobil (NYSE:XOM) global energy forecast to 2040 claims that electricity demand will increase by about 85% by then. To put that into perspective, in energy terms the increase would amount to the equivalent of 150 trillion cubic feet of natural gas per year. The report concluded that the largest increase in electricity generation will in fact come from natural gas and nuclear, but personally I am somewhat skeptical about the nuclear part due to increased safety concerns. As for natural gas, we shall have to wait and see. Exxon forecast in its report that coal will not play a much increased part in electricity generation due to climate concerns. I believe they were wrong about that one as well, especially in light of the increased demand for gas from a competing source of demand.
Given the need to continue to increase liquid fuel supplies in order to keep expanding the economy as well as the current gap between the price of crude oil and natural gas on a per unit of energy basis, I believe both public policy as well as market forces will in fact push for natural gas to become an increasing part of our transport fuel needs. This of course means that coal will play a much larger role in our future than most people want to admit. My personal opinion is that by 2040 coal will be the largest source of energy on the planet. Renewables such as wind and solar will also have to fill in a larger gap than previously thought, but the price disadvantage, which will probably continue to persist, will mean that the increase will be dependent on government subsidies.
If Shell's plans turn out to be a success, the global energy picture will look nothing like we imagined and forecast it to be in a few decades. The effects of peak oil, if it happens, by then will be subdued. The large increase in coal consumption will mean that we can forget about preventing climate change. Shell could become a long-term competition winner against the other publicly owned energy giants, such as BP (NYSE:BP) and Exxon-Mobil, as a result of being at the front of the pack when it comes to a major energy industry changing trend. Despite the huge revenue stream that many oil & gas majors currently bring in, the end of conventional oil growth and the growth of resource nationalism around the world means that the next few decades will be very challenging for the business. Shell's plans could be a way to get around the problem of diminishing opportunities faced by everyone else. It should be important to remember, however, that we could have said the exact same thing about Shell's efforts to get oil out of kerogen before we found out that the company gave it up (I invite people to learn more about 1.5 trillion barrel kerogen deposits, also known as oil shale as soon as the USGS is fully funded by the government again). Kerogen has been known as the energy source of the future for decades now, because despite decades of experimentation, no one has figured out yet how to produce it commercially, and possibly no one ever will. That is why this paragraph begins with "If," because it remains to be seen whether things will turn out as Shell hopes.
I will dedicate the next article to pointing out a major potential flaw with the plan, which could lead to Shell being trapped with a major capital investment that it might have no choice but to operate at a significant loss once the plant is built.
Disclosure: I have no positions in any stocks mentioned, and no plans to initiate any positions within the next 72 hours. I wrote this article myself, and it expresses my own opinions. I am not receiving compensation for it (other than from Seeking Alpha). I have no business relationship with any company whose stock is mentioned in this article.