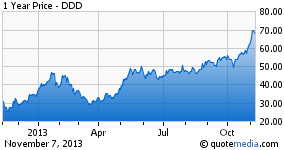 3D Systems Corporation (NYSE:DDD) is a holding company based in Delaware. It operates through subsidiaries based in the US, Europe and Asia Pacific and distributes its products all over the world. It is a global provider of 3D printers, print materials and on demand custom parts to professionals and consumers. They also provide X-ray scanners for medical and mechanical purposes. In addition, 3D Systems specializes in product related services. In the trailing twelve months, 3D Systems generated 68.2% of its revenue from printers and hardware products; while 31.8% was generated from the related services provided. Geographically speaking, the company derives around 45% of its revenue from outside the US.
Market performance
Shares of 3D System are trading around $70.01. The share price fell to $29.72 back in March 2013 but that was a consequence of a stock split in February 2013. After the stock split the shares became more marketable and liquid, hence showing an improving trend since then and growing by 122%. This growth is also because of the investor's confidence in the future of 3D printing and its growth.
Thesis and catalyst:
3D printing is a business with a strong growth prospect provided it expands into the everyday household market. Currently, 3D Systems Corp. is providing products and services to large manufacturing companies like Boeing (NYSE:BA) and Lockheed Martin (NYSE:LMT). This industry has a potential to dominate the conventional global manufacturing systems like CNC Systems, plastic modeling and metal casings manufacturing. By enabling a machine to produce objects of any shape on the spot and as needed, 3D printing really is ushering in a new era in manufacturing (Harvard Business Review, 2013). Moreover, as 3D printing takes hold, the position of China as leading manufacturer would change and the power will shift towards companies in the 3D printing business.
Consumer industry Potential
Research shows that demand for household printers will triple by 2018. As mentioned above, consumer 3D printing is a strong growth candidate; but the question is, will it achieve the levels of growth that are anticipated? To answer that, we have to take into consideration certain facts about consumer printing. Currently available 3D printers are expensive and the consumers are likely to be hesitant when buying a printer that can print a product at a high cost while the same product is available in the market at a lower price. Yes, the hobbyist will buy them but that would not affect the growth substantially. To gain maximum benefit, the printers would have to be manufactured cost effectively.
Some other question marks include the quality of the printing, user friendliness of the printer, printing with material other than plastic and the cost-benefit as mentioned earlier. Despite all these reservations, Gartner estimates the rise in printer demand to be 49% in 2013, which would increase to 75% in 2014 and almost doubling in 2015. This view can be supported by the fact that printer related patents are expiring in 2014 which could open a window of innovative printers for consumers. More companies will enter the market, facilitating the evolution of 3D printers and reducing their price. All of this validates an increased demand in the future which is dependent on an evolved and cost effective printer production offered at low prices. To conclude, consumer printing is a very promising industry provided that companies find a way to reduce production costs and develop printers that are user friendly.
There are two main catalysts, discussed below, that would affect the company's growth and share price in the long term and one catalyst that would affect them in the short term.
Consumer printing
The products that are used by common households have far more growth potential as opposed to doing business with the big corporations. New product launches in consumer printing can usher in a new era of growth for the company. 3D Systems Corp. has launched a consumer 3D printer named Cube for a price in excess of $1200. Furthermore, it is available only in some select shops. It is very expensive for household use and it is not clear whether this printer can print in a cost effective manner. Printing materials are also expensive. A $49 cartridge can manufacture about 13-15 phone covers. It is very expensive even if we ignore the capital cost of the printer. So, a major barrier to entry in the consumer market is the cost of providing such products and the very low margins; because if 3D Systems does provide consumer products in future they should not charge a premium price. Consumer printing is a market with growth potential but the company needs to manage the cost of production efficiently. That is why 3D Systems is increasing its investment in R&D and has allocated 95% more funds to it. It is safe to assume that it would eventually find a cost effective solution to produce consumer products and when it does, the earnings as well as the share price will move in a favorable direction.
Consolidation of the industry:
The other important catalyst is whether the company succeeds in obtaining a majority share of the 3D printing industry. In the wake of this, 3D Systems has acquired more than 11 companies since 2011. Their main competitor, Stratasys (NASDAQ:SSYS), is also following an acquisition strategy. This strategy could lead to the market being dominated by these two companies, enabling them to lock out customers and charge higher premiums. It also creates barriers to entry for other companies to enter the market. If this strategy succeeds, the 3D printers market would be controlled by just two companies and they can enjoy higher margins from corporate clients. If a well branded company like Hewlett Packard enters the market, it could pose a threat to the growth of 3D Systems. So, consolidation of the industry is a must to secure a long term earning and price growth.
New Products:
3D Systems announced recently that it plans to commercialize a number of significant new products including several new breakthrough advanced manufacturing printers and scanners at Euro Mold 2013. "We encourage everyone to join us for the largest and most exciting Euro Mold exhibit in our history," said Cathy Lewis, 3D Systems Chief Marketing Officer. This is a promising development and could boost the sales if the products are advanced and "ground breaking". 3D Systems will also be presenting their consumer printing products, branded content and fun to print applications during the expo. This expo will help 3D Systems to increase their clientele and arguably set foot in the consumer printing market which in turn could have a long term impact on the company's growth. In short, the expo is a great opportunity for the company to further improve its image and share price.
Valuation
The EPS of the company stands at $0.83 which is expected to grow to $0.97 in the coming year showing EPS growth of 16.90%. P/E ratio of the company stands at 54.3x, meaning investors are willing to pay $54 for a single dollar earned. By this rule, the market is quite confident in the growth of the company. On the other hand, growth estimates by analysts tells a different story. The PEG ratio of the company is over 3, this indicates that the market is paying for much more growth that the sell side thinks the company is capable of. So, according to these figures, the stock of 3D Systems is overpriced. A lot of this overpricing is the results of rumors of an IBM buyout of the company. Once these rumors fail there will be a major slide in valuations of the company but an actual buyout will take price to the speculated $90 per share.
Despite the bright future of the 3D printing industry and steady revenue climb of DDD, the company is still way over valued. At these prices the market is paying a forward P/E of over 50x. To take this into perspective, let's compare this to the forward P/E of Facebook (NASDAQ:FB) which is currently around 40x. If IBM (NYSE:IBM) is actually willing to pay a $90/share price for DDD, it would assume that they are paying a P/E of around 80x. This would mean that IBM expects the growth of DDD earnings to be almost double that of Facebook. I believe this is highly unlikely and there are minimum chances that the company will be acquired at a P/E of 80x. Moreover, long time followers of IBM would verify that over the years the Big Blue has tried to divest from hardware and even more from hardware segments focusing on the consumer market. This makes it more unlikely that IBM will go for a company that is looking for hardware growth from the consumer sector.
Conclusion
3D printing has the potential to revolutionize the manufacturing process and the opportunity for growth is substantial as Gartner predicts. 3D Systems Corp. is an experienced company in this industry and has the potential to cash in on the growth factor of this market. It has already stepped foot into the consumer printing market and is on an acquisition spree to acquire a large proportion of the industry. If the hurdles of high production costs, lack of user friendliness and quality in consumer printing are overcome then the company could be on its way to great success.
On the other hand, if 3D Systems manages to overcome its primary competitor (build a low cost advantage etc.), Stratasys, adequately, it will see even brighter growth prospects. The Euro Mold Expo in December will also help 3D Systems to engage in consumer marketing. Over all if, and it is a big "if", the company tackles consumer printing and achieves some level of consolidation, it will grow. Statistics, by Gartner, validate this. The company will grow, no doubt, but the market is valuing the growth more than it should as we have observed in our valuation.
I believe the DDD has a bright future ahead but is way overvalued at these prices. The rumors of an IBM acquisition will play out and the prices would come down. That depreciation would be an ideal entry point for investors looking to buy and hold this industry leader. Short term investors can play the over valuation by short selling but there is high risk involved in all short selling strategies.
Risk factors:
1. Chinese companies entering the consumer printing market and providing cheaper printers, especially after the major patent expiry.
2. The fact that 3D printing consumes much more time in printing a product than conventional manufacturing systems and therefore might not catch on with consumers if significant leaps in technology are not made.
3. Well branded companies like Hewlett Packard (NYSE:HPQ) entering the consumer printing market.
Disclosure: I have no positions in any stocks mentioned, and no plans to initiate any positions within the next 72 hours. I wrote this article myself, and it expresses my own opinions. I am not receiving compensation for it (other than from Seeking Alpha). I have no business relationship with any company whose stock is mentioned in this article.