As intelligent beings, we live our lives by planning ahead to increase our chances of survival. As such, smart motorcycle drivers wear helmets and smart drivers stop at red lights, while smart workers save money and smart kids plan for college.
As the old adage states "better safe than sorry," and as such smart investors, or what we would call value investors, not only plan ahead but invest in securities that are trading at a discount to their fair value. Investors term such purchase one that is made with "a margin of safety," which aims to reduce risk, preserve capital and promote long-term, above average gains.
One of the most fascinating U.S. stocks is a small real estate investment trust (REIT) from Escondido, California called Realty Income Corp. (NYSE:O). This company experiences a cult-like following with investors. Also, Realty Income garners an above-average amount of attention in the investment writing communities.
In the net-lease retail REIT category, O is one of leaders in both historical performance and market capitalization. As noted by the Realty Income website, the company has historically distributed $2.6+ billion to shareholders in dividends. O also owns over 3,800 properties, is well-diversified geographically and has a diversified tenant base of improving credit quality.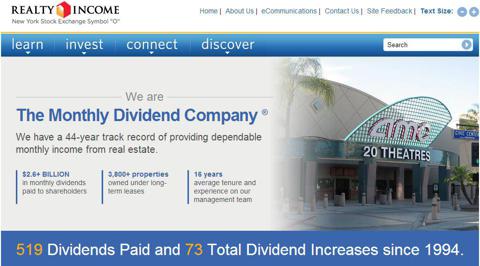 Valued at $7.28 billion, this little tiger packs a punch with income investors by distributing monthly dividends, hence the name The Monthly Dividend Company. At the current price of $37.08, the distribution yield is 5.89%
The company has an excellent dividend track record as well, recording 19 consecutive years of annual dividend increases as a public company and earning the rank of Dividend Contender on mutual fund manager David Fish's Dividend CCC List.
Over the past 10 years, the monthly dividend has increased from $0.10 to $0.182 per share (December 2003 - December 2013), for a compound annual growth rate of 6.17%.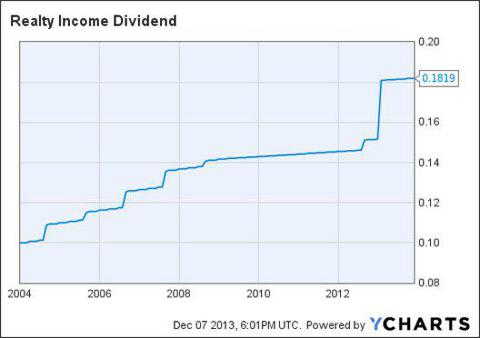 The current annual dividend distribution yield of 5.89% has not been beaten on a monthly opening price since February 2010. The chart below observes the annual distribution (monthly distribution x 12) yield on the opening close stock price of the first day of trading each month since July 2009, which was the first month of positive quarterly nominal GDP growth following the Great Recession.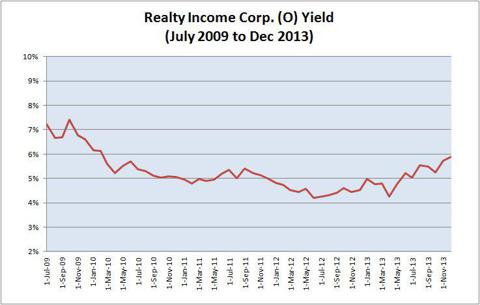 As one can note, the company yield is trading at the high-end of the current bull market yield range. The recent move upward can be attributed to general REIT market pressure observed in 2013 as well as specific company underperformance. As measured by the iShares U.S. Real Estate Index ETF (NYSEARCA:IYR), the Realty Income share price has underperformed the general REIT market.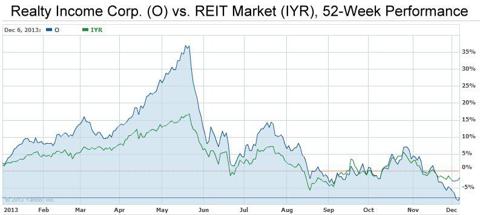 While many investors caution against purchasing a company within a bearish sector, with a low current price relative to the year and high yield relative to current pricing in this economic expansion, the appeal of an investment may be increased. As such, the intelligent investor may find value in creating a price target to either initiate or increase ownership in this real estate leader.
Realty Income Corporation Valuation Analysis
Using both proprietary and common analysis, this article will showcase alternative measurements to discover the current fair value of Realty Income Corp. Next, a blended target price will be computed, which will encapsulate a margin of safety in an effort to realize the maximum price target that value investors would be encouraged to support with extreme confidence.
Realty Income Corp. Q4 2013 BARS-IQ Check-Up
In the fall of 2013, I developed a proprietary algorithm called the BARS-IQ that attempts to capture a numerical ranking that grade REIT investments according to safety. The BARS-IQ stands for The Basic Assessment of REIT Safety - Investability Quotient, which is further explained in an October 16, 2013 article here.
In that October 16th article, Realty Income was graded at the then-current price of $40.79 per share with TTM FFO of $2.18 (Q3 2012 - Q2 2013). Since then, the price has decreased to $37.08 while TTM FFO has improved to $2.29 per share (Q4 2012 - Q3 2013).
On that date, priced at $40.79, Realty Income was graded a 79.5, or C+. I concluded:
"O does not currently provide the margin of safety required to make a prudent investment."
I also noted:
"The company did trade at lower multiples in recent history, therefore the expensive valuation may come with additional risk. Additionally, the high-payout ratio may be excessive and limit future dividend increases.
In the seven weeks since that date, the share price of Realty Income has returned -10.9% (-$4.53/share), while distributing $0.364 (0.87%) in dividends. In that same time period the S&P 500, as measured by the SPDR S&P 500 Index ETF (NYSEARCA:SPY), has returned 5.15% with no dividends distributed.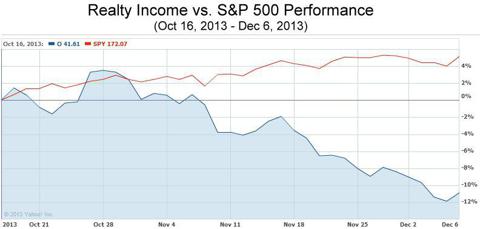 In addition to the declining share price, O's TTM FFO improved by 5% per share.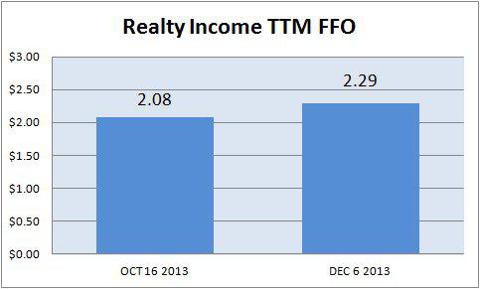 As such, the P/TTM FFO entered a more attractive level, moving from 18.71 to 16.19.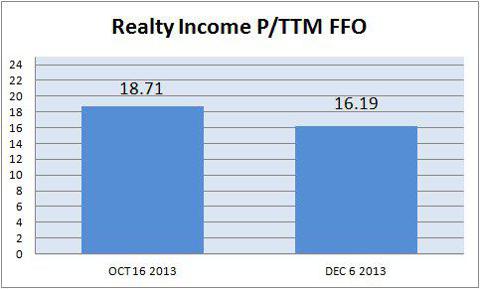 As such, the Realty Income BARS-IQ score, which has a 40% weighing towards P/TTM FFO, has improved from a 79.5 to an 85.54 over this seven-week period. This equates to a letter grade improvement from a C+ to a B.

To recap, the following adjustment increased O's BARS-IQ score because:
A lower share price and an increased TTM FFO lowered the P/TTM FFO, thus raising the P/FFO score from 21.5 to 27.54.
BARS-IQ A-Ranking Price Targets
Before February 13, 2014
Realty Income's BARS-IQ score could be raised to an A level before the February 13, 2014 fourth quarter earnings release if:
The current price declines below $32.82 (P/TTM FFO 14.33).
The current dividend remains below $2.29 per year, or less than $0.19083 per share on a monthly basis.
After February 13, 2014
Realty Income's BARS-IQ score could be raised to an A level after the February 13, 2014 fourth quarter earnings release if 2013 FFO equals $2.40 per share (mid-range target) and:
The share price equal to or less than $36.38 (15.16x 2013 FFO)
The annual dividend distribution remains below $2.28 per year, or less than $0.19 per share on a monthly basis.
BARS-IQ Ranking Summary
According to the BARS-IQ, Realty Income may offer an A ranking, thus achieving an adequate margin of safety for a prudent value investment, at $32.82 per share by February 13, 2014, given the monthly distribution remains at or below $0.19083 per share (to maintain a dividend/TTM FFO payout ratio below 100%).
On February 13, 2014, Realty Income Corp. will announce fourth quarter financial results. An A ranking may be achieved after the announcement assuming FFO earnings of $2.40 or greater (company mid-range guidance), a share price at or below $36.38 and a monthly distribution at or below $0.19 per share.
Using a price target to account for anticipated FFO growth, and understanding that the 13-week quarter has 3 weeks to go before the end of the quarter, the following simple formula could be used to establish fair pricing that observes a BARS-IQ A ranking today:
(Q4 2013 A Rank Price) + (Q1 2014 A Rank Price - Q4 2013 A Rank Price)/13 weeks * 10 weeks
which is
$32.82 + ($36.38 - $32.82)/13 * 10 = $35.59
At $37.08, O is valued 4.19% above the BARS-IQ minimum A Rank price ($35.59), however O does currently entertain a solid B ranking. As such, a current investment at $37.08 would not be considered optimal, however is more attractive versus seven weeks ago when the company was graded a C+.
Current Normal Pricing of O
To be fair, the current pricing of REIT securities is more complex than the general BARS-IQ assessment. REITs may trade in-line with their subsector, at a premium or discount to subsector peers, on market capitalization and subsector leadership position and on historical performance of the dividend and FFO growth versus peers.
In regards to O, investors have the right to argue an above-average net-lease retail P/FFO due to the company position as a dividend contender with solid historical FFO growth.
Regardless of this metric, however, the normal P/FFO over the last five years of O is 16.1 according to Fast Graphs. This can be considered normal pricing, which is the current flavor many investors use to measure REITs in regard to current value versus normal value.
In this regard, the Q4 2013 normal pricing of O is between $36.87 and $38.64, using 16.1x TTM FFO of $2.29 and 2013 FFO of $2.40.
Once again using a 13-week quarter with 3 weeks to go before the end of the quarter, the following simple formula could be used to establish fair pricing today:
(16.1x TTM FFO) + (16.1x FFO - TTM FFO)/13 weeks * 10 weeks
which is
$36.87 + ($38.64 - $36.87)/13 * 10 = $38.23
This would lead the investor to assume that at $38.23, O is fairly priced. With value investors looking for a margin of safety of 90% to fair value, a price at or below $34.40 would be attractive as of December 6, 2013. At $37.08, O appears to be valued below normal pricing (16.1x TTM FFO of $38.23) but above a value investor target price of $34.40.
Adjusted REIT Normal Pricing
In an article last week I created the following formula to adjust normal pricing to adjust for forward quarter FFO expectations, time before quarter-end and an expected total return percentage that includes dividends received between the current date and year-end.
This formula can be found in the article Don't Fight The Tape: U.S. REITs In Decline, published November 26, 2013 near market close. Since the close of November 27, 2013 (6 trading days), the O share price has compressed from $38.33 to $37.08 for a loss of 3.26%.
To review, the formula is X = Y/(1+r) + rY/(1+r) x (1-t) + D, where
X = Current Fair Value of Security
t = Trading Weeks Left In Period/52 Weeks
r = Expected Annual Rate of Return
Y = Normal Year-End Price
D = Accrued Dividends To Be Paid During T
Using this metric, with an expected normal value of 16.1x 2013 FFO ($2.40) and an expected 10% annual return, the December 6, 2013 fair value of O would be $38.62. With these assumptions, only shares bought below that price, on that date, would entail a margin of safety.
Value investors looking to buy O at 90% of adjusted normal value on December 6, 2013, would therefore be interested in O at $34.76, or 90% of the adjusted normal price of $38.62.
Conclusion
As a prudent investor, I understand that Fast Graphs (of which I do not have a membership), as well as other financial statistics provider sites such as Y-Charts and YAHOO! Finance, are often unintentionally incorrect. To be accurate, as well as to cleanly measure a margin of safety versus what may appear or not appear appealing to the naked eye, I always do my work on paper with my own researched statistics.
For many REITs, especially those under $10 billion in valuation, FFO numbers can be hard to come by. The companies either aren't covered well or the FFO outlook is simply not provided on the company website. Fortunately for investors, Realty Income Corp. is an investor-focused company that provided easy access to company information.
BARS-IQ Recap
By using correct information as well as an anticipated 2013 FFO of $2.40, this article has showcased three various forms of valuation. The BARS-IQ ranked the current valuation at a price of $37.08 at 85.54, which is a solid B on the zero to 100 scale. The BARS-IQ A target ranking was measured at a price of $35.59.
Normal and Adjusted Normal Pricing Recap
Using normal price computing with a normal price/FFO ratio of 16.1 and accounting for the time of the year, the fair value of O was calculated at $38.23. Using an adjusted formula of normal price to calculate fair value, which accounts for a total return of 10% per year, the fair value was calculated slightly higher at $38.62.
Using a 90% to fair value target as a value target for value investors looking for a margin of safety, the normal price value target is $34.40 and the adjusted normal price value target is $34.76.

At the current pricing of $37.08, investors appear to be offered price close to fair value, however this does not offer an adequate margin of safety as determined by the value investor using any of these calculations.
By using a blended value target price with a 50% BARS-IQ weighting, a 20% normal price weight and a 30% adjusted normal price weighting and the maximum price target for O on December 6, 2013 is $35.10. At $35.10, the company yield would be 6.22%.
At the current price of $37.08, O offers investors an appealing 5.89% yield and a fair value purchase price, however value investors would be overpaying by $1.98 per share, or 5.64% using this analysis.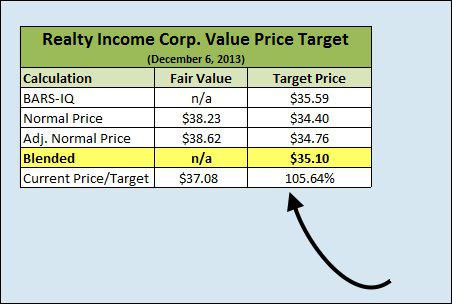 Is Realty Income A Wise Current Investment Today?
For the first time in 2013, Realty Income Corp. appears to be fairly priced according to this analysis. Prudent investors who have waited for an entry point and are looking for a long-term excellent REIT investment may be inclined to begin dollar-cost averaging at these levels.
Income investors who are looking for a stable and growing income-producing REIT to add to their portfolio are offered a fair value pricing entry point at these levels, in addition to an appealing 5.89% annual dividend that is paid out monthly.
Value investors who are looking to pick up Realty Income shares at a minimum 10% discount to fair value, by using the blended price value target of $35.10, would not be interested in a purchase at this time as the current price of $37.08 does not provide an adequate margin of safety.
Disclosure: I have no positions in any stocks mentioned, and no plans to initiate any positions within the next 72 hours. I wrote this article myself, and it expresses my own opinions. I am not receiving compensation for it (other than from Seeking Alpha). I have no business relationship with any company whose stock is mentioned in this article.