Foreword: This article will cover Yale University and Yale-New Haven Hospital debt. The article will also speak to the permanency of Yale, which, to some extent, is exemplified by the fact Yale does not routinely cancel classes.
Instead of snow days, Yale appears to favor shovel days. Whereby someone, who cares to graduate and is expected to attend classes, is encouraged to apply working knowledge of a shovel to get to school.
Like many universities, Yale trains students to do very important work. The weather might be bad one day, however, a Yale alumni should be prepared because of the school's shovel day policy. Imagine what would happen if a hospital, routinely, took a snow day or two. It happens, from time to time, however rarely.
You see, Yale is in New Haven, Connecticut; the location has knowledge and experience, to deal with snow. Because snow is a part of life there. I saw a blizzard in Athens, Greece once, because it rarely snows there, no one knew what to do. I've also seen snow in New England and the communities know what to do: Shovel.
Yale University debt is rated prime Aaa/AAA and Yale-New Haven Hospital debt is rated Aa3, high grade by Moody's and A+ upper medium grade by S&P. I respect quality schools and hospitals, though, only a very few institutions earn a prime rating. Idealistically other potentially strong schools, and hospitals, can learn from institutions with long histories of success.
Now, before diving into the bonds, there is the small matter of Yale's apparent shovel-free day, which occurred last year. I called the school, as you will read, knowing there might be some sort of defense. I assure you I have heard some whoppers in my time, though this one may top them all.
Yale's Snow Day (Shovel-Free Day)
When investors view a potential business investment, one of the foremost concerns is: Whether the business will be around in the future? Some businesses are, truly, only open when they feel like it, regardless of any negative impact on quality and revenue. Most businesses could encounter a situation where a pause of one or two days is quote-unquote "necessary."
These wintry days, where people are given a "free day," are known as "snow days." I realize, for the rest of the world, snow days are a necessity; Yale is not the rest of the world. There are a few investors who keep a reserve, funds designated for businesses that do not have snow days, ever. (Ok, not many investors, but probably some.)
These investors are watching Yale closely this winter to see if there will be a repeat of the Yale Snow Day of 2013. Phones at the ready, in case Yale is reclassified as known to implement these holidays, thus further disqualifying the university as a snow day free school.
Shovel Days
Last year, in February 2013, Yale University had its first snow day in 35 years. Investors, and credit rating analysts, could be wondering whether Yale is slipping? Furthermore, whether Yale has created some sort of new annual tradition, of canceling classes because it snows, or it is cold outside. Investors are left to wonder: What could be next? Perhaps, canceling classes because it's too sunny for a Yale Spa Week?
I called Yale, and thus far it does not sound like winter storm Hercules was able to yield another Yale Snow Day.
A Shoveled Path, source KALANIROSELL & Yale Admissions Tumblr, and In Advance of the Broken Arm, Marcel Duchamp (1945) Yale University Art Gallery, source: duchamp.org
Yale has an inclement weather policy which includes:
... snow shoveling responsibilities (not coming in is not an acceptable backup plan.)
Knowing some hawkish analysts may be looking for affirmation, I set out to find the truth about Yale's on-again, off-again snow day policy. But first, let's get to the reason for considering institutions like Yale - then to the bonds.
Permanency
Indeed, when I look to an institution, I take qualities like: Always being open, into account. Because permanency is an important and difficult quality to maintain. Permanency is a quality of the best, of the best. Before I continue, let's define permanency:
Obviously, some businesses and towns require closure in severe weather. Yale is unique because they can stay open, and doubly unique because they will be open. Yale can, because of its size, containment and strength. Yale stays open because they realize a simple invention, when used properly, can overcome obstacles. Also, keep in mind, Yale has a team of people doing their part, to clear the way.
Obviously, the weather is not a joke. Based on my conversation with the university, it sounds like the school allows for common sense and is especially determined to conduct classes, as close to every single school day as possible. I do not mean, maybe having one day canceled a year, more like one day every half century (for snow).
Instead of issuing snow days, Yale has become a leading pioneer in the shovel day. Whereas on a snow day, someone may:
sleep in all day, warm, under their covers, only to wake, when they feel like it
The shovel day consists of:
waking up early and working harder to prove no obstacle is too great, to attend class
On shovel days a list of students who miss class is compiled and delivered to Yale's president, who crosses those students' names off the graduation list, with a quill and jar of 300-year old red ink. (Ok, I made the last part up, but it could be true).
Yale Bonds
Ok, now for the all-important bonds. I realize some bond investors may not be aware of the secret strategy, of using the shovel day to snow day ratio. So, I will just say, Yale scores well, in fact, if it weren't for a couple snow days, Yale would have scored a 100%.
Yale University and Yale-New Haven Hospital municipal bonds stood out to me on the secondary market today. The reason is not simply that Yale is an old school, or a prestigious school. The reason Yale stands out is for intelligence. Yale strives to be an intelligent institution. That means something, to some people.
The Yale-New Haven Hospital municipal bonds are listed first. The municipal bonds issued for Yale University are the second two:
| | | | | |
| --- | --- | --- | --- | --- |
| | credit rating | year issued / amount issued | price | yield |
| Connecticut St Health & Edl Fa Rev Bds N, 3.5% Yale-New Haven Hosp, OID(99.00/3.56%), 2036 Cont Call 07/01/23@Par, Sink 07/01/34@Par, Cond Call, Extr Call (cusip: 20774YNC7) | Aa3/A+ | 2013 / $6.96M | 84.69 | 4.60% |
| Connecticut St Health & Edl Fa Ed Facs Rev Bds X-3, 4.85% Yale University, 2037 Cont Call 07/01/17@Par (cusip: 20774UWD3) | Aaa/AAA | 2008 / $125M | 104.22 | 3.54C / 4.55% |
| Connecticut St Health & Edl Fa Ed Facs Rev Bds T-1, 4.7% Yale University, 2029 Cont Call 07/01/17@Par (cusip: 20774UWC5) | Aaa/AAA | 2008 / $125M | 107.03 | 2.56C / 4.08% |
I reduced the credit rating from Aaa/AAA in my search to encompass investment grade bonds. I continued to search for "Yale" specifically to find municipal bonds issued for Yale-New Haven Hospital.
Here is the official statement for the Yale-New Haven Hospital Series N revenue bonds. Here is the official statement for the Series T-1 and Series X-3 Yale University municipal bonds, issued in 2008. T-1 bonds were originally issued in 1997 and the X-3 bonds were originally issued in 2003 and were converted in 2008, to fixed rate.
Simply put, these bonds do not stand out for their yield so much as they do for quality. A 4.6% yield is under the 5% minimum some investors adhere to. Additionally, with excellent reason, many investors never invest in bonds priced over par.
Investors, with a specific interest in medicine, might find the municipal bonds for Yale-New Haven Hospital worth considering. Though, you must realize, the Yale University X-3 municipal bonds are rated higher and have a similar yield to maturity.
A Collegiate School
The reason Yale University has my attention is not only due to the impressive ratio of shovel days to snow days. It is due to a history of quality. Chartered in 1701, as the Collegiate School of Connecticut in 1718 Elihu Yale donated 417 books and goods which were sold for "562 English pounds for the construction of the University's first building." Elihu Yale was a successful merchant with the East India Company.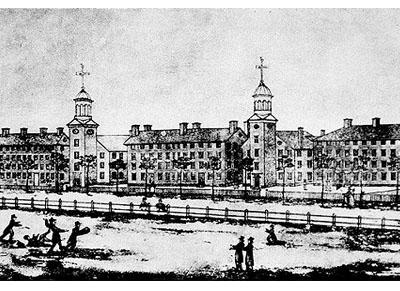 Yale's Old Brick Row
Yale's original buildings, Old Brick Row, have since been demolished. The oldest building on campus is Connecticut Hall, built around 1752. The historic campus went through a series of transformations, including major work after the American Civil War.
Comparing the Bonds
Notice the Yale-New Haven Hospital bonds were issued in 2013, they are now priced 15% under par, and yield 4.6%. Notice the bonds issued for Yale University were issued in 2008. They are slightly over par, and face a sooner potential call date. Therefore, the Yale University muni bonds could, potentially, yield less.
Still a 3.54% yield through 2017, on the 2037 X-3 Yale University set, would not be so bad. Keep in mind, allocation to bonds, during this period of historic low yields, is currently conservative or nonexistent.
The municipal bonds, for Yale-New Haven Hospital, were part of a $94.8M issuance by the State of Connecticut Health and Educational Facilities Authority. The bonds, listed in the section above, are part of the $44.8M Series N revenue bonds. An additional $50M Series O Bonds were issued to make up the $94.8M total.
The largest set of bonds, in the Series N, are the 5% coupon bonds (cusip: 20774YND5) due in 2048. When issued they yielded 3.62%. The 2036 bonds, which currently yield 4.6%, yielded 3.56% when issued.
The Series O bonds (cusip: 20774YNE3) are weekly rate bonds. The Series O bonds have a minimum denomination of $100,000 and minimum increments of $5,000. The Series N bonds have a minimum denomination of $5,000 "or any integral multiple thereof."
The municipal issue for Yale University is detailed as follows:
The Series T-1 Bonds and Series X-3 Bonds (collectively, the "Converted Bonds") were issued on November 5, 1997, and January 8, 2003, respectively. Effective May 1, 2008, the interest rate on the Converted Bonds, which are being remarketed... will be converted to a Fixed Rate.
The municipal bonds for Yale University were originally part of a large $500M issue, consisting of "$250M Series T Bonds" and $250M Series X Bonds. The use of proceeds are detailed as follows:
The proceeds from the sale of the Series T Bonds have been used to pay the costs of: (1) the renovation, rehabilitation and improvements to numerous academic buildings... (2) renovation... of numerous residential, dining and parking facilities... (3) construction of a new residential facilities, a new environmental sciences facility, a chemical research laboratory, a food court facility, a facility for biomedical research and teaching, a magnetic resonance facility, and a clinical research center (4) renovation and reconstruction of the Institution's power plants and utility distribution systems...
The Series X Bonds use of proceeds were similar to the Series T Bonds, except for the addition of "a new university police station and student organization activity space."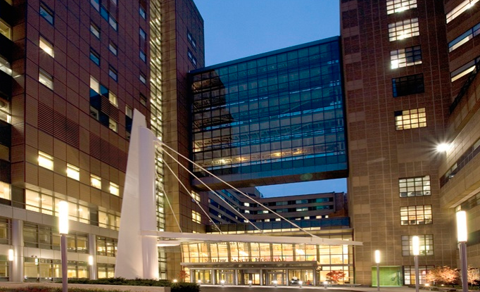 Smillow Cancer Hospital at Yale-New Haven source: turnerconstruction.com
Most importantly, since the Yale-New Haven bonds stand out, let's look at their use of proceeds:
The Institution will use the proceeds of the bonds to refinance a portion of an interim loan, the proceeds of which were used to finance the acquisition by the Institution and its affiliates of certain of the assets of the Hospital of Saint Raphael and certain of its affiliates...
Yale College's medical school was established in 1810. A hospital opened nearby in 1826, though the building was not completed until 1833. The school and hospital had a direct connection and formally partnered in 1917. In 1965 the hospital adopted the name: Yale-New Haven.
Yale-New Haven is home to the Smillow Cancer Hospital, which is affiliated with the Yale Cancer Center, an NCI advanced comprehensive cancer center. My sense is, like most quality hospitals, Yale-New Haven cannot do the impossible, however, strives to do what is possible, even if it has never been done before.
The challenges hospitals encounter, compared to a school, cannot be understated. However, I will save that article for another time. Back to more important matters.
Comparing Yale University and Yale-New Haven Hospital
Yale-New Haven's most recent available annual report, which only goes through September 2012, showed:
$2.5B total assets
$421M total current liabilities
$1.76B total liabilities
$1.76B total operating revenue
$1.65B total operating expenses
$130.6M excess of revenue over expenses
Yale University's most recent annual report for 2012-2013, showed
$22.4B total net assets
$3.59B debt
$2.9B operating revenues
$2.9B operating expenses
($39M) decrease in net assets from operating activities
You see, Yale University is very well off, compared to Yale-New Haven Hospital. Investing in medicine can be a great challenge and the comparison here illustrates the differences between education and medicine, financially speaking.
The work of Yale University is very important - many educated students go on to do brilliant things. A hospital is also very important and faced with the challenge of providing immediate care to individuals in the community.
Yale University investors should be informed about Yale-New Haven Hospital and vice versa, in my opinion. Though, of course, bonds generally have a minimal allocation in a portfolio.
Does Parking Meter Height Hold Key To Yale Permanency?
While researching the question of Yale's permanency, I looked into Yale's history of closing. The aforementioned facts, about Yale rarely canceling classes, topped the search results. Then I found the page about the school's inclement weather policy, excerpted previously. Here it is, in full:
When inclement weather causes problems in attendance...

A. We are all expected to arrive at work on time and to make arrangements to come to work when weather creates obstacles.

B. When schools close due to foul weather, we are expected to have a backup plan to address our needs, transportation changes (train, carpool, or bus when driving is not advisable), snow shoveling responsibilities (not coming in is not an acceptable backup plan.)

C. When staff members know in advance how foul weather will impact the attendance of the unit, they can readily adapt to the uneven participation when necessary...

D. When departments are informed that the University is invoking the Inclement Weather Policy, it is at this time that all employees who are not performing essential functions are encouraged to leave and will not be required to use paid time off...
I called the president of Yale's office to inquire whether the school had a snow day, with the recent severe weather. One representative said there was no snow day. The president's office explained Yale did have a snow day once, recently, last year. Of course I, and readers here, already knew this.
The Yale representative said there was "35 inches (of snow) you could not see the parking meters." I have placed the whopper, in bold. Now, you may be thinking back to the bonds, remember:
(2) renovation... of numerous residential, dining and parking facilities...
It appears Yale used the height of the parking meters as an excuse. An excuse to cancel classes. When obviously, the school probably needs taller parking meters. Despite the problem of short parking meters, easily covered by a measly 3 feet of snow, Yale appears determined.
Yale Really Never Closes
The representative explained Yale does not really ever close. The school cannot, because it must provide services to students.
The president's office explained how the school continued to operate in the aftermath of Hurricane Sandy. While multiple staff members were out of power for more than a week. I almost fell for it too, further research yields this:

No Class On Monday, The Yale Herald, October 2012
Oh Yale, what are investors to do? You see, the president's office declined to mention one small detail. Classes were canceled and apparently students took to The Yale Herald to draw pictures over the "Frankenstorm." Closer examination of the image, reveals the drawing is: A smiley face.
I had had enough. Surely the parking meters were to blame again, or some such thing. Yale's president's office and I exchanged our pleasant goodbyes.
Do keep in mind, Hurricane Sandy was a very serious event and clearly the "smiley face" simply denotes the rare glee associated with a free day. In fact, to the best of my knowledge, bond investors are perfectly fine with evasive maneuvers in the face of hurricanes. Snow days, on the other hand, are an entirely different matter, of increased importance.
The fact of the matter is, Yale takes education so seriously only the most extreme weather can get the school to budge on classes. As an investor, I respect this.
Take Your Time
Bonds are not going anywhere. There will be new bonds next year, and the following year, and so on. I look for exposure to businesses I like, in bond funds, or in balanced funds (with stocks and bonds).
Recently, the stock market has done very well. Bond prices have gone down and could go down further. Historically, Yale has done well in both strong and hard economic times. Yale is successful and the Yale-New Haven Hospital is strongly connected to the university. It is not to say, these institutions are without risk. It is to say: "These are risks some investors would take."
Investors must also keep inflation in mind. Investors must realize the rate of inflation can and does change. This is an especially important consideration for bonds that mature in the late 2030s. The Yale-New Haven Hospital muni bonds have a sinking fund, which begins in 2034. The Yale University bonds are listed as sinking fund protected (meaning they do not have sinking funds).
Yale is an imperfect institution, like every institution. In fact, there may be other institutions more perfect. This is why I believe in diversification.
Per the importance of the shovel day to snow day ratio investors must realize interest rates move whether it snows, whether it rains, whether there is an eclipse; or some sort of new age (Ice Age, what have you). The probability of important business taking place, each day, is 100%. This is why it is important, for a top institution, to be continuous. Leaving academics, Elis, as Yale students are known, to use common sense on their shovel day.
A few of Yale's students will go on to extraordinary things, as will graduates of other schools. Though Yale appears to pride itself on the ability to educate, it is safe to say: "Yale is a good point of reference for other businesses and schools." There are hard days, and trying days, though, it is possible to design a course, where giving up is not even an option, ever. The probability of Yale not giving up, in terms of classes, greatly exceeds the vast majority of other institutions.
Of course this does not mean they are necessarily better. Some people do enjoy snow days, especially from something they don't particularly like. See, while some people do frolic, or draw smiley faces; it is possible some of the people at Yale would greatly regret a day without Yale.
So, if you know anyone going there, tell them they better have their shovel ready. Even if there's 2 feet of snow.
If you have any thoughts on the Yale University and Yale-New Haven Hospital bonds, please take a second to comment.
Disclosure: I have no positions in any stocks mentioned, and no plans to initiate any positions within the next 72 hours. I wrote this article myself, and it expresses my own opinions. I am not receiving compensation for it (other than from Seeking Alpha). I have no business relationship with any company whose stock is mentioned in this article.
Additional disclosure: I am considering exposure to municipal bonds issued for Yale (both the university and hospital.) This article is not a recommendation to buy or sell. Please consult a financial adviser to determine proper allocations, if any. Additionally, understand, interest rates are still low; many investors believe in some sort of bond ladder, using mutual funds and / or individual bonds. Proper allocation is always of the utmost importance, depending on portfolio size and expenses, many portfolios cannot afford individual bonds. Therefore, readers and many investors should concomitantly search for quality funds, (4 and 5 star Morningstar ratings, low expense ratios, etc.) for considered exposure to the businesses they have allegiance to. While I have no allegiance to Yale, I find the institution worthy.