By Brad Zigler

Last week, we tipped you to the turnaround in oil refiners' gross margins ("Refining Margins On A Streak").
The trend continued throughout the week and paid off this morning with a jump in the share prices of refiners such as Tesoro Corp. (NYSE: TSO) and Valero Energy Corp. (NYSE: VLO). It shouldn't come as a surprise, really. It is, after all, the first trading day of May. Officially (OK, perhaps quasi-officially) it's the start of the driving season. That's got to be good for refiners, right?
The question is, just how good? Clearly, outside interest was attracted to the refiners this morning. Given where trading left off Friday, old hands would have expected the trading crowd to sweep the floor for business between $12.80 and $13.58. Aggressive bids, however, started showing up on the order books, pushing midmorning prices up to $13.79.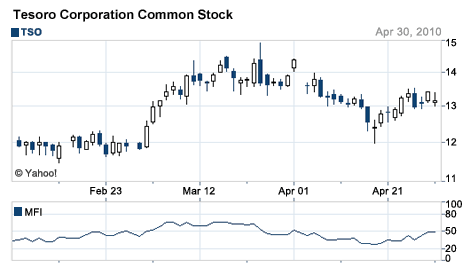 All that after Tesoro posted a $1.11 per-share loss for the first quarter. Considering Tesoro's price action Friday, it appears much of the loss was already discounted into the company's market value.
Tesoro's trading range today is well above a critical retracement level of the March-April dip that sent prices tumbling three bucks to break below $12. If prices hold, Tesoro's will get back on track to challenge the March reaction high of $14.94.
Industrywide margins for gasoline refinery runs topped 16 percent Friday, well above the yearlong average of 12 percent. Last summer, in what can charitably be described as a murkier economic environment, margins got as high—albeit briefly—as 28 percent.
Clearly, this was a point recalled by outside investors this morning—if for nothing else than the basis for a summertime investment.