The Top Seven Oilfield Services Companies
When oil and gas companies are in the news, as they frequently are these days, there is seldom mention of the companies that enable all of that exploration, drilling, extraction, production and distribution. The backbone of the oil and gas industry is undoubtedly the Oilfield Services (OFS) companies, who not only keep the industry humming, but are growing in capacity and importance. The oil and gas industry is very volatile, as we outlined in Part 1 of our series and is impacted by five global trends, as we outlined in Part 2. Now in Part 3 of our series, we will focus on the OFS companies whose technology, innovation, efficiency, and tenacity are causing a fundamental shift in the oil and gas industry.
Several of these companies are well known and quite large, while others are tiny, but growing in size and influence. We analyzed a field of 36 companies using FiRM Analysis ((Financial, Resource, and Market)) that support the oil and gas companies in all facets of the exploration and production (E&P) cycle. Of the companies that made our top 7 list, the largest is Schlumberger (NYSE:SLB), which earned over $42B in revenue in 2012, and the smallest is Mitcham Industries (NASDAQ:MIND), which earned $113M in 2012.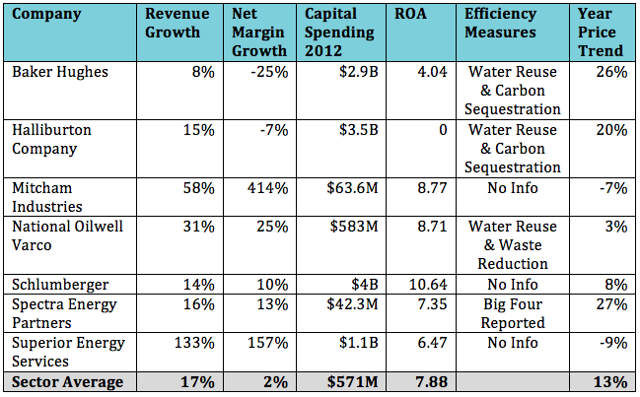 Outlook for the Oilfield Services Sector
The oil and gas industry, particularly the largest companies, have been experiencing more than their normal share of ups and downs. The latest round of Q4 earnings calls revealed less than stellar performance by four of the largest companies whose losses reaffirmed our stance that positions in oil and gas companies should be closely monitored, as they are likely to experience yet more volatility over the coming year. Adding to the woes of the oil and gas majors, many smaller, leaner oil and gas companies are whittling away at market share and sit on large, multi-year reserves. An additional wealth of global reserves patiently waits for the right mix of capital, muscle and technology to be extracted and refined.
The performance of the energy industry always has a direct impact on company performance in the OFS sector. Industry shocks like plummeting oil and gas prices, lower capital spending by oil and gas companies, or political instability in oil producing regions can cause immediate slack in demand for the specialized services of OFS companies. Capital spending among the oil and gas majors is decreasing at a time when E&P requirements are rapidly climbing causing complex projects to be postponed or abandoned and cash payouts diverted to investors. And globally, political maneuvering and corruption are causing hiccups in monetizing vast reserves in places like China, Argentina, Brazil and Australia. Analysts are now concerned that decreased exploration and drilling budgets will create problems with global oil markets and pricing and will result in more growth opportunities for National Oil Companies (NOCs), which control a vast majority of the global reserves.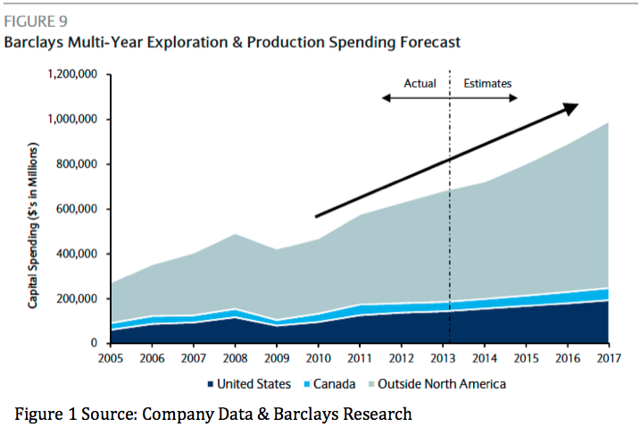 While the current drilling and extraction environment puts pressure on the oil and gas companies, it is a perfect fit for OFS companies. The production of unconventional oil sources is service-intensive. The vertically integrated work of drilling, testing, monitoring, completion, workover, and data management are frequently sourced to OFS companies, who possess the required expertise and technological capabilities. This quiet shift of operations has caused an unexpected shift of power and profitability within the oil and gas industry itself. Barclays reports that the OFS sector "is in the early days of a prolonged upcycle" and expects "market fundamentals to favor service companies for the next several years". And, as the first group of wells - drilled during the early years of the oil renaissance - begins to age, they will require the legacy expertise of the OFS companies for repair, maintenance and workover services.
The increased complexity of business offerings in the OFS sector has required increased capital spending as well as merger and acquisition (M&A) activity to meet the demand. According to a 2012 Ernst & Young survey of OFS executives, 84% of respondents expect M&A activity to increase in the next two years, particularly in North America. One of the driving forces in M&A activity for the larger OFS companies is vertical integration of capacities, which will enable them to stay in front of the shifts in the industry and help shield them from volatility. Offshore deepwater and onshore unconventional capabilities account for nearly 80% of operational capacity being sought out through M&A activity. Secured rig counts in the Gulf of Mexico are set to grow by over 33%, increasing totals from 40 to 60 by 2015, with an additional 32 floating rigs under construction, but not yet contracted. OFS companies growing their deepwater capabilities will be poised to leverage this offshore floating rig growth.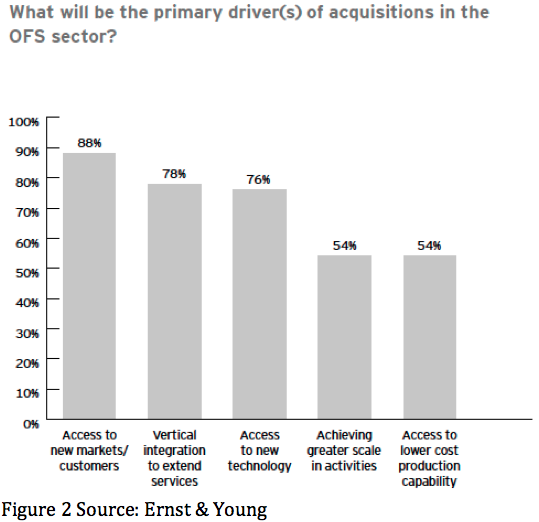 Technological innovations have been a cornerstone for the growth of the OFS industry and the most successful companies have invested heavily in capabilities such as 3D seismology and directional drilling, which is now a vital component of oil extraction. Baker Hughes (BHI) has invested nearly $3 million in University of Texas, Austin for a state-of-the-art laboratory that will advance innovations in operations, automated drilling, and zonal isolation. As rig counts drop in North America and mature oilfields drop in productivity, OFS companies are looking to regions with increasing activity. Three of the largest OFS companies, Baker Hughes, Schlumberger & Halliburton (NYSE:HAL) are benefiting from the growing activity of Saudi Aramco in the Middle East. Rig counts in the region are set to grow by nearly 25% in 2014, as Aramco searches for unconventional gas and increases oil drilling in both onshore and offshore sites.
Financial Performance is Positive
Revenue growth among the 36 companies analyzed was a stunning 17% from 2011 to 2012. Indeed, all of the companies on the list experienced revenue growth, with nearly half beating the sector average. Superior Energy Services (NYSE:SPN), whose revenue soared 133% over 2011, enjoyed the highest revenue growth. Mitcham Industries grew by 58% and National Oilwell Varco (NYSE:NOV) grew over 30% from 2011 to 2012. Net income, however, remained flat in 2012 and was accompanied by a whopping 20% increased in Cost of Goods Sold. This increase matches the oil and gas sector overall, as refining and extracting are becoming increasingly expensive pursuits.
Capital spending by the oil and gas companies is trending down, which can cause a whiplash of volatility for the OFS companies. To insulate themselves, OFS companies are increasing their spending to grow their capabilities. Capital spending in the OFS sector hovered around $20 billion; a nearly 30% increase over 2011. Superior Energy Services increased their spending by 136%, penetrating the $1B threshold. As would be expected, the largest companies spent the most, and the combined spending of Baker Hughes, Halliburton and Schlumberger was over $10B for 2012. All of this increased spending will further enable the OFS companies to continue to grow their capabilities. National Oilwell Varco has acquired several equipment manufacturers to grow their suite of offerings. Schlumberger formed a Joint Venture with Cameron International (NYSE:CAM) to manufacture and develop products and services for the subsea oil and gas market and developed a cooperation agreement with Petrobras (NYSE:PBR) for pre-salt research and development in Brazil.
Enabling Efficiency in Oil and Gas
Gathering resource use data on the oil and gas service providers was virtually impossible as only 6 of the 36 companies reported resource use across any one of the Big Four criteria of energy, water, greenhouse gas emissions, and waste. Not surprisingly, the most frequently reported statistics were for greenhouse gas, of which 5 companies reported emissions totals. While this lack of reporting is disappointing, several companies in the sector reported that they are creating tools, processes and equipment to enable resource efficiency in the oil and gas industry itself. The two largest innovations garnering attention deal with process water reuse and carbon sequestration.
The large volumes of water used in extraction and production are able to be recycled for reuse, helping to minimize overall water use in the industry. The challenge with recycling water is that it can be more expensive than simply injecting it deep into the earth. Additionally, regional differences in geology and minerals make recycling the water a new science project in every region. Baker Hughes' H2prO takes water used for fracturing and treats it, then transports it back for reuse, reporting that customers are saving 30-50% of operational costs due to not having to truck used water to underground wells. Halliburton's CleanSuite System Technologies, which uses ultraviolet light to kill bacteria, treated 31 million gallons of water for fracking reuse and kept 6,000 truckloads of water off roads. National Oilwell Varco has deployed their AQUA-VES Mobile Water Treatment System, claiming that it's membrane separation technology can clean produced fracking water to a potable state. Although adoption of water reuse technology has been slower than hoped, it will grow as energy demand and water constraints grow globally.
Carbon sequestration (CCS) in the oil and gas industry has been used to augment well production since the early 1970s, with the United States leading the way. Globally there are a growing number of projects seeking to utilize CCS as a means to lower greenhouse gas emissions not only in oil and gas production, but also electricity generation and industrial processing of iron, steel and cement. To date, however, CO2 storage for emissions reduction is costly and not fully accepted either socially or politically. In fact, the IEA reports that by 2050, CCS will still only account for 14% of actual emissions reductions, making it a costly endeavor for the OFS companies to pursue. However, OFS companies such as Spectra Energy Partners , Halliburton, Baker Hughes, and Schlumberger have all filed a number of patents for CCS, hoping to grow its use in the oil and gas industry.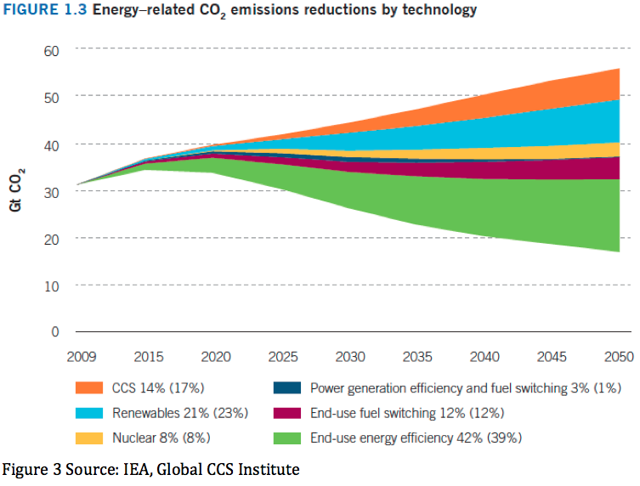 Market Performance is Mixed
The market performance of the OFS sector is mixed, with the sector average sitting at 13% price growth, 4% lower than the price growth for the oil and gas sector. Spectra Energy Partners, whose price increased 27% in 12 months, enjoyed the highest growth. Mitcham Industries and Superior Energy Services both saw their stock price fall 7% and 9% respectively from a year ago, in spite of their stellar revenue and margin growth. Prices for both smaller companies have been volatile, unlike the other 5 companies who made our best performers list, all of whose stock prices have increased. We expect that, over the next few years, as the OFS companies continue to widen their reach, capabilities, and profitability, their market performance will stabilize and grow as well.
The Way Forward for Oil and Gas
The goal of this series has been to illuminate subtleties in the integrated oil and gas industry to help investors make short-term and long-term decisions about their energy stocks. We have highlighted the five trends that are impacting current and future performance of the industry. We have also highlighted the vital support system of the industry and how dynamics are changing with these two sectors. Our focus is always to highlight operational excellence that is borne out of resource efficiency. The oil and gas sector and the companies that operate within it are bound by several resource constraints that investors should continue to monitor as they make buy and sell decisions for their energy stocks.
Many resources are absolutely vital to the continued success of the energy sector: human, water, mineral, geological and carbon. We expect to see the oil and gas companies highlighting more of their efforts to conserve their vital resources in a global economy where populations are increasing and energy demands are swelling. We also expect to see continued volatility in the energy sector as a whole as mature wells in North America give way to new productivity in nationally owned fields in China, Africa, and South America. Financial performance in OFS companies should continue to grow as they grow their technological capabilities to serve the energy industry.
Disclosure: I have no positions in any stocks mentioned, and no plans to initiate any positions within the next 72 hours. I wrote this article myself, and it expresses my own opinions. I am not receiving compensation for it. I have no business relationship with any company whose stock is mentioned in this article.