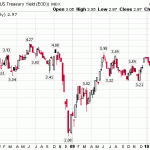 Yesterday, the 10 year yield fell below 3%, a mark we have not seen since April 2009 (click on chart, right, to enlarge). In fact, the 2 year note fell to a record low, as investors become extremely cautious of economic stability, both in the US and overseas. At one point during the trading session, the 10-year yield hit 2.954%, the lowest level since April 28, 2009. Why such a big move over the last year? The answer to that question encompasses several reasons.
With fear in the world markets and the euro, investors are turning to "safe" assets such as Treasuries. During periods of high volatility and economic uncertainty, we see treasuries as attractive investments because of the low risk profile. Dropping below 3% could be a sign to investors that we are seeing a real meltdown in economic activity, however, this could just be a signal of temporary flight to quality as short term uncertainties ravel the markets. An extremely poor June Consumer Confidence Index was part of the problem, as the S&P dropped 3.1% to 1041, a new low for 2010. The sell-off was also propelled by the fact that the Conference Board sharply revised lower its leading indicator on Chinese economic growth, signaling fear that global growth may be limited.
In my previous posts, I have been an advocate of shorting the Treasury markets, however, I believe this strategy should be undertaken with caution. On a short term basis, I believe yields are expected to go lower given the erratic economic climate, however, we may be setting the stage for a major reversal. Investors have been extremely cautious about a potential double dip recession. Even though corporate cash levels are at record highs, a signal for an equity market rally, the opposite is happening.
In fact, David Rosenberg, a former economist at Merrill Lynch and currently an asset manager at a Canadian firm, still remains bullish on Treasuries and bearish on equities. He believes that rates may close near zero by 2012, and postulates that within the next 6-12 months, we may see the 10-year yield fall below 2%. The record low is 2.034%, set in mid-December, 2008 after the collapse of Lehman Brothers.
As growth rates take a slow down, investors are becoming increasingly bullish on Treasuries. The 10-year yield has dropped over 100 basis points since early April, a sign that inflationary concerns are falling as deflationary signals are emerging. Right now, we are at key levels for the S&P (head & shoulders pattern?) and Treasuries. The 1,040 mark is a crucial level for the S&P as this represents the February, May, and June lows. Failing these levels could indicate a bearish head-and-shoulders top (click on charts to enlarge).