In this article, I will be looking for small-cap dividend growth companies that are owned by hedge funds. For my search, I will be looking at the holdings of two ETFs, a dividend growth ETF, and a small-cap hedge fund ETF. For the small-cap dividend growth ETF, I will be using the holdings of the iShares Core Dividend Growth ETF (NYSEARCA:DGRO), and for my small-cap hedge fund ETF, I will be using the Global X Guru Small Cap Index ETF (NYSEARCA:GURX).
DGRS Information
The reason I chose to use DGRO over other dividend ETFs was that DGRO not only those companies with a history of dividend growth but also "Companies are screened for sustainability of dividend growth." [DGRO Fund Page]
GURX Information
The reason I chose to use GURX was that it focuses on small-cap stocks that hedge funds own, and GURX excludes those companies that are "short-term" investments, and finds those hedge funds, which tend to hold positions for longer periods.
Index description:
"The Solactive Guru Small Cap Index tracks the price movements of the highest conviction U.S. listed small cap equity holdings of a select group of Hedge Funds and Institutional Investors based on quarterly regulatory filings from the SEC." [GURX Fund Page]
Common Holdings
First, I went to the holdings page for DGRO and exported the 268 holdings to a spreadsheet, and repeated the same process by going to the GURX holdings page and exporting the 101 holdings to a spreadsheet. I then combined the two sets of holdings and looked for those companies that were listed in both sets. I found that three companies that were in both ETFs: Gatx Corporation (NYSE:GMT), Sensient Technologies (NYSE:SXT), and South Jersey Industries (NYSE:SJI). Because these companies are not household names, and not know by many investors, I have provided a short business description of each from Zacks.com.
Gatx:
"GATX Corporation specializes in railcar and locomotive operating leasing, aircraft operating leasing, information technology leasing, and venture finance for customers in diverse industrial sectors worldwide." [Zacks GMT page]
Sensient Technologies:
"Sensient Technologies Corporation is a leading global supplier of colors, flavors and fragrances. Using sophisticated technologies at facilities around the world, the Company develops unique formulations and ingredients that bring life to its customers' products. Sensient manufactures a full range of ink-jet inks, cosmetic and pharmaceutical additives, as well as colors and flavors for many of the world's best-known brands." [Zacks SXT page]
South Jersey Industries:
"The company's most significant subsidiary is South Jersey Gas Company (SJG). SJG is a public utility company engaged in the purchase, transmission and sale of natural gas for residential, commercial and industrial use. SJG also makes off-system sales of natural gas on a wholesale basis to various customers on the interstate pipeline system and transports natural gas." [Zacks SJI page]
Dividend Growth History
For this step, I looked at the yearly dividend totals for each of the three companies above to see if they maintained or raised their dividends during the financial crisis, because I am looking for companies that even in the worst of times did not cut their dividend. The chart below shows that all three companies maintained or raised their dividend up to and through the financial crisis, and have continued raising their dividends.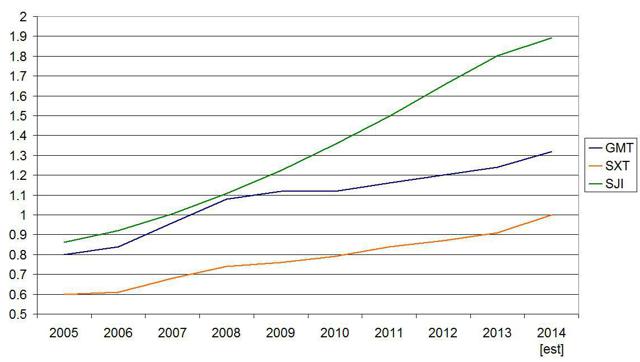 Performance
I looked at the performance of GMT, SXT & SJI and compared it to GURX, and the iShares Russell 2000 ETF (NYSEARCA:IWM). I also will include a long-term performance chart because GURX starting trading this year on March 11th. The reason why I chose not to do a comparison to DGRO is that it was launched just over a month ago so it does not have much history. In the short-term chart, the data shows that all three stocks have outperformed the broad IWM, as well as GURX. For the long-term all, three have significantly outperformed the IWM
Chart #1: Performance since March 11th 2014 [Dividends Not Included]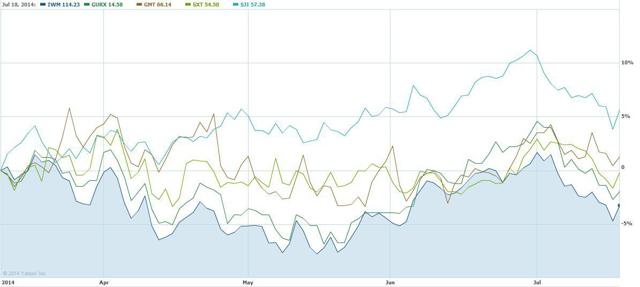 Chart #2: Performance since January 3rd 2005 [Dividends Not Included]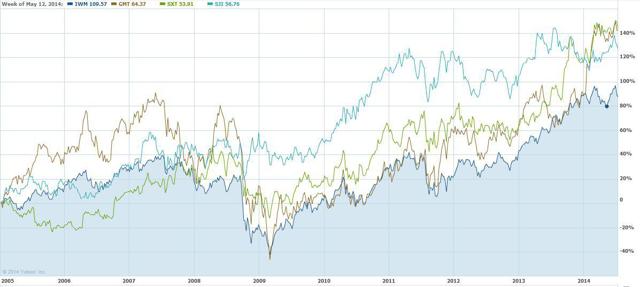 Valuation
Finally, I looked at the valuation for each of the companies, using valuation data from Morningstar. The table below shows that out of the three companies only GMT was undervalued based on its current PE in relation to its 5-year average PE. Going forward using forward PE estimates GMT and SJI are undervalued in relation to the forward PE estimates for the S&P 500, whereas SXT I would consider fairly valued at current levels.
| | | | |
| --- | --- | --- | --- |
| | GMT | SXT | SJI |
| Current PE | 16.8 | 30.3 | 21.2 |
| 5 Yr Avg | 17.1 | 16.6 | 20.1 |
| S&P 500 PE | 18.6 | 18.6 | 18.6 |
| Forward PE | 13.6 | 17.3 | 15.9 |
| S&P 500 Forward PE | 17.4 | 17.4 | 17.4 |
Closing Thoughts
In closing, I believe these three companies are worth a deeper look for investors who are looking for small-cap dividend growth exposure. All three have shown in the short-term and in the long-term that they can outperform broad small cap ETFs like the IWM, and have shown they are able to maintain or raise dividends even in the worst of times. Out of the three companies mentioned above, I believe GMT is the most attractively priced based on its current valuation, followed by SJI, and SXT.
Disclosure: The author has no positions in any stocks mentioned, and no plans to initiate any positions within the next 72 hours. The author wrote this article themselves, and it expresses their own opinions. The author is not receiving compensation for it (other than from Seeking Alpha). The author has no business relationship with any company whose stock is mentioned in this article.