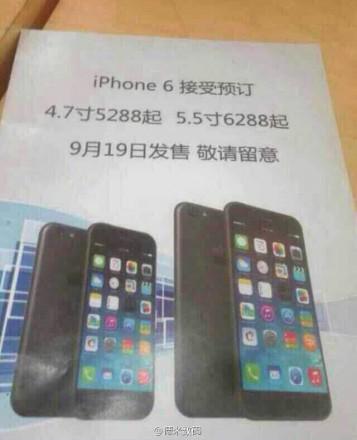 Picture of iPhone 6 leaked in China. Source: loadthegame.com
A smartphone designed by BlackBerry, Limited (BBRY) is the only smartphone I have ever owned, and ever will own as long as BlackBerry remains in business. I have been resigned to the fact that smartphones designed by Apple, Inc. (NASDAQ:AAPL) and Samsung Electronics (OTC:SSNLF) armed with oversized screens, hundreds of apps and colorways have taken over the market from BlackBerry. I am a big fan of Apple's credo of giving consumers what they need, instead of what they want. Hence we have iPhones, iPads and even an iWatch in the works. Personally, I have a computer with a wireless connection and a smartphone and nothing in between. That said, I wondered when these various "iGadgets" would start to cannibalize one another.
Smartphones With Oversized Screens All The Rage
Since the launch of the Samsung Galaxy series, smartphones with larger screens have been all the rage. According to MarketWatch, the trend is continuing:
Over 279 million smartphones were shipped in the first quarter, up 29% from the year-earlier quarter. But shipments of smartphones with 5-inch and larger screens rose 369% over the same period. "The trend is unmistakably toward larger-screen handsets at the high end of the market," Canalys concluded.
This all begs the question, why would Apple executives delay a "phablet" version of the iPhone 6 given the rabid interest in smartphones with oversized screens? Other than the fact that Steve Jobs did not think consumers would go for an iPhone that could not fit in one's hand, Apple feared a phablet would hurt iPad sales:
So why did Apple hold off? A 5.5-inch iPhone, subsidized by wireless phone providers, would make consumers think twice before purchasing an unsubsidized iPad Mini, says Neil Mawston, analyst at Strategy Analytics ... "The tablet category will need to innovate to differentiate from increasingly outsize smartphones." ... "Large-screen phones have provided some headwinds to tablet demand, and Apple's iPad growth in particular," says Brian Colello, analyst at research firm Morningstar. "If Apple were to launch a large screen iPhone 6 at, say, 5 inches, it's certainly possible that these headwinds could intensify even further."
Being that Apple's new iPhone 6 is scheduled to be launched on September 19th, I set out to quantify its potential impact on iPad sales. Based on Apple's most recent quarterly unit sales volume, if every new iPhone sold was an iPhone 6, it could potentially reduce iPad unit sales by 50% - 60%. Below is my analysis: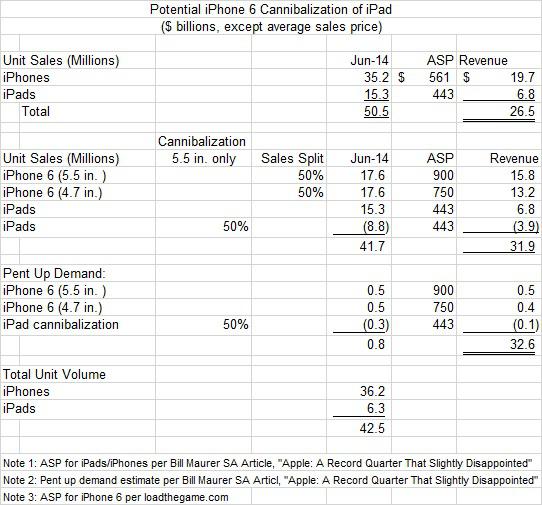 Step 1: Determine Quarter-Ended June 2014 iPad, iPhone Sales
For the most recent quarter-ended June 2014, Apple had unit sales of iPhones and iPads of 35.2 million, and 15.3 million, respectively.
An estimated average sales of price of $561 for iPhones and $443 for iPads, equates to revenue of about $26.5 billion.
Step 2: Guesstimate iPhone 6 Cannibalization
According to loadthegame.com, [i] the iPhone 6 has already been leaked in China, with a 4.7 inch screen and 5.5 inch screen and [ii] the 4.7 inch and 5.5 inch screen iPhone 6's should sell in the U.S. for $750 and $900, respectively.
As you can see, we're talking about 5,288 CNY for the 4.7 inch iPhone 6, and 6,288 for the 5.5 inch version. Translated into US dollars, this means roughly $850 for the smaller phone and a little over $1,000 for the larger version. These prices are obviously carrier-free and are likely to be subject to change by the time the phone launches, but it's a reasonable estimate. US phone prices are generally lower than in other areas of the globe, so around $900 for the 5.5 inch iPhone 6 and $750 for the smaller sibling is a reasonable estimation. Whether or not that's overpriced remains to be seen in September.
50/50 In iPhone 6 Sales
The model assumes a 50/50 split in iPhone 6 sales per screen size. Assuming 35.2 million units were sold in the most recent quarter, it would equate to pro forma revenue of about $29 billion. This represents a "best case scenario" and assumes the iPhone 6s do not have to be discounted.
iPad Cannibalized By 5.5 Inch Screen Only
Since the 5.5 increase screen is closer in size to an iPad, I assumed that 50% of the 5.5 inch screen sales would cannibalize the iPad. I assumed no cannibalization from the 4.7 inch screen. As the 5.5 inch screen has pro forma sales volume of 17.6 million, iPad unit sales decline by half that or 8.8 million. This represents a "worst case scenario" because it assumes each new iPhone sale is an iPhone 6 with an oversized screen.
The 35.2 million unit sales of iPhone 6's at their estimated retail price, less 8.8 million iPad sales at an average sale price of $443, would generate revenue of about $32 billion. Though unit sales decline, the revenue would hypothetically increase.
Pent Up Demand
There is a school of thought that iPhone sales during the most recent quarter were depressed because consumers were waiting for the new iPhone 6. Bill Mauer of Seeking Alpha assumed it cost Apple about one million iPhone unit sales during the quarter. I assumed [i] one million additional iPhone 6s were sold, [ii] a 50/50 split between 4.7 inch and 5.5 inch screens and [iii] the iPad would be cannibalized by 50% of the 5.5 inch screen sales. This generated an additional $700 - $800 million in revenue.
Conclusion
At a high level, pro forma iPhone 6 sales would increase to 36.2 million units, from the 35.2 million iPhones actually sold, and iPad unit volume would decline from 15.3 million to 6.3 million - over 60% - during the quarter. Revenue would increase nearly $6 billion as the iPhones with higher average selling prices cannibalize the lower-priced iPads. This sounds great in theory. However, the average sales price for the iPhone 6s would probably have to be discounted due to consumer demand and competitive pressure. How much they will actually sell for is anybody's guess. What I can put a higher degree of certainty on is that the iPad will be cannibalized by the new iPhone 6 and the revenue arbitrage will decline or all but evaporate. The above model is not the Rosetta stone, but it does give a range of possibilities, and they are not pretty for iPad sales. I now see why Apple was reticent about launching a phablet. Once the iPhone 6 is released, I will consider shorting Apple.
Disclosure: The author has no positions in any stocks mentioned, and no plans to initiate any positions within the next 72 hours. The author wrote this article themselves, and it expresses their own opinions. The author is not receiving compensation for it (other than from Seeking Alpha). The author has no business relationship with any company whose stock is mentioned in this article.
Editor's Note: This article discusses one or more securities that do not trade on a major U.S. exchange. Please be aware of the risks associated with these stocks.