The understanding of an international fully integrated energy Company and pairing it with forward estimates on Revenue, Earnings and (not incidentally) share price pose challenges at once unique and formidable. Among the more prominent moving targets are:
- liftings, or hydrocarbon production, commonly referred to as the Upstream
- the commodity (oil and natural gas) prices
- retail throughput, or what quantity of refined product will be in worldwide demand, commonly referred to as the Downstream
- retail, or refining, margins at any level of final demand.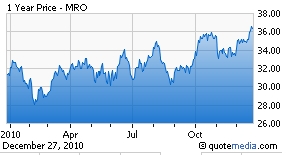 Operations at Marathon Oil (NYSE:MRO) entail an additional, and for it critical, variable: the market price spread between "sweet" and "sour" crude oil. MRO's refineries are engineered to employ the sour variety, which is obtained in the market at a lower price than its sweet cousins. A widening spread confers a tactical advantage to MRO relative to the competition, roster generally including Conoco Phillips (NYSE:COP), Occidental (NYSE:OXY) and even the heavyweight entrants, Chevron (NYSE:CVX) and ExxonMobil (NYSE:XOM). Over much of the 2010 Second Half --- MRO keeps a December Fiscal Year --- the spreads have behaved in Marathon's favor, contributing to a gentle upward slope in Earnings estimates.
Thus, a variety of market forces whose future behavior is most often volatile and subject to rapid change of estimate, will eventually converge to determine the profitability (or loss) of MRO's efforts. Some positive signs awaiting the coming year include:
- a 12-15% increase in liftings, or upstream production. A good portion of this will derive from Canadian Oil Sands, and investors are cautioned that this is MRO's costliest extraction at around $45 per barrel. Other boosts will issue from the Bakkan Field in North Dakota (not far behind Oil Sands at a roughly $35/bbl production cost) and the Droshky Field down in the Gulf. The early geologic estimates called for Droshky to deliver 30 mbd (thousand barrels per day) have now been scaled back closer to 15, but still a net positive heading into 2011;
- downtime at the Gulf Coast refinery of Garrysville is expected to have been a one-off event, and absent a collapse in global economic health it is not unreasonable to anticipate a 14 or 15% gain in Downstream volumes and earnings;
- a reduction in the Company's effective tax rate. For years hovering between 50 and 55% owing principally to some politically challenged upstream geographies, a gradual shift in the mix of earnings from Upstream to Downstream should couple with an increased North American emphasis on the Upstream itself to whittle the rate toward the mid-40's. Still high, but enough of a change to put some pennies per share onto the record books.
Few things have been more perplexing than the stock's tendency in recent years to trade at or near Book Value. Still uncertain as to the reason, I am influenced by arguments that analysts and investors lacked a clear sense of senior management's operating plan, i.e., will MRO be predominantly a production or a retail distribution company? A window of clarification may be appearing before us: measured by Revenue flows, a 60-40 split is emerging as the consensus focus. The business model uncertainty doubtless contributes to the stock's noteworthy Beta of 1.33, a volatility expectation those venturing in should not ignore.
Returning to the above theme of moving targets and market imponderables, the consensus EPS call for 2011 stands in the zone of $4.30, a number loosely bounded by a high of $5.60 and a low of $3.40, an inordinately wide range. My own model carries me to $4.45, but I allow for the possibility that both I and consensus are understating the tax rate kicker. Investors entering the ring today at $36 a share may be comforted by the 8.5 Multiple on 2011, but are nonetheless cautioned that the associated $3.2 Billion in after-tax earnings will only scrape the total brought home in 2008, while falling considerably below outcomes over each of the two years prior to that.
The current market also brushes up against the 52 week closing best, and it was not all that long ago that MRO was freely offered a notch or two below $30. Its $1.00 annual dividend throws of an entry yield of 2.8%. Churn and burn them as I might, I don't see MRO's composite numbers pushing the stock price much beyond the low to mid 40s in the coming year, but that target range will afford capital gains of 18-20%, even if sprung from a $36 launch pad. The more venturesome and optimistic among us may be emboldened by the realization that a climb in the Price/Book ratio to merely 1.5 times would be enough to carry the share price close to $50.
Any portfolio feeling under weight in the Energy patch is advised to give MRO serious and fair minded consideration. Plenty though the risks may be, sufficient improvements in overall operating margins are enough to warrant their undertaking.
Disclosure: I have no positions in any stocks mentioned, and no plans to initiate any positions within the next 72 hours.