Recall that the "8 Ballers of Mobile" is a long term strategy designed to profit from technologies driving the next generation of computing – mobile, social and the cloud. Unfortunately, at times all long term strategies are subject to some uncomfortable levels of volatility and this strategy has endured its fair share since the end of April. That being said, the 8 Ballers are still keeping up with the market ( S&P 500 3.4% vs. 8 Ballers 3.3%). Trust me; my goal isn't to keep up with the market, but to significantly outperform it. Needless to say, I have to do a better job protecting my gains during these downturns.
Below are portfolio changes since the last update.
Social
SINA was "de-balled" to the tune of 11% on 2.5 times its average volume as rumors of fraud circulated on Friday. Whether the rumor proves true or not, there is too much nonsense going on in China. This past week, John Paulson reportedly lost $500M in a Chinese stock fraud. These scams are beginning to penalize legitimate firms, like I believe SINA is. Trading is hard enough without having to deal with this stuff. Fortunately, I began accumulating SINA in the high 70s, so it goes out a winner. As more US-based social media companies become publicly tradable, I will consider adding them to the portfolio.

[Click all to enlarge]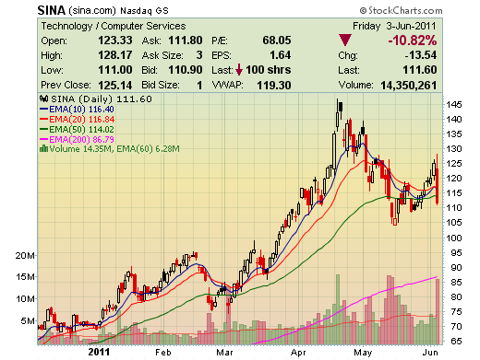 Cloud
Speaking of China, my initial attraction to Yahoo (YHOO) was specifically around its expertise in Hadoop, a technology that enables real-time analysis of huge amounts of data a.k.a. "Big Data." An article, Yahoo Mulls Spinoff for Hadoop Software Unit, really peaked my interest. When Yahoo hit a 52-week high in April, I thought that its troubles were behind it. Shortly after my investment, Yahoo was hit with a buzz saw.
There are tons of articles written on the sudden change in ownership of Alipay from the Alibaba Group (OTC:ALBCF), a Chinese company, of which Yahoo owns 43%. Yahoo's position was that it was blindsided by the deal. Jack Ma, CEO of Alibaba, said that this had been discussed at the board of directors' level for over two years. Jerry Yang, Yahoo's former CEO, sits on the board.
The initial shareholder outcry centered around Yahoo's incompetence; based on previous history, it was justified. However, Softbank (OTCPK:SFTBF) has a member on the board as well, and it hasn't come to the table to negotiable a settlement yet. So did the Softbank board member sleep through these meetings also, or is Jack Ma lying?
All I know is that they play by a different set of rules in China. Based on all of the frauds and scams over the past few months, I'm staying away from Chinese stocks as investments. As a trade, that's a different story – but the 8 Ballers is designed as a long term strategy.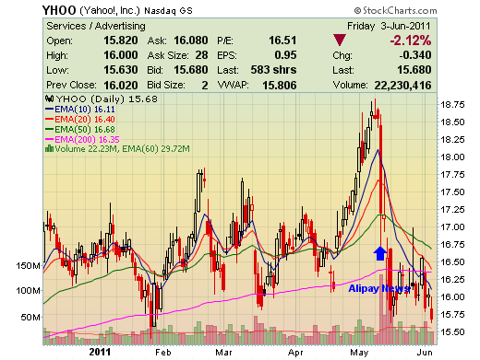 Based on my research, I believe that MicroStrategy (NASDAQ:MSTR), Qlik Tech (NASDAQ:QLIK) and Informatica (NASDAQ:INFA) are the best pure plays in Big Data. Thus, I have sold my original Big Data play Tibco Software (NASDAQ:TIBX) and have added Qlik Tech and Informatica. Positions in Aruba Networks (NASDAQ:ARUN) and Riverbed Technologies (NASDAQ:RVBD) were also sold since the last update.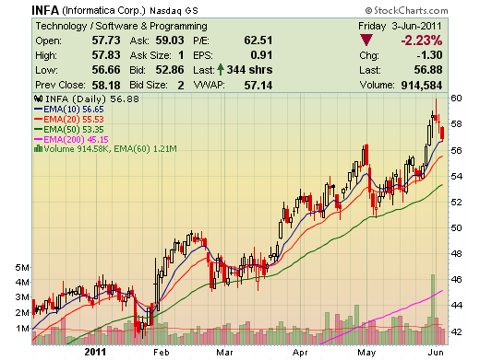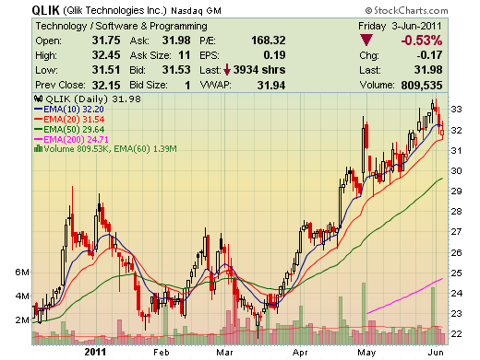 Mobile
The negative reports continue coming out fast and furiously on Research In Motion (RIMM). Unfortunately, I closed this short on Wednesday. I will be looking to re-establish this position soon.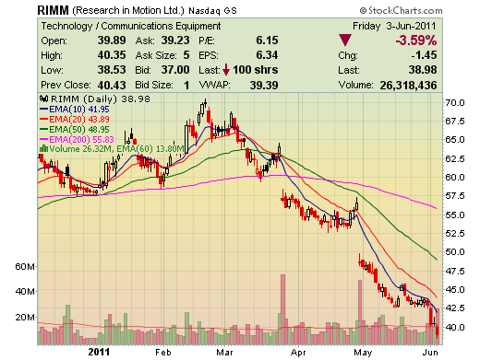 The cash raised by selling SINA significantly reduces the portfolio's volatility; with the dog days of summer coming, that's just what the doctor has ordered.
Year to date performance: 8 Ballers of Mobile 3.3% vs. S&P 500 3.4%
Disclosure: Long: Apple, NXP Semiconductor, Informatica, Micro Strategy, Qlik Tech, Yahoo. Positions may be closed at any time.