Another busy week of earnings reports includes many results from companies that should be of interest to value investors. I've highlighted a few of the week's most interesting reports below:
Monday
Cooper Tire & Rubber (NYSE:CTB): Cooper reports after the close on Monday, with consensus estimates for 29 cents a share on just over $1 billion in sales. The stock has had a roller-coaster year; it was more than halved over the summer due to economic fears and higher raw material costs, with the fall capped off by a 27% plunge after second quarter earnings.
The stock has rallied this month to close Friday at $14.33, 50% over near-term lows but almost 50% off early May highs. Another difficult earnings report could send the stock back toward $10 -- and quickly. But long-term investors may be interested in the current price as an entry point for a company that has paid 158 consecutive dividends, offers a yield near 3%, and boasts a nearly 100-year history of navigating economic troubles. At just 8 times earnings, CTB still looks undervalued, despite the recent rally. In the short-term, the volatile stock (beta of 2.39) looks likely to move significantly, depending on Monday afternoon's news.
Tuesday
Advanced Energy Industries (NASDAQ:AEIS): AEI reports after the close on Tuesday; the company has struggled against global headwinds as its RF converter business has seen sluggish demand both in its legacy semiconductor business as well as its recent entry into the solar panel market.
Analyst sentiment confirms the market bias, as consensus estimates of 19 cents in earnings on $130 million in revenue are considerably weaker than the company's guidance for earnings of 20-30 cents on $130-145 million in sales. As such, the stock seems to be set up for a strong upward move, if earnings can convince investors that demand -- particularly in the company's fast-growing solar segment -- has finally stabilized.
Solar stocks have done well as of late, with expiring subsidies in Germany and individual US states creating hopes of a short-term demand surge. Those hopes are, for now, overshadowing the long-term fears of drastic subsidy cuts from European and US governments as they deal with budget deficits. US solar companies are down more than half from early-2011 highs, and many investors have been burned (no pun intended) trying to catch falling knives in the sector.
But AEI's dual revenue streams, from thin film and solar semiconductors, should give the company a more solid footing, as thin film still accounts for over two-thirds of revenue, according to the company's second quarter earnings presentation. AEIS, which closed Friday at $10.15, also offers more than a quarter of market cap in net cash and an enterprise value-to-earnings ratio of just 5 on a trailing basis. Continued weakness will no doubt raise that ratio, but with full-year estimates for over $1/share in earnings for 2011 and 2012, AEIS is still an interesting turnaround play for long-term investors. Solid earnings on Tuesday will no doubt make potential investors more confident that the company can return to top- and bottom-line growth.
Insperity (NYSE:NSP): The staffing provider -- known as Administaff until earlier this year -- has beaten earnings estimates for five consecutive quarters, and will try to do so again on Tuesday morning. The uncertain economic -- and employment -- climate should offer some benefit to the company, as companies of all sizes look to temporary and outsourced labor to avoid commitments and benefit costs made uncertain by recent legislation (notably the health care law passed in 2010). Earnings fell sharply in 2009, but rose in 2010, with strong growth projected for both 2011 and 2012.
For the current quarter, analysts are expecting 26 cents per share on $478 million in revenue (the company did not provide guidance). NSP's recent bull run -- up over 30% in the last five weeks -- may have made Friday's close of $26.71 too high an entry point. Yet, with over $10/share in net cash, the stock still trades at just 14 times earnings, with tremendous growth expected. One more earnings beat could provide further evidence of profit expansion, and traders may look to capitalize on the company's recent run of earnings beats by jumping into the stock on any weakness during Monday's trading.
True Religion (NASDAQ:TRLG): Once one of my favorite holdings, TRLG has had a strong year, including gaps up after all three earnings reports in 2011 []: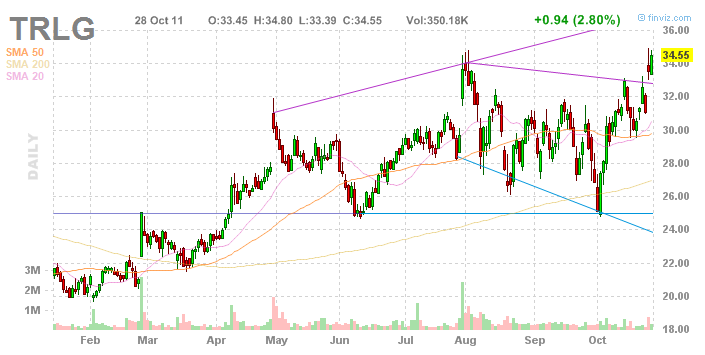 (Click to enlarge) Chart courtesy finviz.com
The company will try to make it a clean sweep after the bell on Tuesday, with analysts expecting earnings of 49 cents per share on $107 million in revenue. The maker of $200-plus jeans has defied a weak economy by consistently growing sales, although higher cotton prices have slowed bottom-line growth.
The concern for TRLG investors is the valuation; the stock is trading near its 52-week high after running up nearly 40% this month. But, still, the company offers nearly $7/share in net cash and trades at just 18 times 2011 projected earnings. It seems a high price to pay for value investors, but the company's solid execution, consistent growth, and transition from wholesale to retail sales mean the company could still be undervalued. Another strong quarter will likely boost the company past its 52-week high and provide more proof that True Religion is not just a high-priced fad.
Wednesday
NutriSystem (NASDAQ:NTRI): NutriSystem reports after the close on Wednesday, with analysts expecting 24 cents per share, on nearly $104 million in revenue. The stock could use some good news; it's been in the doldrums since missing estimates badly with fourth quarter earnings, and dropping nearly 30% the next day. The stock has stayed rangebound between $11 and $15 since that report in late February, closing Friday at $12.40.
NTRI's most compelling feature at first glance is its dividend yield, now at 5.65%. The payout ratio on a trailing basis stands at 104%, raising fears of a dividend cut, but investors need to look at the company's cash flow numbers. Cash flow in 2010 was $47 million, 15% of the company's enterprise value and more than enough to cover $21 million in dividend payments. The first six months of 2011 added another $34 million, and the company expressed its commitment to shareholders by tacking on a $150 million, 2-year share buyback in conjunction with second quarter earnings. That repurchase authorization represents over 40% of the current shares outstanding.
Can Wednesday's earnings finally wake investors up to NTRI? Or will further struggles against economic weakness hurt the stock and perhaps jeopardize the company's aggressive plans to return capital to its shareholders? Once again, short-term concerns may give some investors pause. But, if you look past the reported earnings numbers, NutriSystem looks like another undervalued play.
United Online (NASDAQ:UNTD): Fellow high-yielder United Online also reports Wednesday afternoon, with analysts expecting earnings of 18 cents per share on revenue of $185 million. UNTD yields 6.55% at Friday's close of $6.11; like NTRI, its strong cash flow belies a questionable payout ratio around 68%. The company has generated over $100 million in free cash flow in each of the last four years, easily covering its $35 million dividend commitment at the current payout.
United Online is transitioning from its declining, though still profitable, legacy business of providing internet access through the Juno and NetZero brands, to becoming an online retailer. The company owns Internet florists FTD and Europe-focused Interflora, along with MyPoints and Memory Lane (formerly known as Classmates.com).
UNTD has whipped analyst estimates in each of the last four quarters (topping them by a minimum of 15%), as strength in the online retail segment has combined with lower-than-expected defections from the dial-up business to surpass expectations. Investors interested in the stock may look to jump in ahead of earnings, hoping to lock in a higher yield and gain some capital appreciation, should history repeat itself. If not, the report should at least give more clarity on how long the "cigar butt" Internet business will last, and how well the online retail segment is doing amidst economic worries here and in Europe.
Thursday
Entropic Communications (NASDAQ:ENTR): Entropic was crushed by a miss on its second quarter earnings in early August, falling 38% the day after its report. The stock bounced off a multiple bottom at $4 -- 70% off its early-2011 highs -- before rallying 50% in the October rally to close Friday at $6.04. The company reports Thursday evening, with analysts expecting 11 cents a share in earnings on $51 million in sales.
Entropic makes chips for home networking devices, and despite near-term weakness, the long-term story for the stock still holds. The coming "convergence" of electronic devices will reshape American living rooms, and Entropic should be one of the main beneficiaries. The company offers over $2/share in cash and investments, and even amid its struggles this year, remains on pace to generate over 10% of its enterprise value in cash flow in 2011. Combine that value with Entropic's growth potential and I still feel the stock is a long-term buy.
However, the viciousness of the market's reaction to the second quarter should make investors a bit cautious here. Another short-term disappointment -- and there's been little reason to expect a major pickup in home entertainment in the third quarter -- could slash the stock price back toward August lows. Value investors might want to wait for Friday's market, with the possibility of a disappointed market, and a lower entry price, seemingly greater than an earnings blowout, and a missed opportunity.
Disclosure: I have no positions in any stocks mentioned, and no plans to initiate any positions within the next 72 hours.