Our View On Cantillon Capital Management LLC
Overall Score: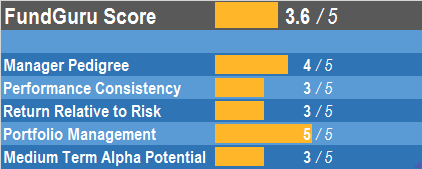 Return and Volatility Relative to Peers:
Orange data points denote manager portfolios we recommend readers to consider. For the full list of managers we cover, please visit Schedule of Manager Reviews.
I. Introduction
This is part of a series of quarterly reviews that analyze the performance and portfolio characteristics of interesting equity managers running public (mutual funds) or private pooled investment vehicles (hedge funds) that are not accessible by mainstream investors. Our aim is to provide readers:
An overview of the manager's background (Section II)
An analysis of the manager's historical return and risk characteristics based on its 13-F portfolio (Section III)
An analysis of the manager's portfolio characteristics and top holdings (Section IV)
An overview of the most interesting holdings (Section V)
An opinion on whether readers should follow the manager's ideas or copy its portfolio (Section VI)
All analysis is based on a clone portfolio of the manager's top 10 disclosed holdings, which allows readers to replicate the portfolio with ease if desired. It may not be an accurate reflection of the manager's actual investment performance. For more information on why we focus on the top 10, please refer to our Schedule of Manager Reviews.
II. Manager Brief
| | |
| --- | --- |
| Manager Name: | Cantillon Capital Management LLC |
| Location: | New York, NY |
| Year Founded: | 2003 |
| Investment Style: | Long-only, Quality & Growth |
| Lead Portfolio Manager(s): | William von Mueffling |
| Number of Employees: | 21 |
| MV of Latest 13-F Holdings: | $5.7bn (up from $5.3bn at 12/31/15) |
Cantillon was founded in 2003 by William von Mueffling, who led Lazard Asset Management's hedge fund group. During his tenure from 1998 to 2003, von Mueffling posted annualized returns of 30%, helped by his technology shorts during the Dot Com bubble. The manager subscribes to a Buffett-esque investment philosophy, seeking businesses that produce high returns on shareholder equity.
At its peak, Cantillon managed north of $10 billion in various hedge fund strategies. However, in 2009 the firm decided to shut-down many of its offerings to focus on managing long-only assets.
According to a WSJ article:
After years of long-short investing, Mr. von Mueffling and his analysts and traders no longer short, or bet against, stocks at all. Instead, like a typical stock mutual fund, they stick to buying company shares they expect will rise. Mr. von Mueffling said the strategy is "the right long-term decision".
Cantillon charges clients a flat 1.25% fee, according to the article.
III. Performance Analysis (USD Total Returns)
After a strong 2013, Cantillon has underperformed the S&P 500 in 2014 and 2015, despite delivering positive absolute returns. Returns have continued to trail in the first quarter of 2016.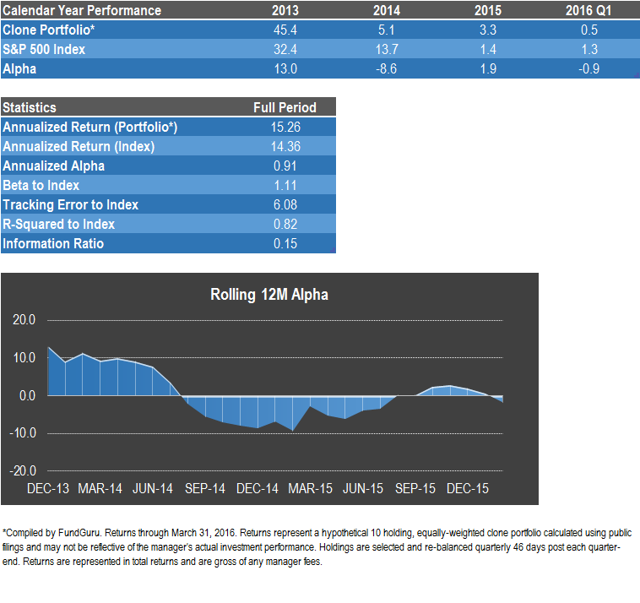 IV. Holdings Analysis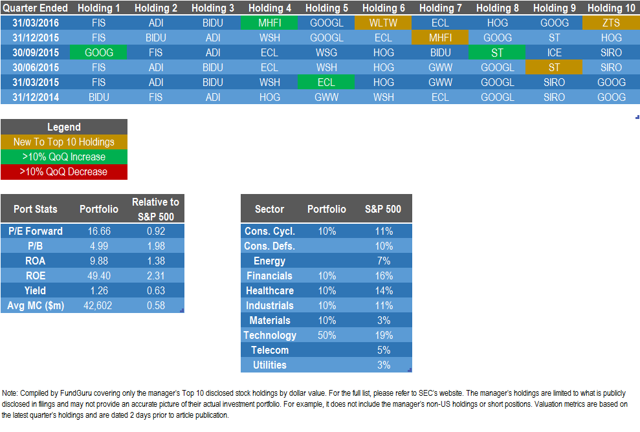 Portfolio Characteristics
This is a large-cap portfolio with very little movement in the top 10 holdings. The portfolio is currently 10% cheaper than the S&P 500, with higher ROA and ROE. The manager's top 10 holdings are currently concentrated in the Technology sector, which comprises 50% of our equally-weighted portfolio. Part of this is due to our equal-weighting approach, which weights both Alphabet Class A (NASDAQ:GOOG) and Alphabet Class C (NASDAQ:GOOGL) equally.
This is the detailed stats by company:

Individual Names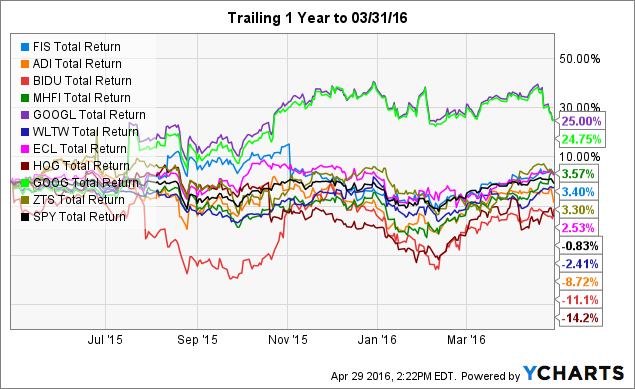 FIS Total Return Price data by YCharts
A look under the hood reveals why the manager has only matched the S&P in terms of performance. Apart from Alphabet , the majority of names have delivered low single-digit returns over the past year. The worst performing names were Harley-Davidson (NYSE:HOG), Baidu (NASDAQ:BIDU) and Alliance Data Systems (NYSE:ADS).
This is the YTD performance of top holdings through yesterday's close: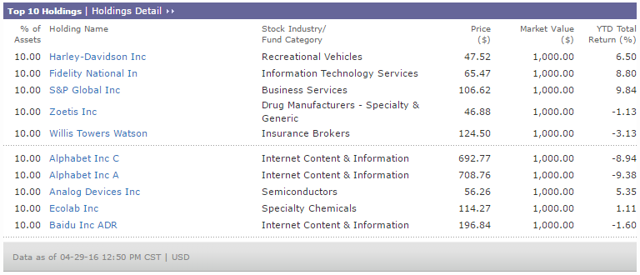 Recent Activity
This is very much a buy-and-hold portfolio with very low turnover. During the first quarter of 2016:
Notable Top-Ups in Top 10: McGraw-Hill Financial (NYSE:MHFI)
V. Focus Holding: Willis Towers Watson
Willis Towers Watson was formed as a merger of equals between London-based insurance brokerage firm Willis Group Holdings plc and Arlington, VA based consulting firm Towers Watson & Co.
Cantillon was a shareholder of the former Willis Group.
Per WLTW's website:
Willis Towers Watson is a leading global advisory, broking and solutions company that helps clients around the world turn risk into a path for growth. With roots dating to 1828, Willis Towers Watson has 39,000 employees in more than 120 countries.
The firm operates in the "Financial Services - Insurance Brokers" sector and competes with industry giants AON PLC (NYSE:AON) and Marsh & McLennan Companies Inc. (NYSE:MMC). It is the third largest global advisory insurance brokerage firm by revenue.

The firm appears to be trading at a slight discount to peers:
| | | | | | |
| --- | --- | --- | --- | --- | --- |
| | Price | 2016 PE | 2017 PE | Average Analyst Target Price | Implied Upside |
| WLTW | $124.29 | 15.91x | 14.18x | $132.10 | 6% |
| MMC | $62.82 | 18.65x | 16.68x | $63 | 0% |
| AON | $104.38 | 16.11x | 14.45x | $105.5 | 1% |
Source: Market Watch
It is worth noting that analysts' estimates may still be undergoing revisions as they adjust their models, such as to account for synergies from the merger. As such, WLTW could be more undervalued relative to its direct peers.
Activist hedge fund ValueAct Capital has been a long-time shareholder of both Willis Group and Towers Watson, and was a key supporter of the merger. The firm very recently upped its stake in the new entity, which required a 13D filing (activist stake). As per the filing:
The Reporting Persons [ValueAct] intend to have conversations with members of the Issuer's [Willis Towers Watson] management and board of directors to discuss ways to enhance shareholder value. The topics of these conversations will cover a range of issues, including those relating to the business of the Issuer, management, board composition, operations, capital allocation, asset allocation, capitalization, dividend policy, financial condition, mergers and acquisitions strategy, overall business strategy, executive compensation, and corporate governance. The Reporting Persons may also have similar conversations with other stockholders of the Issuer and other interested parties, such as industry analysts, existing or potential strategic partners or competitors, investment professionals, and other investors.
It is clear that these conversation may be operational or financial in nature in order to improve WLTW's operating margins and ROE, which have lagged rivals. This would likely in turn allow the firm to trade at more premium valuations.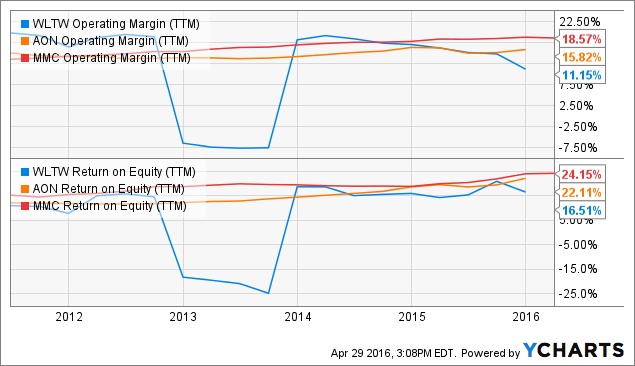 WLTW Operating Margin (TTM) data by YCharts
ValueAct holds 5.9% of WLTW outstanding shares as at 03/31/2016:

WLTW's share price have roughly matched the S&P 500 since it the new combined entity was listed earlier this year: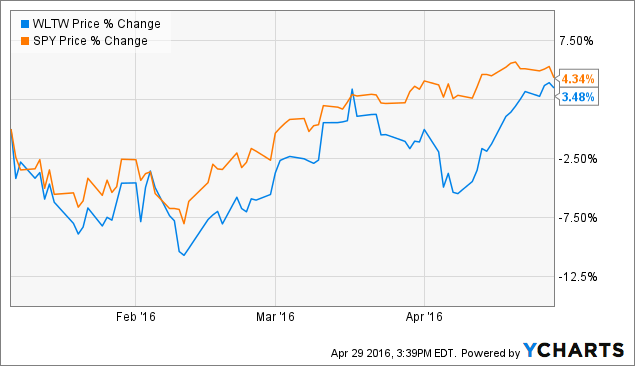 WLTW data by YCharts
VI. Summary Thoughts
We Liked:
Low turnover, buy-and-hold approach emphasizing high quality businesses
Streamlined business focused on long-only equity management
We Didn't Like:
Relative performance has been weaker of late, although this provides more opportunity for prospective alpha generation
Portfolio is fairly diversified with 24 US equity holdings, and likely even more with ex-US holdings in reality
Portfolio concentration in Technology, a cyclical sector
Bottom Line:
This is an interesting equity manager investing in growing, high quality businesses. We do not have a strong view on the alpha potential of this portfolio, and will continue to monitor its activity closely. In the meantime, we encourage readers to consider Willis Towers Watson, which is an activist situation.
Interested in Following More Alpha?
Follow us now to get live updates as we post new reviews, and/or see our Schedule of Manager Reviews (linked above) for an up-to-date list of the managers we have assessed so far.
Disclaimer:
Returns represent a hypothetical 10 holding, equally-weighted clone portfolio calculated by FundGuru using public filings made with the SEC by the investment manager. All information presented here is not endorsed by, affiliated with, sponsored by, or fully reflective of the manager or their companies. The information contained here includes the names, brief biographical information, and references the companies of certain persons whom FundGuru has identified from publicly available information as equity managers. FundGuru does not communicate with and is not supported or endorsed by or affiliated or associated with any of these managers or their companies. To the extent the managers use their names or the names of their companies as trademarks, such trademarks belong to their respective holders, and FundGuru's use of the same does not imply any affiliation with or endorsement by them. Information about the investments of the manager is limited to that which is publicly available in regulatory filings and may not provide an accurate picture of their actual investment portfolio nor investment return.
Disclosure: I/we have no positions in any stocks mentioned, but may initiate a long position in WLTW over the next 72 hours.
I wrote this article myself, and it expresses my own opinions. I am not receiving compensation for it (other than from Seeking Alpha). I have no business relationship with any company whose stock is mentioned in this article.