Thursday's headlines revolve around the US dollar (NYSEARCA:UUP). The Dollar Index has moved to seven-month highs today. At cause, the Euro (NYSEARCA:FXE) has sunk to levels last seen the day the Brexit vote shocked the market. The Euro is down today following dovish comments from Draghi.
I'm not sure what the market had been expecting, but apparently Draghi's comments that European QE won't suddenly wind down were enough to send currency traders into a tizzy. The Euro dove below 1.10 and is now looking at multi-year support at 1.05 and perhaps even parity if the drop isn't quickly reversed.
This brings a broader question to the forefront. What's the basis for being bearish on the US Dollar at this point? We know that QE is likely to continue for the indefinite future in both Europe and Japan. China is facing an increasingly large funding gap in its banking system, so its unlikely to take hawkish monetary measures either.
So which major country is going to act more hawkishly than the United States over the next few quarters? Even if the Fed doesn't hike again, they are likely to stay postured more aggressively than any other major central bank.
Many people - particularly those bullish on commodities and emerging markets - have been talking up the idea that the rally in the dollar has ended. But on what basis?
In the absence of other external factors, interest rate differentials between countries power moves in exchange rates. And it seems unlikely the spread between US and European or Japanese yields is about to compress meaningfully. Thus, where's the catalyst for a sudden rush out of dollars?
Commodities: Monitor Closely
Crude oil (NYSEARCA:USO) is off more than 2% today, with NYMEX crude threatening to move back under $50/barrel. Oil has, however, had a great run lately, so some giveback there wouldn't be the end of the world.
The bigger issues are in the metals. Copper (NYSEARCA:JJC) has been steadily sliding, and is not far from breaking below the psychological $2/lb level. If you're looking for favorable economic developments globally, copper breaking the January 2016 lows would certainly be a contrary development.
Palladium is making new three-month lows today - not a good sign for the auto industry - and platinum (NYSEARCA:PPLT) is now down more than 20% since August.
Despite a preponderance of "the bottom is in" articles for gold (NYSEARCA:GLD) and silver (NYSEARCA:SLV), the opposite in fact appears to be the case. Gold has managed only a paltry bounce following its recent breakdown; the chart now looks primed for a test of the $1,200/oz level. Silver doesn't look any better technically.
The simple fact is that you don't want to have big commodity exposure if the dollar's rally picks up steam. The dollar has been in a bull market for more than two years now. A surprisingly large number of folks have positioned for a breakdown in the dollar; so if the dollar makes new highs - just a couple of percent away from here - you're going to see a large unwinding of positions that fuels further upside.
Dollar's Rise: A Continuing Headache For Earnings
The renewed rise in the dollar is proving to be a setback for S&P 500 earnings. With the dollar index averaging a reading of about 95.50 last quarter, it still proved the biggest overall headwind to US earnings, at least according to a recent Bloomberg article: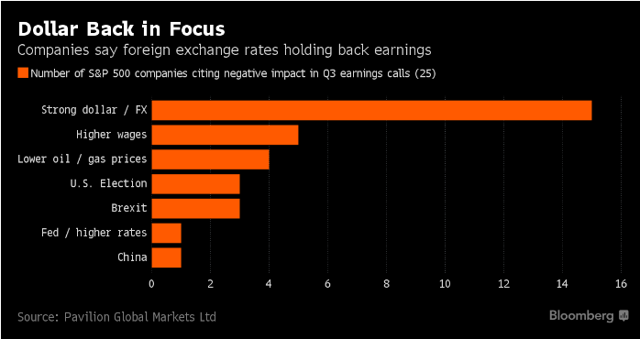 Since Q3 passed, the dollar has now gained another 3% in value. Thus, if the dollar was already, by a wide margin, the most significant concern for large US firms, brace yourself for a troubling set of earnings reports in Q4:

For investors, the easiest way to avoid major currency issues is to have a geographically diversified portfolio.
Major diversified US corporations with large overseas operations are going to continue to struggle to show much earnings growth given the rising dollar. You'll be hearing lots of iterations of "constant currency" revenues and earnings in coming quarters as US companies imagine a world in which the dollar were weaker and thus operations could keep growing normally.
The flipside of this is to buy foreign firms that are benefiting from their weaker domestic currencies. Plus, you get the added benefit of your strong dollars buying the foreign assets at a discount due to the relative changes in currency values.
While a wide basket of foreign holdings is best for many people's portfolios, I'd concentrate on opportunities in Britain specifically at the moment. The British Pound (NYSEARCA:FXB) has gone off a cliff following the Brexit vote. It's making new lows lately: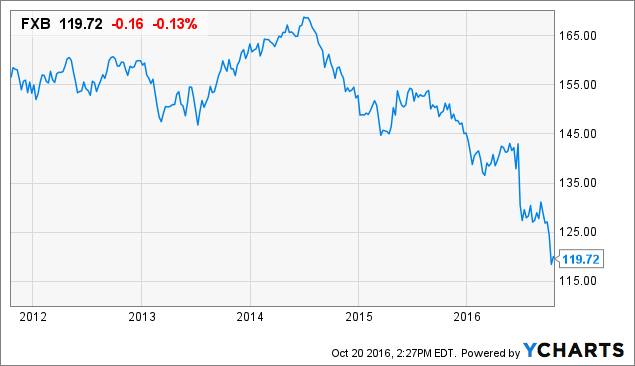 While the country has set itself up for some interesting navigating over the next year or two dealing with the aftermath of the Brexit vote, England isn't heading for disaster. Britain's been through far more difficult situations in the past, yet the Pound now finds itself, on a trade-weighted basis, at levels last seen in the 1800s.
It's easy to get swept up in the Armageddon-flavored headlines facing Britain at the moment. But investing is a long-term endeavor, and political troubles come and go. The smart money here would be betting that British stocks will significantly outperform American ones over the next five to ten years in dollar terms, simply based off their starting valuations.
Disclosure: I/we have no positions in any stocks mentioned, and no plans to initiate any positions within the next 72 hours.
I wrote this article myself, and it expresses my own opinions. I am not receiving compensation for it (other than from Seeking Alpha). I have no business relationship with any company whose stock is mentioned in this article.