After a decade long U.S. housing recovery, is there still room to run in America's housing market?
Our uber-smart Housing analyst Josh Steiner dissects a number of important topics for investors to consider. Below are three key takeaways plus a few essential slides that lay out why Steiner thinks there's still upside left for the U.S. housing market. (Click here to watch and get access to Steiner's entire 27-page Housing presentation.)
1. Upside Remaining for Home-Builder Stocks?
The current Existing Home Inventory data is currently sitting at an all-time low. That's right, at 3.4 months (as of the November reading) Existing Home inventory of 3.4 months is significantly below the 6-months of inventory level that's generally considered a "balanced market." This dynamic is being driven by a combination of (continued) strong demand and an accelerating decline in unit inventory growth.
This environment should remain generally positive for homebuilder stocks. We've previously analyzed the forward predictive power of inventory levels on NTM home prices. When inventory levels fall in the bottom decile of the historical range, as they are now, home prices have tended to rise at double digit rates or roughly double the current 6%.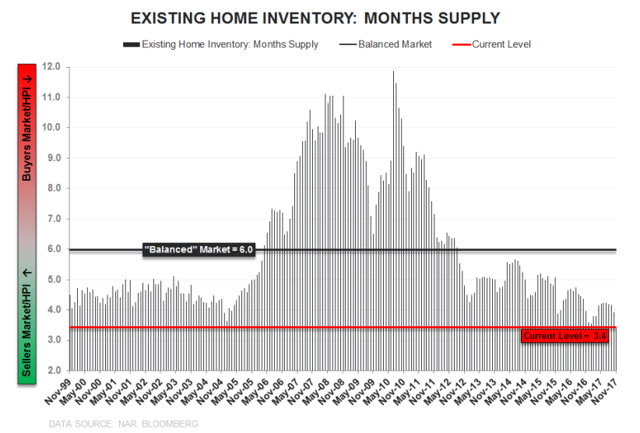 2. Where We're at in the Current U.S. Housing Cycle
Despite half a decade of recovery, new Single Family Home construction remains depressed relative to historical cycle precedents. While Single Family Starts are at 10-year highs, there exists 63% upside to average peak levels in Single Family construction. A return to that level over the course of the present cycle would provide ~68% of the inventory needed to correct the supply imbalance in the existing market (mentioned above), assuming no change in Existing Home Supply unit inventory and demand from current levels.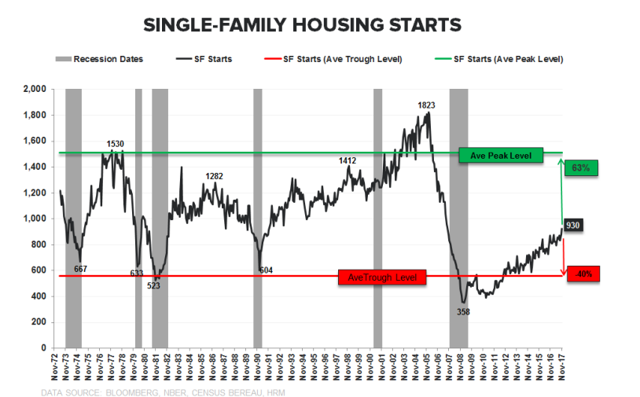 3. The 'Extraordinary Housing Bull Market': The Millennial Population Boom
There's a significant bullish catalyst for U.S. housing: the Millennial population boom.
Knowing that the median first time buyer age is 32 or 33 years old is critical because it allows us to look at the coming demographic wave. Here's a key quote from Steiner in the Housing webinar:
The group we're focused on are the Millennials. And the reason we're looking at them is twofold. One, because the average age at which someone buys their first home is 32 to 33 years of age. Meanwhile, the average age that they rent their first home is 26 to 27 years old. What's interesting about this slide (see below) is if you look at how many more 26 and 27 year olds there are, than 32 and 33 year olds, you should be able to see what's coming down the pike over the next 5 to 6 years. There is going to be a massive influx of would be first-time homebuyers.
The chart below shows the size of the current 32 to 33 year old age cohort – roughly 4.3-4.4 million. Now, compare this to the current 26 to 27 year-old age cohort of 4.8 million. In other words, by 2020- 2022, Steiner says "we could see an extraordinary housing bull market."