Target's (TGT) stock has done well over the last year. Here's a chart: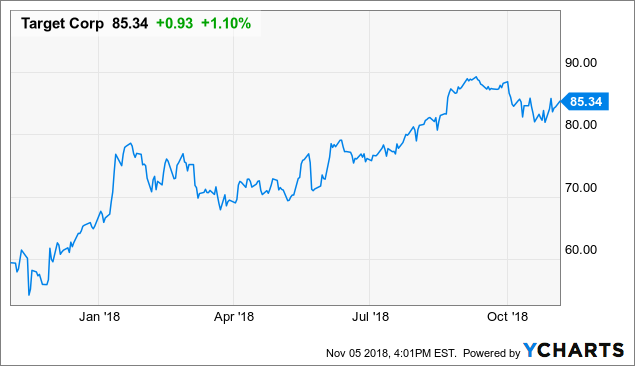 I want to call up another chart. This one shows the three-year performance: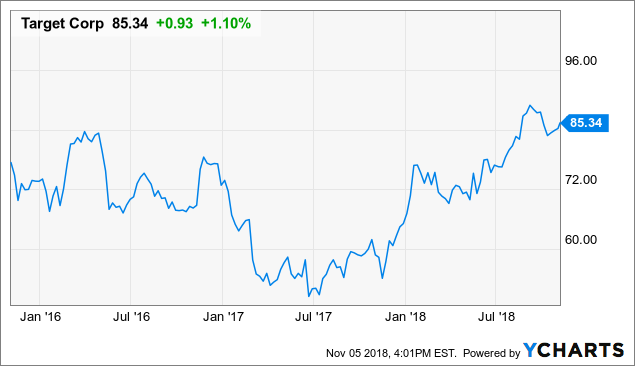 I put both of these up for comparison to show that in terms of price action, Target has become interesting because of the bottom the shares experienced back around July 2017. For now, the stock appears to have some momentum behind it. Why are the institutions supporting it, and what could be in it for investors?
I feel there are a few catalysts going for the company: toy sales, dividend yield and an expectation on my part that Target will continue to expand online strategies as a way of competing with Amazon (AMZN) and Walmart (WMT). Of the three catalysts, I am particularly interested in the toy segment.
Filling The Vacuum
The bid to replace lost sales from a now-defunct Toys R Us was expected, but here are a pair of news items about the subject. This item highlights the fact that Target should be among the retailers that will benefit from the death of Geoffrey. Sears (S) was mentioned as well, but more in the context of the beneficiaries of its non-toy-based sales (and it's unclear to me how much of a force that former icon was in toys anyway, at least over the last several seasons). Target probably won't pick up too many tool sales, but that's not of prime importance. I believe toys/games/video games represent the significant opportunity.
This item focuses more on Target and its plans. As one might expect, the key to growing/capturing toy sales from the competitor is inventory depth and sales-space expansion. That's exactly what the retailer is planning to do.
It's not going to be easy. Amazon has always been around as a threat, with consumers used to ordering from the online giant for toys and games. However, now that the R-Us concept is gone in the states, shoppers will be flocking to brick/mortar simply out of curiosity and a willingness to sample the new experience. Because of this, it is arguable that Walmart will capture a lot of that interest-flow. Target will have to be creative with its marketing to ensure that people don't think of that retailer first.
I believe Walmart and Target will be very hungry for toy sales. This bid to be the new anthropomorphic giraffe in town should lead to an aggressive stance by Target. I believe Target will garner more attention because it tends to be the more creative marketer, in my opinion. Marketing is important to toys. Former R-Us CEO David Brandon, who has had great success with Domino's (DPZ), found out that it was a lot easier selling pizza than plastic. Given all the mistakes made by the former go-to chain in this space, Target has a roadmap marked with areas to avoid. Of prime importance, hopefully, will not to be boring in its approach, which the last couple of years of R-Us' existence arguably, and unfortunately, were.
Vendors, too, will be looking to help out Target and Walmart. Each of these companies, as well as others, will be looking to Hasbro (HAS) and Mattel (MAT) to pony up resources for co-marketing opportunities. Also, don't discount the effect of exclusives. With the big toy chain out of the picture, I would expect Target to increase its line of exclusive variants embedded within different product lines, whether it be action figures or general collectibles. One would also think that Target will be used for a lot of marketing research and development, something for which R-Us was considered indispensable. Another seller of merchandise to consider is Disney (DIS). That company will be eager to get its consumer products and toys/games into as many customer baskets as possible, especially since that business is important for the media conglomerate in terms of extending the value of its movie/theme-park brands. Target definitely has an opportunity with this catalyst all around.
Dividend Yield
Target currently pays a quarterly dividend of $0.64 per share. That translates to a current yield of 3%. Target has consistently grown its payout to shareholders.
The retailer increased its dividend by over 3% back in June. Utilizing the Q4 report, an investor can see the statement of cash flows and how that relates to the payout. Operating cash flow was $6.8 billion. Capital spending was $2.5 billion. The dividend outlay was $1.3 billion. That's $3.8 billion in total. Also adding the reduction in debt, $2.2 billion, the figure becomes $6 billion. Target therefore seems to be handing the payment, and the growth in the payment, well.
Helping to power this business model is, of course, same-store sales. Target was having issues with that metric in the recent past, but now things seem to be better. Going back to that Q4 report, comps expanded by 3.6%. More recently, in the second quarter, comps grew 6.5%, significantly beating expectations. This quarterly report from February 2017 illustrates the positive comparison: at that time, same-store revenue declined 1.5%, and the stock was punished.
Online Channel Push
It's no surprise Target is trying hard to build up its online system. Most retailers are doing that in some manner. Omnichannel continues to be a buzzword.
Here's a recent press release that reflects such thinking. The company is offering same-day, two-day and drive-up services to customers that want to shop in different ways (you'll note that toys are also highlighted in that release).
Referring to the linked Q4 report, management noted that comparable digital-channel sales increased 29%, which followed a 34% increase in the previous frame. Remember, too, that the company expanded digital sales by 41% in the second quarter. Earlier in the month, SA contributor Bluesea Research posted some great analysis/information on the competitive quality of Target (as well as Walmart) in the online-retail space. Although that piece examined the subject matter from a different angle, I believe it nevertheless supports the idea that Target is studying online sales in a smarter way these days, and is probably more serious than before. It's an area to watch.
Conclusion
Target's stock may be relatively high in absolute price right now, but that 3% yield indicates that the market may still bid the stock higher, in my opinion. The stock's P/E ratio is around 15 at the time of this writing, and the PEG was below 1 (check out the current valuation metrics here). Again, it's the dividend yield I'm focusing on, and in conjunction with those arguably not-so-high metrics given the overall story, I don't find the stock expensive (Walmart's P/E, by contrast, is over 20 and the dividend yield is 2%).
Going back to the subject of toys, Target has a real opportunity to make its mark and push its brand equity into a whole new area once dominated by R-Us. The company is back on track with comps, so this will lead to a lot of sampling by consumers of the newly-expanded toy aisles. Toymakers will certainly be great partners in the post-Geoffrey world, hopefully ensuring that the right inventory gets on the shelf at the right time (barring unexpected shortages sourced to items that suddenly become fads). Target now has something to prove with both toys/video games and online sales channels, so management is incentivized to get it right this holiday season. This should be a positive for shareholders. The biggest risk is obviously execution. The next biggest risk is that Walmart and Amazon simply outcompete their rivals. For now, I would suggest putting Target on a due-diligence list at the very least.
Disclosure: I am/we are long DIS.
I wrote this article myself, and it expresses my own opinions. I am not receiving compensation for it (other than from Seeking Alpha). I have no business relationship with any company whose stock is mentioned in this article.